The DEENO X1500 Portable Power Station is a great option to take with you on the go and power all your devices. It comes with a powerful internal battery that outputs power for up to 12 different devices all at once. There are multiple different ways to output power such as standard AC plugs, USB ports, and more. Quickly recharge it via solar power or a 12-volt DC charger.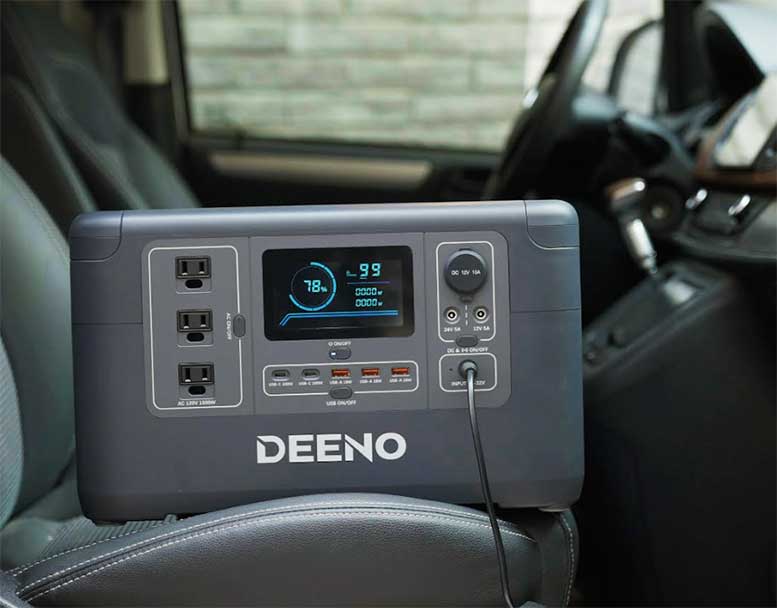 Built-in handles make it a breeze to take with you. Whether you plan on camping in the wilderness or want extra power on a road trip, this power station is designed to keep your devices powered and ready to go. In fact, there's even an LCD screen built right into it that lets you monitor various aspects of the power station. Included is a bonus flashlight feature for lighting an area, whenever you need to. All of these features make the DEENO X1500 a great power station that's worth learning a bit more about.
Powerful Battery with Flexible Recharging Options
Inside the DEENO X1500 Power Station, you'll find a LiFePO4 battery with 1036Wh of capacity that supports 1500W of AC output wattage. It's capable of being recharged over 3500 times, thereafter offering up to 80% of its original capacity. For comparison, this is up to 7 times longer than a normal lead acid or lithium-ion battery.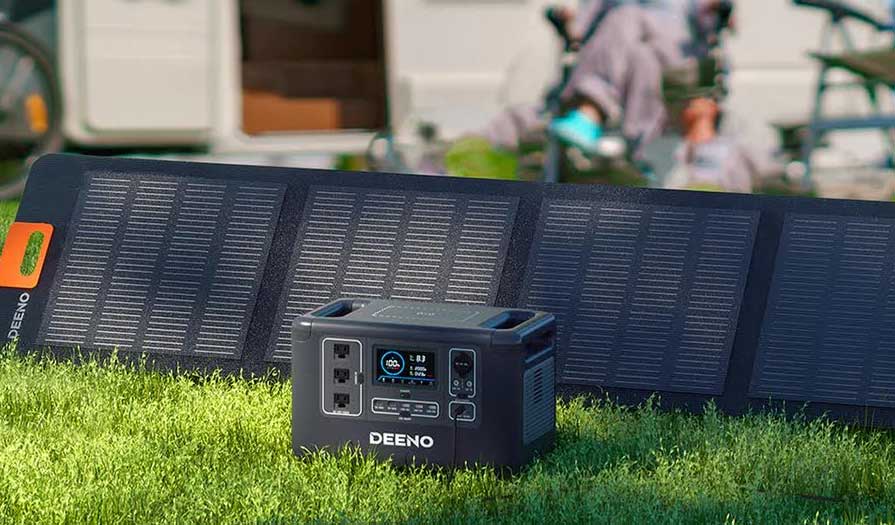 As for recharging the power station, you have a few different options. One great way to recharge it is via a solar panel with an acceptable voltage range from 12-32V at a maximum of 8 amps. While a solar panel isn't included with the power station, it may be worth considering as an added upgrade. By utilizing the sun, the solar charging capabilities will allow it to last even longer while on trips away from standard power sources. With a 200W solar panel, it can fully recharge in 6-10 hours. If you prefer to charge via the wall, a generator, or even a car plugin, you can expect a full charge in 5.5-6.5 hours.
However, if you prefer to plug it into the wall each time or into a standard gas generator, you can do that as well. Simply connect it via the supplied AC charger and replenish the internal capacity as desired.
Thankfully, this power station comes with a 5-year warranty. Although it's designed to last for up to 10 years of everyday use, having a warranty helps ensure you can use it in the long term without any fuss.
Multiple Ways To Output Power
With the massive capacity built-in, the DEENO X1500 needs to have great output capabilities. Luckily, it does. There are 12 ways to connect your devices and charge them up. You can choose from any of the following:
3 AC Outputs
3 USB-A Fast Charge Output
2 USB-C Outputs
1 Car Charger Output
1 DC5.5*2.5 Output
1 DC5.5*2.1 Output
1 Wireless Charger
Best of all, each output can be used simultaneously, so you never have to choose which device to power and which has to wait. Additionally, each output is individually circuited, so you can safely use each one without overloading the entire unit.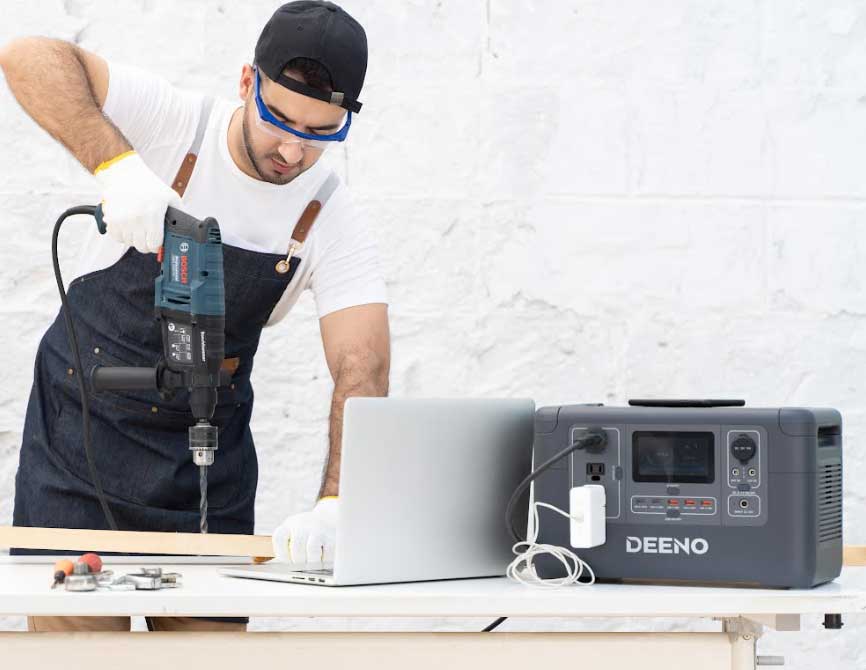 Examples Of Power Capabilities
It's impressive to hear how much capacity this power station has. It's also impressive to see how many different ways it can pump out power to your devices. But what does it actually mean in terms of charging your devices? Here are a few examples so you can see what a full charge on the X1500 can do for your power needs:
Laptop (60Wh) – 16 full charges
Drone (40Wh) – 24 full charges
Phone (11Wh) – 89 full charges
Mini Fridge (60Wh) – 16 to 32 hrs of continuous use
Another point to consider is that this power station isn't just for your portable power needs. It can also be used in your home in case of emergencies and power outages. Disasters such as storms, tornadoes, floods, and more are all reasons to consider having a backup source of power. To get some context on what it can power in those situations, here are some examples:
Refrigerator (120W) – 7 to 14 hours
Fan (40W) – 21 hours
Light (10W) – 96 hours
Coffee Maker (1,000W) – .9 hours
Durability and Portability
Power capabilities are definitely the most important feature to consider while looking at power stations like the DEENO X1500. However, portability and durability are also critical to consider.
This power station takes that into account with the way it's been designed and built. With solid components meant to last ~10 years, a focus on outdoor usage, and a 5-year warranty, you shouldn't have anything to worry about when it comes to the durability or longevity.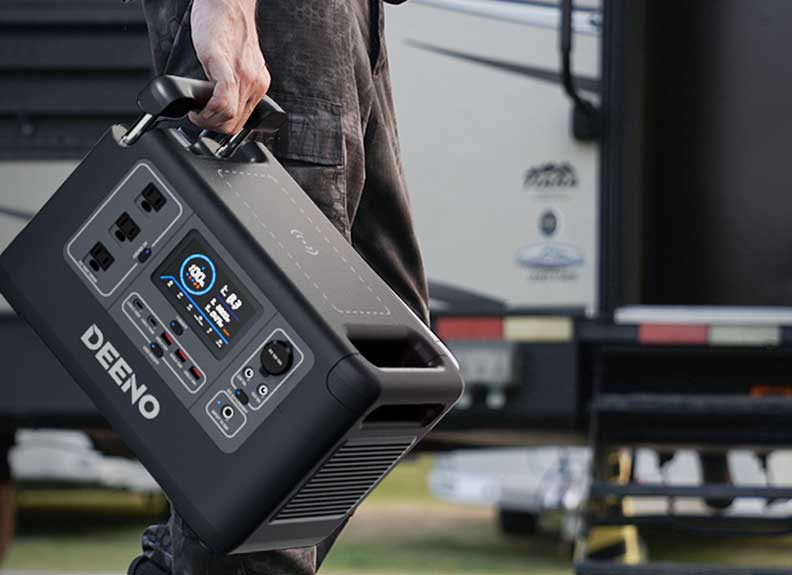 As for portability, it shouldn't be too difficult to take with you on your next trip. Each end of the power station has a hidden handle built in. This handle pops out when you need it and makes it simple to carry along with you. Although it tips the scale at around 32 lbs, it comes in at 15.5 x 8.9 x 9.4 inches, which is relatively compact. While it won't fit in your pocket, it should be simple to throw in your vehicle and take with you wherever you need it.
Easy To Read Screen
Another great feature of the DEENO X1500 is its brightly lit, easy to read screen. The front of the unit has a built-in LCD screen in between all the various power outputs. It's used to show important, live information such as remaining battery capacity, output levels, and estimated time needed to recharge.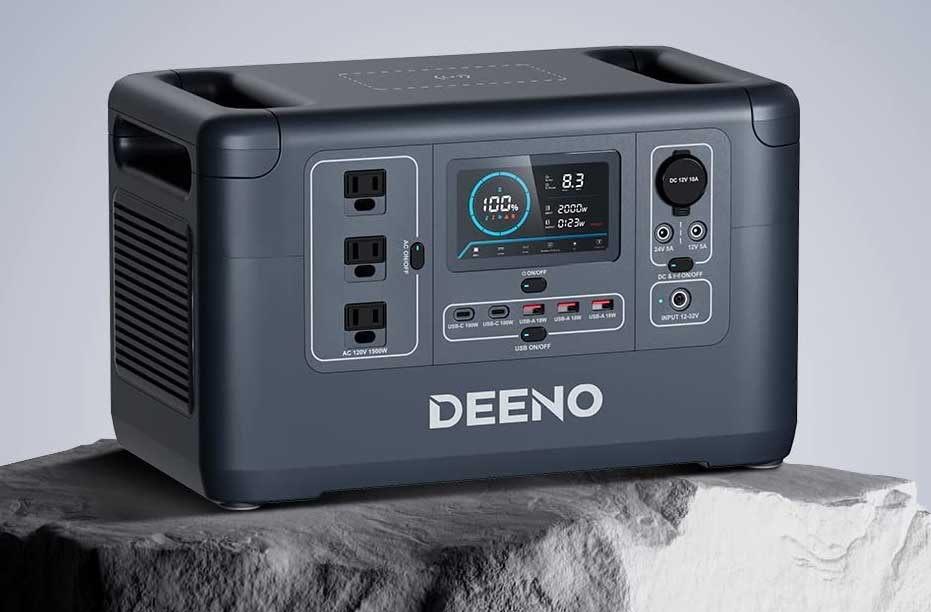 On the screen, there are also indicators to show which outputs are currently putting out power. To help keep safety in mind, there are icons/ that show temperature warnings, fan usage, and more. Overall, the built-in screen is a fantastic feature that makes it simple to understand everything that's happening with the power station.
Bonus Lighting Feature
The DEENO X1500 Power Station has a long-lasting battery, can power up to 12 devices at once, is built to be portable and durable, and boasts an easy to read screen. What else could you want it to do? It does have one additional feature that truly adds some icing on the cake.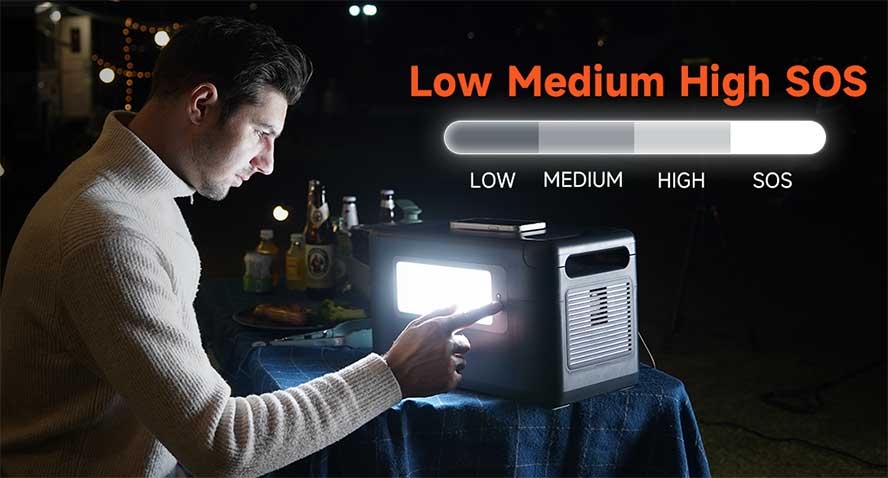 The back side has an oversized, incredibly bright LED light built into it. There are four different modes to choose from to control the lighting. You can set it to low, medium, high, and SOS. These various modes are essentially brightness levels. The idea of the SOS mode is that it will catch someone's attention from a long distance due to how bright it is and how frequently it flashes. The light is extremely useful whether you're using the power station on a camping trip, or in an emergency situation at your home.