Overall Design -

8.5/10

Image Quality -

9/10

Connectivity -

8/10

Compatibility -

9/10
Summary
The MUDIX Video Projector is a great addition to any home entertainment system. Its ToF autofocus technology, auto keystone correction, native 1080P resolution, and 4K support produce stunning and clear image quality that is perfect for watching movies, TV shows, and playing video games. The projector is also portable and lightweight, making it easy to carry wherever you go. If your job requires you to give presentations and you're on the road a lot, you'll want to give this one a serious look.
Pros
Impressive image quality in compact design
Quick and precise auto-focus feature
Wide range of connectivity options
Versatile for personal and professional use
Cons
Built-in speakers lack power
USB-C connectivity missing
Home video projectors used to be reserved for those who had the extra money to spend on high-end technology. But given that modern tech is moving at breakneck speeds, just about anyone can invest in a quality projector without breaking the bank.
MUDIX throws its proverbial hat in the ring with an insanely compact but capable unit that's sure to appeal to a large portion of consumers. What this little device accomplishes is nothing short of impressive, and we're excited to share our thoughts on it.
Unboxing and Initial Impressions
Upon opening the MUDIX Video Projector, your first thought is likely to be, "This is it?" Indeed, it's quite small and compact, leaving you to wonder if it can hang with more robust projectors. You can rest assured that we will address those concerns in a moment. In the packaging is a sleek, grey box that closely resembles a voice-controlled smart home device. While no voice controls are present, that doesn't mean it's short on convenient features. In addition to the projector, the box also includes a remote control, HDMI cable, power adapter, foldable tripod, and a user manual.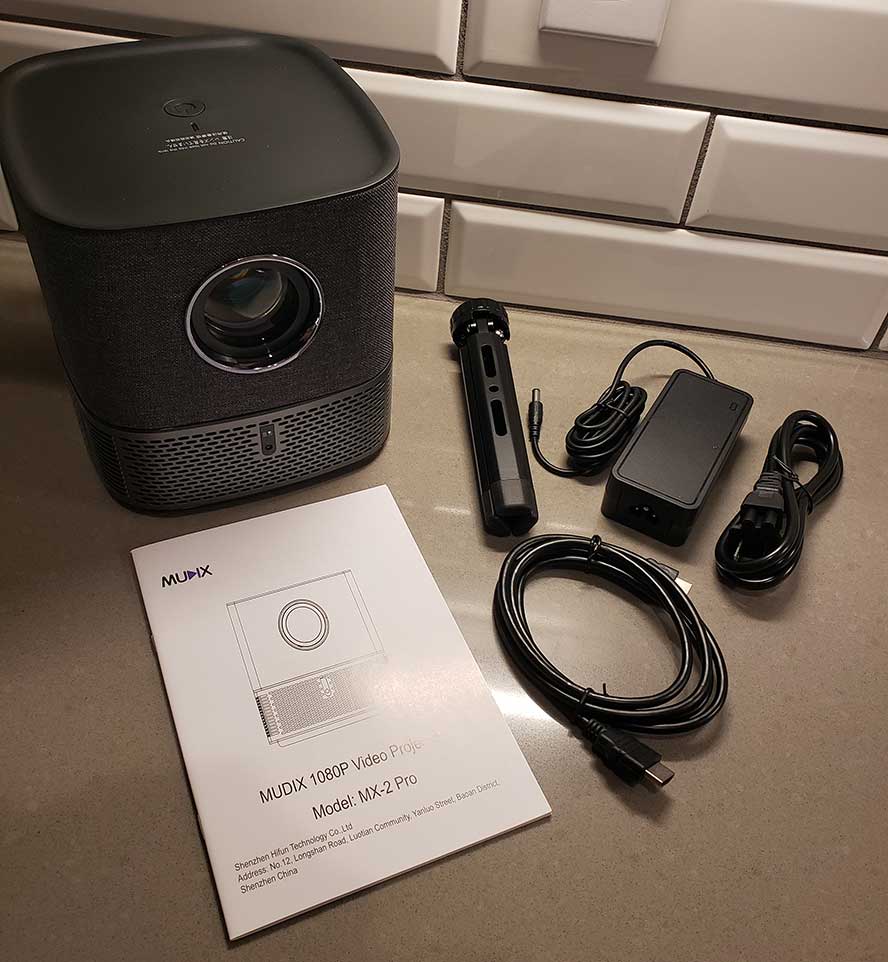 Measuring a mere 7.08 x 7.29 x 7.12 inches and weighing less than 6 pounds, it's really rather impressive what MUDIX was able to cram into this tiny box. Plus, the lightweight design makes it highly portable, which is sure to prove to be a welcome feature for many people. So at first glance, we liked what we saw design-wise. It's an attractive projector that can fit just about anywhere and blend in with just about any aesthetic.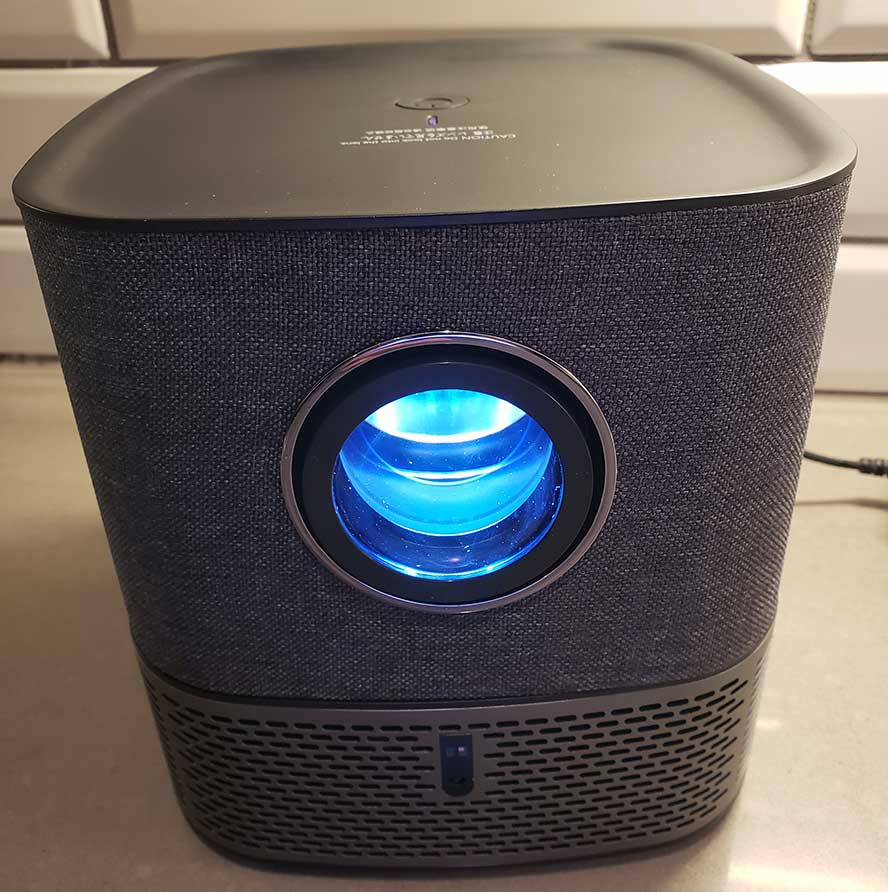 But looks are only skin-deep; it's what's inside that counts. So let's find out just what this thing is capable of. Can such a compact device really provide a viable home entertainment solution? Or does it fall short due to a lack of quality technology? We'll answer those questions and more, so let's move on to performance and capabilities.
Resolution and Image Quality
The MUDIX projector's native 1080P resolution and 4K support undoubtedly contribute to its excellent image quality. During our testing, we found that the device consistently produced clear, dynamic, and color-rich images, regardless of the content being displayed. The high-refractive 6-layer glass lens played a significant role in reducing blurry edges on the screen, ensuring an optimal viewing experience at all times.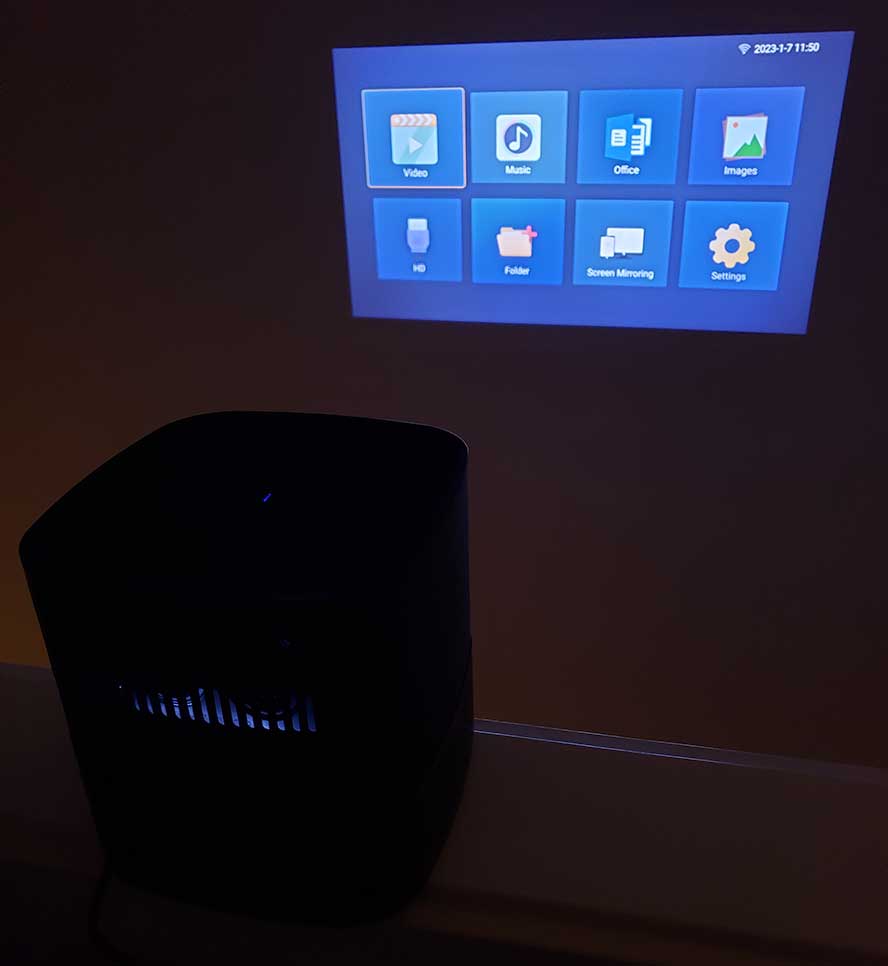 To assess the picture quality, we tested the MUDIX projector with various types of content, including high-definition movies, video games with detailed graphics, and vibrant presentations. In each case, we were impressed by the sharpness and color accuracy of the images displayed by the projector. Again, it's important to keep in mind that we're considering the price point and the market for which it's intended. That said, if we were to go into this review blind and not aware of the product or manufacturer, we would likely think we were looking at a high-end projector.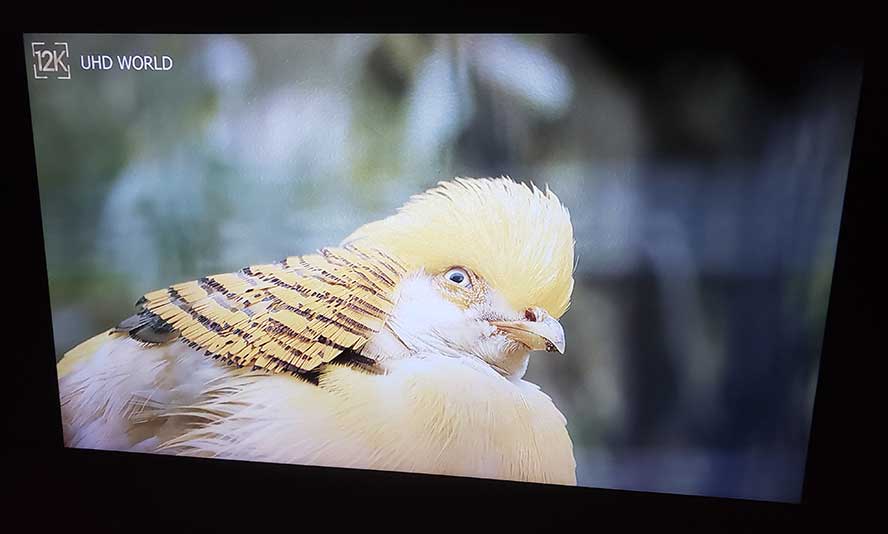 To really put it to the test, we put on one of the many breathtaking Planet Earth 2 documentaries. What we witnessed was a captivating display of vivid colors and lifelike details of the flora and fauna. This is in large part thanks to the projector's 12,500 Lux LED and Real 220 ANSI. These features let the device deliver a bright and high-contrast image, even in moderately lit environments. Likewise, we noticed during a gaming session that the projector was able to accurately display the intricate details and textures of the game's environment, making for an immersive and engaging experience.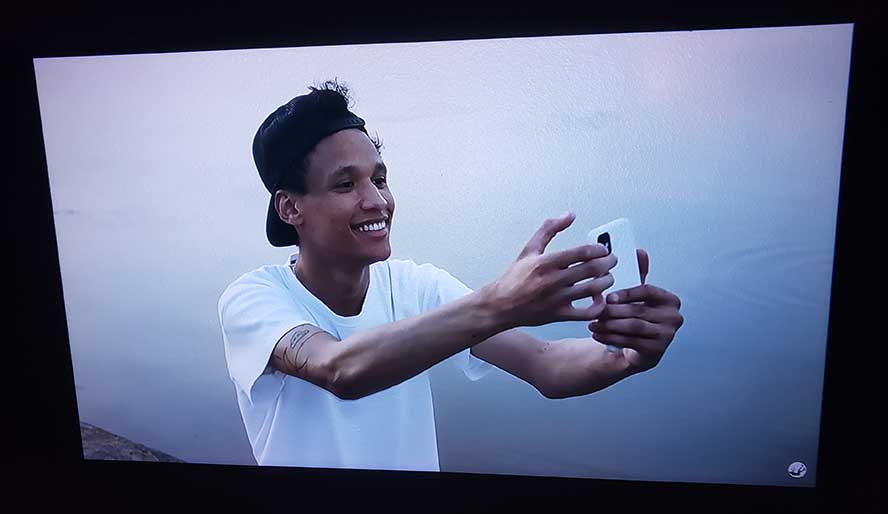 What's more, it can display images up to 180 inches (with a recommended range of 50-120 inches) and can be placed at distances between 3.2 and 16.4 feet. It's also nice to see a 100%-50% zoom feature present, as it allows for screen size adjustments without needing to move the projector. We also compared this projector's image quality to that of others in the same category. In this comparison, MUDIX's projector either outperformed or was on par with several of its competitors, offering a brilliant big-screen visual experience reminiscent of a movie theater.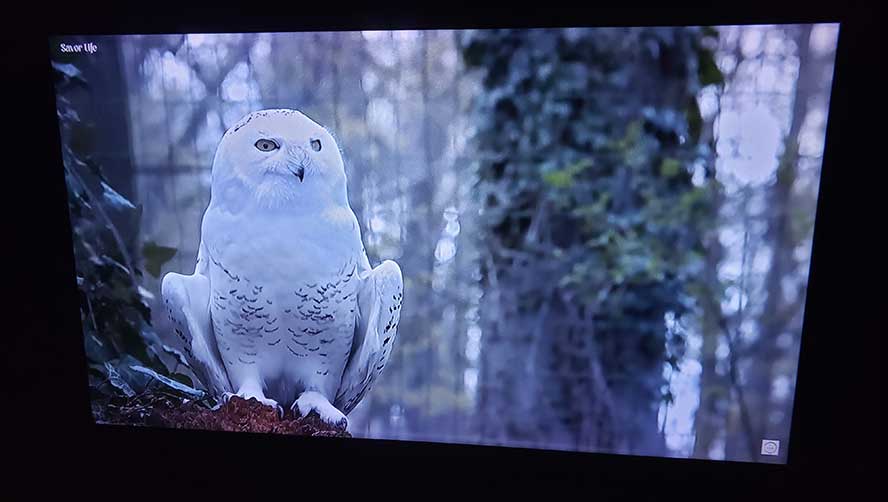 The color accuracy and contrast ratio were particularly impressive. And as such, we think it's an ideal choice for users who prioritize image quality in their home entertainment or professional presentation setups. In short, both native 1080P and 4K support look great and performed admirably. Just because it's small doesn't mean it can't provide striking visuals. Next, we'll explore some of the tech behind these sharp visuals so that you can see what's responsible for bringing them to life.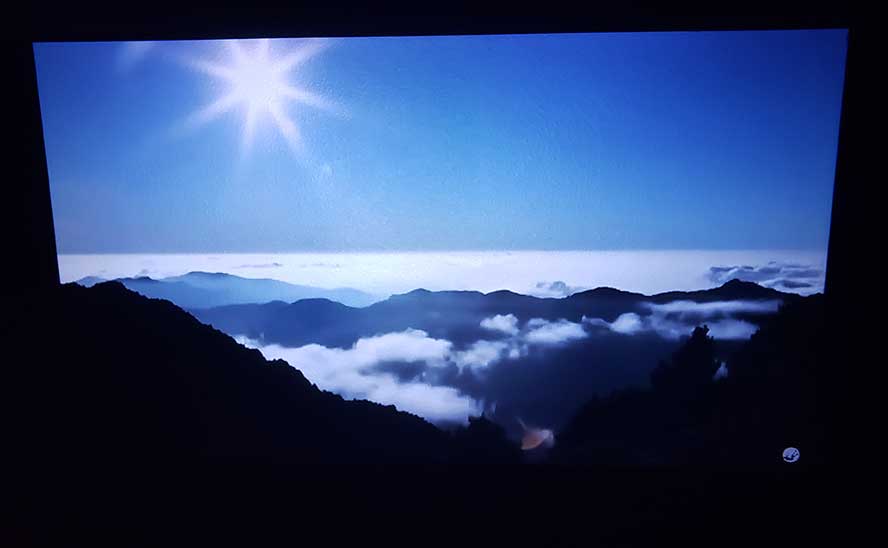 Auto Focus and Auto Keystone Features
There's a good deal of technology working under the hood to bring images to life. And one of those is the projector's auto-focus feature. Powered by ToF (Time-of-Flight) technology, the auto-focus is a standout aspect of this device. In our tests, we found that the auto-focus was indeed able to achieve sharp focus within 1 second, just as the manufacturer claimed. It's a significant improvement over other projectors that require manual focus adjustments. This not only saves time but also ensures that the image stays crisp and clear throughout the viewing experience.
In all of our tests, the auto-focus worked flawlessly on various devices. We could easily discern how quickly and accurately it adjusted to the content on the screen. In each instance, whether it was streaming a movie, playing a video game, or displaying a presentation, the auto-focus feature performed exceptionally well. And once you've gotten used to this feature, it's hard to go back to lesser focus capabilities. You'll find that you can start watching or playing right away, and that's exactly what you expect a home video projector to do.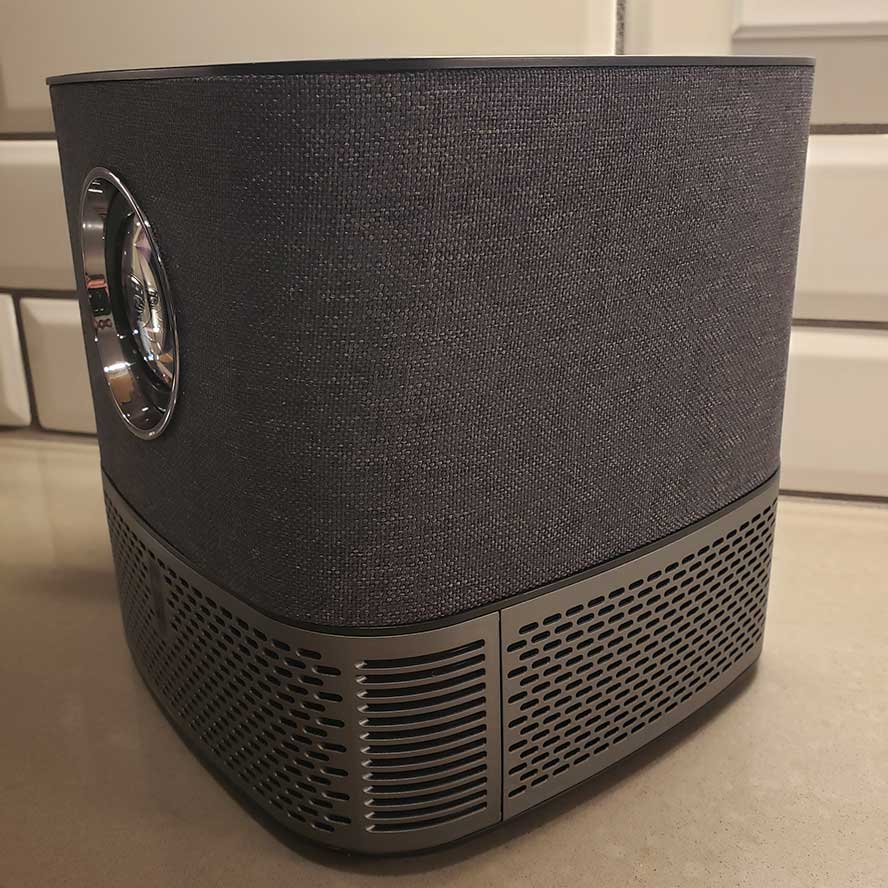 Another noteworthy feature of the MUDIX projector is its auto keystone correction capability. With vertical +45°/-30° auto keystone correction and 4-point correction controlled via the remote, this device easily adapts to different projection angles and surfaces, making it highly versatile. This feature proved to be especially useful during our testing when we tried projecting onto uneven surfaces or had to place the projector at unconventional angles.
In all instances, the auto keystone correction quickly adjusted the image so that it was properly aligned and free of distortion. We also tested the projector in a small meeting room where we had to place it on a side table at an angle to the screen. Again, the auto keystone correction made quick work of adapting the image to the unconventional setup.
In comparison to other projectors that require manual keystone correction, the automatic feature proved to be a significant advantage. It allowed us to get set up with minimal hassle, and the image remained distortion-free regardless of the projection angle or surface. Given its image quality and adaptability, it is a smart choice for users who need flexibility in various environments, from home entertainment to professional presentations.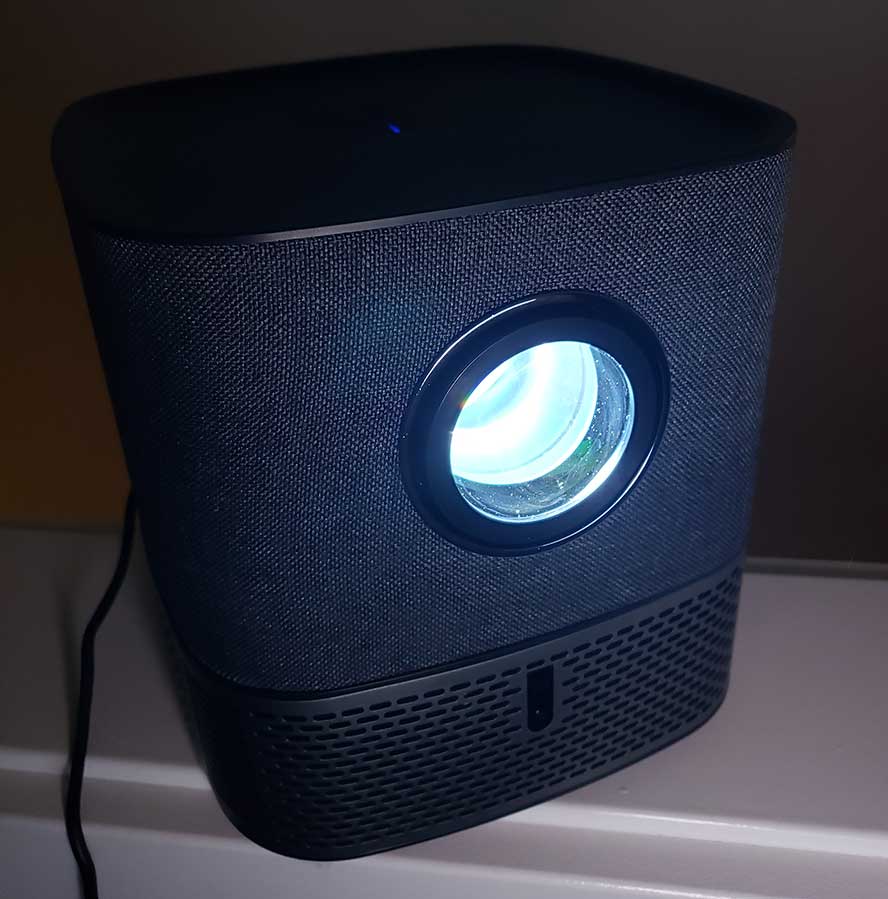 In addition to its versatility, MUDIX uses an upgraded lens that has an estimated lifespan of more than 50,000 hours, eliminating the need for replacements for at least 10 years. This alone is an appealing addition, as it's one less expense you'll have to worry about for quite some time. You also benefit from the latest temperature control technology, which reduces fan noise by 80%.
We found that this really comes in handy when you're giving a presentation or trying to watch a movie in a setting with limited square footage. Oftentimes, noisy fans distract from what you're watching, so it's nice to see that MUDIX took steps to address this common complaint. Granted, it's still not the quietest on the market. But it's a big improvement over older models.
Wireless Connectivity and Stereo Speakers
The wireless connectivity is fast and efficient – it's supported by 2.4G+5G WiFi and the latest WIFI6 technology, after all. Throughout our testing, the speed and stability of the wireless connections shined through. And we tested it with various devices, including Android, iOS, and Windows systems. The ease of screen mirroring offered by this device eliminates the need for cumbersome cables and adapters, streamlining the setup process for an enhanced user experience.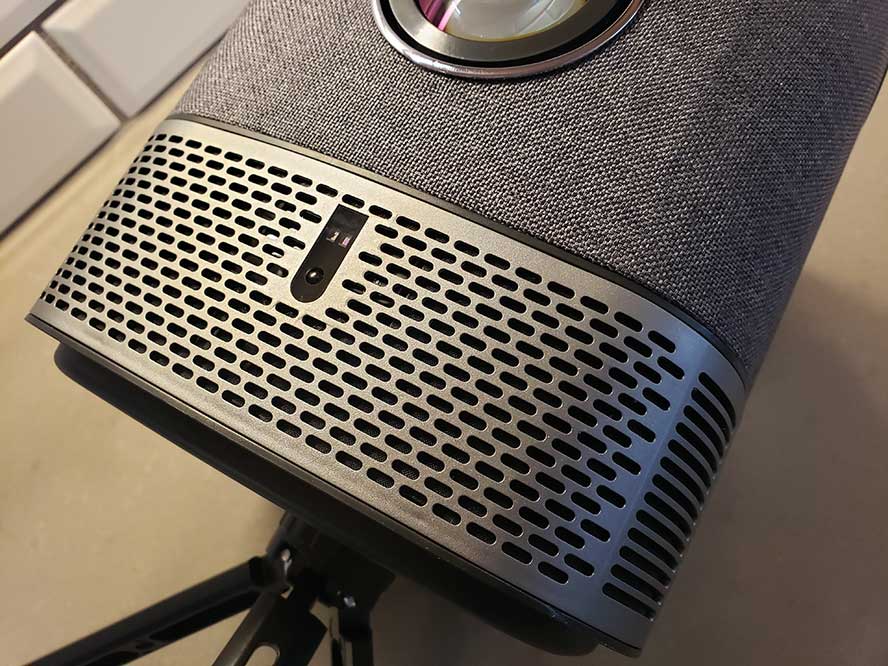 To test the wireless connectivity, we connected to smartphones, tablets, and laptops. In each instance, we were able to seamlessly mirror the device's screen onto the projector, enabling us to display movies, presentations, and games without any real lag or connection issues. We did experience the occasional hiccup from time to time. But in each instance, it was fleeting and never interrupted the broadcast.
Audio quality is another crucial aspect, and the built-in dual 5-watt stereo speakers serve as commendable backups if you're without your home sound system. Admittedly, the onboard speakers aren't anything to boast about. Still, they are serviceable in a pinch. But given that there's plenty of connectivity for audio, you'll definitely want to use your own if you have it.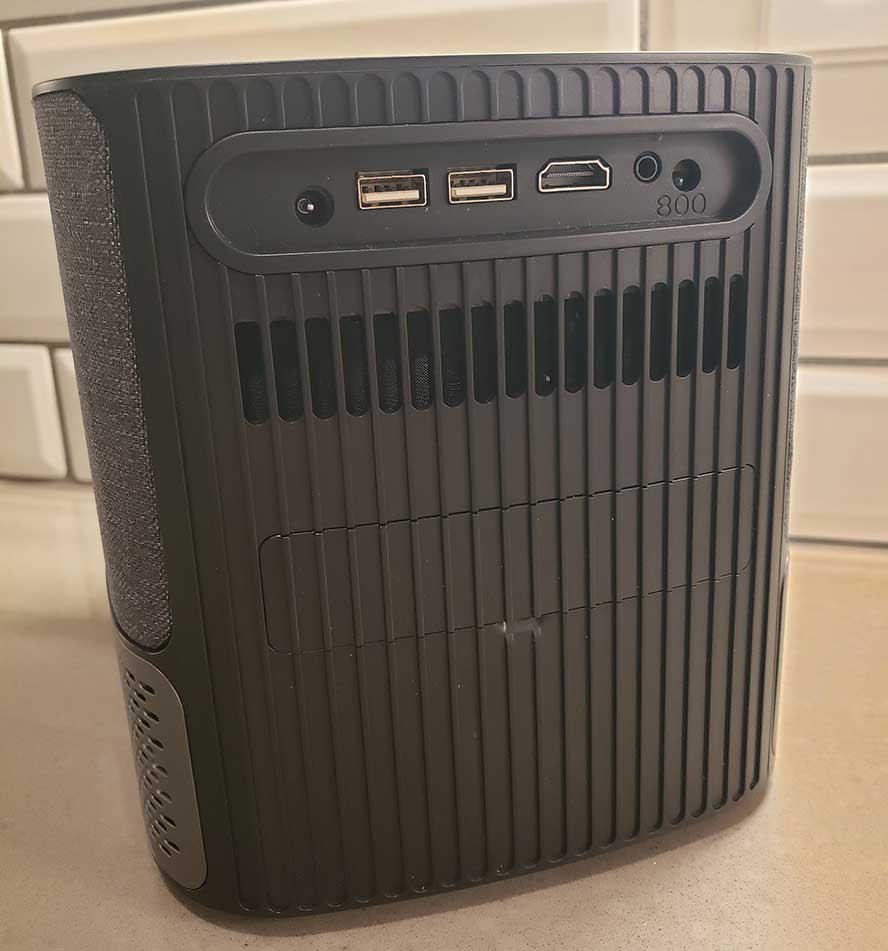 While we're on the subject of connectivity, now's a good time to discuss what you have access to out of the box. The projector comes equipped with 1 HDMI, 2 USB, and 1 AUX interface. Yes, the addition of USB-C would have been nice, but given its market, we understand why it's absent. Aside from that, we're overall happy with what's here. Most users should have everything they need to get up and running.
Final Verdict
The MUDIX Video Projector is a great addition to any home entertainment system. Its ToF autofocus technology, auto keystone correction, native 1080P resolution, and 4K support produce stunning and clear image quality that is perfect for watching movies, TV shows, and playing video games. The projector is also portable and lightweight, making it easy to carry wherever you go. If your job requires you to give presentations and you're on the road a lot, you'll want to give this one a serious look.
When you factor in the wide range of connectivity options, you're looking at a projector that is suitable for both personal and professional use. MUDIX delivers a winner in our eyes – a fine choice for anyone looking to enhance their home entertainment system with a high-quality, versatile, and portable projector.