Gone are the days when you were tethered to your PC or laptop any time you needed to use the Internet. Today, numerous devices are capable of getting you online, one of which is the HTPC (Home Theater PC).
But for ultimate convenience, you're going to need a reliable HTPC keyboard. Here at Nerd Techy, we understand that you're busy and don't have time to research the multitude of options available in this department.
As such, we've painstakingly tested and selected the top HTPC keyboards available today. Whether you are looking for seamless connectivity, aesthetic appeal, or all-in-one solutions, we've got the best options for you.
In the following reviews, we'll delve into the details of each of these keyboards, outlining their key features, their strengths, their weaknesses, and how they compare with each other to help you make the best buying decision.
Best Overall: Logitech K400 Plus HTPC Keyboard

Key features:
Wireless touch keyboard
Integrated large touchpad
Broad device compatibility
Long-range wireless connectivity
The Logitech K400 Plus is a wireless touch keyboard that excels in delivering seamless PC-to-TV entertainment. Thanks to its intuitive design, this unit provides a comfortable control experience, reducing clutter and replacing separate keyboard and mouse devices. Moreover, it offers a plug-and-play setup, with the Unifying receiver easily inserted into any USB port, streamlining the preparation process.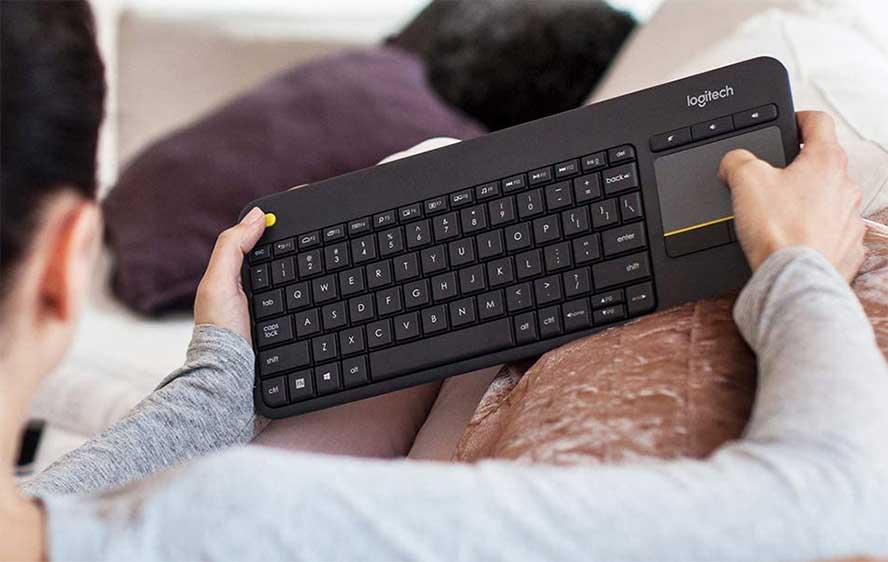 Additionally, the integrated touchpad helps to enhance navigation across multiple screens. Its quiet keys, coupled with this large touchpad, ensure a refined user experience. With compatibility extending to Windows 7, 8, 10, Android 7 or later, and Chrome OS, the K400 Plus is versatile and able to cater to a broad user base. We tested the keyboard's wireless range, finding it reliably reaching up to 33 feet while retaining consistent signal strength and functionality.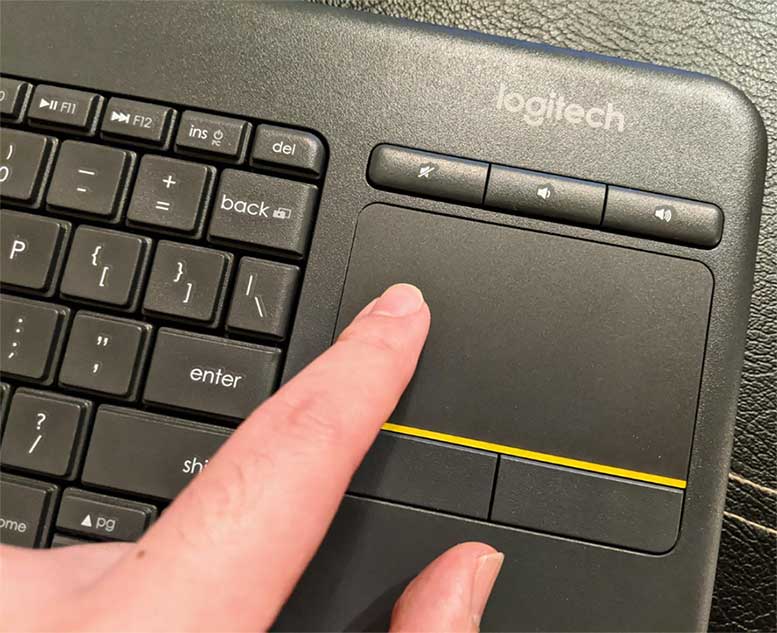 Weighing just 13.8 ounces with dimensions of 13.95 x 5.5 x 0.93 inches, it is light and compact enough for easy handling and storage. The keyboard is also designed to withstand the occasional coffee spill, further proving its reliability. Perhaps most impressive is the robust battery. The built-in lithium polymer promises an impressive lifespan of up to 18 months. The keyboard's longevity and the built-in on/off button ensure extended use without worry of sudden power loss.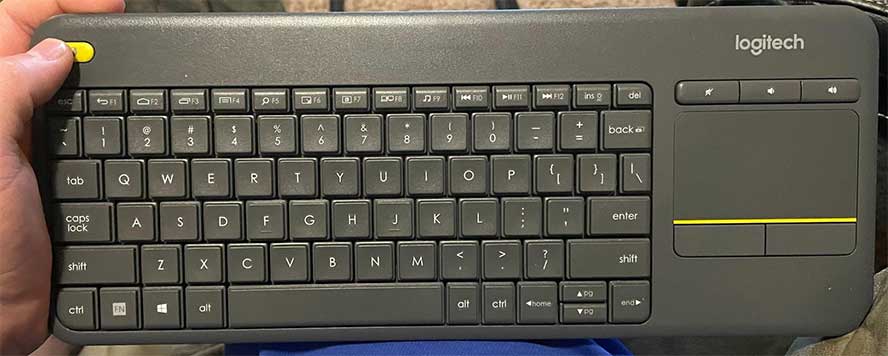 Unlike Logitech's K830, the K400 Plus lacks sensor-controlled backlighting. But both offer only a single-color option. And while it doesn't offer multi-device Bluetooth synchronization like the Macally Bluetooth Keyboard, the K400 Plus is favored for its user-friendly operation. Though it may lack the Arteck TV Keyboard's wide OS compatibility and 7-color LED backlight, its long-range wireless connectivity, and integrated large touchpad make it the best overall option on our list.
What we liked:
Easy plug-and-play setup
Compact and lightweight design
Long battery life
Spill-resistant
What we didn't like:
Single-color backlighting
No rechargeable battery
Best High-End: Logitech K830 HTPC Keyboard

Key features:
Sensor-controlled keyboard backlighting
Integrated touchpad for seamless navigation
Wireless range up to 33 feet
Easy-access controls with media hotkeys
Logitech makes the list again, this time with the K830. This illuminated living room keyboard transforms your multimedia experience with its seamless integration of form and function. This all-in-one device, merging a keyboard and a touchpad, is meticulously crafted for your comfort, weighing just 1.09 pounds and measuring 15.1 x 5.59 x 1.65 inches.
A standout feature is the keyboard's backlighting. Its sensor intuitively discerns the room's lighting conditions and adjusts the illumination accordingly to ensure effortless typing regardless of ambient light. This feature shines in low-light situations, particularly when you're enjoying late-night binge-watching sessions.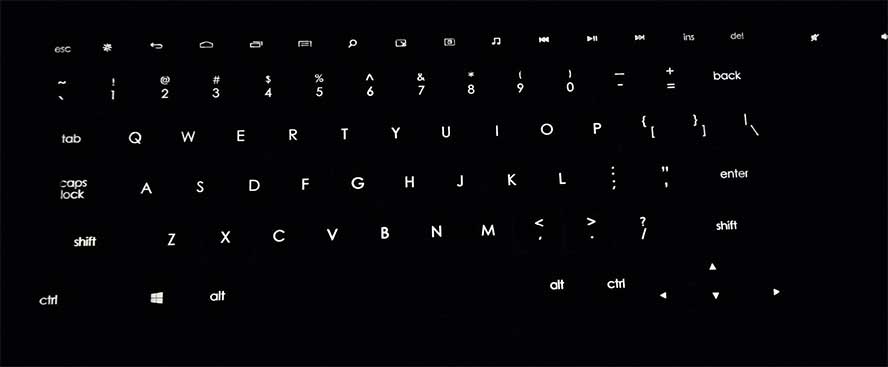 The device's navigation streamlining is impressive, as well. The built-in touchpad offers smooth and responsive control, coupled with gesture functions, resulting in a fluid browsing experience. Whether you're scrolling through a movie list or browsing social media, the touchpad facilitates a smooth journey through your digital world. As with the K400, this offering boasts stellar wireless range. With a reach of up to 33 feet, it allows you to lean back on your couch or bed and browse without restriction. Compatibility with Logitech Unifying or Bluetooth Smart technology ensures reliable, lag-free interaction.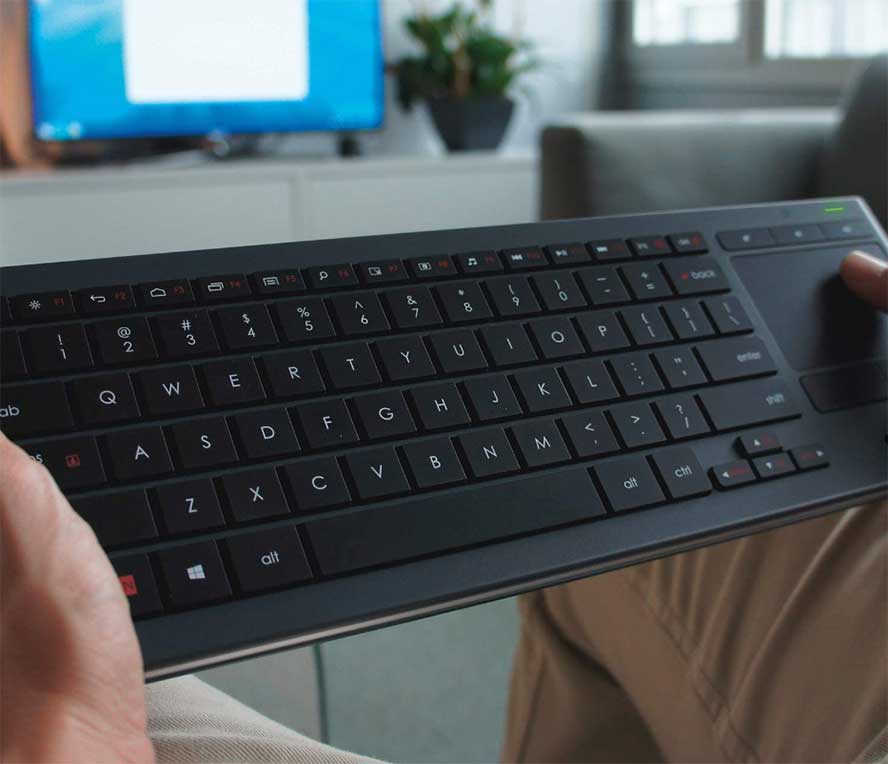 The K830 takes user experience into consideration with its easy-access controls. These include media hotkeys and shortcut keys for Windows or Android, streamlining your entertainment controls and making navigation a breeze. In terms of aesthetics, the keyboard's sleek, compact design enhances your living room's modern ambiance. Its premium textures and metal-like finish, coupled with a unique key design, result in a device that is as pleasing to the eye as it is to use.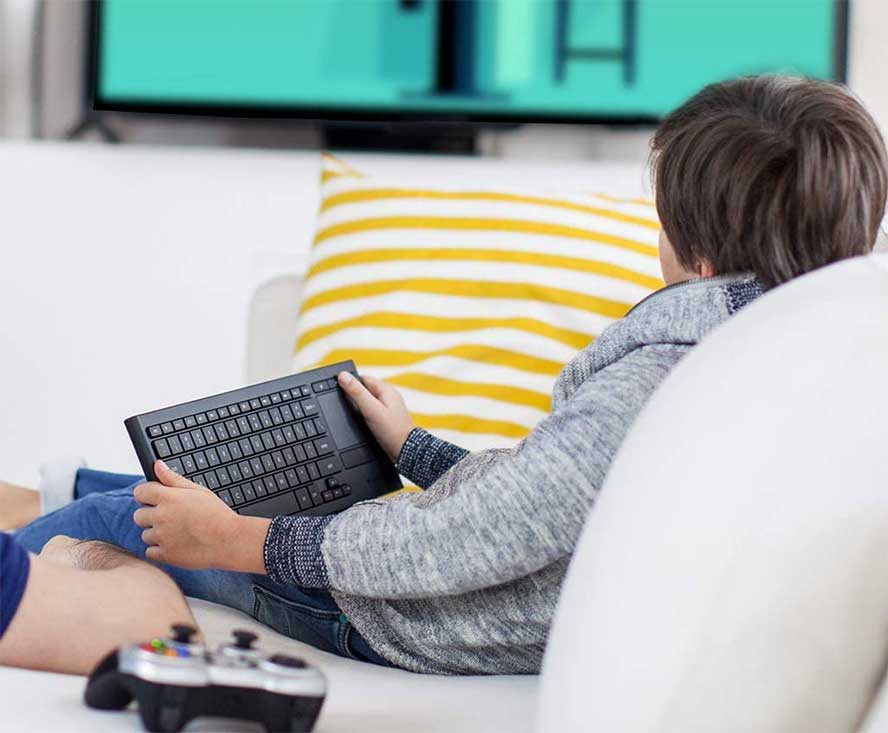 While the K830 shares the wireless range and integrated touchpad features with the K400 Plus and Arteck TV Keyboard, its rechargeable battery is not available in the K400 Plus. Although its typing noise is somewhat loud compared to the other models, its compatibility with both Logitech Unifying and Bluetooth Smart technologies is a major advantage, offering greater versatility. And while the keyboard's backlighting feature is more sophisticated than the K400 Plus, it still falls short of the Arteck TV Keyboard's 7-color LED backlight. And unlike the Macally Bluetooth Keyboard, it does not support multi-device Bluetooth synchronization.
What we liked:
Adjusts backlight based on ambient light
Compact, lightweight and aesthetically pleasing
Reliable wireless connectivity
Rechargeable with long battery life
What we didn't like:
Typing noise peaks at 55 dBA
No Bluetooth sync option
Best Runner-Up: Macally Bluetooth HTPC Keyboard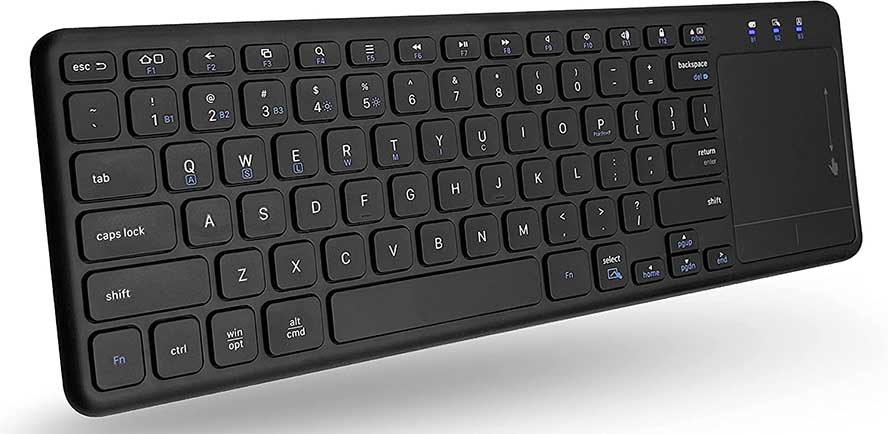 Key features:
Touchpad integration for seamless control
Multi-device Bluetooth synchronization within 30 feet
78-key layout with 13 shortcut keys
Wireless technology for unrestricted movement
The Macally Bluetooth Keyboard demonstrates a deftly designed fusion of functionality and convenience. Emphasizing a streamlined user experience, this compact unit, with dimensions of 15 x 5.04 x 1.14 inches and weighing a mere 14.4 ounces, comfortably fits in hand or on a lap. Equipped with a touchpad, this device becomes a one-stop shop for your media needs. During our testing, it impressively made navigating interfaces, ranging from streaming services to web browsers, a breeze. Its sleek design is accentuated by its wireless capabilities, freeing the user from the constraint of tangled cords.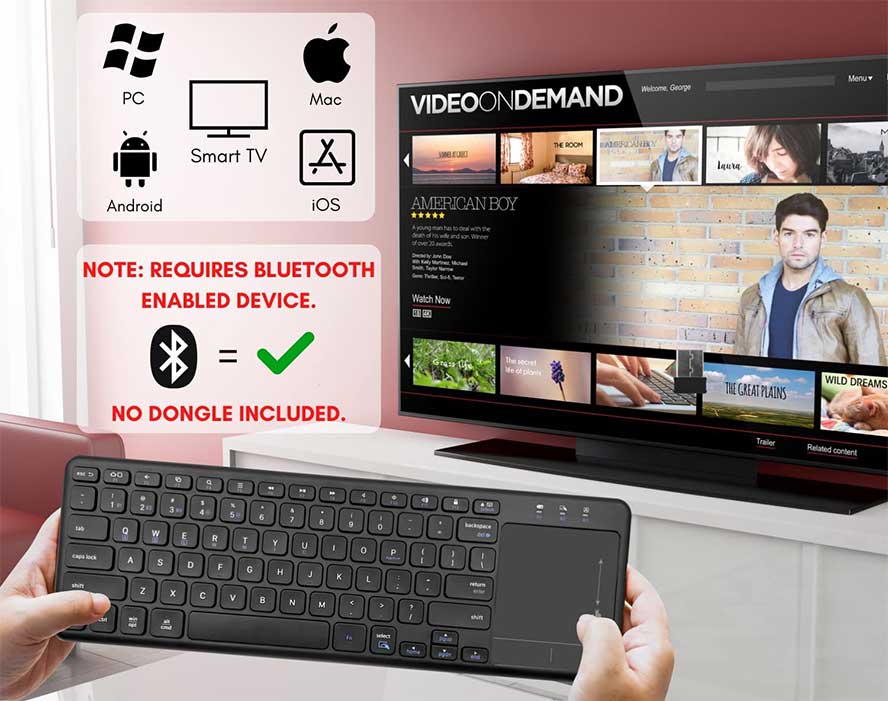 One noteworthy feature is the seamless multi-device Bluetooth synchronization. We easily switched between a TV, laptop, tablet, and phone, all within a 30-foot range. Consequently, there's no need to keep track of a separate dongle. That's a big plus in our book. We also found the 78-key layout, inclusive of 13 media-centric shortcut keys, to be particularly user-friendly. The left/right mouse buttons and D-pad add to its robust feature set, enabling easy control for a myriad of tasks beyond media.
Please note, however, that while the keyboard has been optimized for versatility, the shortcut keys are not compatible with Mac gestures. We also had some difficulty getting used the CTRL/ALT setup, as these keys are only present on the left side. Where those same keys should be on the right side, you're instead given an "FN" function key and a select key. Making up for this minor misstep is stellar battery life that can provide several months of use.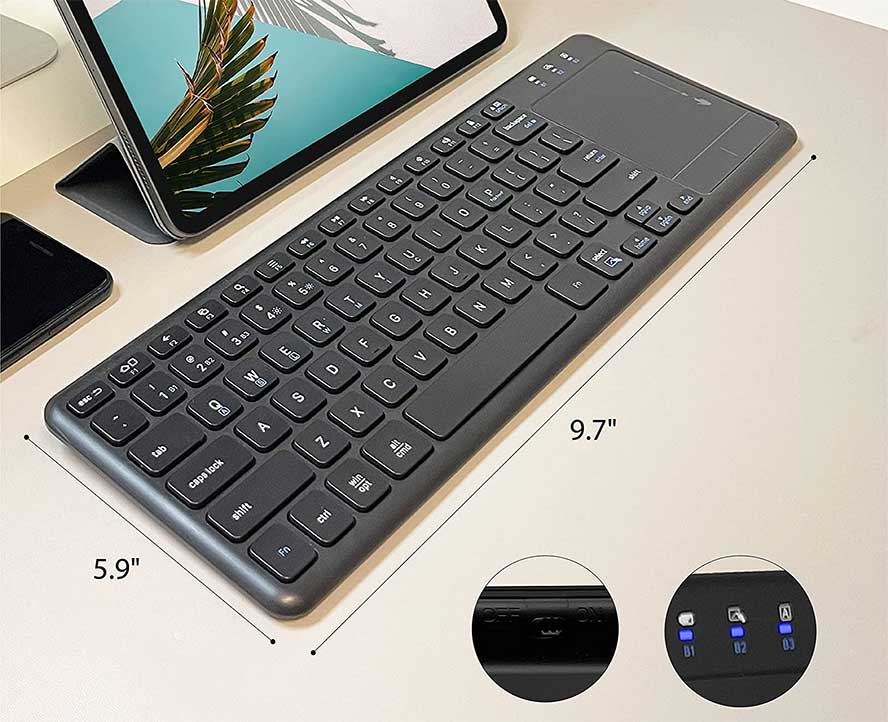 The aforementioned key layout with shortcut keys provides a unique feature not offered by the other models. Although it falls short in its shortcut keys not being Mac-gesture compatible, its lifetime support and a 2-year warranty offer more commitment to user satisfaction than the rest. Despite its wireless capabilities, the keyboard's wireless range is slightly less than that of the Logitech models and Arteck TV Keyboard. Still, the Macally Keyboard's versatile and user-friendly interface makes it an impressive runner-up in the HTPC keyboard market.
What we liked:
Doesn't require a dongle
Easy-to-navigate interface
Excellent wireless Bluetooth range
Comes with lifetime support, 2-year warranty
What we didn't like:
Shortcut keys not Mac-gesture compatible
Wonky CTRL/ALT setup
Best Alternative: Arteck TV Keyboard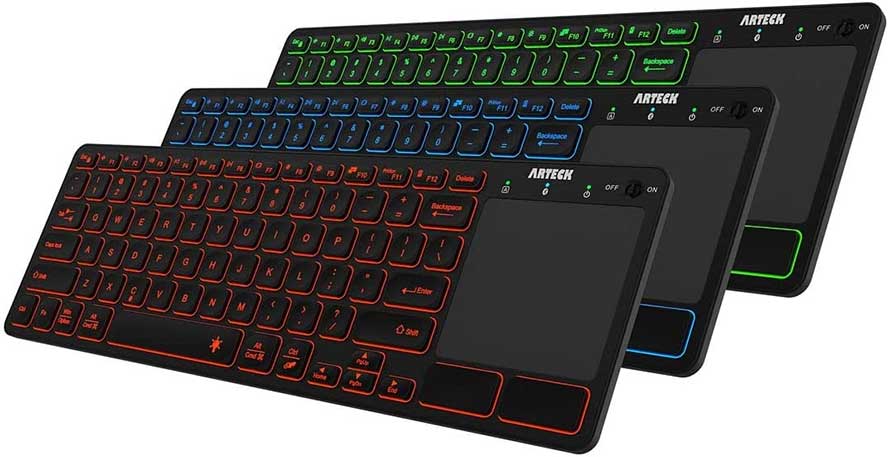 Key features:
Wide compatibility across multiple OS
Elegant 7-color LED backlight
Built-in touchpad for easy control
33-feet robust wireless range
Boasting a sleek, modern design, the Arteck TV Keyboard makes a solid addition to any tech arsenal. In fact, we found this budget-friendly model to be an excellent alternative to the pricier Logitech K830. With a weight of 1.17 pounds and dimensions of 15.71 x 4.8 x 0.94 inches, it's portable enough to carry around while maintaining a sizeable presence for comfortable typing. Furthermore, it supports 7 unique, elegant LED backlights with two brightness levels, so it's easy to personalize your setup and navigate comfortably in low light. An auto-sleep feature helps to optimize power usage.

Hotkeys and media keys are incorporated for seamless control, particularly useful for TV-connected computers and HTPCs. And speaking of, wide compatibility is present here so that you can effortlessly pair with devices operating on Windows 7, 8, 10, MacOS, iOS, Chrome OS, and Android. Whether it's a smart TV, PC, tablet, or smartphone, this keyboard integrates with ease. Further enhancing its versatility is the built-in touchpad, providing a comprehensive input solution in a single unit.
The keyboard maintains a wireless range of 33 feet, making couch-based navigation a breeze, though we found this range to vary depending on the environment. In our tests, it maintained a steady connection in a spacious living room setup, but more cluttered quarters can present problems. With the USB-C charging cable included, recharging the device is as modern and convenient as its operation. You can look forward to an impressive 6 months of use on the single charge of the built-in lithium-polymer battery.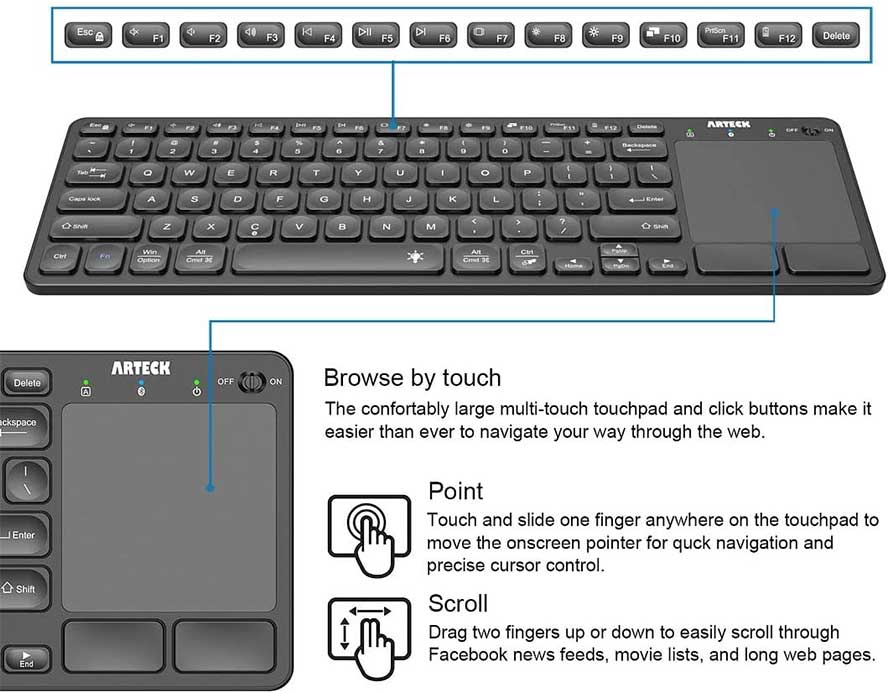 Arteck's offering distinguishes itself as a budget-friendly option with wide compatibility and a 7-color LED backlight, an elegant touch not found in any of the Logitech models or the Macally Bluetooth Keyboard. Its built-in touchpad and robust wireless range align it with the features of the Logitech keyboards. However, it stands out for its USB-C charging, modernizing its operation compared to the other models.
What we liked:
Hotkeys and media keys integrated
Auto sleep feature for power saving
Includes USB-C charging cable
Portable yet sizeable for comfortable typing
What we didn't like:
Wireless range varies with environment
Takes a long time to charge
HTPC Keyboard FAQs
What is an HTPC keyboard?
An HTPC (Home Theater Personal Computer) keyboard is a specially designed keyboard for controlling a computer system connected to a TV or home theater system. These keyboards often have integrated touchpads, media keys, and wireless functionality to allow easy navigation from a distance.
Do I need a special keyboard for my HTPC?
While you don't necessarily need a specialized keyboard for an HTPC, it can significantly enhance your user experience. An HTPC keyboard typically includes features like a built-in touchpad, wireless connectivity, and media-specific keys, allowing you to navigate your home theater system from your couch or bed without requiring a separate mouse.
Can HTPC keyboards work with any Operating System?
Most HTPC keyboards are designed to be compatible with a variety of operating systems, including Windows, MacOS, and various versions of Linux. However, compatibility can vary from model to model. Always ensure to check the product specifications for compatibility before purchasing.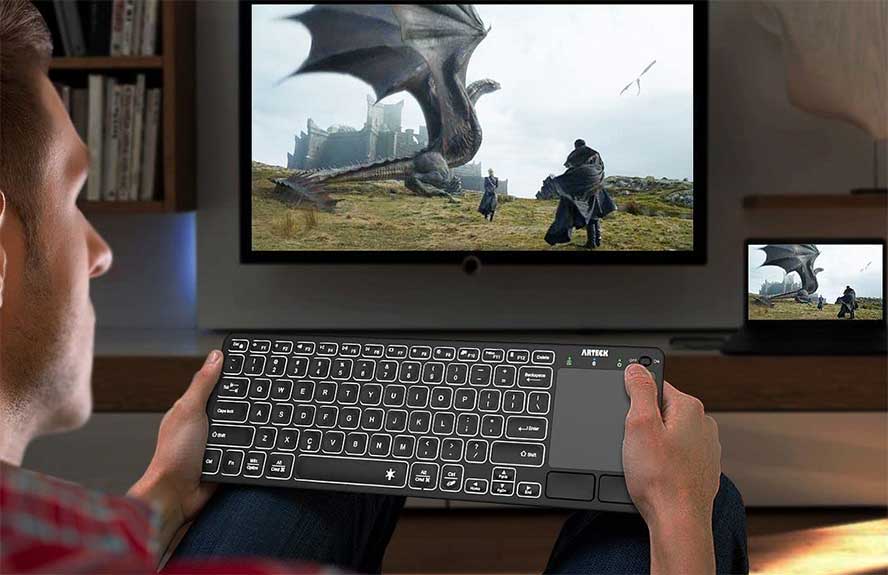 Final Verdict
Our selection process was rooted in balancing function, design, and value.
The Logitech K400 Plus secured the top spot as the best overall due to its seamless control experience, long-range wireless connectivity, and impressive battery life.
For a high-end option, Logitech's K830 stood out with its smart backlighting, sleek design, and reliable wireless connection.
Macally's Bluetooth Keyboard secured the spot of runner-up, excelling with its user-friendly interface, multi-device Bluetooth synchronization, and excellent customer support.
Finally, as the best alternative, Arteck's TV Keyboard offers wide compatibility and an elegant 7-color LED backlight at a more budget-friendly price point.
Each of these keyboards brings its own unique blend of features and performance, aiming to enhance your HTPC experience.