Whether you run you own business or work in a busy, fast-paced office, having the right equipment is key when it comes to maximizing productivity. From computers to WiFi routers to printers, reliable, quality technology can make or break the way you and your employees work. The last thing a busy person needs is to be slowed down due to a technical error or by a device with confusing instructions that takes a long time to install. It's really all about convenience, ease of use and efficiency.
However, there are dozens of office devices out there designed to help business stay organized, which makes choosing the right one no easy task. When searching for something like a label maker, it helps to know exactly what the needs of your business are, and to familiarize yourself with the features and capabilities of each device you come across.
In this review we'll be taking a look at the Dymo LabelWriter Wireless Label Printer. We'll be examining it as a standalone label maker, as well as comparing it to its predecessors. We'll be looking at things like the design, speed, wireless capabilities and printing efficiency to give you an idea of whether or not this new item should have place in your workspace.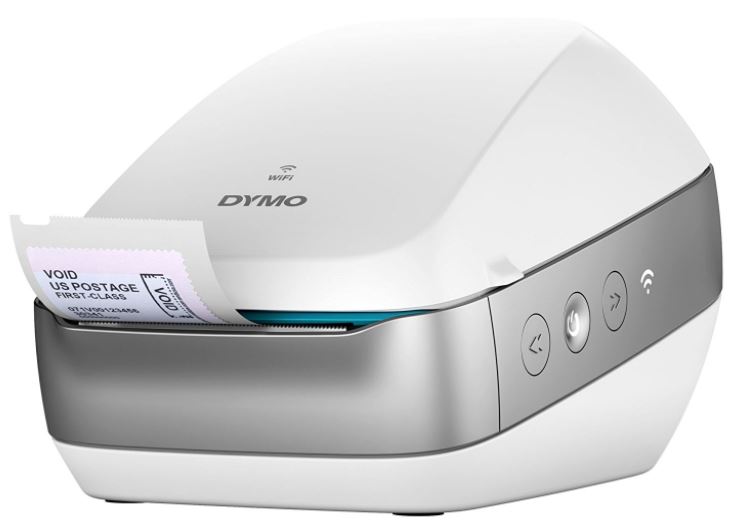 Overview
At first glance, the Dymo LabelWriter Wireless Label Printer is an impressive, sturdy-looking device. Weighing in at 3.1 pounds and measuring at 7 x 7.5 x 10 inches, it isn't going to take up a tremendous amount of space on your desk or even in your home office, which already makes it a good choice for those with smaller spaces. The exterior is made of white, futuristic-looking plastic with a silver band around the middle. There is a power cord that serves as the required power source, but aside from that, it is completely wireless.
Unlike some of its Dymo predecessors, the LabelWriter Wireless version only comes in white, but the sleek, streamlined design is eye-catching enough that other color options don't feel totally necessary. Still, for some, the lack of color options may seem like a downside.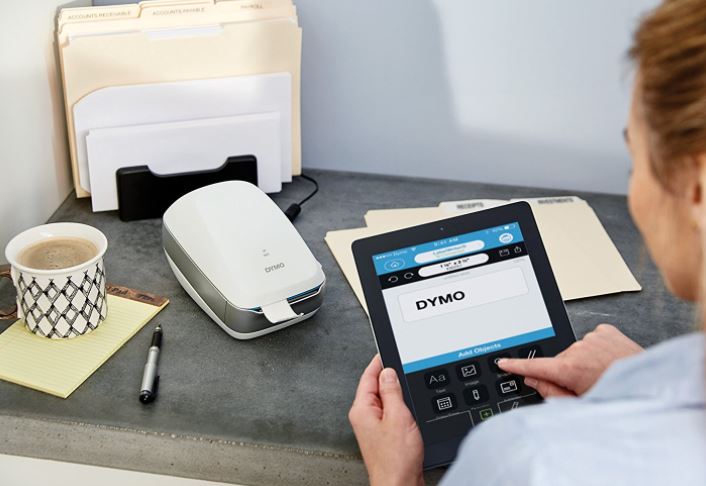 The shape itself is also a departure from the Dymo LabelWriter 450. The LabelWriter Wireless is flatter, rounder and has softer edges. The labels themselves print from a lower slot so that they dispense horizontally rather than vertically. Some of the convenience associated with the size of the LabelWriter Wireless is lost on the fact that it does require a power cord. You won't be able to move it easily from surface to surface without unplugging it and if you do move it, you'll also have to find another outlet somewhere close by. It is small enough that it fits conveniently on a space about the size of a desktop, but that surface will have to be in close vicinity to a wall outlet, which we found limiting.
In general, the LabelWriter Wireless is certainly convenient and aesthetically-pleasing in its design. Our initial opinion is that it was sturdy, well-made and constructed with the busy worker in mind. The color-scheme and shape has a professional, cutting-edge look, and before even trying it out we could see that removing labels was going to be very user-friendly.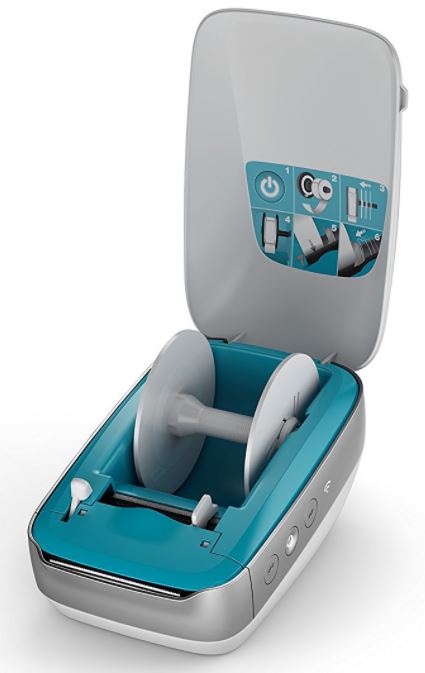 Features and Accessories
The Dymo LabelWriter Wireless is a step up in many ways from its predecessors, and even as a standalone product, is pretty impressive. First and foremost, as the name indicates, it's totally wireless. By emitting its own private WiFi signal, the LabelWriter Wireless enables you to print from either a PC or a Mac, or use the fully-integrated Dymo app. By using the app, you can design and print labels right from your phone or tablet. All we had to do was download the app from the Apple App Store or the Google Play Store, link the printer and we were designing labels wirelessly from the palms of our hands. The app itself was also extremely easy-to-use, and had tons of options for customizing labels.
Dymo recommends using it for shipping and mailing labels, asset identification, barcoding, name badges and labeling things like binders. There wasn't any improvement over the print speed, but Dymo printers are typically on the fast side to begin with. The Dymo LabelWriter Wirless, the Dymo LabelWriter 450 Turbo and the Dymo LabelWriter 450 Twin Turbo all print at 71 labels per minute. While the new LabelWriter Wireless isn't faster, 71 labels per minute is still an impressive rate for any similar device at this price point. Given the other improvements, we were a little disappointed to see that Dymo didn't make an effort to speed things up a bit.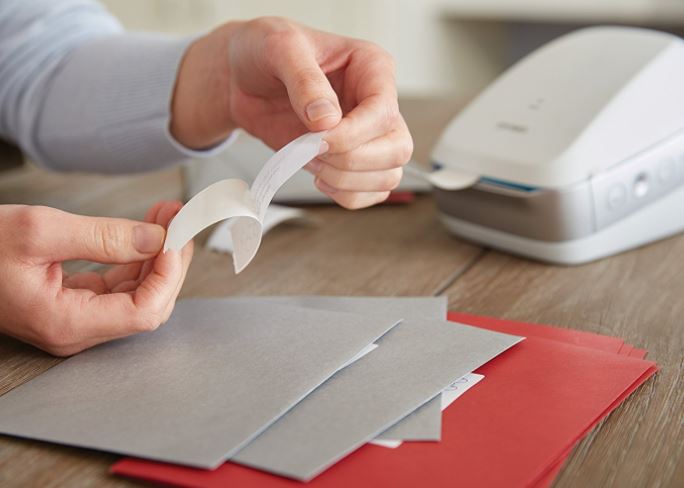 The LabelWriter Wireless can also be linked to any WiFi network for easy sharing in workspaces with several employees. Essentially, it can serve as a single printer for multiple users as long they are all connected to the same wireless network. There is also built-in thermal print technology that prevents sheet label waste by only printing the correct number of labels. Dymo claims that this level of precision will help users to conserve toner and make it last, saving them money in the long run. With a resolution of 600×300 dpi, and an adjustable print capability for labels of all sizes, the LabelWriter Wireless isn't short on features, and is certainly versatile enough to meet a variety of needs.
Inside the box, we found the printer itself, a starter roll for addresses, a starter roll for stamps, a power adapter and cable, a USB cable and a start-up guide. Dymo included enough to get a user started using the device, but we would recommend purchasing some additional roll for your printing needs. Don't worry! Dymo makes replacement rolls affordable enough that you can stock up when you first get your printer.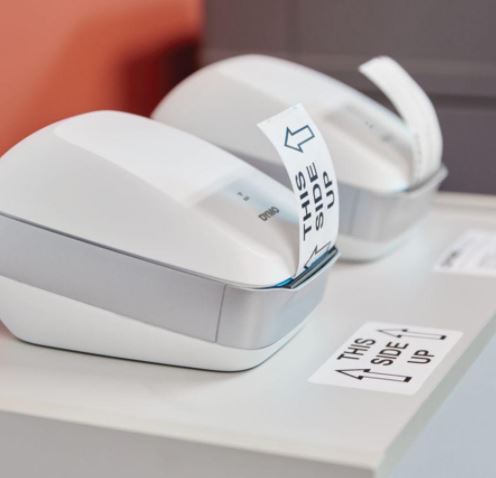 The Software and App
The Dymo Label Software is completely free and can be used to create custom labels from any computer. There are also a variety of preset labels that can be easily utilized for added convenience. All we had to do was select a template, enter our information and hit print. The Dymo Connect App is completely free and can be used on either Android or Apple devices. We were impressed at how easy it was to not only link the LabelWriter Wireless to the app, but also at how easy it was to choose a label printing option. The app allows the user to design and print file folder labels, storage labels, address and shipping labels, name badges barcodes and more. There are also pre-loaded templates built right into the app, which made using it fast and efficient.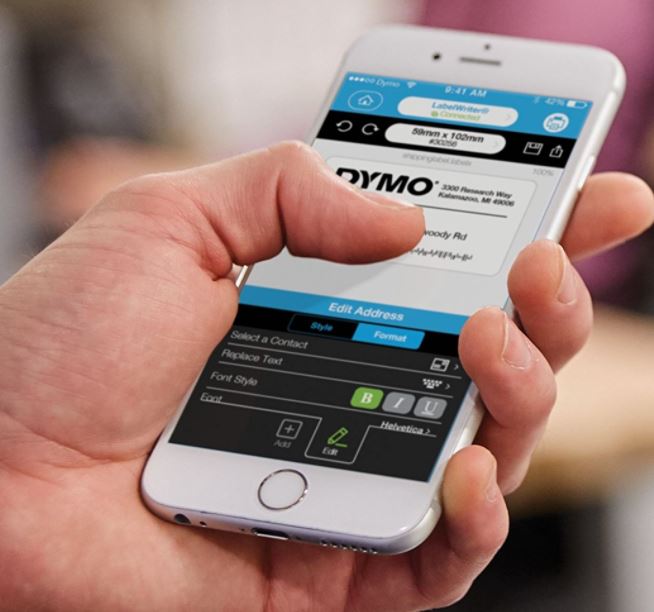 Like any piece of software, the Dymo interface did take some getting used to, but after some time with the start-up guide, we found it to be pretty intuitive. The only confusing part was deciding exactly which type of label we wanted to print, and getting the dimensions right. It took a little bit of time and some patience, but before long we felt that we had a pretty good feel for what we could do with this printer. At most, it may take users a day or so to become proficient in both the mobile app, as well as the free software. That being said, reading the start-up guide is essential, and we highly recommended doing so before using the printer.
Final Thoughts
For the most part, we really liked the Dymo LabelWriter Wireless Label Printer. The fact that we didn't need to have our laptops tethered to the device made sharing the device much easier, and the software was easy enough to use that we were up and running within a few minutes. Our biggest criticism was the lack of improvement on print speed. While 71 labels per minute is still impressive, it was one area that Dymo didn't outdo its previous models. While the wireless capabilities added a whole new element of efficiency, we were still hoping for something a little bit faster than the other products we've seen from Dymo.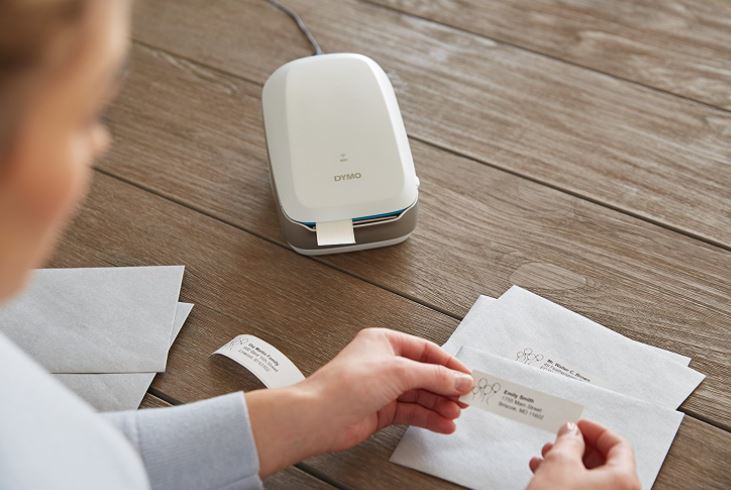 Also, we were also a little bit let down by the need for a power cord. The LabelWriter Wireless is a powerful device, but we felt that it would have been really incredible if it could be easily moved from one desk to the next. With the power cord, the user is limited to where the device can be set up. For a device that is already so convenient, we felt this was a step in the wrong direction.
However, aside from the print speed and power cord, we did find the LabelWriter Wireless to be a powerful device that would have a place in any busy office. It doesn't take up much space, has a ton of options for the type of labels it can print and has a professional, aesthetically pleasing design. We think that, given its capabilities, it has a place in both small businesses as well as bigger offices with large numbers of employees.
If you're looking to stay organized, boost productivity and take your business to the next level, take a look at the Dymo LabelWriter Wireless.