Personal audio gear is getting more and more sophisticated. Clunky headphones and thick, messy wires are a thing of the past, but that doesn't mean that every personal audio device is the right one for you. Choosing a pair of headphones is an important decision because of how big of a role they play in our lives. We use them during our commute, while we're at work and even while were just home relaxing.
Everyone has different needs and expects different things out of their audio gear. With a so much on the market these days, it can be a little daunting to pick a personal listening device that does exactly what you want it to do.
In this review we're going to be taking a look at the Soundmoov 316T Mini Wireless Earbuds. We're going to carefully examine things like convenience, design, fit, sound quality as well as any special features the headphones might have in order to give you a fully comprehensive idea of what they can really do.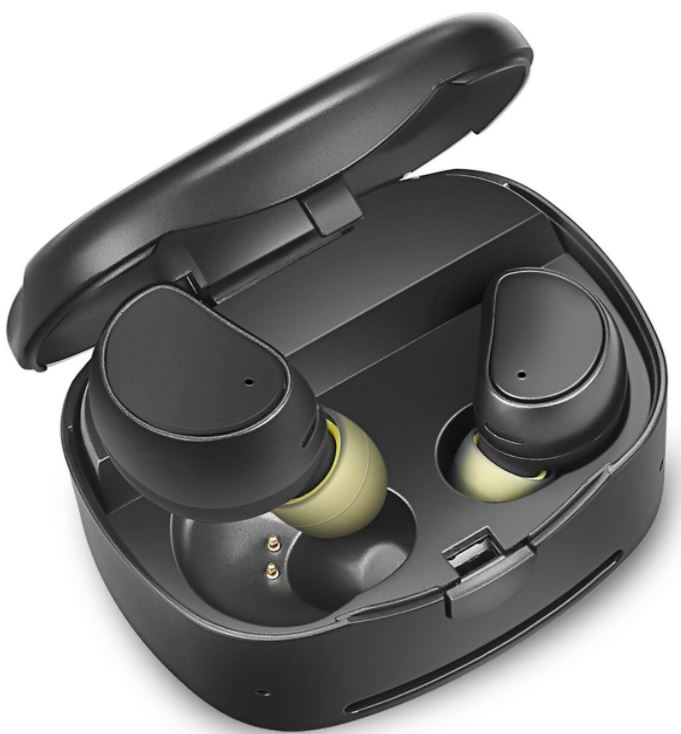 Overview
At first glance we were very impressed with the Soundmoov Mini Wireless Headphones. They came packed in a small box that can also be used as a charger when you aren't listening, as well as some replacement eargels in different sizes. Each earbud was roughly the size of a quarter, about 1 inch by 0.6 inches. This includes both the receiver portion and the gel portion. They also weighed in at only 0.18 ounces, but in no way felt cheap or flimsy. They were actually so small and light, that when we tried them on it was easy to forget that we were wearing them. The earbuds also came in three basic colors: blue, black and grey. We felt that only having three options that were all pretty similar was a bit limiting when it came to customizing the earbuds, but still found each color to be stylish enough on its own.
The charging box was equally as impressive. It was made of a durable composite type of material, and had a small latch on the outside to keep it from opening once the earbuds were inside. On the inside were two sets of metal prongs that plug directly into the earbuds during charging. Not only did the box feel like a good way to keep the earbuds from getting lost or damaged, but the fact that it can charge them was a big bonus. We also noticed two indicator lights on either side, that notify the user when the buds are done charging.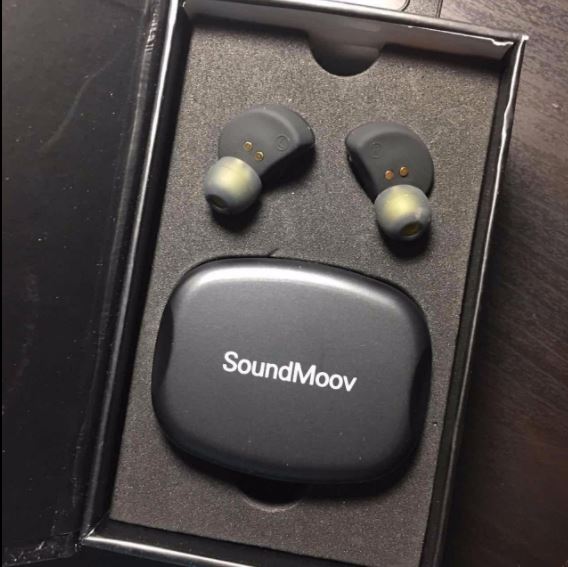 One other thing we found was that the earbuds were not clunky or even very noticeable while we had them in. They aren't large or brightly colored enough to attract attention, and instead rest neatly inside the ear in a way that was discreet and understated.
They are truly wireless, meaning that there isn't even a wire that connects them to one another while you have them on. Each bud is separate from the other, and fits snugly in the user's ears. Even while walking around, bending or moving the head from side to side, each of the buds stayed in fairly well.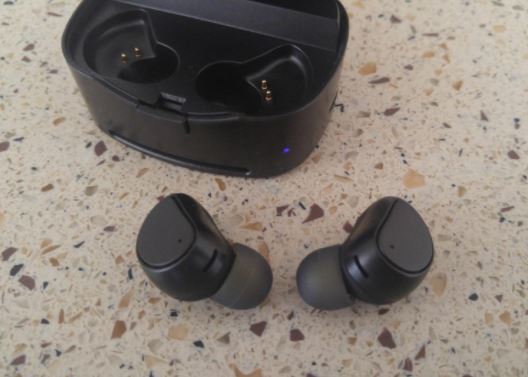 In general, we thought these earbuds had a futuristic, high-quality look, but more importantly did not appear clunky, uncomfortable or difficult to transport.
Features and Accessories
The Soundmoov Mini Wireless Headphones weren't necessarily packed with tons of surprising features, but still earned major points when it came to convenience and portability.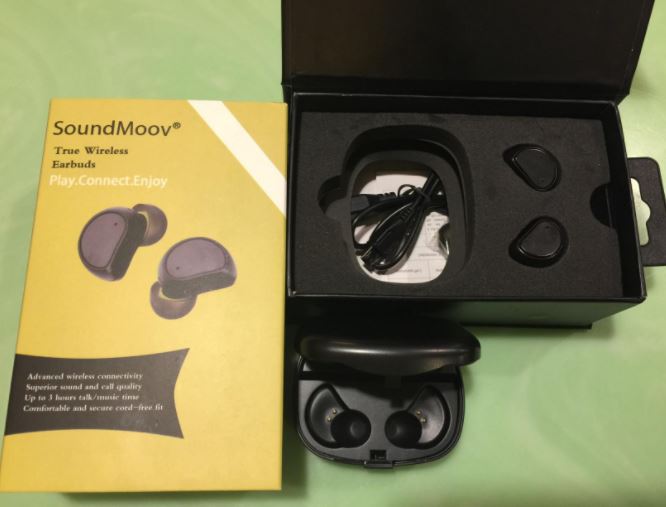 The most impressive part of the earbuds was that they were truly wireless. Many other headphones on the market are billed as being wireless, but still have a small cable connecting each earbud that typically goes around the back of the user's neck. The fact that these didn't have a wire was a step in the right direction, but did have us a little worried about them getting lost. As mentioned, each earbud was about the size of a quarter, and the fact that they aren't connected to anything when they are out of the box means they could be easily dropped or left behind after a workout or long night at the office.
The earbuds use a standard Bluetooth 4.1 connection to pair with either a smartphone or tablet, and we were able to sync them with relative ease once we charged them up. All we had to do was push the pairing button on each earbud, and select them from our device's Bluetooth menu. From what we could tell, the Soundmoov Mini Wireless Headphones were compatible with nearly any Bluetooth-enabled device, including both Apple and Android phones.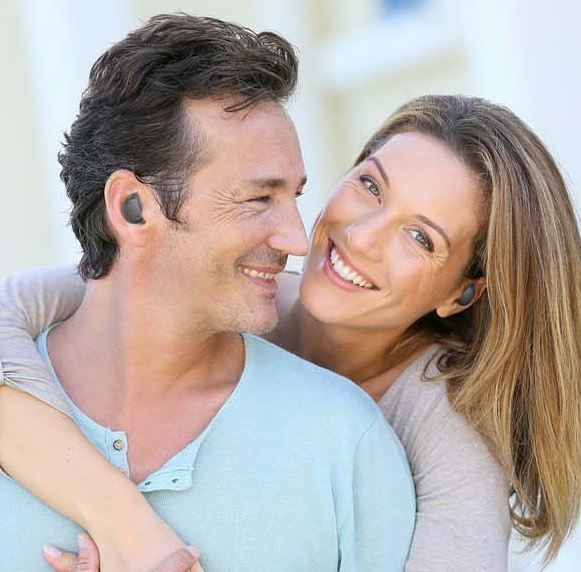 There are also two modes built into the Mini Wireless Headphones: "single" mode and "twins" mode. In "twins" mode, you can use both earpieces to play from the same device, and play the same audio. Of the two, this was the better mode, and we found that the headphones performed the best when used two at a time. The sound quality was better, and the experience was generally more immersive and private.
One other hand, "single" mode allows users to choose either the right or the left earpiece to deliver sound on its own. We didn't see this as a huge advantage, except for the fact that it could possibly make sharing them with a friend easier if you're interested in group listening. However, we still felt that the ear-pieces were best used together for optimal listening and for the best possible sound quality.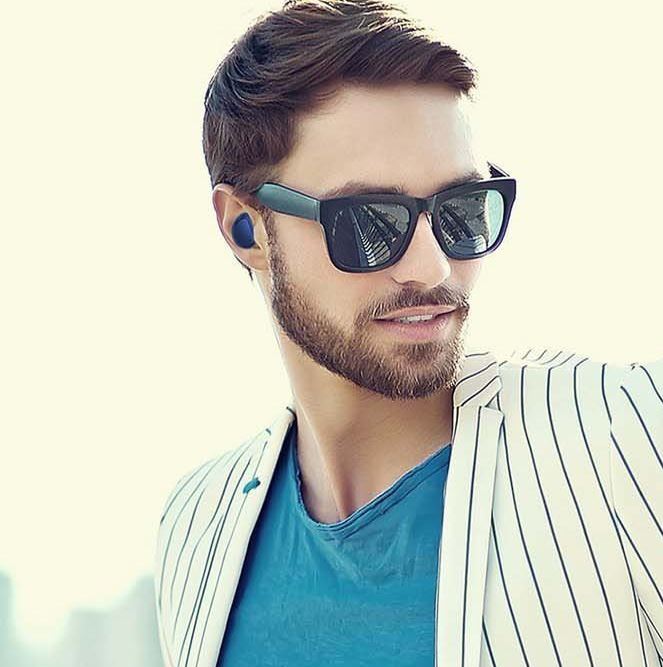 Sound Quality
If you're looking for a big studio sound from your headphones, these may not be the right choice for you, but they are still a powerful, high-performing set of earbuds in their own right. It will help to know what your expectations are before you purchase. For their size, they are impressive and deliver some excellent sound, but they do have limitations. At times, we noticed that there was a little bit of a hollow sound during play, like some of the track we were playing wasn't as clear as others. It depended mostly on what we played, but at times we were just looking for something a bit fuller. Even though the earbuds were lacking a fully rounded-out sound, we were generally satisfied with their performance.
For example, the treble was outstanding, and we could even detect a little bit of bass mixed in. Given the price point, we felt that they were more than capable of serving as a solid, dependable pair of earbuds. They certainly aren't going to block out excessive background noise or make you feel like you're in a concert hall, but when we turned up the volume we were able to make the listening more immersive and private without any clipping or vibration from the earbuds themselves. Lastly, we found it essential to choose the right size eargels to fit your ear.
Once we found the right fit, we were actually able to detect a noticeable improvement in sound quality.
Our recommendation for the Soundmoov Mini Wireless Headphones is knowing what to expect from a pair of earbuds this size and being realistic when considering them.
Final Thoughts
Overall, we found the Soundmoov 316T Mini Wireless Headphones to be a convenient, cutting-edge piece of audio gear that will certainly have its place among fitness enthusiasts, morning commuters or those who are constantly on the move. The charging box was an excellent addition, and the buds were comfortable, lightweight and so discreet that we could barely feel them once we had them on. The lack of any wires whatsoever and an easy syncing process only added to the charm and set them apart from other similar items on the market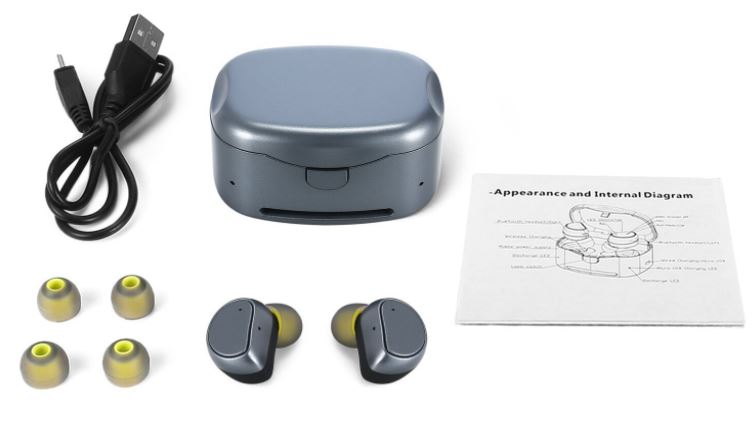 The sound quality, while not disappointing, felt like it could have been improved upon, but for a listening device of this size, was still impressive in its own right. The sound was clear, but these headphones won't measure up to a pair of over-the-ear headphones. Given the price point, though, it was hard to be too critical.
The only other downside was the potential to lose or misplace the earbuds due to their small size and lack of a wire. True wirelessness appears to be a double-edged sword, insofar as that it makes earbuds less tedious to use, but also reduces them to two very small pieces. The charging box was certainly a good attempt at preventing the earbud from getting lost, but we were still left a little nervous about their small size while being transported.
The Soundmoov Mini Wireless Headphones are definitely an excellent choice for a variety of people who are looking to go wireless with their audio gear. They won't break the bank, are well-made and appear to be the next step in private listening. Just be mindful of what you expect from your audio gear when you check these out. If know what they're capable of ahead of time and are realistic, you won't be disappointed with them.