A high-quality pair of headphones is essential for just about anyone these days. Whether it's during your morning commute or while you're home relaxing, the ability to enjoy your favorite music comfortably and conveniently is certainly important. It all starts with choosing the right gear to fit your audio needs. There are hundreds of personal listening options on the market with tons of unique and exciting features contained in each, and choosing the right one for you can be a challenge. Sound quality, comfort and durability are all key factors in a pair of headphones, and taking these things into consideration makes all the difference when it comes time to finally make that purchase.
In this review we're going to take a look at the newly released House of Marley Uplift II Wireless Headphones. We'll be going over the comfort, design, materials, sound-quality and wireless capabilities to give you a comprehensive breakdown of whether or not these unique earbud-style headphones are the right choice for you.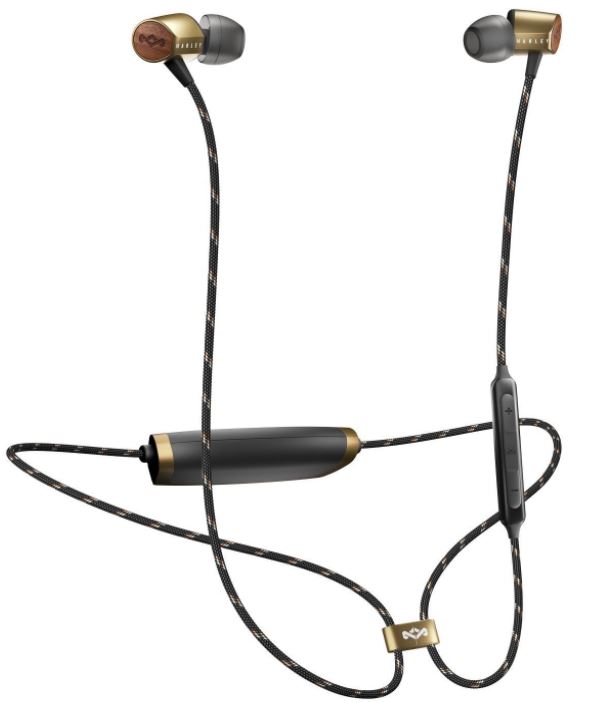 First Impressions
At first glance, the House of Marley Uplift II Headphones are a departure from the more futuristic look of traditional headphones. They have an earthy, understated color scheme, but for those who do prefer solid colors like red or black, those options are still available.
The earbuds themselves are made of aluminum with an actual wooden center. The small braided wire is encased in a woven, rope-like material that almost resembles a mini bungee-cord. The headphones also connect to Apple or Android devices via Bluetooth, which means that there is no ¼ inch jack coming off of the wire. Instead, the short wire goes in a loop behind your head, connecting to both left and right earbuds. We also found an on-board module with a set of buttons built right in. On the module you'll find a button that controls volume, track selection as well as a play and pause button.
We were also very impressed with the intricate details on the earbuds themselves. We found the House of Marley Logo beautifully engraved right into the wooden center of each earbud, and on the aluminum section of we noticed the word "Marley" in a relaxed, minimalist print. Each side was labeled with either an L or an R which wasn't immediately noticeable, but the specially-angled buds make it easy to figure out which bud goes in which ear.
Overall, the Uplift II's have a stylish, down-to-earth design, and certainly would be a good choice if you have an outdoorsy sense of style. That being said, they come in a variety of colors, and aren't too rugged or rough looking that the average professional couldn't wear them to the office. In general, House of Marley doesn't seem to be trying to accomplish anything flashy with this model's appearance – a choice that seems intentional. Based on looks alone, these headphones will definitely appeal to you if you're a fan of audio gear that has a non-traditional, natural look.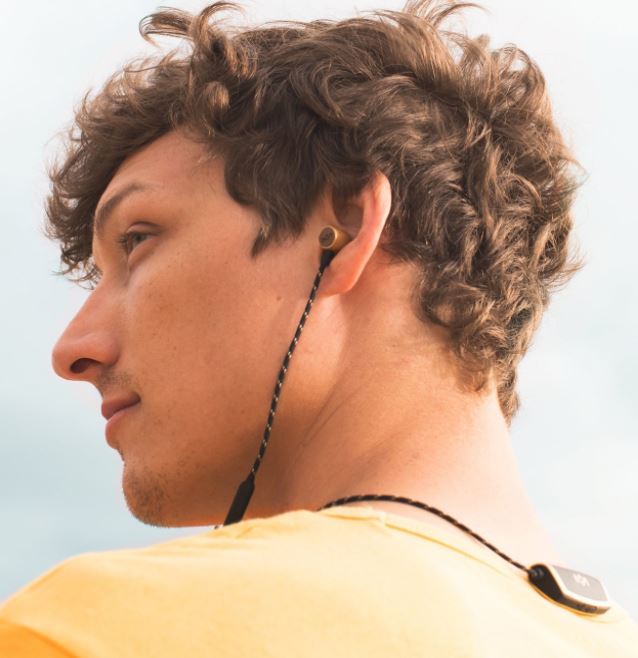 Materials and Design
One of the coolest things about these headphones is the actual stuff that went into their creation. That's right: they don't just look earthy, they are earthy.
The Uplift II headphones are made of Forest Stewardship Council Certified wood, recyclable aluminum and PLA bioplastic—a plant-based kind of polymer that is also renewable. The fact that these materials were chosen for environmentally conscious reasons makes these headphones not only unique, but also makes them the kind of private listening device that you can feel good about using.
Even the box is made entirely of recycled cardboard. Using recycled wood as one of the primary materials struck us a unique selling point because it's not something we've seen in similar pieces of audio gear, and is consistent with the message of the House of Marley brand. Plus, as far as we could tell, the non-traditional, eco-friendly construction didn't have any adverse effects on sound quality.
The wire connecting both earbuds is made of tightly woven fabric, but we found it to be strong and durable enough to protect the electronic components contained inside during use. It also didn't appear to tangle easily since it was so short.

The replaceable ear gels came in three sizes, and were made of the typical standard rubber you would find on most other headphones. They were soft, squishy and comfortable, but still of noticeably high-quality and came with three different sizes included.
As far as the design of the headphones, they did not feel clunky or like they could get in the way. In fact, it was easy to forget that we had them on while we tested them out. The wire sits loosely on the back of the neck so that the only thing you feel when you have them on are the gels in your ears.
Aside from the FSC Certified wood and recyclable aluminum, the Uplift II headphones are basic in their design, small and convenient to wear. However, they still felt sturdy, built-to-last and very well-made.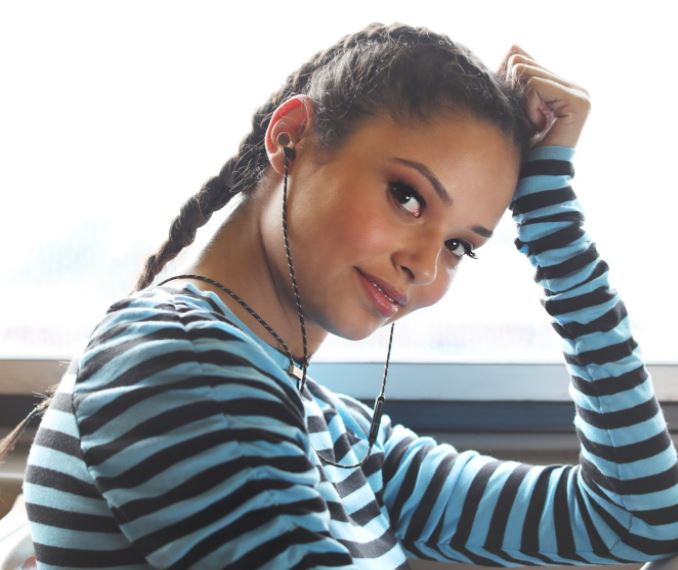 Features
Don't be fooled by the understated look of the Uplift II Headphones. These earbuds are a big step up from their more basic, fully-wired predecessor, and are packed with features.
The first improvements are the wireless capability and specially angled earbuds. The lack of a wire truly makes them an on-the-go solution for audio, and each ear bud faces slightly down rather than directly horizontal. This makes them not only more ergonomic, but also makes them great for workouts or for any physical activity. In fact, we were extremely impressed by how well the earbuds stayed in during use, because so many others tend to fit the ears poorly, causing them to fall out even with only slight head movements.
There is also a small, discreet battery housing that sits along the woven wire behind the neck, as well as a choke-free magnetic clip that makes the entire unit fully adjustable. On the left earbud you will find a small line-in microphone for use during phone calls, and situated along the wire is a module that lets you adjust volume, play and pause tracks and skip forward and back while listening to music.
The Uplift II are also moisture proof which significantly adds to their versatility. You can wear them during a workout, or even in the rain, and won't have to worry about sweat or water damaging the components. Essentially, they are ready to handle whatever you put them through.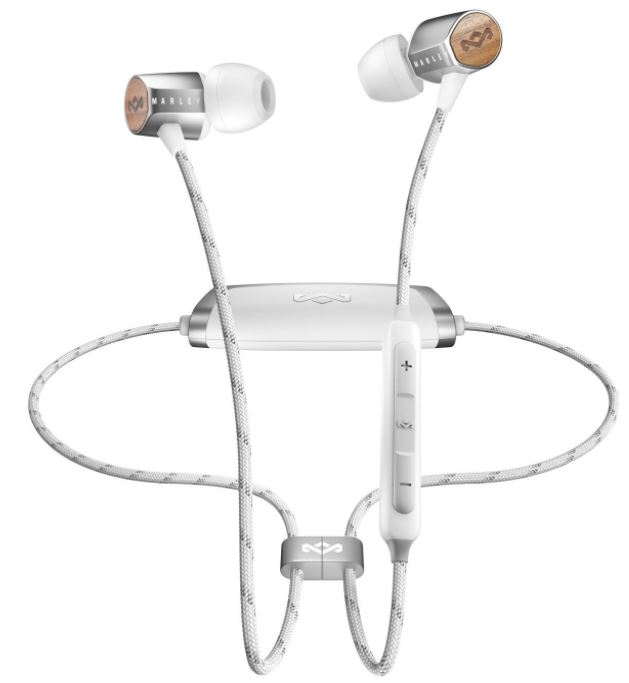 We were also pleased to find that the Uplift II was rechargeable and didn't require the use of separate batteries. As far as convenience goes, this was the icing on the cake, especially because of the impressive battery life. From a single charge, you can expect a whopping ten plus hours of play or talk time.
Needless to say, we were impressed by the durability and overall capability of the Uplift II, and feel that they are well worth the price based on the long-list of features alone.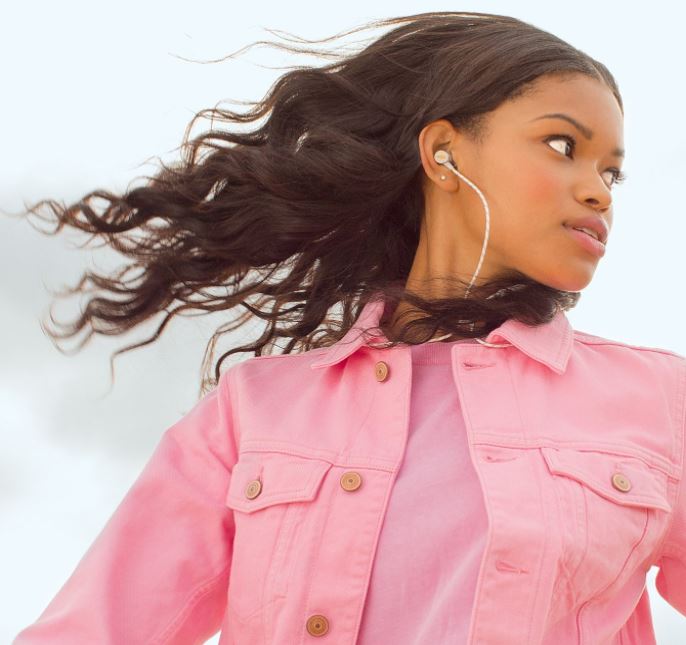 Sound Quality
The Uplift II is a noticeable step up in sound quality from the previous model. Due to the added 9mm drivers, we noticed that the playback was crisper, sharper and had almost no clipping or vibrating at higher volumes. The earbuds were slightly lacking when it came to bass, but were still surprisingly powerful given their small size. The ergonomic fit also helped block out environmental noise which made playing music or taking calls feel more immersive and personal. We noticed that once we chose the appropriate ear gels, most outside noise was sufficiently muffled for a distinctly private listening experience. The wireless connection also held up very nicely. Once the headphones were connected, the signal stayed solid without any loss of transmission during use.
We also gave call quality a big thumbs up. The sound transmitted via the Bluetooth signal was extremely impressive and, in general, was crystal clear on both ends. We could hear each other clearly in both the headphones and while speaking through the microphone. There were a few brief instances of static in certain locations, but it was nothing that severely obstructed talking or listening.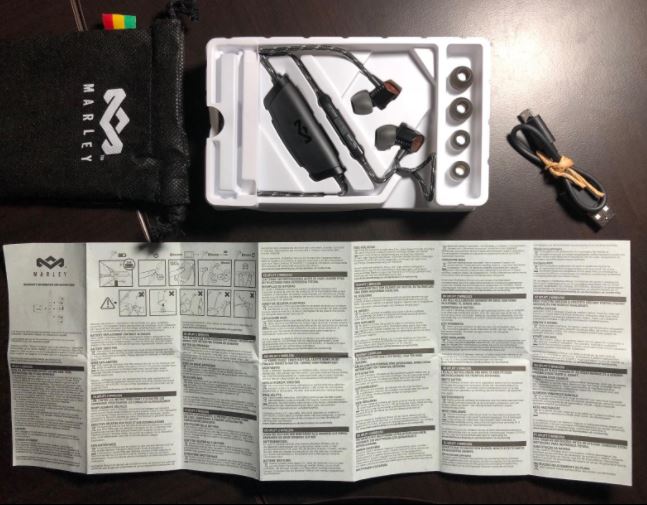 Final Thoughts
Overall, we really liked the House of Marley Uplift II Headphones. Not only were they the kind of use-anywhere headphones that can lend themselves to a variety of situations, but they also held up well when it came to sound quality, durability and aesthetics. Not to mention, we can't help but find the idea of a wooden pair of wireless headphones that are also good for the environment to be just plain cool. The playback quality as well as Bluetooth reception were both outstanding, and the clarity during phone calls was equally impressive.
The best part about the Uplift II headphones is their versatility and ability to fit the needs of so many people looking for the right piece of audio gear. Whether you're the outdoorsy type, someone who likes to get a work out in from time to time, or the kind of person who just prefers eco-friendly gear, the Uplift II will certainly not disappoint.