Versatility isn't usually the first word that comes to mind when you think about home theater projectors. Generally, they're designed to do one thing in one environment, namely, project large images on to large screens in dark rooms.
Due to these limitations, most consumers tend to stay content with their big screen LCD TVs. Since a TV can work well in any lighting condition and doesn't require a special screen, it's far easier to go that route. Projectors are usually reserved for either business presentations or large homes with a dedicated media room.
Since we typically evaluate projectors on only a few factors like image quality, brightness, and such, we were very interested to get our hands on the WOWOTO T8E Multimedia Smart Projector. While not well known, top tier manufacturer, WOWOTO created a very interesting and unique product. The actual video specifications may not rise above its more premium competitors, but the T8E combines a host of highly useful features we don't generally encounter in a projector.
Let's explore the features this compact projector brings to the table, and you can decide whether it's a smart choice for your business presentations or home theater environment.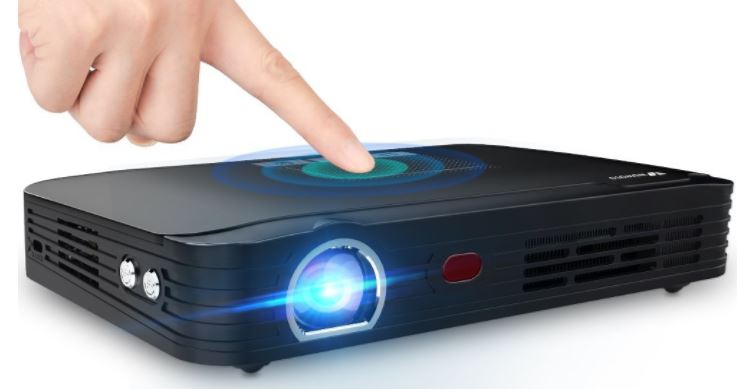 Overview and Design
The WOWOTO T8E is an Android powered, portable, Wi-Fi smart projector with a built-in battery. You won't find a lot of those features on other mainstream projectors, and we'll spend some time evaluating the value these additional features add.
First, though WOWOTO may be a lesser known brand, they did take care with the design and packaging. The box features a premium-look, glossy on matte black design. Once we opened the box, we were glad to see a sturdy and functional carrying case in black with attractive blue accents. Inside the case we found the projector along with power and even HDMI and component cables.
The projector itself is a compact rectangular box with rounded corners. Measure just 7.8 x 4.8 x 1.6 inches and weighing only 1.5 pounds, it really looks more like a small desktop router than a projector.
One of the more interesting features, the T8E has an embedded touchpad on top of the router. While most projectors simply connect to your video source as a dumb display, WOWOTO utilizes a custom build of the Android 4.4 operating system inside the T8E. The touchpad on top allows you to easily navigate through the Android software and the projector menu.
On the underside, a mounting hole allows for connecting to a tripod, and the projector also supports front, rear and ceiling mounting. Also included, a 3.5-millimeter audio jack provides audio out since the included 2.2 watt speaker is only good if you have no other options. USB and RJ45 ports enable communication while a micro SD card allows you to play content directly.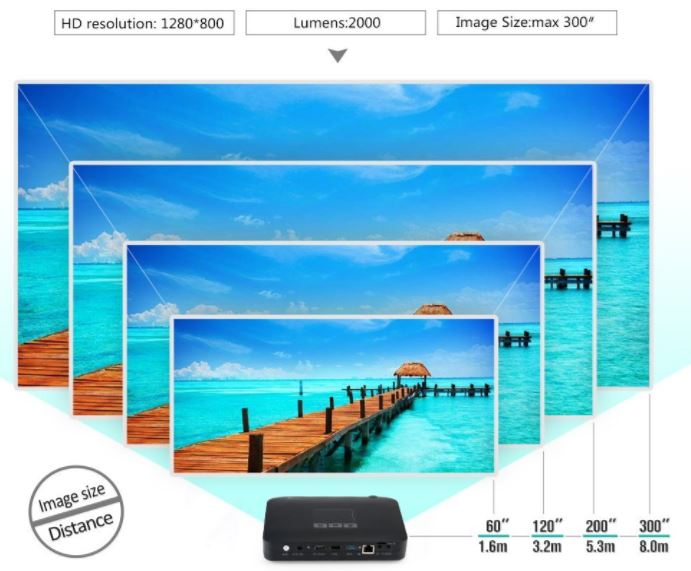 Technical Specifications
WOWOTO instantly committed one of our biggest technological pet peeves by giving misleading specifications. The product sales page proudly states "Supports 1080p" resolution. What they actually mean is that the T8E can accept 1080p video sources but only has the capabilities to display 1280 x 800 pixels. This means all of your Full HD 1920 x 1080p content will downgrade to lower quality. Given the compact size and cost, we can understand the lower pixel count, however their marketing should make the truth more obvious.
The T8E utilizes a Texas Instruments DLP chip and RGB LEDs to light your video. Fortunately, since LEDs are relatively stable, WOWOTO claims over a 20,000-hour lamp lifespan. Basically, even if you watched content for 8 hours every day, it would take almost 7 years for the light source to fail.
One bonus, WOWOTO decided to include electric focusing. While this comes in handy if you choose to mount the projector out of reach, we do wonder a bit whether it was necessary. With such a small, portable unit, we don't imagine permanently mounting it on the ceiling. As such, the electric focusing seems like an unnecessary expense and complication when you'll rarely find yourself unable to manually focus.
Arguably the most compelling feature, WOWOTO included a battery inside the T8E. The 7800 mAh Lithium Ion battery makes this a truly portable projector with no external source, extension cords, or generators required.
With a throw ratio of 1.2:1, WOWOTO claims a maximum projection size of 300 inches from a distance of 10 feet, but with only 2000 lumens we have some serious doubts about that claim.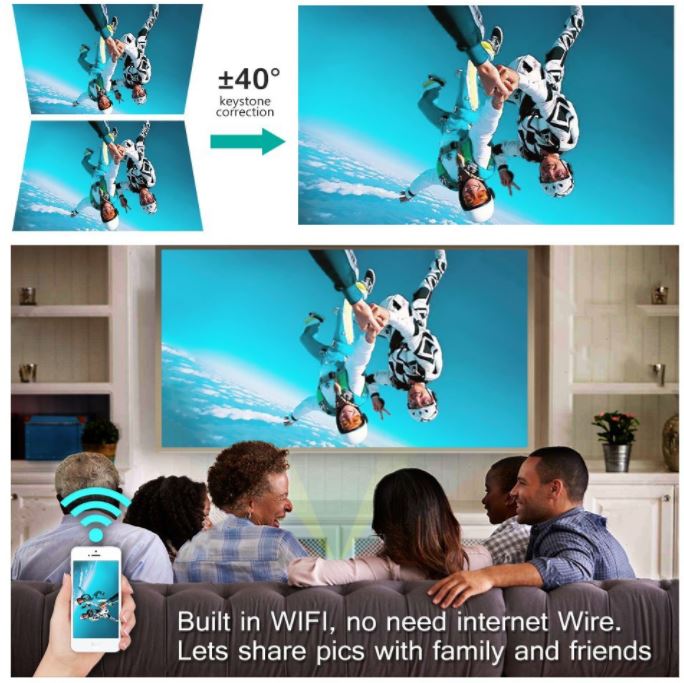 Smart Features
Far more than just a display, the T8E includes an embedded Android system. With a quad core Cortex A7 CPU running at 1.2 GHz, 1 GB of RAM, and 8 GB of ROM memory, there's a surprisingly robust little operating system running the show. Curiously, with all the necessary hardware and software, we found the T8E to be lacking many essential smart apps. After contacting support, we found they could provide us with an APK to install Netflix, and were told other streaming apps, like HBO, should function as well. It's certainly better than nothing, but doesn't leave a great "out of the box" impression when you have to jump through so many hoops to get things working.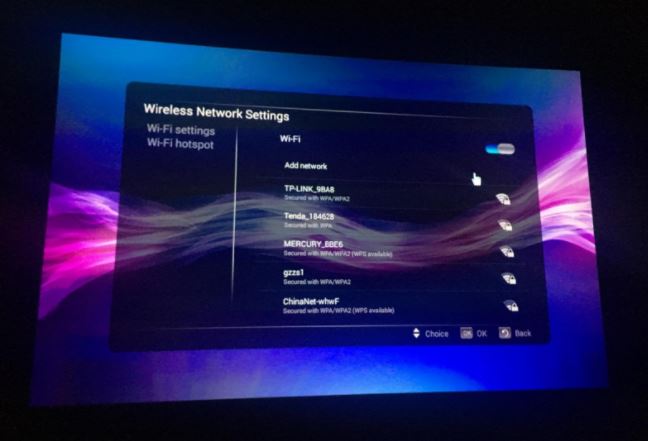 Disappointingly, the very old Android 4.4 operating system has no projected path for updates. This was confirmed via chatting with support, although we weren't clear if it's impossible or just not planned. While functions do work, this operating system launched in October of 2013 and it's only a matter of time before software companies deny app updates to devices running this OS.
Rather than counting on the embedded software, it may prove more reliable to stream from a device you know will function and receive timely updates. Fortunately, with the included 802.11 a/b/g/n dual band Wi-Fi connection, you can connect and mirror your device via Airplay, Miracast, or DLNA in addition to the option of connecting a physical HDMI cable.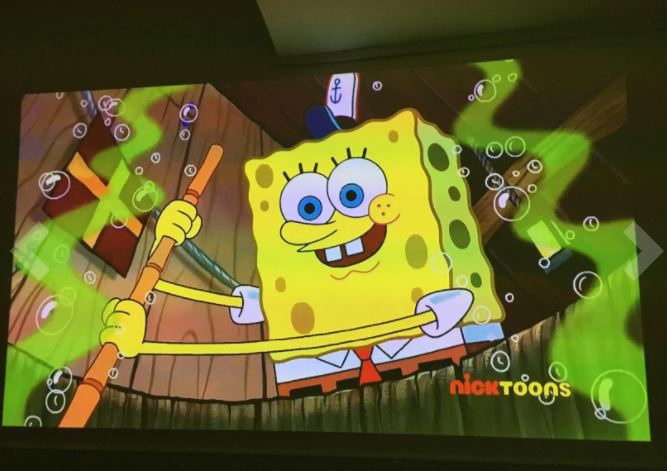 Video Quality
Here's where things start to slip a little bit. As much as we enjoyed the smart features and portability, there's really no getting around the fact that this projector maxes out at 1280 x 800. In practice, since this pixel count corresponds to a 16:10 ratio, most content will display at 1280 x 720.
While 720p technically classifies as high definition and you may not notice on a 42-inch TV from 20 feet away, we're talking about projecting on a large screen of over 100 inches. We saw noticeable pixilation that, while it may not bother some users, definitely distracted us from enjoying our content. Granted, it doesn't help that our standards have been elevated by recently reviewing high end 4K projectors, but even an unsophisticated eye will likely notice the lower resolution.
Resolution aside, color and refresh rates were acceptable but not anything impressive. The T8E does support 3D content if you purchase DLP active 3D glasses separately. With the rise of the impressive quality and clarity of 4K screens, 3D seems to be a much less compelling feature these days.
Aside from the low resolution, our biggest complaint was the brightness, once again caused by overly ambitious marketing specifications. 2000 lumens is more than adequate for a portable projector even in a semi-lit environment as long as your projected image stays under 100 inches. Unfortunately, WOWOTO makes the claim that the T8E can support a screen size of 300 inches. Since brightness decreases as the image size increases, you'd need a relatively dark room for 100 – 160 inches. Anything above 160 inches really stretches what could be considered adequate brightness. For a 300-inch screen, we'd recommend a projector with over 4000 lumens.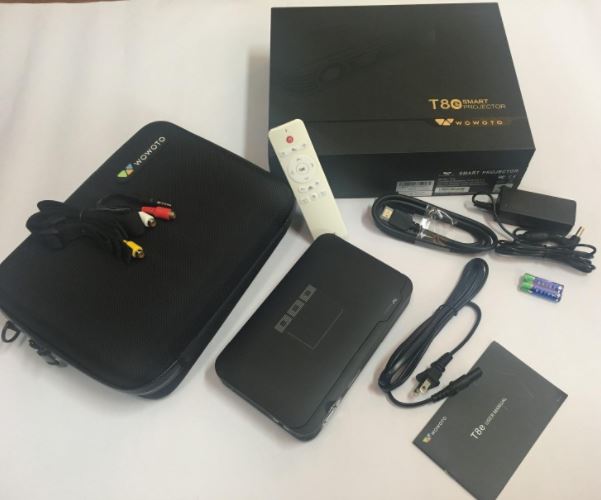 Usage
Overall, we enjoyed using the WOWOTO T8E. We were able to get streaming working well enough from both the embedded apps and mirrored from our devices and found it quite entertaining to play mobile games and share videos on such a large screen.
The touchpad on top of the device was a nice feature but didn't always work with precision. Fortunately, WOWOTO added Bluetooth support for connection to a mouse or keyboard, so if we had major problems we'd connect a different input device.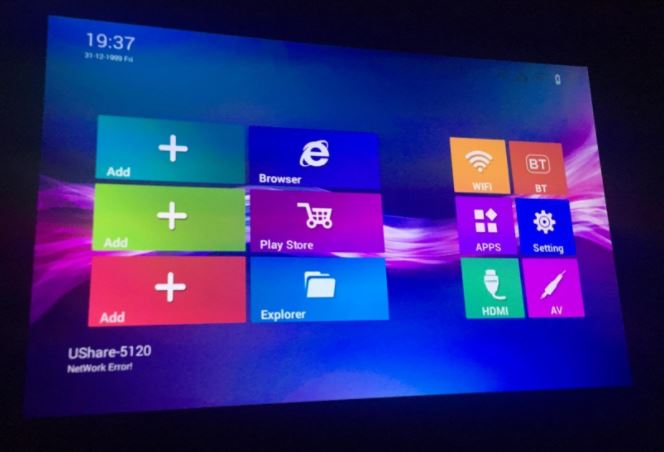 Sound quality from the embedded speaker was expectedly poor. It's nice to have for a business presentation or outdoor use where a better speaker connection isn't possible, but we'd plan to connect to external speakers whenever we could.
While we couldn't find any references to expected battery life, we were able to get through a full 100-minute movie with just a little bit to spare. We'd obviously recommend using the power adapter whenever possible, but it's good to have the battery as an option. Fortunately, the power adapter can run the unit completely while charging.
The included remote control did have some issues trying to adjust volume and focus, so we'll need to talk to support to see if those can be resolved or replaced.
Conclusion
WOWOTO had very high ambitions when designing the WOWOTO T8E. Clearly, the host of smart features, included battery, electric focus, and more demonstrate that the manufacturer wanted this projector to really do it all.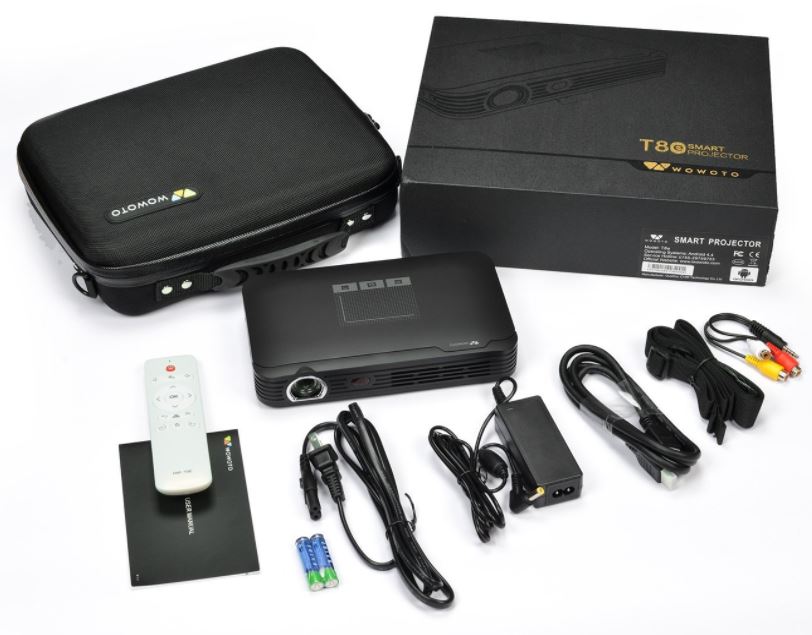 Unfortunately, this ambition gets tamed by limited performance and dated software. It's simply unacceptable to use Android software released in 2013 with no plans for upgrading. It's only a matter of time before develops cease allowing dated apps to work. While we can get over the lack of 4K or Full HD resolution on a small projector, it's disappointing that WOWOTO would make misleading marketing claims about "1080p Support" and screen sizes "Up to 300 Inches."
Ultimately, the T8E feels like a projector trying very hard to do everything without really succeeding in any particular area. Video resolution isn't up to par by today's standards. While smart features are nice to have, it's missing key apps, takes some work to get them, and presents serious concerns about future compatibility. Also, having a battery sounds fantastic in a portable projector, but the fact that you can't rely on it to get through one longer movie puts a significant damper on that feature.
All in all, it works well for a small, portable projector as long as you aren't demanding about picture quality and don't plan to use the battery for an extended period of time. We do admire the efforts WOWOTO has taken to include so many smart features but would rather see fewer with improved implementation. Hopefully future versions of the product will demonstrate more refinement.