Two similar-seeming projectors can perform quite differently. There's not that much to think about when you're picking a TV, but projectors can be a small puzzle. What kind of distance will you be projecting from? Are you trying to run an office presentation in the middle of the day? Or are you trying to enjoy watching a movie at night?
As those questions get answered, you end up with a better idea of the kind of features you need. And from there, it's not hard to determine which type of projector is right for you.
ELEPHAS 2018 Upgraded Version Projector
The ELEPHAS 2018 Version Upgraded Projector is exactly what it sounds like. ELEPHAS decided to upgrade their previous model to something new. And the upgrades are significant, mostly pertaining to a new LED source.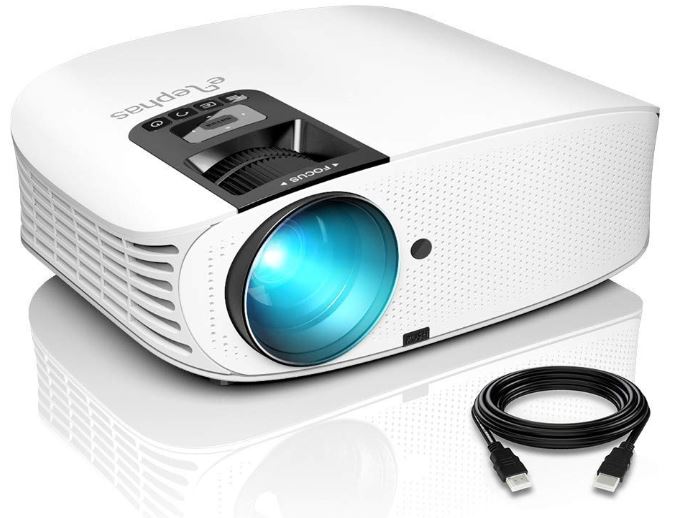 Those changes also allow this projector to provide higher brightness and luminosity than ever before. It's almost twice as bright as the previous version, and only marginal differences in battery life are affected as a result.
Build & Design
The ELEPHAS projector measures 14.5 x 13.4 x 5.9-inches, weighing about five pounds. From afar, it seems to have a somewhat basic rectangular shape. But there's a subtle curvature to its casing. The reason for the curvature is partially for style, but it also helps make the ELEPHAS 2018 Version Projector easier to carry.
The external casing is constructed from ABS plastic, chosen for its durability and heat resistance. But if you plan on carrying the projector often, you'll want to note that ABS plastic tends to become polished with prolonged human contact. It's something you can commonly see on plastic surfaces that see repeated human contact, like keyboards and mice. In other words, the aesthetic can fade with time. It all depends on your handling.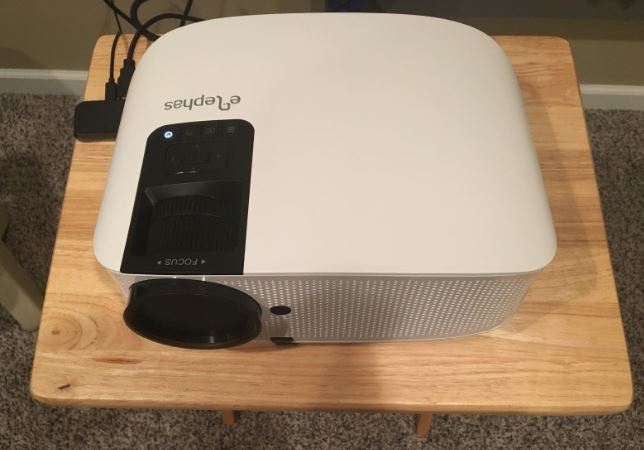 Sound Quality
Among projectors with built-in speakers, nearly all suffer the same problem. It's hard to squeeze quality sound from the small space allotted to the speakers, and from their finite battery power.
Consequently, the ELEPHAS 2018 Upgraded Version Projector sounds somewhat similar to the speakers on the back of a computer monitor. They're not terrible if you've got no alternatives. But if you're about to sit down for a 2-hour movie, you'd be better off adding some speakers. The same is true for virtually all projectors in this price range.
Control Options
The topside of the ELEPHAS 2018 Upgraded Version Projector provides a large, well-labeled manual focus wheel. It's intuitive and easy to use, providing firm feedback as you turn it to adjust the focus of your projection. The firm feedback allowing you to make refined alterations to your projection with precision.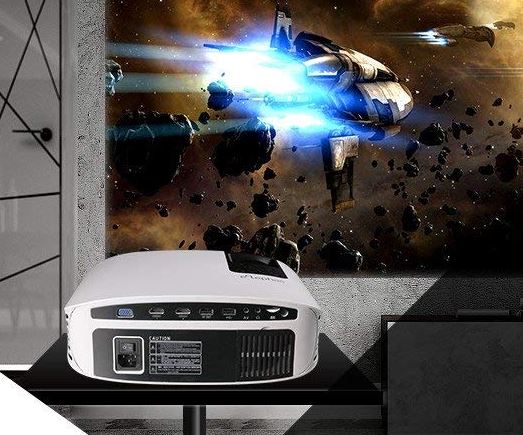 Beneath the focus wheel, there's a simple directional pad and command-entry button. That helps you navigate through menu controls without having to get a remote involved. And the common format makes it possible to become an expert at using the ELEPHAS Projector within only a few minutes. Beneath the directional pad, there are a handful of essential command buttons. They allow you to do things like toggle between input sources, enter menus, and power up the device.
The menu operation is fairly straightforward, but it doesn't provide an endless variety of color adjustment options. If you're the type of person who can't wait to launch into color adjustments, you may be disappointed with the relatively limited amount of adjustable settings. But you can still toggle between several preset color modes, each having palpable impact on the visual quality of what you're watching, and each appropriate to a different type of media.
Video Experience
Another thing that's easy to like about this projector is how it's fairly simple to setup and adjust the screen. The ELEPHAS 2018 Upgraded Version Projector provides a native 720p projection, meaning a 1280 x 800-pixel resolution. Screen size can be pushed between 44 to 200-inches.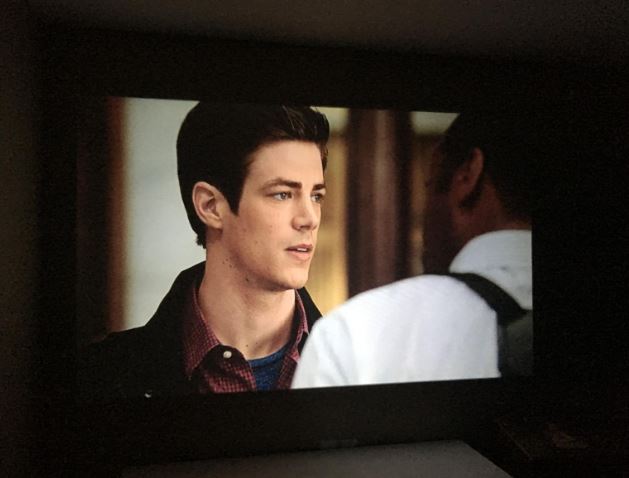 The quality of any resolution will get thinner as you spread it out. Adjusting larger or smaller than that works well because even as you approach the 200-inch limit, you're essentially still hanging around the quality of analogue broadcast television. However, the optimal viewing distance for the ELEPHAS 2018 Upgraded Version Projector is actually about ten feet away, with the screen set to 98" sizing.
For people interested in movies, another thing to keep in mind is your image is projected in 4:3 aspect ratio. That's the standard aspect ratio for most types of media. It's not an ultrawide aspect ratio, so content played with that aspect ratio yields black-bars along the top and bottom of the screen.
Another advantage over the previous version of this projector pertains to its contrast ratio. The upgraded LED source now supports a 3000:1 dynamic contrast ratio, supporting a range of beautiful images whether you're making a presentation for the office or you're watching a movie at home.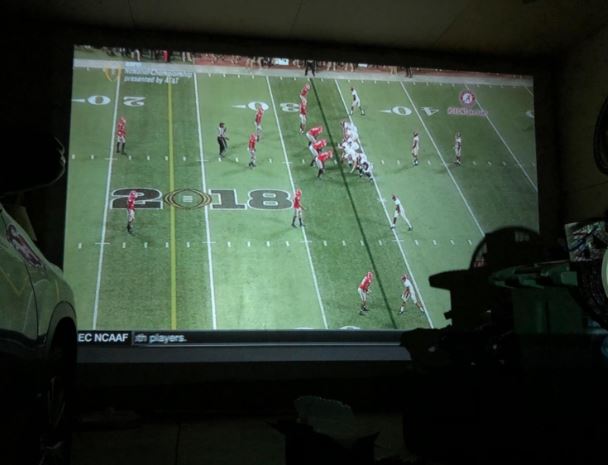 Enhancing Ease of Use
The ELEPHAS 2018 Upgraded Version Projector provides manual keystone correction, suitable for a large bodied projector of this type. The correction provides for ±15°, up and down. If you're planning on hanging the ELEPHAS from a heightened position, the 15° correction keeps your images from looking skewed. Likewise, when you're projecting from a table upwards towards a screen, it's useful for correcting the image from such a shallow angle.
Unfortunately, the keystone adjustment wheel is directly adjacent to the focus adjustment wheel. If you reach over without looking and try to make an adjustment to one, you might strike the other by accident. People tend to use these devices in dark rooms, where you may not have a great view of the wheel. This is a minor problem, but it's ultimately resolved with some learning and experience using the projector.
Unique Cooling Solution
One of the weaknesses of projectors relative to televisions is that projectors tend to be noisy. TVs get a little warm, but they're not packed into the tiny body of a portable projector. And that's no small part of the reason why you don't find giant fans on the back of your television. Which is great because fans bring noise.
Unfortunately, just about every projector that isn't the size of an office chair is going to use some type of cooling fan. Certainly, every projector that has a bulb capable of achieving any significant degree of brightness.
But the ELEPHAS Home Video Projector fans are among the quietest you'll find on a projector. ELEPHAS seems to have achieved greater heating solutions through choosing material that's ready to expend heat and large venting holes to enable significant quantities of airflow. The outside casing does run a little warm, but never does it approach becoming truly hot.
Even though the internal fans are somewhat small, they don't have to run at the speed of a jet-engine to keep things cool. And that helps them stay quiet as you run the projector. Experientially, the ELEPHAS 2018 Upgraded Version Projector puts out roughly as much noise as a similar projector in this price range.
Connectivity
The ELEPHAS 2018 Upgraded Version Projector has support for HDMI, USB, VGA, AV, Micro SD Card. It also has 2.5mm audio out hack. The MicroSD card supports TF card, but no full-sized SD cards. Between all those options, there's very little the ELEPHAS 2018 Upgraded Version Projector cannot connect to in one form or another.
With the HDMI port, you'd have no trouble connecting your Xbox or other game consoles. You can even connect a Roku box or Chromecast without an issue, turning the ELEPHAS 2018 Upgraded Version Projector into a full-fledged streaming machine. There is one kink in connectivity, however. Although the ELEPHAS projector can be paired with an iPad or iPhone, you will need an adapter to do so.
Other Considerations
The LED lamp is built to be long lasting, providing approximately 30,000 hours of play from a single bulb. That's enough to watch a full length movie every night for decades to come. LED bulbs do tend to gradually lose their luminosity over the course of years, so if you're looking to hang on to the ELEPHAS 2018 Upgraded Version Projector, you may actually anticipate getting 15,000 hours before you consider swapping the bulb. That's still more than a decade of regular use.
It's not necessarily the right projector for gaming. It's possible to connect your gaming consoles and have a good time playing certain types of slower-paced games. But skilled players playing fast-paced games will notice input lag. And sometimes, that input lag can be no fun to play with.
This projector also includes a fairly compact 3-ft USB cable to help make connections, but it doesn't provide memory cards or other types of cables. The ELEPHAS Projector does include a 12-month warranty as well as lifetime support. But their support is Hong Kong based, which can make reaching them in a timely manner more difficult depending on your time zone.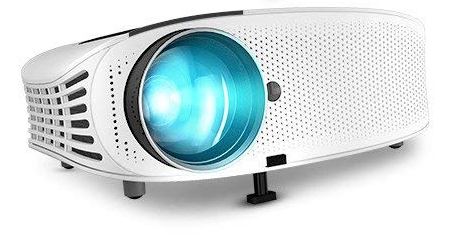 Who Should Choose the ELEPHAS 2018 Upgraded Version Projector?
The ELEPHAS 2018 Upgraded Version Projector is portable by merit of its size. That makes it good for taking outside, to the office, or on the go. But it's still large enough to have a respectable set of features. And it's managed to overcome several of its earlier weaknesses before being upgraded. The bright, large, high-definition presentation is widely adaptable.
It doesn't have any native support for streaming features. You can solve that by connecting through one of the media ports. A better way to look at the lack of streaming features is like chipping $60 off the price of the projector. That's about what you'd have to pay to add on those types of features without giving up something else.
In summary, the ELEPHAS 2018 is a value-driven projector. It's simple enough for children to master operation, but powerful enough for professional business presentations. It's worth a close look for essentially anyone who can dream-up a few uses for a 720p projector.