These days, having a good internet connection is extremely important. Our entire lives are online. The transition to cloud architecture means that without a stable internet connection, we'd miss calls, messages, and won't be able to find the information we need.
The unfortunate reality is that, for many of us, a flakey WiFi connection is a fact of life. Fortunately, mesh networking technology is a promising solution.
Your standard WiFi connection operates on a point to point system. The router broadcasts a network, and your computer connects to the router. If you're behind too many walls, or simply out of range, your connection to the router won't be very strong.
Mesh technology involves a number of router-style devices. These devices communicate with each other, as well as with the internet enabled devices in your home. Any time you send a piece of data, your mesh network is determining the most efficient route to transmit that information.
In most circumstances, mesh networking technology can solve your networking woes once and for all. There are many systems on the market, and each of them takes a slightly different approach. When you're shopping around, it's important to do your research. One company's implementation of mesh technology can be significantly better than others, and your environment plays a huge role in how well it will work.
In this review, we'll be taking a look at the new kid on the block: The EnGenius Technologies EnMesh WiFi system. We'll go hands on to find out how it performs. After, we'll help you decide if this is a good fit for your home.

First Look
The EnMesh Whole-Home Wi-Fi System is, financially speaking, one of the most competitive mesh networking systems on the market. Instead of selling the system as a package, you buy the individual nodes. They can work on their own, or you can add as many as you like to eliminate dead spots. This MIMO based system supports up to 1200 Mbps of total throughput, making it the ideal choice for households that like to stream a lot of data.
Networking Technology
Before we show you how the EnMesh system works, we'll take a quick look at the specifications to find out how this system works under the hood. Behind the network is a 2×2 MIMO chipset. MIMO is a common networking technology used in high end routers where one client is likely to use up all the bandwidth available on one channel. In essence, this means that there are two networks available under the same name.
In this case, there isn't two different MIMO channels available for your clients. One channel is used for all of your devices, while the other is for internal communication between EnMesh modules. This is what's called a backhaul channel. The idea is that data can be passed through various nodes without slowing down your actual home wireless network.
Each of the modules has an 802.11ac chipset with an integrated omnidirectional antenna. This means that it broadcasts your network in a circular pattern, evenly from the center of the router.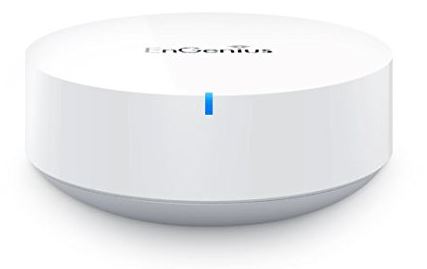 Design & Layout
Each of the EnMesh modules has a simple, but eye-catching design. They are all flat and cylindrical, with a single multi-colored LED on the front. This LED is an important indicator of your current network status, and can help with the setup procedure (which we'll get into shortly).
A clean EnGenius logo adorns the top, while all the ports and connectors you'll need can be found on the back. You get a gigabit Ethernet port, a USB 2.0 port, and a power outlet to connect the 12V power supply. The design is very simple, so you won't be afraid to place it somewhere that it's publicly viewable. But all of the configuration takes place through software, so there are no buttons on the device itself.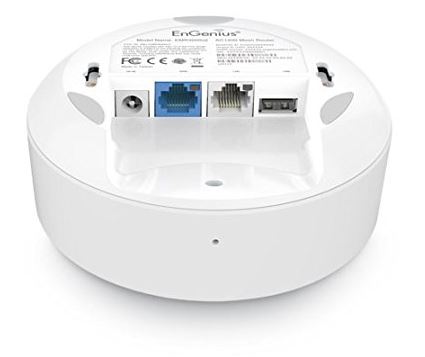 Setup Procedure
Mesh networking can be complicated. Fortunately, EnGenius makes it simple to set up your network. There are two ways to do so.
Personally, we preferred to set up our network using our mobile phones. You simply download the EnGenius app, and follow the prompts. It asks you to choose a network name, set a password, and provide a little more information about your home. After these basic steps, you take the app and walk around your home with your phone in your hand. It will tell you where the dead spots are, and recommend a place to put the node.
You can also walk around with the node itself. The LED light on the front will remain green when the signal is strong, orange when the signal is weak, or red when there is no signal.
This process only takes a few minutes, and is simple enough that anyone can do it. By taking the time to actually walk around your home, you'll ensure that every part of your home is evenly covered.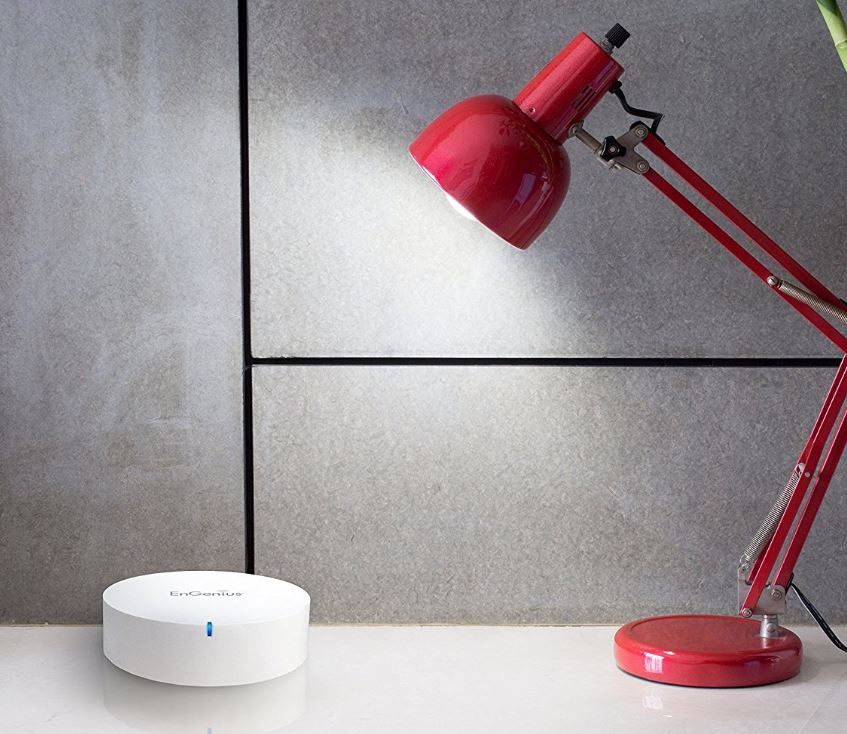 Range
Since the main advantage to mesh networking is a wider range of coverage, it'd be prudent to find out exactly how far that goes. According to EnGenius, each node covers a 1500 square foot home. This implies that you'll need two for a 300 square foot home, or three for a 4500 square foot home.
For typical houses, we found these measurements to be accurate. But there are a few things that could affect your usability. If you're going through lots of walls, or you've got an older house that has plaster walls, you'll see coverage reduced to around 1200 square feet per node. In extremely challenging conditions, such as in apartments with concrete walls, range can be reduced to 1000 square feet. However, the app will tell you what your range is. So you can place each node in a specific spot to alleviate a dead zone. With this in mind, consumers will rarely need more than three EnMesh nodes.
Bandwidth
As an 802.11ac 1200 router, this networking system supports up to 1.2 Gbps of total bandwidth. But it's important to note that this is the theoretical limit. In reality, the bandwidth can be quite a bit less.
In our tests, we saw download speeds of 543 Mbps, and upload speeds of 294 Mbps when going through a single node. Over long distances, these speeds dropped to 285 Mbps down, and 174 Mbps up. Is this anywhere near the maximum theoretical limit? No. But the speeds are consistent with other mesh networking systems we've tested.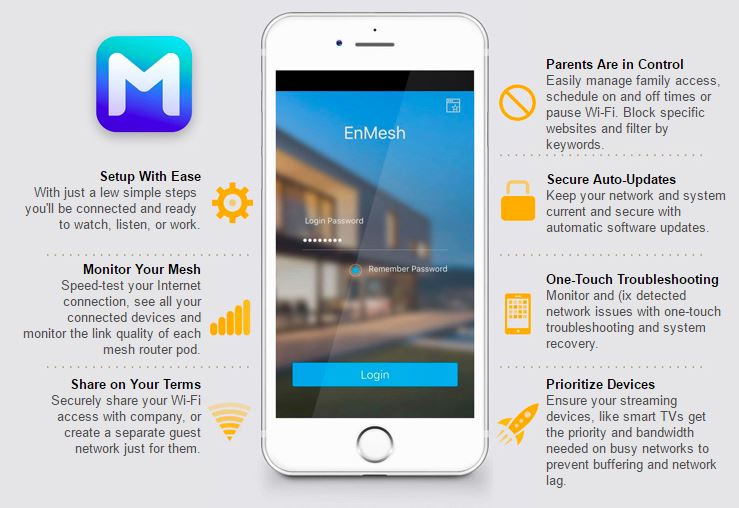 Software
Through the EnMesh app, you're able to configure a number of optional features and troubleshoot problems. The app gives you at a glance access to the inner workings of your network. Is one of the nodes receiving a poor signal quality? Is one of your devices having frequent dropouts? The app will tell you all of this, and can recommend solutions. In most cases, you'll need to either move a node, or add another one.
The app can also be used to activate several bonus features. EnGenius lets you configure a guest network, and set access restrictions on it. You can turn parental controls and determine what times your kids are allowed online, and what kind of content they can access.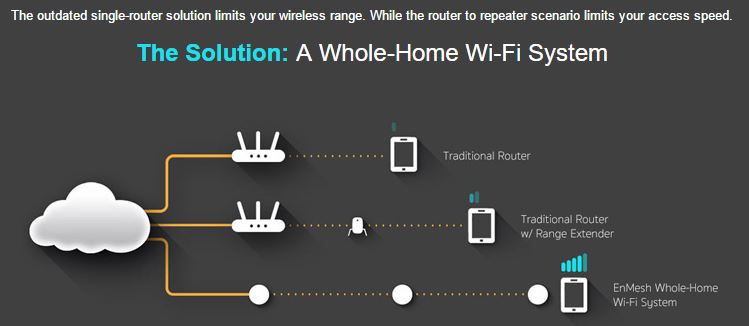 Disadvantages
For high volume networks, we like to see a QoS system. QoS allows you to prevent one user from using more than their share of bandwidth, and ensure that connections are prioritized by the strain they put on the network. EnGenius has stated that there is a QoS system coming, but at the time of writing it's not yet available. If you've got your eyes on this system, keep an eye out for this feature in the future.
Final Verdict
As one of the most affordable Mesh networking systems on the market, we were impressed to see that the performance was still consistent with much more expensive systems. The EnMesh Whole-Home Wi-Fi System is extremely easy to set up, has surprisingly high bandwidth, and provided a long-range, stable connection in our tests.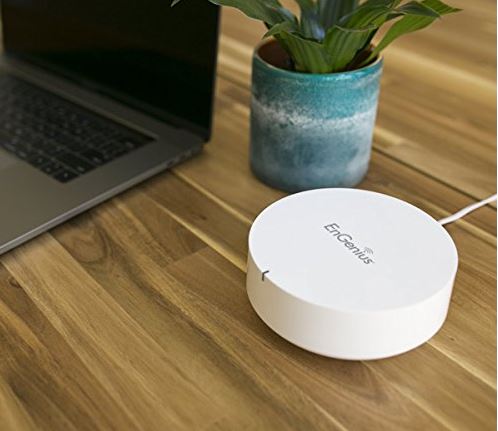 Who should buy this system? We'd recommend it for anyone who has less than 10 users, and a large area to cover. Families living in multi-story homes, or who want to be able to access the internet from the back yard are all great candidates for this system.
Are you looking for a whole-home mesh WiFi system that offers more than the EnMesh has to offer? We reviewed some of the most popular models in our Best Mesh WiFi Systems post. If you're still unsure of this is the right system for you, you might want to check this out to see what else is on the market.