For a moment, imagine that you had the resources to build yourself the ultimate gaming setup. What would you buy? The latest console with every hot new game on the market? A water cooled gaming PC with quad SLI? One of Samsung's impressive new curved displays? There is no doubt in our mind that all of the hardware we mentioned above would be nice to have, but we're not entirely sure that it's deserving of the "ultimate" designation.
No matter what products we buy, it's not specifications we're after. It's a feeling. It's that sensation you have when you sit down to play a game, and the only thought in your mind is "wow".
We had one of these moments the very first time we sat down and experienced the 3D accelerated graphics of the N64, or the first time we explored the vast open world in Oblivion. Today, these experiences wouldn't have the same affect. That's because there is no technical feature that impressed us. It was the fact that we were experiencing something that nobody else had.
Ask yourself this: what can you find in your hypothetical gaming system that you won't find anywhere else? For many, the answer is nothing. That's because we're constantly trying to duplicate the systems that everyone else wants, instead of building something unique.
There is, however, one thing that can get you ahead of the curve: a projector. How would you like to experience rich, vibrant digital universes on a display that takes up your entire wall? How you would like to press a single button and have your living room transform into the barren wastelands of the latest Fallout game? A digital projector is the one tool you need to accomplish this task.
Unfortunately, most gamers think that projectors are off limits. Projectors aren't designed with gamers needs in mind. But this isn't true in every case. Today, we're taking a look at a projector that is specially designed for the needs of gamers. We're going hands-on with the Optoma GT5500+ to find out exactly how it performs, and to help you decide if this projector is the "wow" factor that your gaming system needs.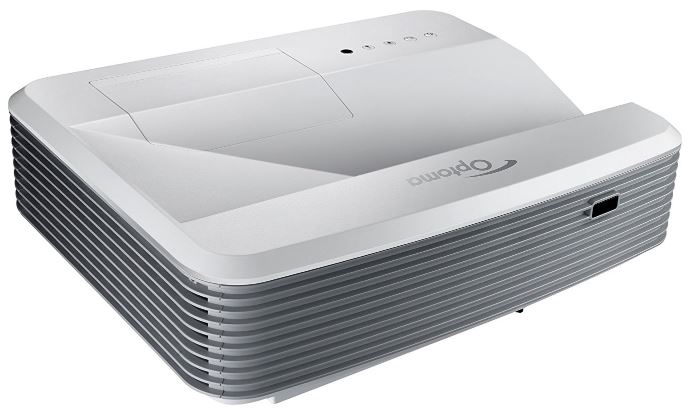 First Look
This ultra-short throw projector is designed to give you a large screen, without requiring a fancy installation. While some projectors require 10 or more feet of space, this model can create a 100 inch screen when placed only a single foot from your wall. It produces a bright image with it's 3500 lumen lamp, and the images are rich and vivid. But is this enough for the demands of modern games? We hand to go hands-on to find out.
Connectivity and Setup
Pulling the projector from the box, we couldn't help but notice that it was very well packed. The box was larger than we expected, and included a ton of padding.
The setup is designed to be plug and play. There is no fancy software configuration to do, so all you need to do is find the correct port to plug your video source into. In this area, the GT5500 doesn't disappoint. There are a plethora of connections available for almost any video source. For most consumers, one of the two HDMI ports will be the quickest and easiest way to get yourself up an running. These ports support MHL, and a USB power outlet is also supplied for those of you who want to use a streaming stick.

If you're connecting an older computer, there is also a VGA port available. One of the unique features of this projector is the fact that it has a pass through connection. This is very handy for presentations. You can connect your computer to this projector, then the projector to your monitor. Both the monitor and the projector will display the images.
For older consoles, you're given an analog composite input, as well as both 3.5mm and RCA audio inputs.
This projector gives you active 3D, and the sync port is available for active glasses. You've also got a 12V output for controlling a remote screen, and an RS232 port for connecting it to more advanced automation systems.
Once you've got everything turned on, you adjust a few optical settings. Tilt allows you to raise or lower the image. You might notice that as you move the image, it is no longer squared off. This is where're keystone correction comes in. Both of these settings are pretty well developed, so you have a lot of flexibility on where you place it. Finally, the last thing you to is twist the focus ring until the image is sharp.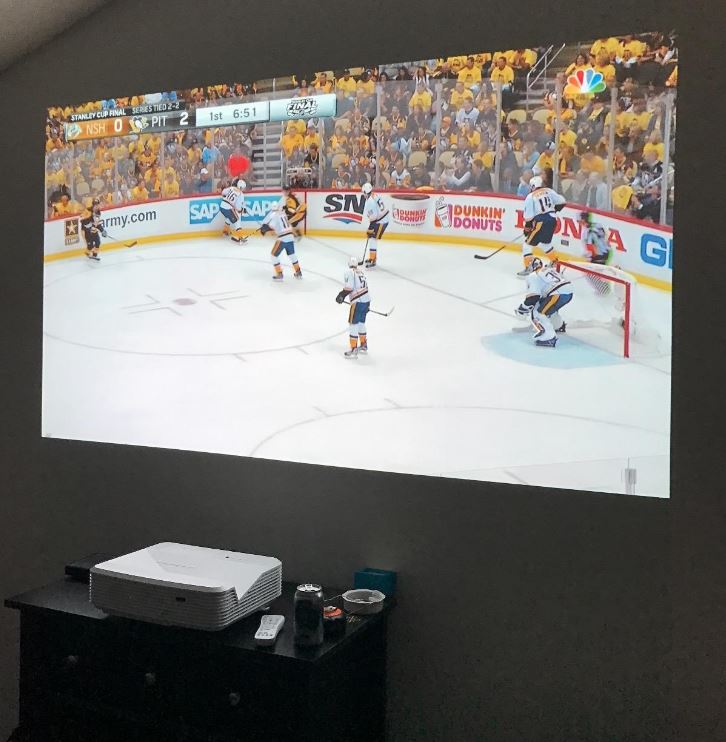 Video Quality
At 1080p, this isn't the highest resolution you can get. But you'll often pay a lot more for 4K, and this isn't something gamers often look for. Right now, most games run great at 1080p. 4K consoles haven't quite hit the market yet, and your frame rate is a little better at 1080p when you're gaming on PC. There will be a small subset of consumers who are disappointed by the lack of 4K, but we found that 1080p was enough for most purposes.
At this resolution, the video is still crisp and detailed. There are many important factors that determine how video looks, and the GT5500+ nailed them all. The color was rich and vibrant, and colors were presented smoothly. There was no unsightly banding, and appeared true to life.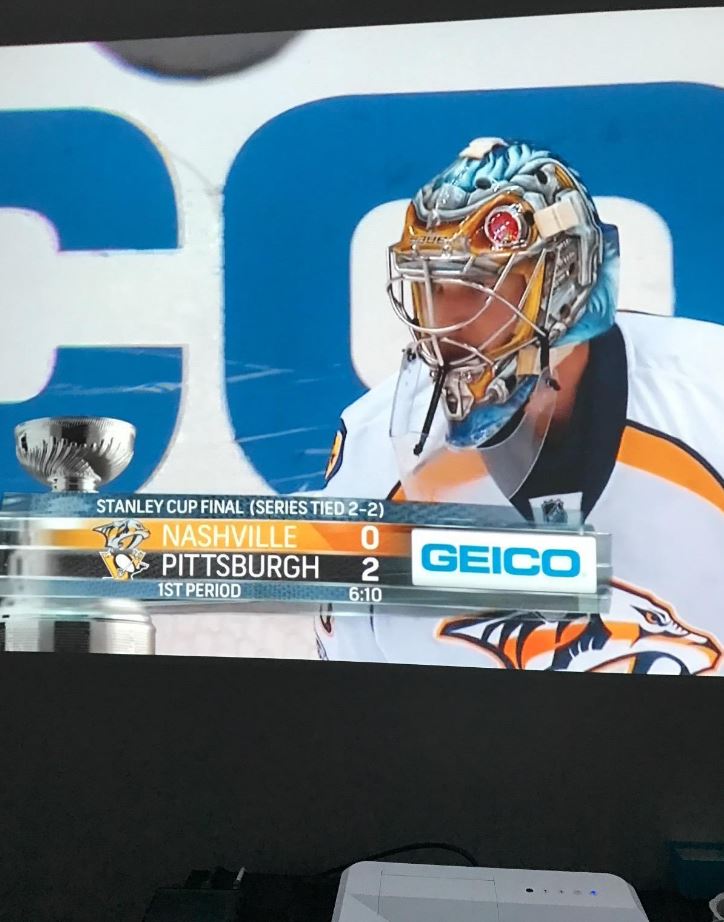 Thanks to the 18,000:1 contrast ratio, this projector had a very cinematic feel to it. This means that the brightest white this projector can produce is 18,000 times stronger than the brightest white. For gamers, this makes your digital environment more realistic and engaging.
Brightness and Size
For most people, the main draw of a projector is the increased size. You want a screen bigger than your TV, but just how big can this projector go? In our tests, you can comfortably get a screen size up to 200 inches diagonally. This requires that the projector is placed a little over 2 feet from the screen.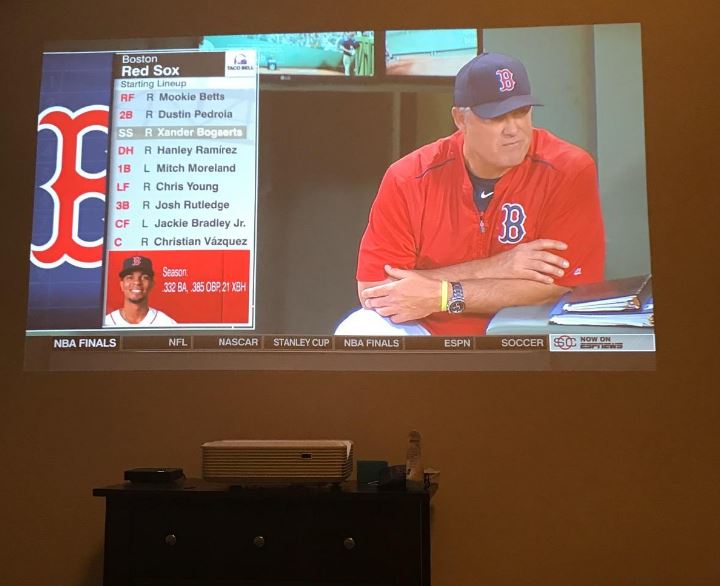 But in our eyes, the sweet spot is right around 120 inches. This means that you've got an image that's over seven feet wide. You only have to place the projector about a foot back from your screen to get this image, so you can comfortably place it on a coffee table and avoid the complicated setup and mounting procedure.
What about brightness? This just might be one of the most overlooked qualities of a projector. It doesn't matter how good the video quality is. If it's not bright enough, using it in a reasonably lit room can cause the image to look washed out and undefined. Fortunately, Optoma used an impressively bright 3500 lumen bulb. At full brightness, you can use this in a room with the lights on and still clearly make out the image.
Most of the time, we had the brightness turned down. We like to game in a cinematic environment, and 3500 lumens is borderline overkill. But if you need to give a presentation in a well illuminated room, you'll be glad that you've got his bulb.
Disadvantages
The main disadvantage of a bright bulb like this is the life. The brighter it is, the more heat it generates. The more heat it generates, the quicker it dies. A bulb with half the brightness can last up to 9000 hours. This bulb only lasts 4000 hours of full brightness, and 6500 hours on a lower setting. In our experience, most consumers won't need full brightness, so you should still get 3 or 4 years out of a single bulb, even if you're gaming every day. But those of you who are always running it on full brightness can expect to replace a bulb in 2 years, with heavy daily usage.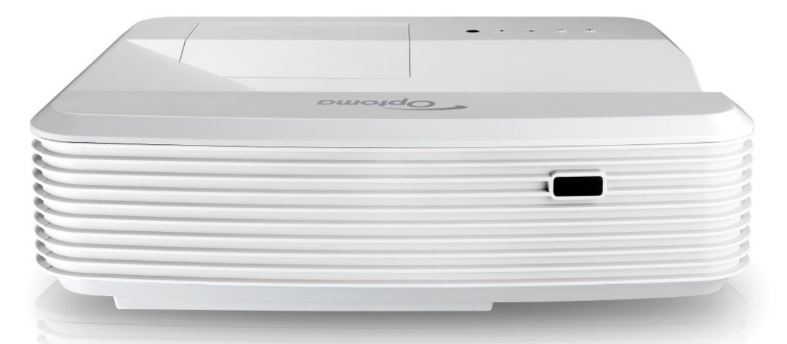 Final Verdict
Is the Optoma GT5500+ a good projector for gaming? Absolutely. But gaming isn't the only thing that it can do. What makes this projector good isn't some magical technology that only applies to gaming. They simply didn't cut any corners. The bulb is incredibly bright, there is a plethora of connections available, and the image is deep, rich, and vivid.
If you're looking for a high end gaming projector, you should absolutely consider this model. But if you're looking for a good all around projector, this one can still hold it's own against others. For media, it will integrate with high end home theater automation systems, letting you create the man cave of your dreams. If you're giving presentations, the bright bulb will keep your text looking crisp, even in a room illuminated by florescent lighting. Overall, there are very few faults with this projector, and as long as you're happy with the 1080p resolution, it's a great buy.