Printing can be expensive. Printers themselves aren't a basic product that all offer the same benefits, as there is efficiency and a lot of other features that come into account. A lot of times you don't get what you're expecting.
Even the ink can get out of hand. It's expensive to replace ink cartridges every month just to print 150 pages, and many printers available do nothing to help. But this doesn't have to be the case for you.
Note: At no extra cost to you, we may earn a commission for purchases using our links. Learn more.
The Epson WorkForce ET-4500 is really an amazing printer, scanner and fax machine, and we're going to discuss the reasons why here.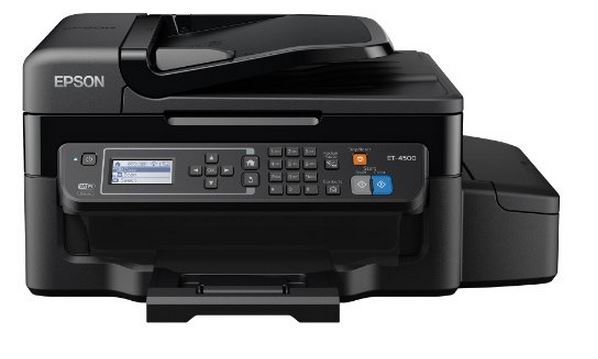 Complete Office Printer Right Out of the Box
Let's begin by talking about what makes it such a great all-in-one package. To start, many printers in stores today are of such low quality, that they give them away for free. There is a specific reason for this.
They're just not as good. We believe that since we're getting something for free that it's worth the value of buying a laptop, but that couldn't be further from the truth. The fact is that we deserve quality that goes all the way. Conventional printers just do not offer the value that the ET-4500 does.
For starters, you have everything you need in one printer. For such a compact device, the ET-4500 offers incredible benefits without having to sacrifice either money or office space. But that's not all.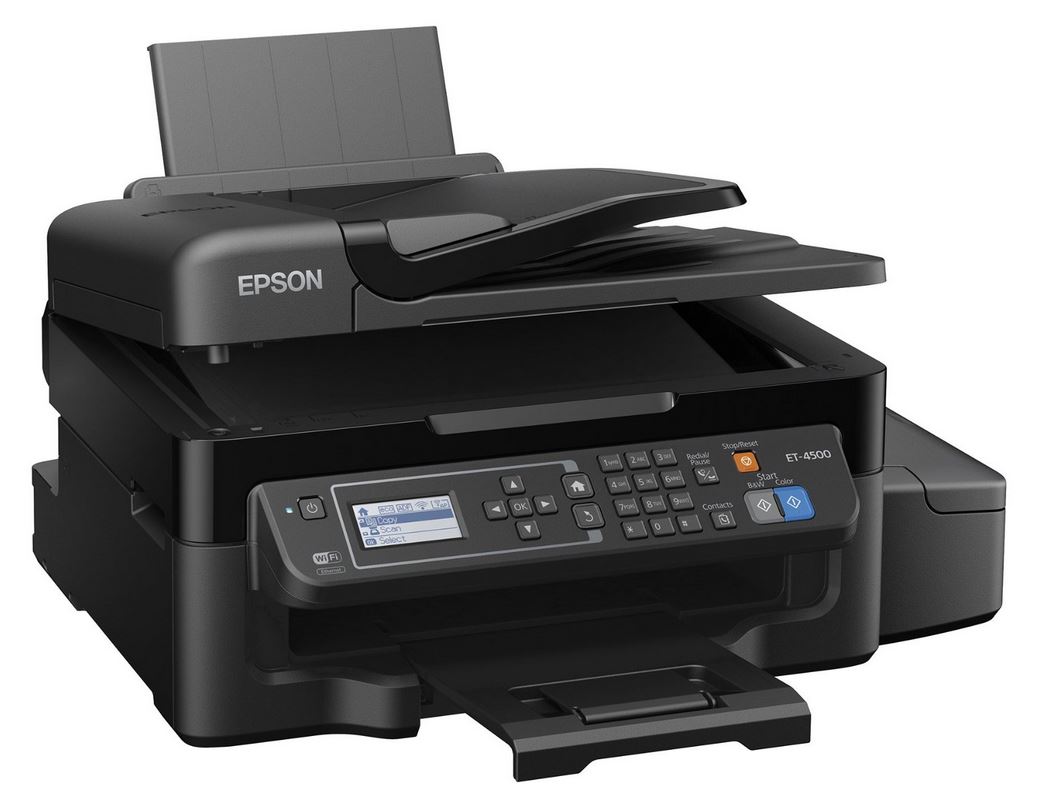 Since it also includes a scanner and fax machine, it's really an all-in-one solution that offers maximum quality. Economy is a big plus.
It'll fulfill all of your printing needs. Right out of the box you have enough ink for up to 2 years of printing. Let's discuss these new ink cartridges now.
Incredible High Capacity Ink Cartridges
The ET-4500 really delivers on this promise. It's easy to say that you'll be satisfied and that refilling the ink cartridges will be a breeze, but it actually does much more than that. We're amazing with how far this ink goes.
For instance, did you know that conventional ink cartridges have super low output for their size? The ET-4500 points this out quite clearly.
Each of its ink cartridges produce about fifty times as much as most others. Not only that, you get a set of 3 right out of the box. There's evidence to back this up.
We'll look at the exact per-page output. If you're printing with black ink, you'll get up to 4000 pages, and you'll also get 6500 pages worth if you're printing in color. It's really an incredible deal.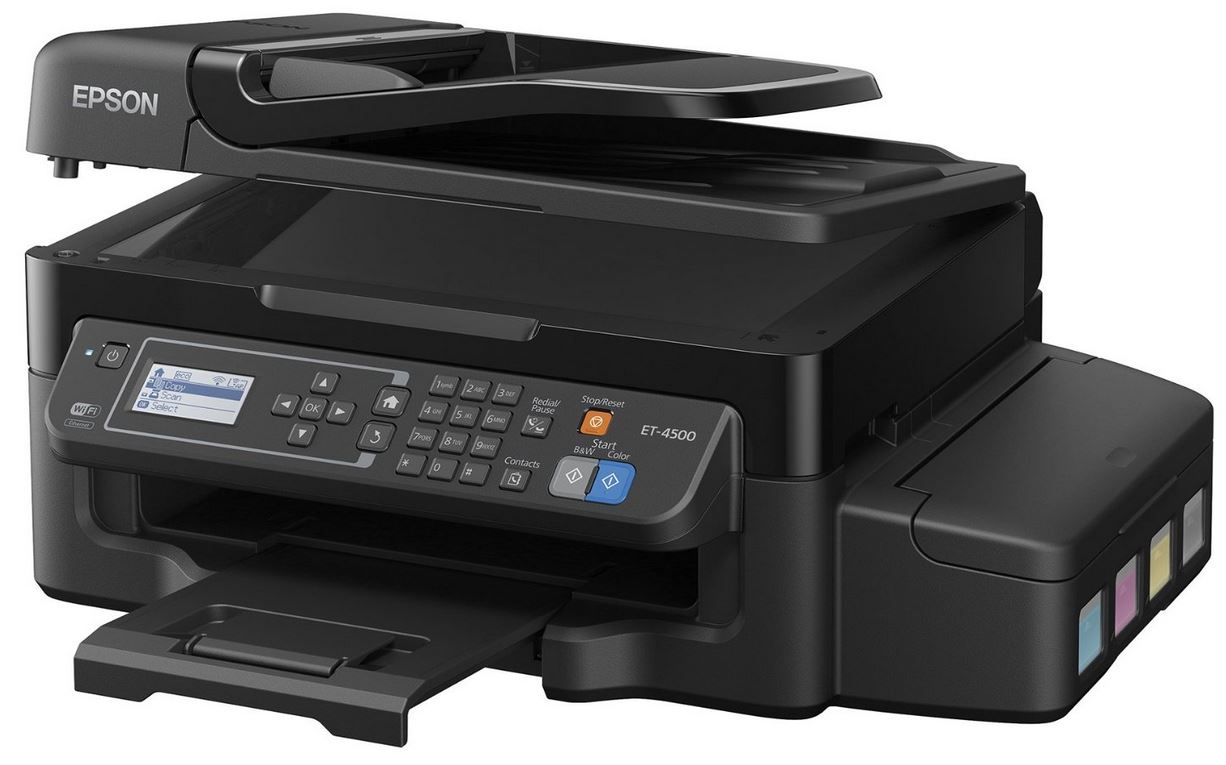 When you consider how much money you might spend on a less valuable printer, on top of what you'd spend to replace the ink, the ET-4500 results add up quickly. But before we're done, we'll cover the maintenance features as well.
Simple Use and Maintenance
Are the cartridges really fifty times more valuable than other brands? If you're paying an insane amount of money for high performance and endurance, it's not really a huge benefit. That's not what the ET-4500 is about.
You actually replace them with ink bottles. This way, you're not spending a dime on unnecessary hardware and at the same time, you're getting maximum value for your money. Let me explain.
The first reason for this is that the ink bottles are very inexpensive. This way you take your refill bottle and replace the ink in the cartridge, and then install it back within a couple minutes. It's really a smooth process.
But that's not all that makes this printer so easy to use. With many other printers, you'd have to stand for countless collective hours in order to scan or fax multiple pages. The ET-4500 offers an impressive solution to that.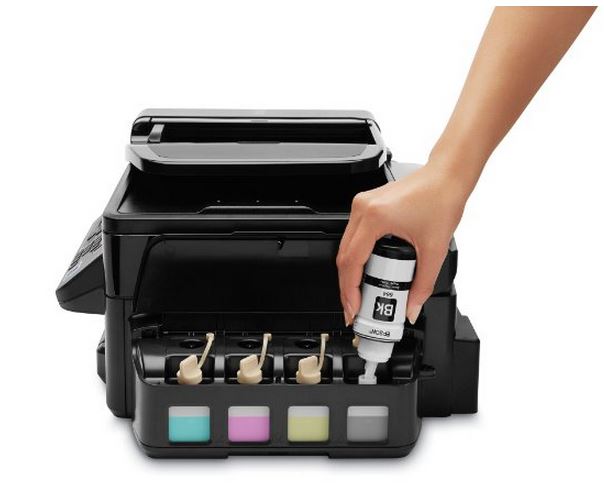 It uses an auto-document feeder. This way you can set up to thirty pages into the ET-4500 and it'll automatically sort and manage each page you want to use. This is really a professional feature.
But it packs even greater value into it than that. It's also compatible with any of your smart devices via a Wi-Fi direct connection. This is one of the many features you definitely want to have access to.
It's an excellent way to print documents off of your phone or tablet without having to transfer files to a PC, really saving you a lot of time and effort. But that's not all.
The Epson WorkForce ET-4500 of course, has a built-in Ethernet port. This way, you can easily and quickly share your printer on home, office or any other network without hassle. It's very intuitive and easy to manage.
Overall, this printer is a great value. You'll never have to waste time switching between and replacing devices, and you can save a lot of money at the same time. Its quality offers added advantage, and when you consider how much you'll save on ink replacement, it's a better deal than a less expensive printer in the end.
Please consider sharing:
Note: At no extra cost to you, we may earn a commission for purchases using our links. Learn more.