Whether you're a casual home office user, a student, or a busy business professional, a personal document scanner is a welcome addition to any office. These scanners allow you to take a stack of paperwork, easily and quickly turning them into searchable digital files that can be stored on your local computer.
Unfortunately, it's not always easy to find the right document scanner. Some are designed for creating archive ready files, with virtually no loss of image quality. Others are designed for speed, helping you to quickly turn documents into text at the expense of resolution.
It can be hard to tell which style suits your own individual needs. Epson's WorkForce ES-400 and 500W documents scanners are top of the line devices, produced to show consumers just what one of these handy little tools can do. But is this something that should be used by the average consumer, or overkill for most? We decided to go hands on to find out.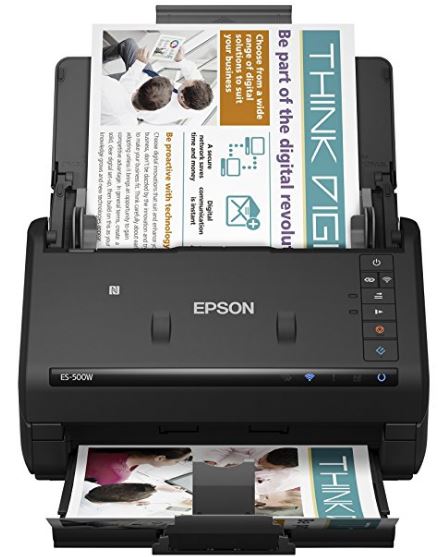 The Basics
Both the ES-400 and ES-500W are similar in design, with the primary difference between them being their ability to communicate wirelessly. Despite being scanners, they're much different from your typical flatbed scanners. Instead, they operate much more like a printer. Documents are fed into the hopper at the top, and are scanned one by one. The three biggest selling points are it's speed, full duplex scanning, and connectivity features.
Setup
Getting the ES series document scanners up and running was a simple process. After unpacking, we had a power cord, USB cable, and the scanner itself. We flipped the lid open, and peeled off several plastic packaging components that were designed to protect the scanner while in transit. From there, we were able to plug it into the power source and our laptop. Windows 10 recognized the scanner immediately, and after waiting a few moments for the drivers to install we were able to successfully scan a test page to our desktop, using Windows built-in scanning wizard.
But at this point, several key features of the scanner were not working. We used the included disk (although you can download the files online if you don't have a CD drive in your computer) to install Epson's software package. It took only a few minutes to install, and the software gave us several quick explanations of how to use the features while we waited.
After installation, we opened up the Epson Document Capture PRO (known simply as Document Capture on OSX) and was given an interface with which to access all of the scanners features.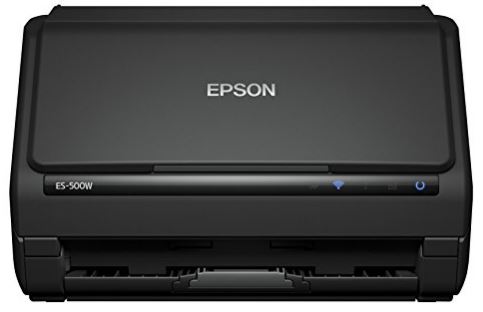 Scanning
Document Capture Pro simplified the process of scanning, while still giving us access to a number of important features. We slid a couple documents into the paper tray, and simply pressed the scan button to see how it performed. To our surprise, scanning was extremely fast. It took about 1.5 seconds to scan a page, and there was a brief delay from the time one was spat out and the next scan started. The scanner is rated for 35 pages per minute, and we found this metric to be accurate.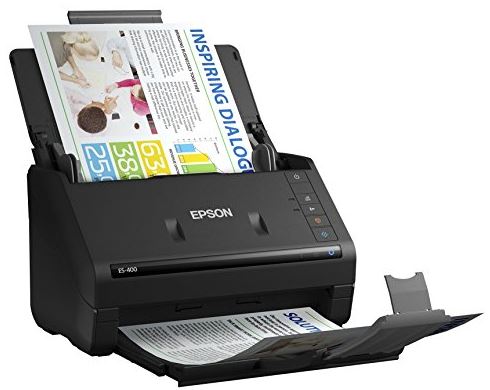 On paper, 35 ppm doesn't seem to fast. But when you consider that this scanner does both sides of a page at the same time, it's clearly one of the fastest models on the market. This can be done since there are actually two optical sensors on each side of the page. In the event you were scanning only a single side, you wouldn't see any speed improvement.
Once we had a general idea of how the scanner worked, we spent a little time playing around with the options. You can choose options like auto rotation, document size, and resolution. But for the most part, we found that these features worked best on automatic mode. The one thing we did find ourselves playing around with a lot was image type. This is, in essence, a quality setting. For photos or graphic heavy documents, the photo setting produces the most accurate color. With the text setting, the scanner will use OCR (optical character recognition) to convert the document to an editable document. There is also a mixed option, which allows for part of the document to be converted to text, while graphics are scanned and left in place.
You can scan up to 50 pages of standard paper at a time. But the hopper is adjustable, so you can easily feed smaller documents such as business cards or photos.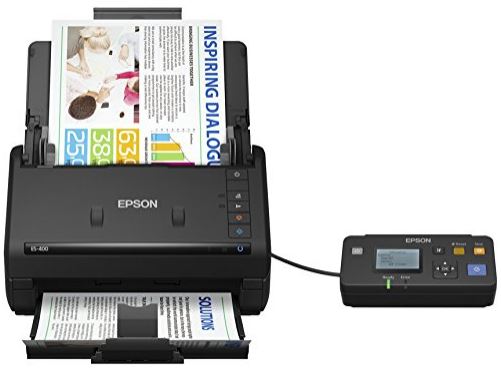 File Handling
Since the main appeal of this scanner is that it converts paper documents to accurate, editable digital files, it's important that it supports a variety of file types. For archival purposes, we preferred to use PDF files. PDF files are universally accepted, and they are the most 'true to the original' of any file type. The spacing, color, backgrounds, and many other details are all preserved and highly accurate.
But if you're going to be editing the files a lot, PDF just won't do. The scanner also supports excel files, as well as Word documents. We found that when scanning documents containing both text and graphics, the spacing was slightly adjusted to make the document easier to use. This could be a problem if you're editing documents with a high level of graphic design, such as pamphlets. But for standard white-background documents, we didn't have any trouble.
Connectivity
Both printers have the ability to be connected to a number of cloud based services. Instead of having your files stored locally on the attached computer, you can have them uploaded to DropBox, SharePoint, Google Drive, Evernote, and FileBound. With the Epson ES-400, this requires that the scanner be connected to a host computer. If you use the ES-500W, you're able to perform these tasks over the wireless network. You'll also gain the ability to scan directly to a mobile phone using NFC. Just put your documents in the hopper, hold your phone over the face of the scanner, and wait a moment for the job to be completed.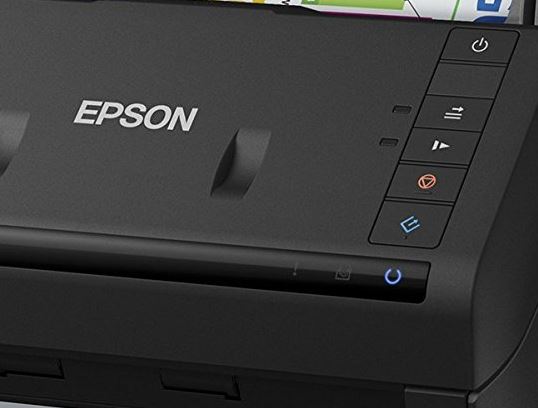 Document Handling
One of the areas where the ES series scanners really excel is in document handling. It's got an advanced feeding mechanism that is unlikely to cause paper jams, but is still robust enough to handle a variety of document types. We were able to feed paper in that had been folded or creased, and the scanner did a great job of flattening them out to get a good image.
But what impressed us the most was just how diverse a range of documents could be scanned. We were able to scanner to digitize business cards, plastic ID cards, and even laminated documents. We could mix document sizes, and they still were fed and scanned correctly with very little issues.
Disadvantages
This really is a scanner that can do it all. Unfortunately, you're going to have to pay for its versatility. If you're on a budget and don't need all of the advanced functionality these scanners have, you might be better off spending your money on a more affordable model.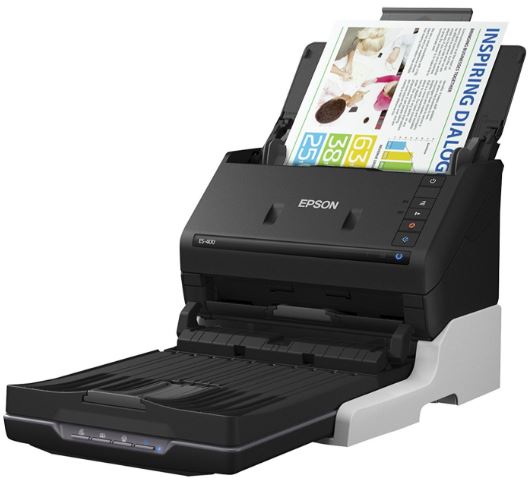 Final Verdict
If you're looking for a document scanner that can handle everything you can throw at it, the Epson WorkForce Series is a great choice. It's got a very high resolution image sensor, and is capable of handling all sorts of document with ease.
We'd recommend this scanner primarily to users who will be using it regularly, or often have a large stack of papers to scan. Being able to scan both sides of 35 pages in under a minute is nothing to scoff at, making it twice as fast as many affordable document scanners.
But the question remains, should you get the ES-400, or the ES-500W? This really depends on how you intend to use the scanner. If you're going to be linking it up to a single computer (and perform all of your scanning from there) the ES-400 can save you a few bucks. But we're seeing a pretty clear trend with technology becoming increasingly wireless, so we think that the ES-500W is a worthwhile buy. The ability to go directly from the scanner to cloud based services without using a PC as an intermediary makes this platform much more versatile.
That being said, this might not be the scanner for everyone. If you're looking for something more compact, Epson has the ES-200, which has many of the same features. We've also compiled a list of the best portable document scanners available now, which might be worth checking out if you need to scan some documents on the go.
Meet Derek, "TechGuru," a 34-year-old technology enthusiast with a deep passion for tech innovations. With extensive experience, he specializes in gaming hardware and software, and has expertise in gadgets, custom PCs, and audio.
Besides writing about tech and reviewing new products, Derek enjoys traveling, hiking, and photography. Committed to keeping up with the latest industry trends, he aims to guide readers in making informed tech decisions.