Whether you're looking to beef up your home security system, keep tabs on the pets, or establish an easy digital line of communication between yourself and your home, a wireless surveillance camera is a great way to go.
If you were trying to set up a home security camera five years ago, you would have had a much more involved process ahead of you. Technology has made it easier to access your system remotely, easier to set up, and drastically less expensive. Today, we're looking at a camera that aims to make this technology more versatile. The EZVIZ Mini360, as the name implies, adds a few features that allow one camera to do the job of many. But with so much competition in the marketplace, it can be hard to tell if this is a camera you should add to your home network, or if there are better options out there. We decided to try it out for ourselves to find out.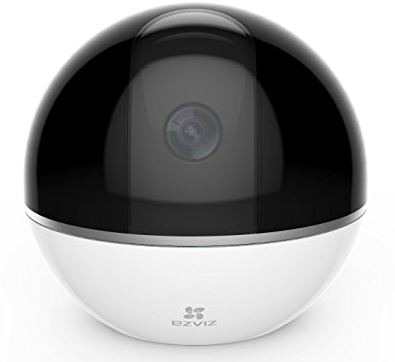 First Look
The EZVIZ Mini360 is a spherical camera that sits atop a flattened base. It can be placed on any flat surface, such as a table or shelf, providing users with access to 360-degree video in all directions. This can be achieved with two small motors that allow it to pan (move side to side) and tilt (move up and down.) You can control it using the EZVIZ application, which can be installed on both Android or iOS devices. What sets it apart from other 360 degree cameras is that it is fully automated. While some require you to manually adjust the field of view, this camera is able to track motion, making sure that the important details are always in the frame.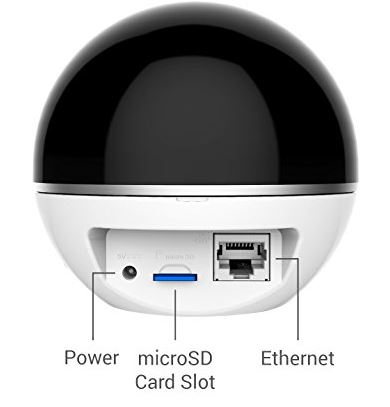 Setup Procedure
Every month, a new camera hits the market with a setup procedure that seems to be simpler than the last. Although simplicity has become the modern standard, we were still impressed with how easy it was to set up the Mini360.
It's a three-step process. First, you have to download the EZVIZ app from the app store. With the app open, you'll then plug in the camera. After a short 15 second boot time, the app will begin scanning for nearby cameras using a WiFi direct connection. Once it's found, you'll be queried to select your wireless network from the list, and enter your password. This information is then securely transmitted to the camera automatically, and it will be ready to use.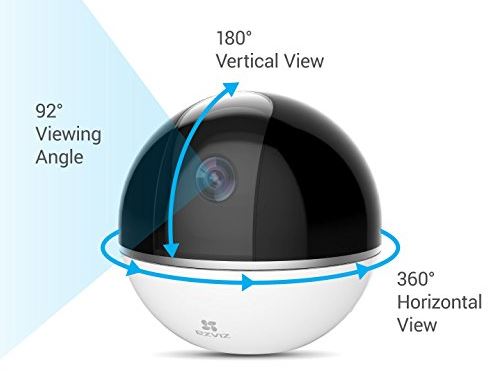 Interaction
Once we had our camera up and running, we spent some time playing around with the application. While open, you always have a real-time video feed displayed on your phone. The app uses multi touch gestures to control the motors. Sliding the video feed to the right causes the motors to move to the right. The motion of the video is very smooth, and reasonably snappy. You can swipe in all directions to move the camera there, or pinch to zoom in on important details. Tapping the video feed will take a 1080p screenshot, saving it to your phones internal storage.
Below the video feed are five buttons, each of which is tied to one of the features of the app. The button on the bottom left starts and stops the live video feed. This is handy if you want to freeze frame on a specific detail. If you're recording the video feed to the cloud (more on this later) the camera will continue to record in the background, so it's only your display that is paused.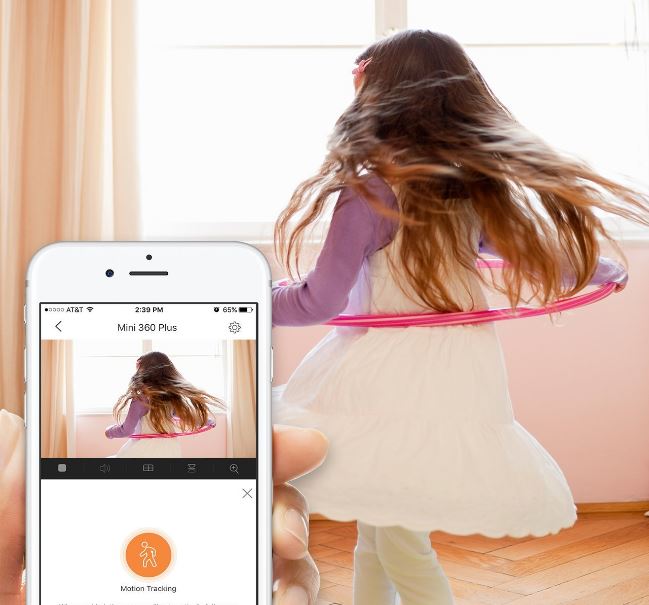 Next to that button is the audio key. This allows you to turn on the audio stream, allowing you to hear what's going on in the camera. You can also speak into the cameras microphone to use the two-way communication feature. This works a bit like a walkie talkie, keeping you in touch with anyone on the other side.
The center key swaps between manual control (through your phone) to automatic motion tracking mode. The next button flips the image vertically, which is handy if you've mounted the camera on the roof, or anywhere where it's upside down. Finally, you've got the zoom key which allows you to view the full-size video – something that is helpful to have when working on a cramped phone screen.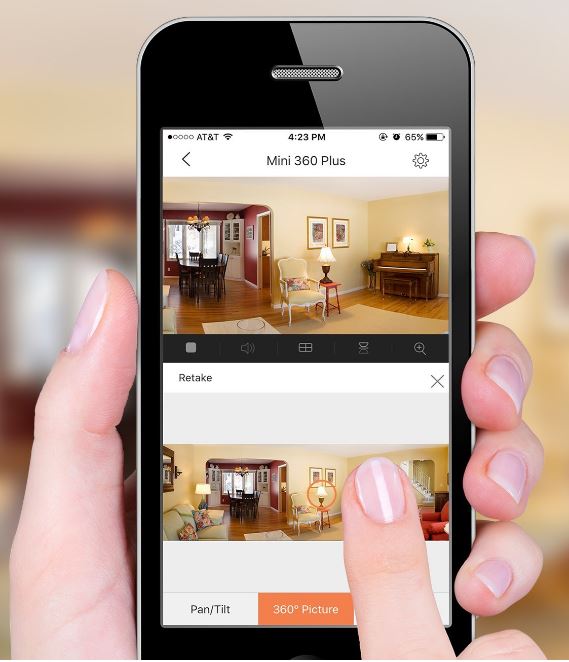 Video Quality
The EZVIZ Mini360 has an image sensor that records 1080p high definition video. With so many cameras on the market using nonstandard resolutions, it's nice to have a video feed that will look great on a television or monitor. The image is the exact same aspect ratio as your phone or tablet, so you won't have stretching or black bars on the sides of your display.
Both recorded and live video are extremely clear, making it easy to make out fine details. The camera has a bright, vibrant look about it with an extremely high dynamic range. Both the brightest and the darkest parts of an image are well illuminated, so you won't suffer from shaded areas.
One of the reasons that this camera is so much sharper than competing models is the all-glass lens system. With a six-piece glass lens, you don't get the same fuzziness or distortion you'd find with most cameras in this price bracket.
Motion Tracking
The biggest issue with most security cameras is that they either need to be set up correctly, or they need to be babysat. Most users will be leaving them unattended in their home, taking solace in the fact that they'll have digital evidence of any incidents that may occur. If you want full coverage, you'll need to set up multiple cameras around your home to cover your rooms from every angle.
This is not the case with the EZVIZ Mini360. It's capable of following a subject all around the room, ensuring that you'll never miss anything. We found this feature to work extremely well. Whether it was people walking through a room, or a pet bounding away at high speed, the camera did a pretty good job of following suit. Due to the camera speed, there are scenarios where it will occasionally lag behind a fast-moving subject. We don't expect to see problems with this in the real world, with the sole exception of excitable animals.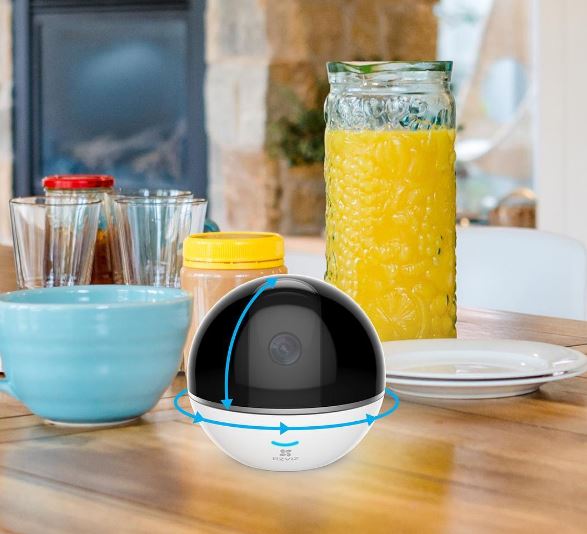 Connectivity & Storage
The Mini360 has a high speed 802.11b/g/n wireless adapter that allows for up to 54 Mbps of bandwidth. For the purpose of streaming video, this is more than enough. If they were running a system where all devices were connecting directly to the camera, we'd have some concerns about bandwidth. But EZVIZ has solved this problem by allowing free access to their cloud service. The camera sends your data directly to the cloud, and all of your devices access it from there. This means that you can access the camera feed from anywhere in the world, without worrying about connectivity issues.
There is an SD card slot in the base of the camera that allows you to use local storage as a backup to the network. This ensures that your camera will continue to work, even in the event of a power outage.
Disadvantages
There is one small disadvantage with the fact that this camera only supports 2.4 GHz networks. Some households are using 5 GHz networks for improved range and bandwidth. If this is the case, you'll have to ensure that the phone you use to set up the camera is connected to the 2.4 GHz network. Also, check that you have appropriate reception in the area you intend to use the camera. For the few users who don't have good wireless coverage in their home, you'll need to take advantage of the local storage option or set up a home WiFi system to improve reception.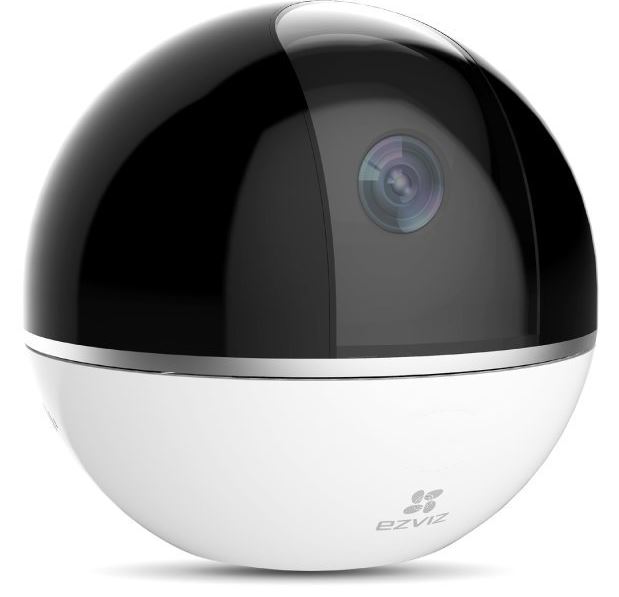 Final Verdict
The EZVIZ Mini360 Plus has a lot of things going for it. It's the first 360-degree camera that can track motion in real time, making it a "set it and forget it" system. This is the best choice for consumers who only want to install a single camera in any given room, and still have complete, full coverage without any user interaction.
If you're only looking to cover a specific area, you might be better off with something like the Arlo Pro. This camera has slightly better image quality, and is easier to mount remotely on a wall. If you're looking for outdoor coverage, you'll want something that is designed to hold up to the elements. We've done a roundup of the best outdoor wireless IP cameras to give you a primer on what's out there.
Concerned about your connectivity? Since the EZVIZ Mini360 requires a decent 2.4 GHz network, you might be looking for an affordable way to boost your networks performance. We'd recommend the Linksys Max Stream EA7300 as an affordable entry point into high bandwidth home networking.