Portable photo printers are all the rage these days, but what about those of us that want to print full size photos? The majority of portable photo printers use smaller than normal photo paper, with most of them no bigger than 2 inches on either side.
We recently took a look at Kodak's Mini Mobile photo printer which produced professional looking images in the standard "mini" form factor. Fortunately, for those of us looking for a more standardized photo printer, their dye sublimation technology is available in a full size 4×6 inch form factor. We found that their printing technology looks great for smaller prints, but it stands to be seen whether they can compete with lab grade prints at full size. We went hands on to find out.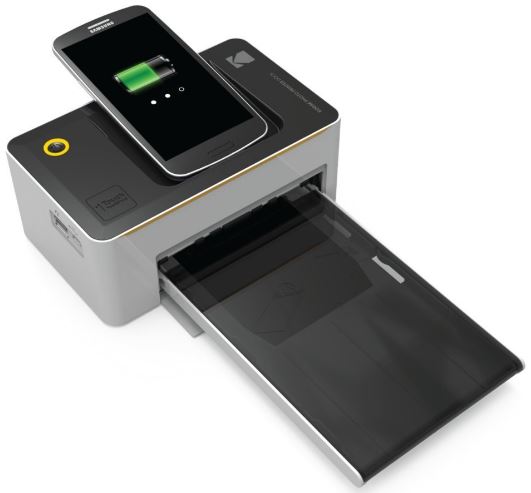 First Look
While the form factor is similar to that of your standard printer, the Kodak Dock & Wi-Fi Photo Printer is deceptively compact. Measuring 16.5 x 10 x 6.8 centimeters, it's easy to tuck away when not in use. In fact, the paper tray is almost the largest part of the whole system.
One of the key selling features of this photo printer is the dock. You don't have to hook it up to your desktop or laptop like most standard printers. You can connect to it from any device via Wi-Fi, or you can plug your phone into the handy dock. But the real test will be to see how it performs.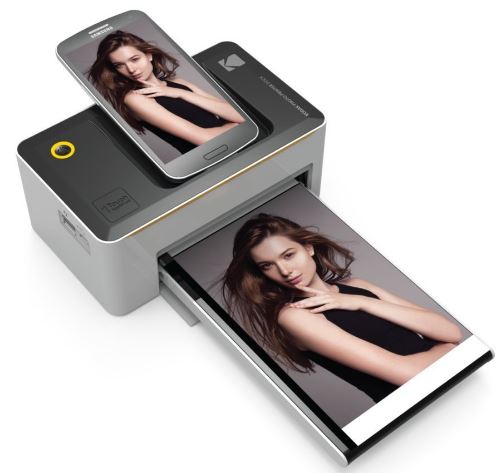 Design & Layout
This is an attractively designed printer. It feels much more modern than a standard photo printer, with sleek lines and sharp contrast between the black and gray portions. The power button, when on, has a bright yellow LED ring around it that makes it obvious that the printer is ready to go. Below that is the single red print button. The dock portion is slightly angled, which makes it easy to see your phone when it's sitting there.
Although it's easy to miss, there is a small door on the side of the printer. Using your fingernail, you pull this door open to change the cartridge and paper.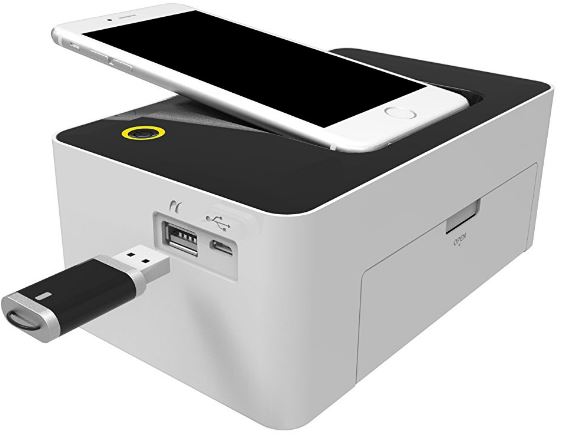 Setup Procedure
There is a heavy mobile focus with this dock, and the setup procedure is best done from your phone. If you know how to use the app store, you'll have no problem setting up this printer. The first thing we did was plug the printer into AC power using the included adapter, then download the Kodak Printer Dock app from the store. Upon opening, you hit settings then "add printer". With WiFi enabled on your phone, the app will then scan for the printer. After 15 seconds or so, the printer was found. From this moment on it will be paired automatically.
Functionality
The Kodak Printer Dock app feels a lot like Androids native photo gallery. You browse through the folders and camera roll on your phone, selecting the photo you want to see. 4 x 6 inch prints have roughly the same aspect ratio as your phone screen, although you can see a tiny border inside the display. You can slide and pinch to zoom the images, and everything within the border is what you will see when you print. With the image on the display, you simply press the print button (if the phone is in the dock) or tap the screen (when connected via Wi-Fi) to print the image.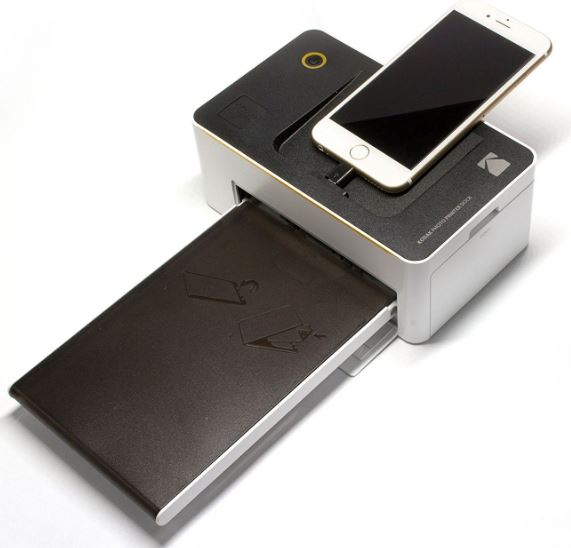 Connectivity
There are several ways you can connect to this printer. Our personal favorite is the dock. This is a typical Micro-USB dock (although there is an included adapter for lightening needed by apple phones.) The dock is sized appropriately for virtually all phones on the market, including the iPhone 7 Plus and Galaxy Note series phones that have a larger than usual display. When your phone is inserted into the dock, the Printer Dock app automatically opens, which makes using it very easy.
If you have a tablet, you'll need to connect to the USB port via your charging cable. When connected this way, the app functions the same as if you had inserted your device into the dock. One of the pleasant surprises we ran into with this printer is that it charges your phone when physically connected. This will be especially useful if you're running low on battery and want to print. But even if you're not running low, we can all use a little extra battery life, can't we?
This printer is able to print directly from external storage or USB thumb drives. You do have to have a phone in the dock to use this feature (there is no display on the dock.) When USB storage is inserted, the Kodak app includes all of the photos in a gallery style browser. This gives you the same ability to crop and edit photos as the standard connection method, essentially using your phone as an interface for the printer.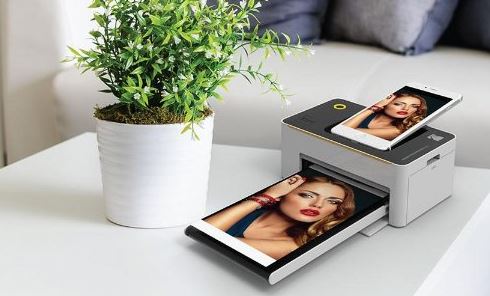 For convenience reasons, another easy way to connect to the printer is through Wi-Fi direct. This allows you to launch in a chair while your printer sits on a desk, making for a simple and easy printing experience. There is a slightly longer file transfer time associated with using wireless connectivity, but it's still a matter of seconds. We found that the bandwidth was more than suitable to transfer even high file size images, so we'd expect that most users have a pretty good experience here.
Image Quality
Thanks to the impressive dye sublimation technology used in Kodak's latest printers, the images you get look just as good as professionally printed models. The colors are very neutral feeling, and well calibrated to a standard phone display. This means that what you see on your screen is almost identical to what you get.
For us, the most impressive thing about the print quality was how well the colors blend together. You don't get that ugly banding you see with inexpensive inkjet printers, and lines stayed sharp and clear. Looking at the prints made from this printer versus ones we'd made on a cheaper model felt like we just moved to a retina display from a standard model.
Not only do these prints look great now, but they're rated to last for a very long time. Kodak claims that they won't fade for up to 10 years, making these the perfect archive images.
If the neutral look isn't for you, Kodak has a ton of editing featured built into their app. You can manually adjust the color balances, hue, saturation, highlights, shadows, and levels. Just like their portable photo printer, you can also choose from a number of fun stickers to add on.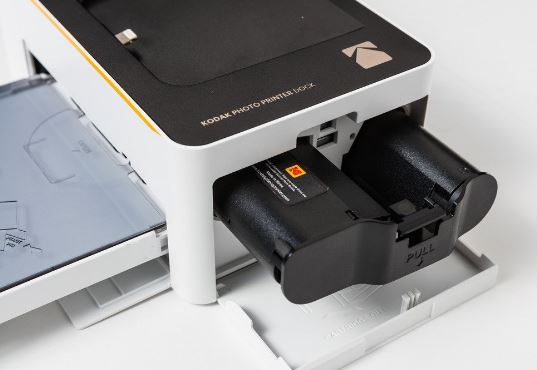 Operating Costs
Just like the mini printers, this Kodak model uses the all in one cartridges. These cartridges include both ink and paper in one, so you'll never wind up running out of ink mid-way through a print. Despite the fact that these cartridges are much larger than those of the mini printers, the cost is actually much lower. The average cost per page is around 50 cents, versus the 70 cents you'd pay for smaller prints. Although it's not the cheapest photo printer on the market, the ability to get lab grade photos from the comfort of your own home makes it well worth your while.
Disadvantages
While it comes with a battery included, this dock/printer requires AC power at all times. It's possible that the increase print area makes this too powerful to reasonably run off battery power, but it's a feature we'd like to see in future revisions.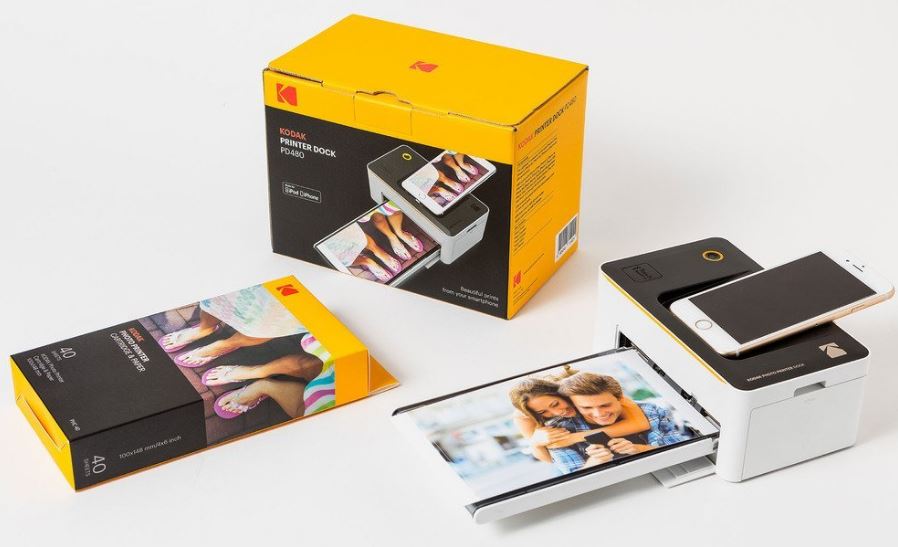 Final Verdict
In terms of quality, this is one of the best 4 x 6 inch printers on the market. It's reasonably affordable to buy, and the ink packages come with special paper pre-loaded. We'd recommend this printer to anyone who wants to print directly from their mobile device, and feels too restricted by the smaller size of the mini printers.
That being said, many mini photo printers are still a good option for those of you who are looking for a portable option. We've done an in-depth look into the Kodak Dock & Wi-Fi Photo Printer, which we found to have the best print quality of the bunch.
The only disadvantage with the printer dock is the cost per print. If you're not printing large volumes, you'll save money due to the low purchase price. But if you're planning to print a lot, or want to print from a computer more often, we'd recommend considering a full size photo printer.