Taking care of a dog is a dedicating and time consuming commitment that many people struggle with. Training your family pet can be difficult, especially if you don't have a definitive way to track progress. Introducing FitBark, a dog activity monitor that helps you better understand your dogs behavior, training level, and health. It helps to redefine the way that you understand your dog, by closely monitoring their activity and keeping you in check, every step of the way.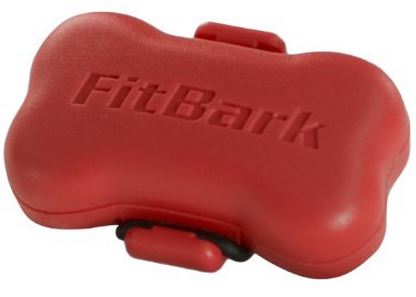 Set to release on March 1st of 2015, FitBark is a dog trainer's dream come true that archives all of the essential details involved with keeping your pup performing at their best behavior. Let's be honest, dog training can be difficult, especially with certain breeds, FitBark was created to try to simplify the training process by connecting you with all the data needed to track progress. Let's take a closer look to see what it has to offer.
Bark Points
Your dogs activity is converted into "Bark Points". Each day, your dog will earn these points for completing certain tasks and barking less. This way, you can see which days your dog was on better behaved than other days in the past.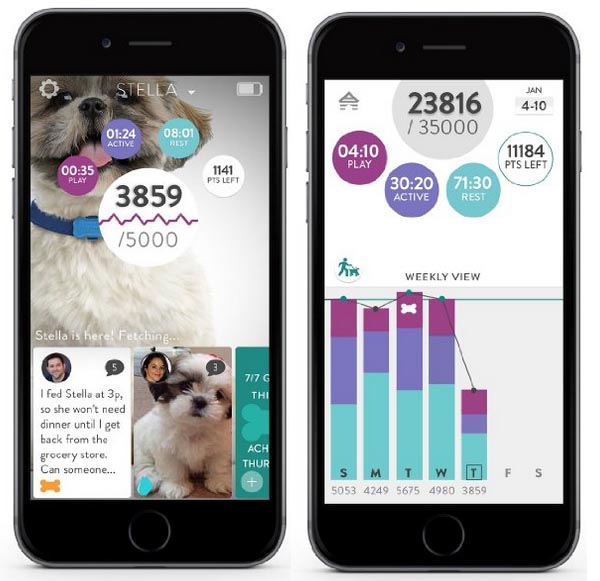 Smartphone App
The free and easy to use FitBark app is the clutch to the whole system. Install it on your iOS or Android device and this will give you the visual monitor you need to track the amount of Bark Points for each day, and how they are earned. This app gives more detail by listing the amount of time your dog was resting, active, or playing, which in time can give you a clear understanding of when they're not feeling well.
Small and Sleek
The FitBark Dog Activity Monitor is to be worn around your dogs existing collar. It's unobtrusive, very small, and available in a wide arrangement of color choices ranging from true red, emerald green, cool grey, light blue, or baby pink. It has a curved design that measures 41 x 28 x 11 mm and weighs just a measly 8 grams. Additionally, it's fully waterproof since it meets IPX7 standards for up to 30 minutes of waterproof ability in a depth of up to 1 meter. This way, you won't have to worry about it getting dirty, damaged, or exposed to the risk of failure. And since it's made out of rugged ABS plastic, it won't naturally deteriorate in time, it's built tough to last.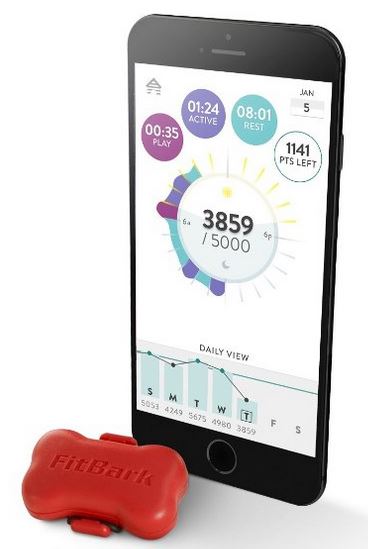 Works with Any Dog
No matter what breed, size, gender, or specific type of dog you have, FitBark is designed to be compatible as long as it can be placed on the collar. However, some larger collars with a width of more than 30mm are not compatible, you may need to buy a slightly thinner collar before you get started.
Great for Vet Visits
Often times, the vet will ask you how your dog has been in the past 24 hours or week before your appointment. With FitBark, you can tell your vet the exact details they're looking for without any hesitation. It will show you how much time they've slept or been active which can be a huge helpful factor when determining an illness or injury.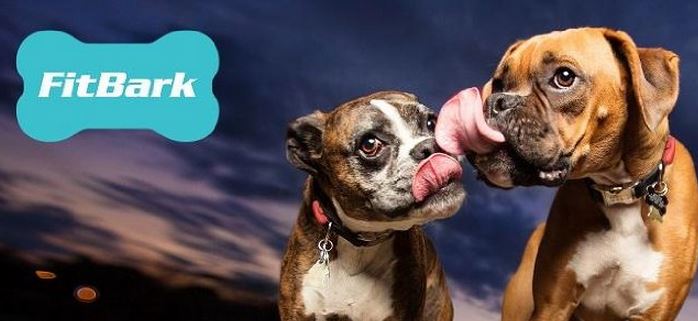 Compare with Others
FitBark will give you certain helpful guidelines that you can follow based on the breed of your dog. This will help you answer commonly asked questions related to their activity and rest levels.
No Fees
There are no recurring fees whatsoever. No monthly membership or additional app that costs anything. This way, you only have to pay once and it's good for life.
Rechargeable Battery
Integrated into the activity monitor is a rechargeable lithium-ion polymer battery that lasts for up to 14 days on a full charge. It never needs to be changed, and is good for the life of the product itself. There's no need to buy additional batteries or disposable batteries that will end up costing you a lot over the years.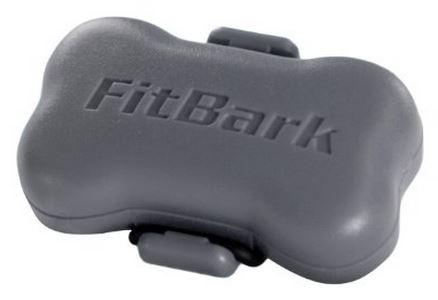 Final Thoughts
Overall, we think that the FitBark Dog Activity Monitor is a very cool piece of technology. Not only does it have the ability to give you in-depth analysis of your canine, it's a fun and informative way to help you successfully train them. We're a huge fan of it's small and durable design, and it's really hard to find anything that we don't like about it.
Best of all, it's integrated seemlessly with any iOS or Android device so you can easily have all of the important data at your fingertips. We're excited for it's release coming up on March 1st, 2015 – you can pre-order the FitBark Dog Activity Monitor on Amazon if you'd like to be first in line to try it out.