Monopoly GO! is a fast growing mobile game that's incredibly fun to play. But when you run out of dice rolls, gameplay can come to an abrupt stop. So how do you get more rolls to continue playing?
Today we're going to uncover the best ways to load-up on free dice rolls on Monopoly GO! Although you can purchase more rolls in the shop, we'll focus on methods that don't cost anything – they're completely free. Let's get right into it.
1. Wait Around
Every 60 minutes you will automatically receive five free rolls. This is limited to 30 times per account, so do keep this in mind.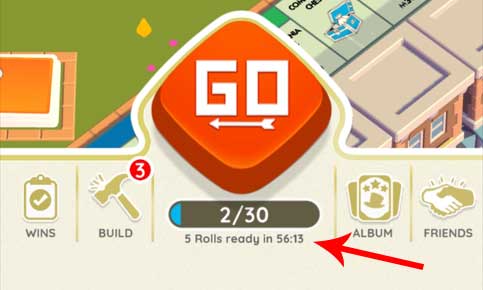 However, the more you play and become an experienced tycoon, over time (days/weeks) the 30-limit cap will increase. So be sure to play Monopoly GO! on a regular basis in order to take advantage of free rolls every 5 minutes.
2. Get More Shields
Shields block others from damaging your landmarks, but that's not the only benefit of them. Once you've maxed out at three shields, the next shield you receive will automatically give you one free roll. As a bonus, you also get the cash for landing on an additional space. Pretty sweet!
3. Invite Friends to Play
At the bottom right corner of the screen, tap the "Friends" icon. Here, you will be presented with several methods to invite your friends to play.
First, you can connect your phone's Contact List with Monopoly GO! to see exactly who's playing or who's not. Invite any of your friends through your Contact List and you'll receive 30 free dice rolls for each accepted friend invite you send.
Second, you can connect through Facebook and team up with friends through the popular social networking website. For each friend you invite and they accept, you'll receive 25 free rolls per friend.
Last but not least, you can generate your own unique referral URL by tapping the green "Invite" icon at the bottom right. Copy and paste your referral URL and send to anyone however you'd like. You can advertise this URL and promote it anywhere for more chances to gain friends. You can also connect and invite friends through Facebook Messenger if you'd like!
4. Improve Your Net Worth
By leveling up your buildings and upgrading your town, you will improve your net worth. Every time you do, you'll be rewarded with multiple free dice rolls for each net worth level that you achieve. Focus on spending the majority of your cash this way if you'd like to prioritize getting free rolls.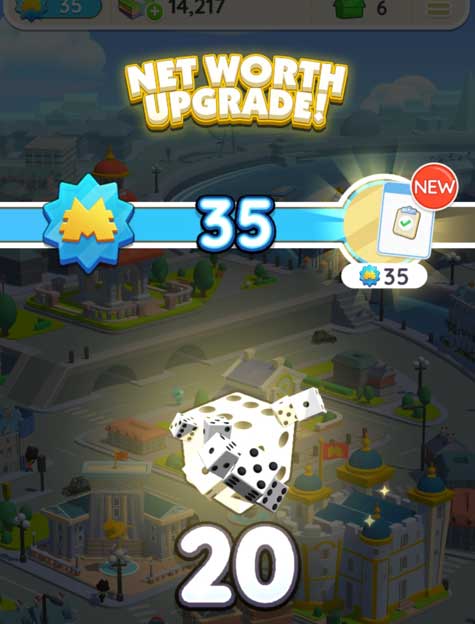 5. Complete Sticker Albums
Every time that you finish a special event, tournament or level up, you will receive stickers. When you earn all of the stickers for each album, you'll be rewarded with big rewards.
More often than not, these rewards will include multiple free dice rolls. Sometimes as many as 10,000+ free dice rolls for each sticker album you complete! Wow, that's significant!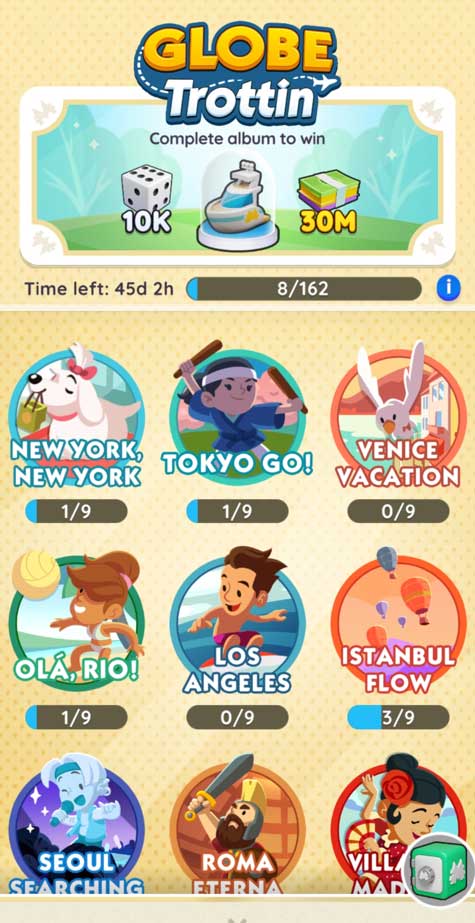 6. Chance Cards
By continuing to play the game, you'll have more opportunity to land on Chance Cards. Just like the real board game, Chance Cards often may contain hefty rewards. On Monopoly GO! these Chance Cards will often contain multiple free rolls. But be careful – chance cards can also contain bad things too. After all, you're taking a chance!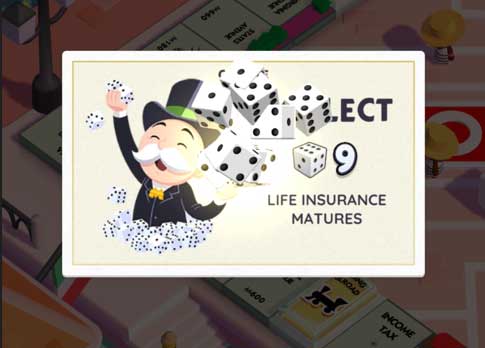 7. Daily Treats
Get in the habit of logging on and playing Monopoly GO! on a daily basis. For each consecutive day you logon, you will receive free rewards known as Daily Treats. These contain cash and often times, multiple free dice rolls.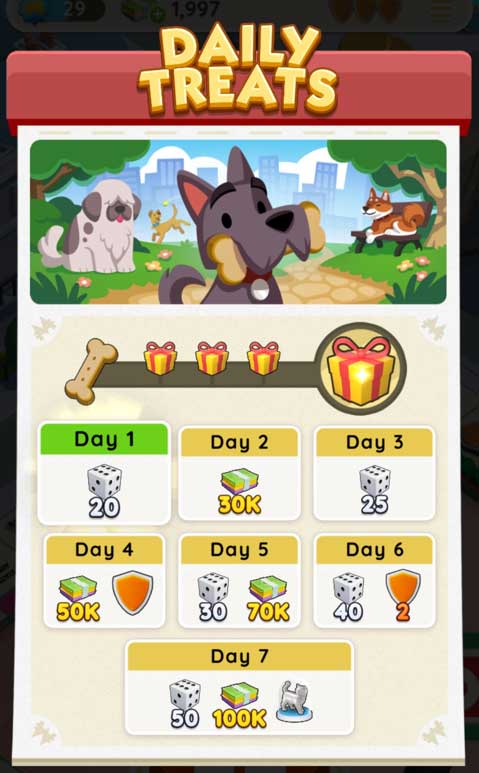 8. Quick Wins
While you play, you will be presented with opportunities to compete in "Quick Wins". These are daily challengers that can be completed to earn free rewards.
Many of these free rewards include multiple dice rolls. More often than not, these Quick Wins are presented to you automatically as you play and progress. That said, be sure to actually collect them as they appear to you!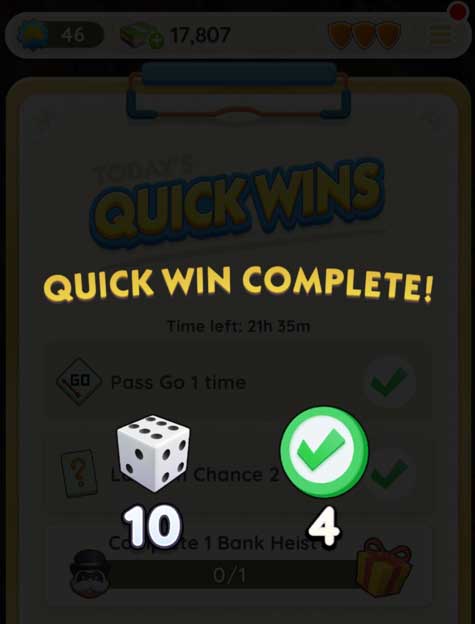 9. Weekly Prizes
Every time that you complete a "Quick Win" you will be a little bit closer to your weekly prize. The weekly prizes reset each week that you log on, so be sure to play on a regular basis to take advantage of them.
Since weekly prizes can only be achieved every 7 days, the prizes are typically significant. In fact, it isn't uncommon to win 50, 70 or even 100 free rolls each week that you complete "Quick Wins" 7 days in a row.
10. Use the Multiplier
Next to the "GO" button, you'll see a small yellow or purple circle that you can tap to multiply your rolls. By using multiple rolls at once, you'll win bigger prizes. Although it takes an investment of rolls for this to pay off, if you win free rolls, you'll win more than ever if you use the multiplier.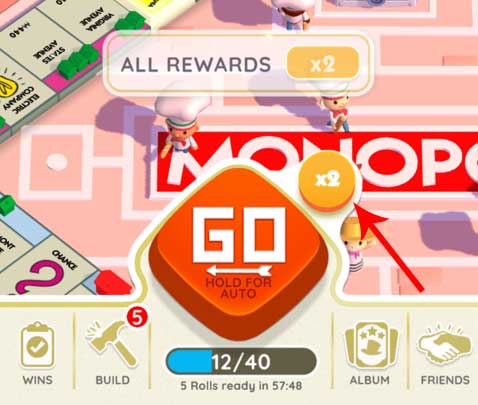 Keep in mind, however, that you may end up losing more rolls this way, so it's a bit of a gamble. For example, you may multiple by 3 or 5, but end up losing. As a result, it may not seem worth it, but in our opinion, it is. It's always worth spending a bit more rolls to see if you end up winning more rolls than ever!
Getting the Most Free Dice Rolls on Monopoly GO!
Take into consideration all of the aforementioned ways to earn free dice rolls on Monopoly GO! They are all easy and free methods to maximize the amount of rolls you earn. However, by far the best way to get the most free dice rolls is simply by logging on and playing on a regular basis. After all, the more you play, the more you'll be rewarded with cash and prizes for participating as an active player in the game.
Scopely, the company behind Monopoly GO! wants to create an active community that's fun, interactive and enjoyable in the long term. Because of this, they've made it possible to play without needing to spend any actual money.
Have you found additional methods to earn free rolls on Monopoly GO? If so, drop us a comment below and share your favorite ways. As the game progresses and ultimately gains more popularity, we'll update this article to make sure it stays current with all the best methods. Have fun playing!
Meet Derek, "TechGuru," a 34-year-old technology enthusiast with a deep passion for tech innovations. With extensive experience, he specializes in gaming hardware and software, and has expertise in gadgets, custom PCs, and audio.
Besides writing about tech and reviewing new products, Derek enjoys traveling, hiking, and photography. Committed to keeping up with the latest industry trends, he aims to guide readers in making informed tech decisions.