In recent years, there has been a resurgence in the number of people moving in reverse from digital cameras back to film cameras. Digital photography certainly has its benefits, but there really is nothing like getting back to the basics and using a film camera.
However, shooting film can be difficult, and casual hobbyist photographers face many pitfalls when first starting out shooting film, including the cost of equipment and the technical know-how. A great alternative and introduction to shooting with film cameras is to use an instant-print camera such as the Fujifilm Instax Mini 26. This instant-print camera is small and stylish, and perfect for use in most occasions, to quickly print and share your memories and adventures as they unfold.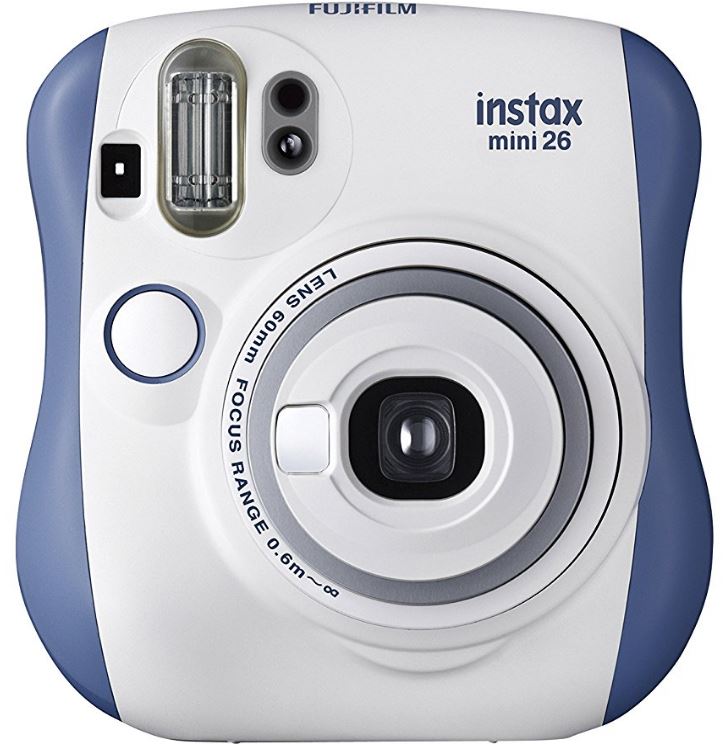 Specifications
The Fujifilm Instax Mini 26 is compact and lightweight. The camera itself measures 112 x 121 x 50.5 millimeters and weighs only 275 grams (without batteries inserted in the body). It's powered by two CR2 lithium batteries. Two such batteries are included with the camera, but you may also look into picking up a pair of rechargeable batteries to supplement the camera. However, Fujifilm claims you can shoot approximately 30 film packs on just two batteries, which is still impressive battery life.
The Instax Mini 26 holds a high-quality 60mm Fujinon lens and is capable of focusing from a distance of 0.5m and greater. A close-up lens is also included for closer subjects. Additionally, the camera body houses a bright flash, and buttons for adjusting the brightness of pictures, shutter release buttons, and enabling the flash.

Design
This review focuses on the all-black model of the Instax Mini 26 which we find to be sleek and discrete. However, the Instax Mini 26 is also available in three other color themes: Cream/White, White/Blue and White/Pink. The alternate color themes make the Instax Mini 26 a perfect option for anyone's style. The vibrant color options make the camera a perfect accessory for your everyday life, not just a tool for taking photographs.
The Instax Mini 26 is roughly square-shaped and ergonomic with both sides of the camera being hourglass shaped. The hourglass shaped sides fit comfortably and securely within your hands when taking pictures. The plastic body allows the camera to remain lightweight, but it still feels sturdy. It seems like it could survive a short fall if you drop it, but probably not a larger fall such as past waist height. Obviously, you don't want to drop any sort of camera, or other electronic device, risking damage to the inner workings, so using the strap with the camera is definitely recommended.
The camera is versatile in its size and shape, and is great for all occasions: outdoor hikes, family dinners, music shows or selfies. The Instax Mini 26 also makes a great companion for travel, due to its compact size and weight. Just make sure you bring along some sort of container or binder to keep your prints secure within.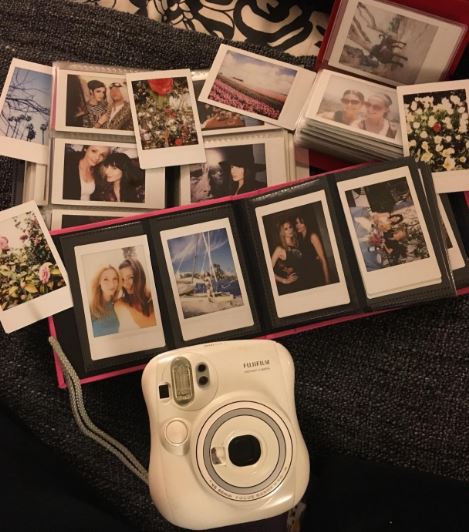 Lens
The 60mm Fujinon lens contained within the Instax Mini 26 is a perfect focal length for an instant-print camera. A focal length of this distance is very versatile for a wide-variety of photography styles. 60mm is a great focal length for capturing portraits of your friends and family. By simply varying the distance you are standing from your subject(s), you can capture a beautiful portrait of your mother, your best friend's entire outfit, or every member of your family at a holiday dinner.
The 60mm lens and its long-distance focusing capabilities also ensures that you can capture beautiful stills of buildings, landscapes and cityscapes. There are two shutter buttons on the body of the Instax Mini 26. Each button has a unique function – one is used to capture vertical images, and one is used to capture horizontal images. This is a great feature that eliminates the need to crane your neck and arms to frame your picture. Simply point the camera at your subject and press the corresponding shutter button for the image you desire.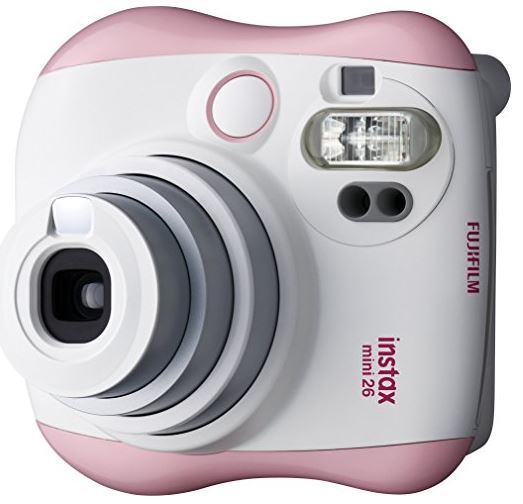 Close-up Lens
The included close-up lens allows you to capture photos of subjects up to 35 centimeters away from the camera. The close-up lens transforms the Instax Mini 26 into the perfect tool for photographing food & drinks, or smaller subjects such as those in nature. The lens magnifies the subject you are shooting into a larger image, making for a more impressive photo, capturing those important details. Subjects such as flowers are enlarged in the prints and produce vivid colors and details in the film.
Selfies
Fujifilm didn't forget about the all-important selfie when designing the Instax Mini 26. The 60mm lens mounted on the front of the camera also houses a small mirror beside the lens. The mirror allows you and your friends to ensure that you are perfectly in shot before snapping your shot. You do want to be careful when handling the camera and perhaps invest in a case to keep the mirror and lens free of scratches, which may impact your photos long-term.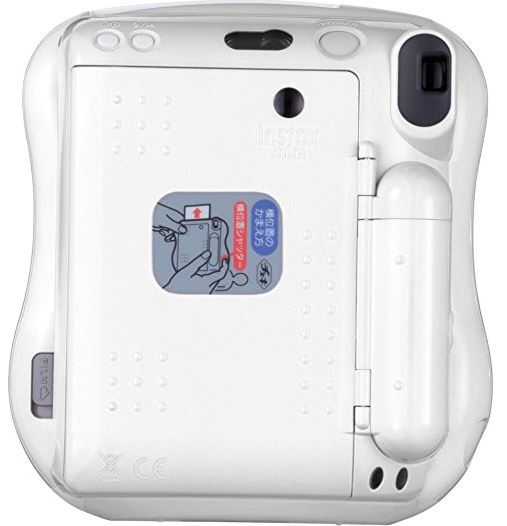 Flash
Regardless of the amount of light available in the setting you are in when using the Instax Mini 26, your photos have the potential to turn out perfect. Fujifilm has included an "intelligent" flash within it that can immediately fill the room with the proper light required for the perfect exposure you are capturing.
Using its built-in exposure compensation technology, the camera detects the light available in the background of the subject you are shooting, and automatically adjusts the shutter speed to produce proper exposure. The flash then fires at the exact right time to fill the room with the necessary light to make your photo pop. Even in dark rooms, the flash can compensate for the lack of light and produce a great print. The flash is toggled using a button located on the top right of the camera.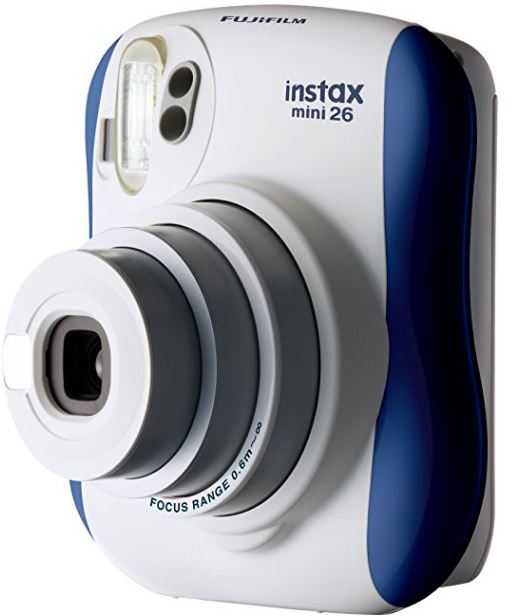 Printing
The Instax Mini 26 begins to print the photo you've taken almost instantly, and it takes approximately 90 seconds to print. The images print on 2×3 inch instant film – about the size of a credit card. The film size is perfect for mounting on your fridge or wall, or for keeping in your wallet. A button on the top right of the camera allows you to control the intensity of color of the print.
Adjustments using this button change your photos to be darker or brighter. You may want to make this adjustment depending on what subject you are shooting, and what setting you're in when taking the photograph. This is another feature that gives you full creative control over your photos.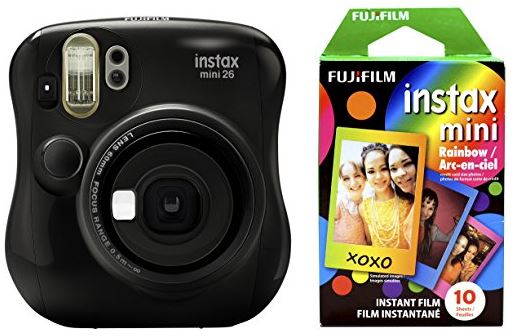 Film
Fujifilm produces multiple varieties of instant-print film compatible with the Instax Mini 26. The 2×3 inch film prints 1.8×2.4 inch images with vivid colors, and sharp details. Skin tones look natural on the printed film, and the clarity is impressive. If you're capturing subjects such as people, flowers or food, you will likely want to stick with the color film.
However, if you're looking for a more classic look, you can actually choose to purchase black & white film. Fujifilm instant-print film have a glossy surface finish with classic white borders. The film packs from Fujifilm come in varying sizes – 10 exposures, 20 exposures and 60 exposures – depending on how much shooting you will be doing. The best value comes with the 60-exposure pack so we recommend that size if you are going to be using the camera regularly.
If you're looking to add even more color to your photos, you can purchase film packs with custom borders, forgoing the classic white border. Fujifilm has several other types of borders available including colors such as black, blue, rainbow. There are even more decorative borders available such as Hello Kitty, Comic, Stripe, and more. Even the film you choose for your Instax Mini 26 will add your own creative flair. The bundle in this review includes a pack of rainbow film.
Final Thoughts
The Fujifilm Instax Mini 26 is a compact, affordable instant-print film camera that is a perfect camera for all occasions. It's ergonomically designed body houses quality components that produce prints with vivid colors, clarity and details. The flash and exposure compensation allows you to capture photos in all light environments, from daylight to darkness. And the multitudes of options available for film borders give you even more options to foster your creativity. The Instax Mini 26 will quickly find a place in your day-to-day bag, so that you can instantly capture beautiful snapshots of all your experiences to instantly print your memories.