Gamers know that they can trust SteelSeries for high quality and affordable gear. The Danish company is best known for sponsoring e-sports games, enjoyed by competitive gamers all over the world. There are not many brands on the market with such an impressive resume, making SteelSeries an popular choice for both hobbyists and professionals alike.
Unfortunately, some consumers feel that the design of gaming headsets has gone from bad to worse. There are many budget brands that come out with a unique, in your face design but drop the ball when it comes to sound quality. To date, SteelSeries has been trusted to create headsets that don't just look good, but sound good too.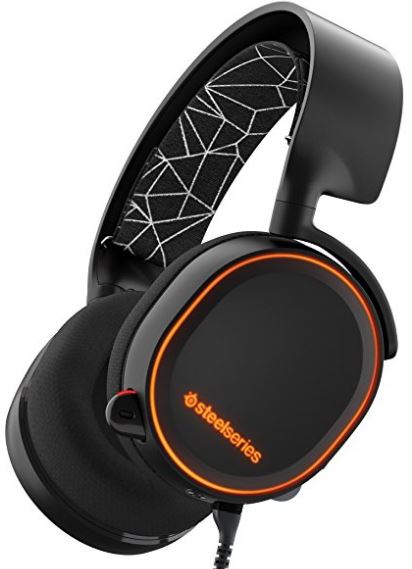 First Look
While maintaining their good name in quality, SteelSeries has designed a headset that can appeal to a broader audience.  For anyone who's tried the Arctis 3s, the Arctis 5 Gaming Headset includes all the familiar goodies like RGB illumination, game/chat audio balance, and DTS headphone X 7.1 Surround Sound. They also come with a few extra features including an overhauled audio performance, and a new and improved mic design. Plus, they have the option of wired USB or analog use, and come with USB ChatMix Dial.  With a feature list like that, we couldn't wait to try them out ourselves.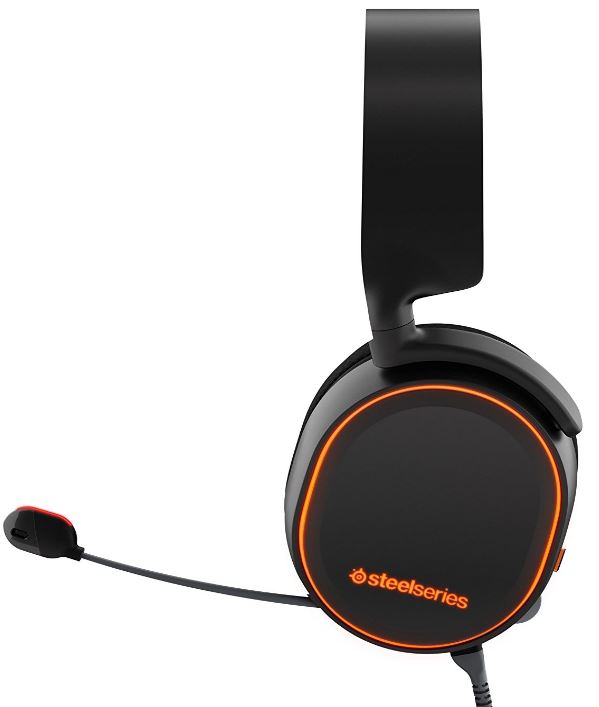 Design
The SteelSeries Arctis 5 Gaming Headset has managed a mature design without completely abandoning the gamer flare. They have a much more dialed down look. Even the layout comes across as elegant. The need for alt-tabbing is eliminated by the easy volume and mute control located directly on the headset. The USB insert and audio jack are also right on the ear cups for quick access and easy transition.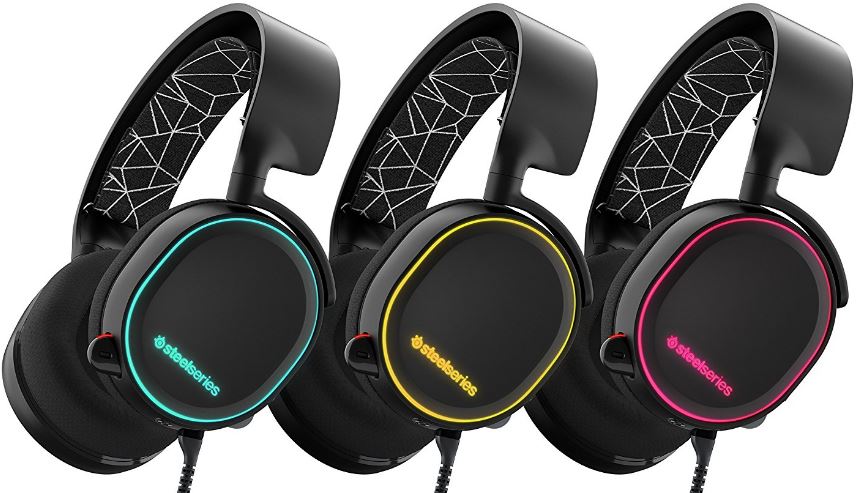 It comes in both black and white, both of which look utterly cool. The general shape is simple and complete, with elegant lines and a sharp simplicity. The earcups are large but not obnoxious, the controls and mouthpiece are discrete. The flashiest part about these headphones is the Prism RGB Illumination, which allows you to choose from "16.8 million different colors and multiple illumination patterns". It makes the headset completely customizable, which is a great modern feature. Yet even in the flashiness of the RGB illumination, the headset maintains is mature look. The light strip is a thin line encircling the ear cups and a fairly modest brand stamp, both of which light up in response to your setting. The Arctis 5 strikes the perfect balance of classic gamer flashiness without being over the top.
Build Quality
When judging the build quality of a headset, there are a few things that can sometimes be considered red flags: plastic exterior and fabric ear pads. But SteelSeries somehow pulls both off with incredible results. The plastic is both high quality and structurally sound. It is not brittle or fragile, and has a slight flexibility to it. If you drop them or accidentally step on them, they are flexible enough that they won't break. While some see plastic as a cheap material, it comes with its advantages when used properly. It's durable and scratch proof, and because it is more economical of a material, it often means the headphones are more affordable.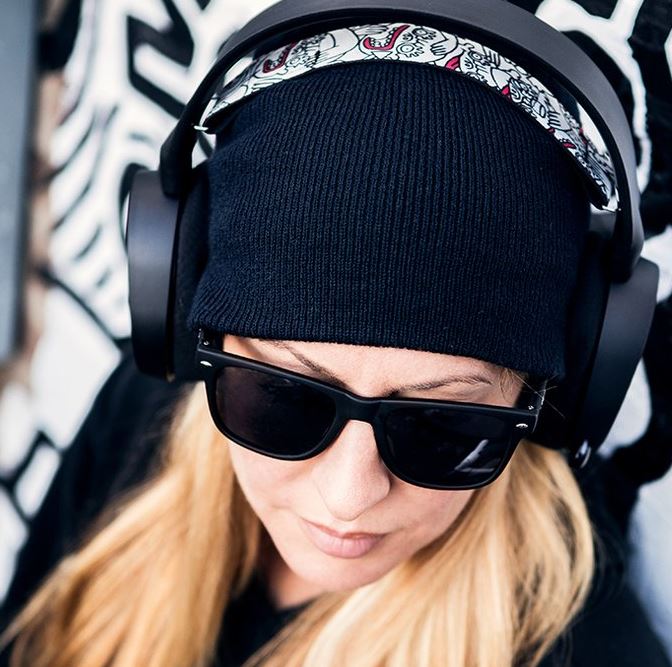 As for the ear pads, don't be fooled by the fabric ear cushions. The ear pads are made from exclusive airweave fabric that is just as breathable as it is durable. They offer the durability of pleather without the unwarranted sweatiness that often results from long term use. Less sweat means less wear and tear, and the high comfort factor is a bonus.
The headband is also of great quality. The plastic of the top band is thick and the connective joints between the headband and the earpads maneuvers smoothly. The suspension band is double layered and stretchy, making it infinitely more drop proof than any hard material. Unlike so many gamer headsets, the Arctis 5s sacrifice nothing in their build quality.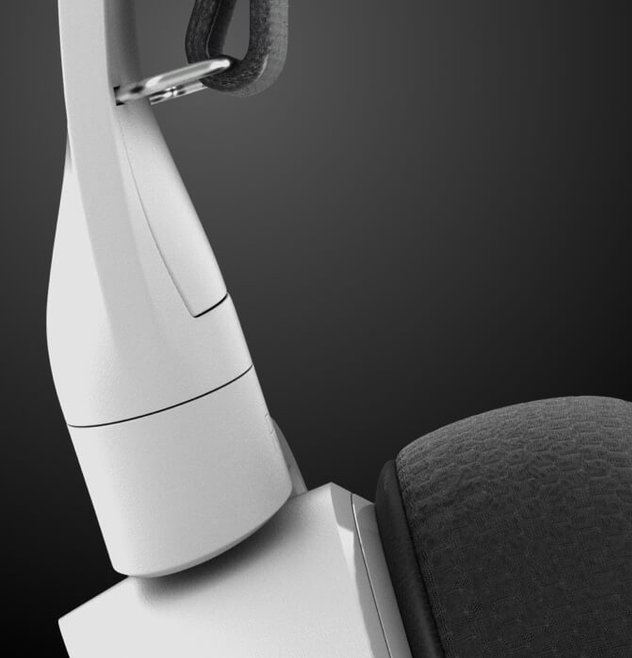 Sound Quality
For gamers, sound quality is what matters most. In this regard, the Arctis 5s are especially impressive, particularly when you consider the relatively low price tag. For starters, the gaming audio is fantastic. High frequency treble sounds, such as screeching tires and breaking glass, are crisp and clean. Low frequencies are booming and encompassing, adding a sense of realism to your game. The midrange is clear and buttery smooth, making everything from games to movies to music sound utterly enjoyable.
For gamers, this means you won't miss out on important midrange frequencies that just might give you the winning edge. Whether it's the sound of an enemy approaching or the click of cocked gun, sounds that are lost with most headsets will be delivered in crystal clarity with the Arctis 5s. Plus, the audio cues are as accurate as possible thanks to the DTS Headphone:X 7.1 Surround Sound.  
Of course, audio quality isn't the only factor. The quality of your mic is of equal importance. The Arctis 5's mic recreates a natural sounding voice without the usual tininess, annoying ringing, or distracting static. The mic itself is improved from previous models as well. It is now bidirectional, which means that it can also pick up sound directly opposite the mic rather than only in front. When used in conjunction with the SteelSeries app, this bidirectional feature can cut out extraneous audio that is not only a nuisance, but can also distract from the gaming at hand. As far as audio quality goes, the Arctis 5 excels in both the incoming audio and the mic.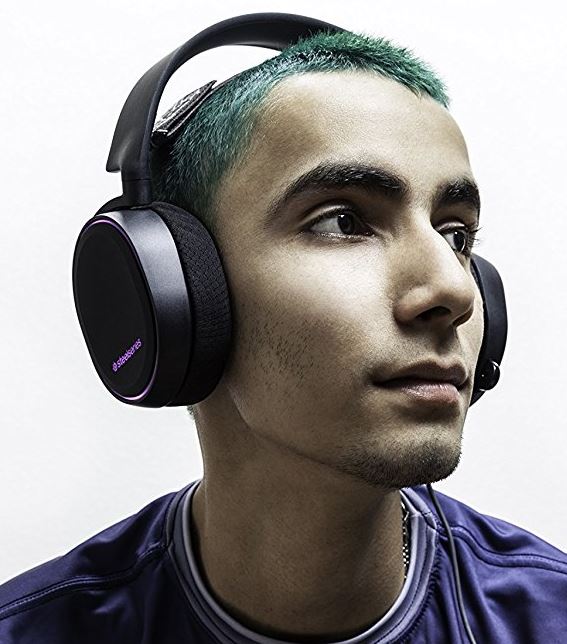 Comfort
The Arctis 5s are easily one of the most comfortable headsets on the market. This is in large part thanks to the "ski goggle suspension band," a feature SteelSeries has used before with extremely positive reviews. The elastic band contours to your head in a way hard materials simply can't, and the suspension feature distributes the weight so the whole headset sits as lightly as possible. This makes the Arctis 5 ideal for long term wear, which is an absolute need for serious gamers. At only 9.9 ounces, the headset is extremely lightweight so you can wear it for extended periods without even noticing it's there.
The fabric ear pads are influenced by athletic gear, which optimizes their breathability. They're not only durable, but designed for comfort. Anyone who's struggled with pleather ear pads will know that fabric is often a good sign. Pleather can cause unwarranted sweatiness that can make long term wear intolerable. Between its light weight, breathability, and suspension headband, the Arctis 5 delivers on comfort on the same high level as it does in build and audio.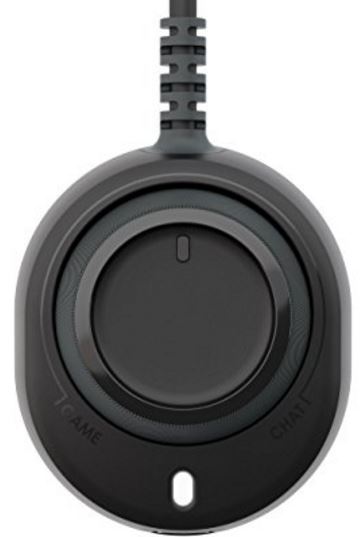 Functionality
The Arctis 5s include tons of features that make them stand out. First, there is customizable Prism RGB illumination. This feature offers an astounding 16.8 million colors and multiple illumination patterns to ensure you won't get bored of your headset design. The USB ChatMix allows you to optimize your volume between gaming and chatting. Chatting is further customizable thanks to the proprietary bidirectional design of the mic, which delivers true background noise cancellation for the clearest possible voice audio. Even the ear pads are equipped with athletics-inspired AirWeave technology for optimal long term comfort.
They include all the functions you want in a quality headset, but here's the kicker: they actually work. The functions go beyond the bare minimum included with other headsets. Unlike flashing buttons and light up mics, the features are actually useful. They're designed for optimizing the gamer experience, rather than just their Facebook profile picture.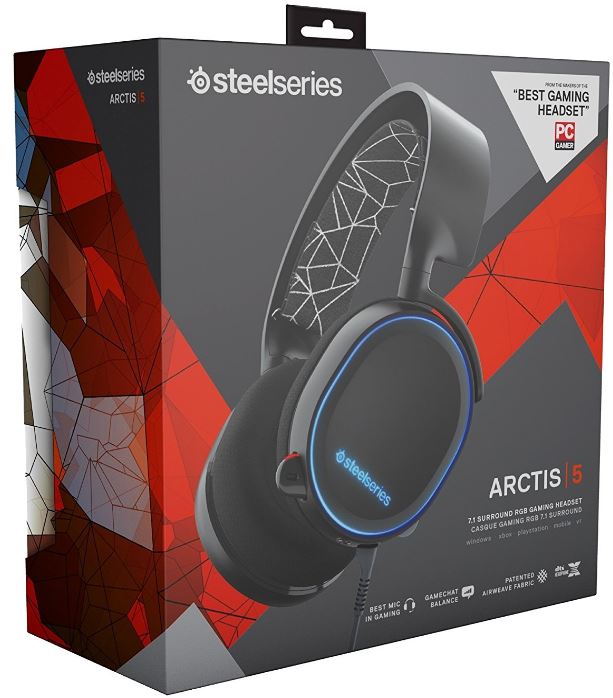 Final Words
The SteelSeries Arctis 5 Gaming Headset is one of the more exceptional new-release headsets at a fantastic price. Not only do they look and feel more durable than the competition, they're actually designed with sound quality as the number one priority. The audio is good enough for them to double as music headphones, while also being optimized for gaming experience. The features included in the Arctis 5's mic allow it to deliver clear, quality sound that often lacks in mid-range headsets. On top of all that, the Arctis 5 is both durable and comfortable, meaning they'll last a long time, increasing their value exponentially.
Unless you rarely game, or care very little about extended-use comfort and sound quality, pretty much anyone in the market for a headset should consider these. The Arctis 5s are built by a brand that is trusted by professional gamers, so you're not getting a bare-bones product. You're getting a quality headset that will perform well and last a long time.
If you're still unsure about the Arctis 5, you may want to consider the Arctis 7. It's virtually the same headset, but you're able to enjoy them completely wirelessly through Bluetooth. Check them out if that's more your style.