In terms of super high end digital cameras, what was once accomplished with gigantic sensors and processors, as well as incredibly expensive lenses, is now being promised with this more compact model – the FujiFilm X-T2. While the comparatively high price of similar models are often denied via small economic benefits and upgrades, Fujifilm comes right out and admits that the X-T2's excellent capabilities aren't found at a lower price.
It's well known that Fujifilm is one of the several forerunners in digital technology and research. They're also well known at providing less expensive options for digital cameras. However, what's not so obvious is the number of facets in which they're making technological developments, including visualizing pressure and UV light, electrical conduction, controlling light, surface energy as well as gas and organic substances and solar cells, among scores of others.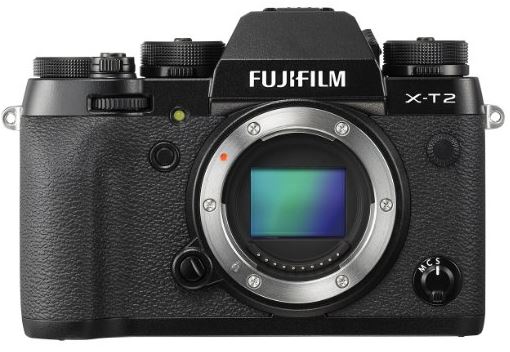 23.4MP X-Trans CMOS III APS-C Sensor
This single feature is responsible for the clarity, depth and richness of all of your images, due to its autofocusing capabilities and the speed with which it transfers data to the image processor. As you may know, Fujifilm has developed two previous versions of their proprietary X-Trans CMOS sensor, with this third version providing about twice as much readout speed. This provides the following advantages:
Video shooting with a higher frame rate.
Improved autofocus tracking clarity.
Playback and advanced video filming options.
The FujiFilm X-T2 uses microlenses, which is a technology that can be used to convert light into electrical energy. However, they're used for collecting and focusing light to be picked up by the sensor. An inherent challenge with this technology is that light is easily refracted through a tiny lens, resulting in color distortions such as inaccurate blending and false reproduction.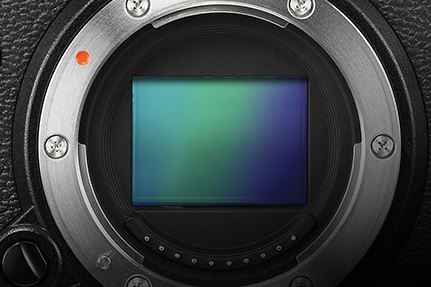 The X-Trans CMOS III thus uses the 6×6 random color filter array for which it derives its name. This essentially removes the necessity of a low-pass filter to correct the blurring effect of high frequency repeating and non-repeating patterns in images. Aside from capturing unfiltered light from the lens to the color filter, there's also a left and right light interception filter to collect and direct visible light before it's absorbed by the photodiode and converted into electrical current.
This is followed by a phase detection sensor, which determines whether an image is in focus by comparing the angle reflected from the right and left side. Also, there's a green filter pixel to compensate for the visible spectrum of light that includes the color green.
X-Processor Pro Image Processing Engine
A powerful sensor is one thing, but without the computational ability of a sensor, much of its functionality goes to waste. The updated CPU model provides the following advantages with 400% faster speeds and increased buffer memory space:
0.06-second AF speed.
0.3-second startup time.
0.17-second shooting interval.
Up to 14 fps of continuous shooting.
0.045-second shutter lag time.
100 fps electronic viewfinder refresh rate.
In basic terminology, it allows the sensor to provide greater detail for higher resolution images. It can also process it quickly enough to create RAW image files, as well as 15 different film simulation modes including PROVIA, Velvia and Acros.
These film simulation and effects features apply equally well to the 4K video capabilities mentioned in a later section. This is essential due to the random color filter array algorithms that are harder to work with, despite the time that software companies have had to create compatible functionality.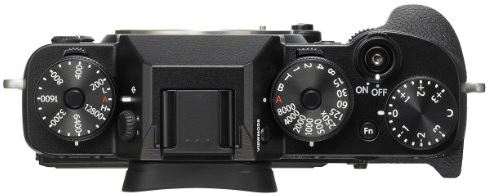 Advanced Auto-Focusing and 4K Video Features
The phase detection sensor mentioned previously has seen an increase in size from previous models, at about 2.3x larger. It has more focus points as well, as previous models featured between 49 and 91, to where this model has 325.
As a result, it's capable of auto-focusing a greater area of the image, as well as pinpoint the areas which require more attention in order to provide greater precision. The X-Trans CMOS III sensor also provides the ability to focus in light conditions as low as -3EV. In terms of focusing on moving objects, this camera offers a 5-level tracking sensitivity setting, depending on the motion and speed of the subject, as well as where they are in the frame.
A higher sensitivity setting will result in rapid refocusing of tracked subjects, where a lower sensitivity will quickly select a new priority, so that you can choose a more precise sensitivity level. You're given the option to vary this based on the rate of change in your subject's speed, as well as which zone of the frame to focus on, including center and front frame, or simple allowing the X-T2 to automatically decide for itself.
While the improved processor does allow for greater capabilities, the ability to fine tune your preferences allows you to make the most of the CMOS sensor as well. For example, it provides 1.8x the pixels of 4K and 2.4x the pixels of full HD, in addition to a high bit rate support of 100Mbps. With that in mind, 4K video recording is only available when a UHS Speed Class 3 or higher car is in use.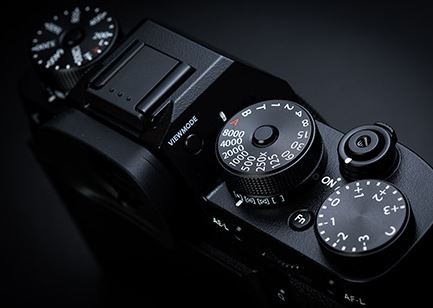 Durable Build for Weather and Temperature
Looking at its body and casing is something that can't be overlooked, because high-tech electronics and lenses can be easily damaged if not protected. In keeping with the compact yet high end quality of the X-T2, Fujifilm has designed it with a magnesium alloy body for a combination of solid metal with a lightweight, easy to maneuver feel. The exact measurements are 5.7 x 11.4 x 8.1 inches, weighing in at a total of 0.22 pounds with no attachments equipped.
One of the major areas of their research and development is in sealing components from dust and moisture. The X-T2 boasts a completely resistant design despite only having 63 points of weather sealing. The lenses are also dust and moisture resistant to keep the whole construction congruent. However, while it is rated for full operation in temperatures as low as -10 degrees Celsius, it's not rated for full submersion in water. That being said, it should hold up for you quite well no matter the environment you're shooting in, despite the fact that you should be careful to protect it from rain as well.
In terms of battery life, the X-T2 uses a 7.2 volt lithium battery capable of holding a 8.7 watt hour charge, which provides about 340 shots on average.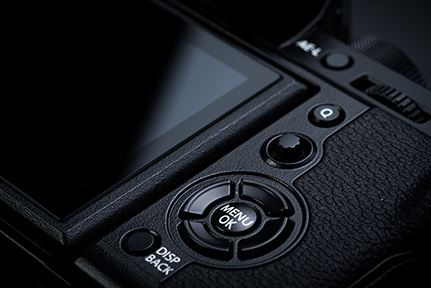 OLED Viewfinder and 3 Axis LCD Screen
Being able to accurately view your shot before you take it is essential to any professional user, as small, unseen details can potentially ruin your entire shot. Looking at the LCD screen, its display size is a total of 3 inches which isn't impressive on its own, but it does nothing wrong besides lacking touchscreen functionality.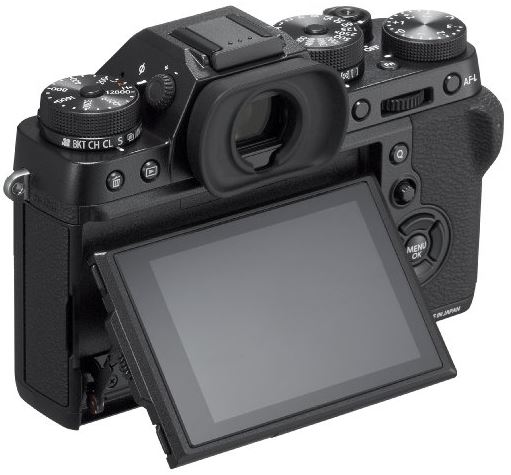 It features 1.04 million dots which is actually exceptional based on the quality of similar priced models based on the resolution and brightness, as well as toughened glass for greater durability.
One of the unique features it has is the ability to tilt in 3 directions, based on whether you're taking landscape or portrait oriented shots. Since it stays aligned with the optical axis of the lens, it's easier to see at an angle.
The electronic viewfinder provides a real-time representation of your shots in high resolution, by making use of 2.36 million dots. Its refresh rate remains as high as 60fps (or 100fps in Boost Mode) in low light conditions with twice as much brightness as its predecessor, and features a display lag time of up to 0.005 seconds. This is important because while it's a flawed digital system, it provides automatic brightness adjustment, a magnification ratio of 0.77x and a 31 degree horizontal viewing angle.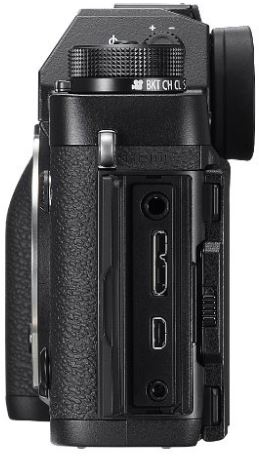 Lockable Dials, Focus Lever and SD Card Slots
All of the ISO sensitivity, shutter speed, exposure compensation, Drive Mode and Metering Mode dials are located on top of the camera for quick access to each control. You can adjust these settings via the analog dials whether the X-T2 is powered on or not, as well as lock in your settings once they've been fine-tuned so that you don't accidentally make an adjustment.
There's also a focus lever which allows you to choose and adjust the focusing area in both the Manual Focusing Assist and Auto Focusing modes, in eight directions including right, left, up, down and diagonally.
Located on the body are two UHS-II compatible SD card ports, which is a high standard for both reading and writing speed as well as storage space limitations.
An advanced feature provided for by this is the ability to simultaneously record RAW and JPEG files, as well as segregate the two based on the type of media that you're capturing. This can make organization a lot smoother in the long run.
Conclusion
The Fujifilm X-T2 comes packaged with an optional XF 18-55mm lens with an aperture of f/2.8-4. While it will cost another $300, it's completely compatible with this camera and will expand the zooming range efficiently. You can also purchase a power booster grip for it with two extra battery slots, which is meant more for greater performance than anything else. Like the lenses, it's rated for dust and moisture resistance for more versatile users.
Meet Derek, "TechGuru," a 34-year-old technology enthusiast with a deep passion for tech innovations. With extensive experience, he specializes in gaming hardware and software, and has expertise in gadgets, custom PCs, and audio.
Besides writing about tech and reviewing new products, Derek enjoys traveling, hiking, and photography. Committed to keeping up with the latest industry trends, he aims to guide readers in making informed tech decisions.