The latest in video projection technology has afforded a visual presentation to rival some of the highest performing TVs on the market today. For example, while they don't necessarily provide all of the same wireless and smart features that you'd typically dish out an extra thousand or more dollars for, they provide the same or higher resolution on the same or larger sized screen area.
On the other hand, while you can get more value at a lower price in many cases, there are some expensive replaceable features including a high intensity lamp requirement, which could set you back even further, depending on how you use it.
In this review, we're going to point out the Optoma HD142X 3D DLP Projector's specific features in-depth. First, it's worth mentioning that Optoma USA is a well-known company that specializes in projection and sound technology. They have a breadth of expertise in the field, with a diverse catalog of high end standalone projectors, as well as reliable accessories like their mounts, carrying cases and filters. In particular, their various genuine Optoma lamps which are recommended for use in all of their projectors hold some significance in this review.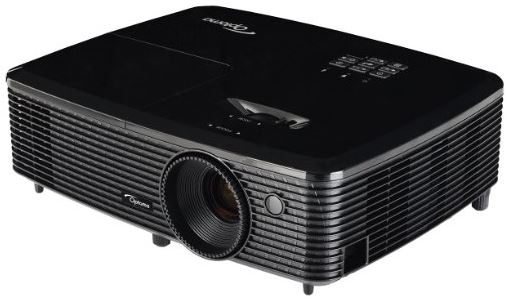 3,000 ANSI Lumens with High Contrast Ratio
One of the challenges with HDTVs is not only outputting the full resolution offered by other platforms and advanced media, but also the range of color that they have available. It's still very difficult for the consumer with an average spending budget to take advantage of the high dynamic range and super high resolution of major popular video game consoles and Blu-Ray content, which poses a dual problem.
As you know, the Optoma HD142X, which is an enhanced version of the HD141X, is priced a bit higher. They both feature a 3,000 maximum ANSI lumen output, which is an important measurement for projectors, because it's based on output at several different angles.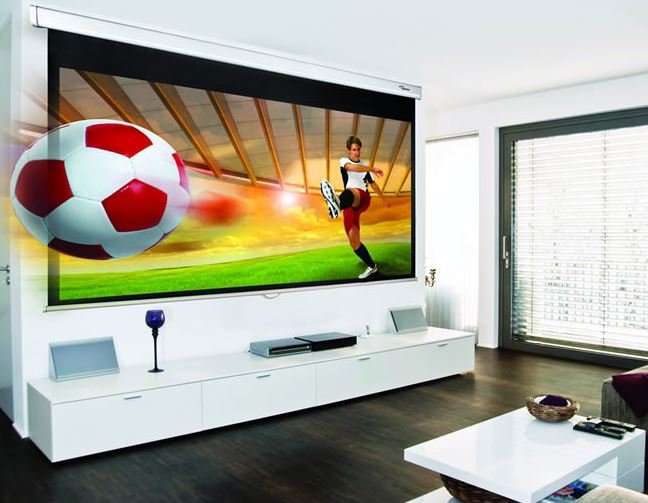 In effect, this means that both models output a very bright white. However, this alone doesn't guarantee bright colors, as single chip DLP projectors use several different filters that don't take into effect the brightness of red, green, blue or other color filters as well.
With that in mind, both the HD142X and the HD141X feature a demanding contrast ratio of 23,000:1, at a frame rate of 24 fps. This not only means that each color is accounted for in terms of brightness, but the appropriate intensity is output for each pixel on a frame-by-frame basis.

REC.709 and HD 1080p
Smart features aren't everything and there's a reason why TVs are becoming increasingly expensive as time goes on. One area where this projector, as well as its less advanced model match this competition is in displaying a full 1920 x 1080 pixels. This is another way of saying that newer video media is very detailed, and this projector is capable of displaying each pixel of it.
In addressing the issues of depth of color, as well as filling each pixel with color rather than white space, Optoma has provided a few additional features in the HD142X, some of which aren't available in the HD141X.
sRGB Standard
CMS with ISF Modes
DLP BrilliantColor Multi-Color Processing
The first of these features is called sRGB. This is essentially a standard set by HP and Microsoft many years ago, to ensure that visual content matched what was being on hardware, like computer monitors. The reason why it's available on the HD142X and not the HD141X is that achieving this on a high resolution projector is much more difficult than on a low resolution monitor, as it includes the entire gamut of colors that appear in the REC.709 standard.

This is made possible in part by the multi-color processing technology called BrilliantColor, which isn't exclusive to Optoma projectors. What this does is allows the projector to combine its RGB color processing with up to 3 other colors simultaneously, allowing for a palette of potentially billions of colors for more realistic, detailed and accurate output.
While it's guaranteed for 99% accuracy to the REC.709 standard, Optoma also stands by its performance for 5 years of continuous service. It also has a Color Management System that gives you control over the color and brightness settings for your particular viewing environment. You can also save custom calibrated settings with two ISF modes, typically reserved for light or dark environments.
Improved Eco Mode for Added Lamp Life
Moving onto the lamp itself, there are considerable advantages to not only using a higher end lamp, but also going with one specifically designed to work with your projector. What the Optoma HD142X has to offer in this area is, first and foremost, three different power modes. Based on their output, each offers the following lifespan for the included lamp:
Bright Mode: 5,000 hours.
Dynamic Mode: 6,500 hours.
Eco Mode: 8,000 hours.
This will vary slightly based on the amount of hours you use the projector each day, however this is rated for a consistent 2 hours on a daily basis.
Next, because its bulb is produced by Optoma you're never at risk of damaging your projector or bulb, and you get a consistent output and lifespan per bulb as well as a more generous warranty for the entire system. Although there's a small amount of maintenance and expense involved with this, you'll get plenty of value out of it by the time you might replace an expensive TV, as it's definitely built for endurance.

Full 3D Output
This next feature may not be the most appealing to all users, however if it works right and is easy to setup, it can be quite valuable overall. We won't pay too much attention to this feature, but it's worth mentioning that it can display 3D content from a variety of devices, including Blu-Ray players, 3D broadcasting and video game consoles.
This is significant because, while you are required to wear active 3D glasses, the HD142X has a refresh rate of 144Hz, which is higher than most quality computer monitors today. It ensures that visual data transferred to it isn't reduced in quality or consistency of display. There's also a VESA port for an external RF 3D signal emitter. This non-included accessory ensues a near-perfect synchronization between your active 3D glasses and projector.
HML and HDMI Ports
Smart technology has become a big part of not only our personal lives, but also has useful applications in the business world. The existence of full HD 1080p is more of a personal feature while it does provide professional opportunities as well. However, there are connectivity features available for the Optoma HD142X that can satisfy both audiences.

For starters, it can act as a hub for your smartphone or tablet via a MHL v1.2 supported connection. This is basically the high definition standard of cable that's compatible with advanced mobile devices. It gives you the option of playing video games or streaming photos and videos from your favorite platforms, like Netflix, YouTube, Amazon Instant Video and Hulu in high definition, with a plug-and-play quality that's exclusive to the advanced model.
Going back to basics, there are also 2 HDMI ports with 1.4a 3D support, for your major systems like Blu-Ray players, video game consoles and PCs, as well as providing access to your AV receiver. The lack of a wireless option is both a blessing and a curse. Although you're required to have a non-portable, cable connection to all devices, even the Roku Streaming Stick and Optoma's HDCast Pro, you won't experience any loss of quality typical of low quality wireless connections. There's also a USB connection option for any photos or videos stored from a digital camera, for example.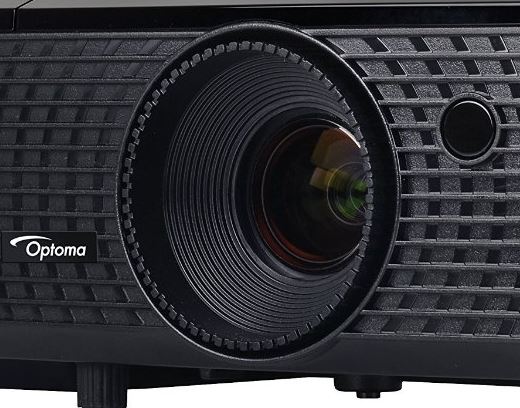 Built In Sound System
We don't always have access to a booming sound system, especially when we're using a projector as a portable option, which is why audio is such a big concern for many people. If you have a home theater system there's a good chance that you'll never want to use this projector outside of that room, let alone your home. As such, the 3.5mm audio out jack will provide everything you need in this area.
You can plug it directly into an AV receiver or independent speaker system, and in addition to this, there's also a 10 watt speaker device built into it. It likely won't provide the home theater or cinema experience that it takes to really enjoy professionally engineered movie and video game soundtracks or ambient sounds. However, the sound is very clear and should suffice for any small or mid-size room presentation.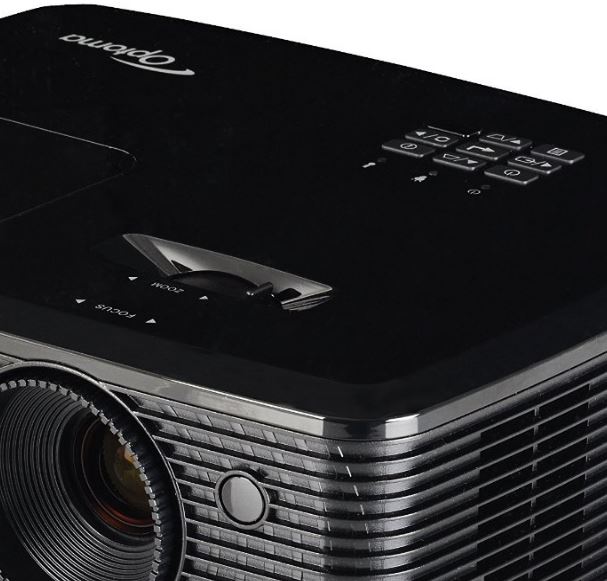 Final Thoughts
The Optoma HD142X Home Theater Projector is definitely no 'run of the mill' projector as you can tell from its price. However, Optoma is making its initial release quite affordable on Amazon. Based on the response received from the HD142X and HD141X's predecessor, the HD131Xe, they've been able to serve a significant market very well, despite the fact that they're only now providing a full 3,000 ANSI lumens of brightness. The addition of full HD 1080p really bring them up a step from their competitors, and you'll still be able to take advantage of Optoma's dedication to relevant accessories and sound devices.
Overall, it's packed with some pretty impressive features and is available for a bargain of a price, considering what it's capable of. While you may not consider it a necessity for your home theater system, it's capable of a wealth of high-end technology that'll likely outperform most other models for the price.