As PC gamers, we spend a lot of time ensuring that our hardware gives us the best gaming experience possible. When you upgrade your graphics card or CPU, it's easy to quantify the improvement in performance. Higher frame rates, lower lag, and better load times are all things we look for. But despite the high cost of these items, there is a point of diminishing returns. Sure, upgrading an aging PC will have a huge impact on your performance. But going from mid-tier to top-tier doesn't always have that big of an impact.
One thing that does have a large impact is your input devices. At the end of the day, your gameplay is only as good as the input you give your computer. It doesn't matter if you're able to get 100 FPS at 4K resolutions, or if your game loads in just a few seconds. When your input is sloppy, slow, or imprecise, your gameplay is going to suffer.
There are many keyboards and mice on the market specifically designed for gamers. With keyboards, savvy consumers look for mechanical keys to improve their accuracy and tactile performance. With mice, we look for something that has a high resolution sensor and a responsive weighting.
You could spend a lot of time hand selecting every component, but if you're looking to upgrade all of these pieces of hardware you might want to look at a kit. Gamdias has a number of high end options on the market, and they've never failed to disappoint. Their E-series package has many of the same features as their top-tier hardware, but comes in at an affordable price. In this review, we'll be putting it to the test to see how it performs.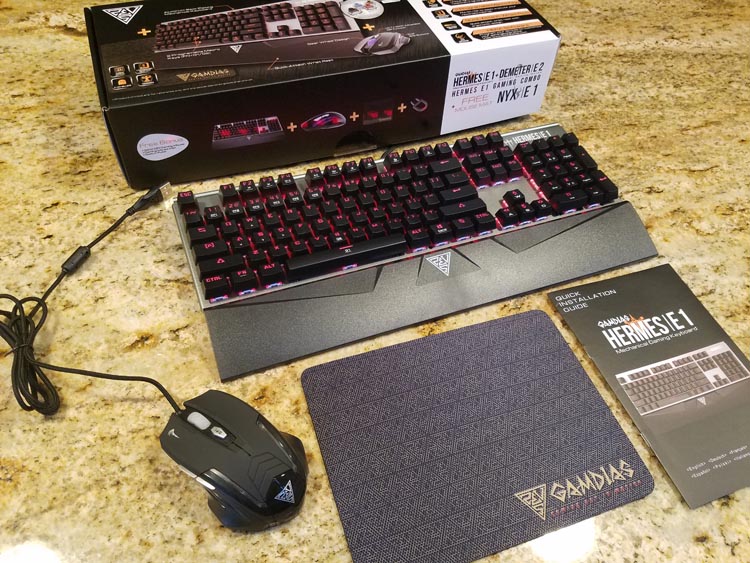 Package Overview
The E-series keyboard, mouse, and pad package is a gamer-specific kit that includes some of Gamdias' best-selling components. The Hermes E1 keyboard is an attractive unit with the very same mechanical actuators that Gamdias is best-known for. Consumers love this keyboard not only for the feel of the keys, but for the advanced macro functionality that allow them to gain an unfair advantage in their game with custom key-combinations available with a single button press.
The Demeter E2 optical mouse features adjustable DPI, making it suitable for virtually any game. It's evenly weighted, allowing you to make more precise movements with ease. High DPI mice cannot be used on certain types of desks. Wood grain or smudged glass tends to create inaccurate input. To ensure that this kit was universally compatible, Gamdias also included their NYX E1 Mouse Mat.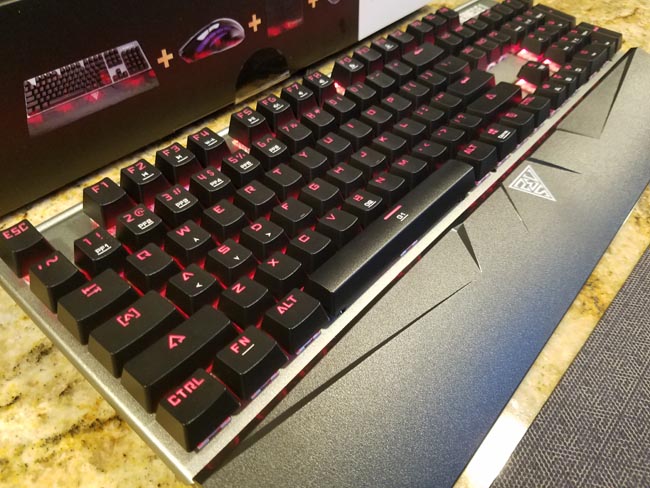 Keyboard
They keyboard is likely going to be the biggest reason you want to buy this kit. Although it's significantly cheaper than most mechanical keyboards on the market, it still checks all of our boxes.
The most notable feature is the switches. Mechanical keyboards are famous for their "clicky" style keys. Whenever you depress them, you feel a firm and hear an audible click that confirms that the key is actuated. Compared to the smushy feel of the common rubber-dome keyboard, mechanical switches are able to improve accuracy and speed.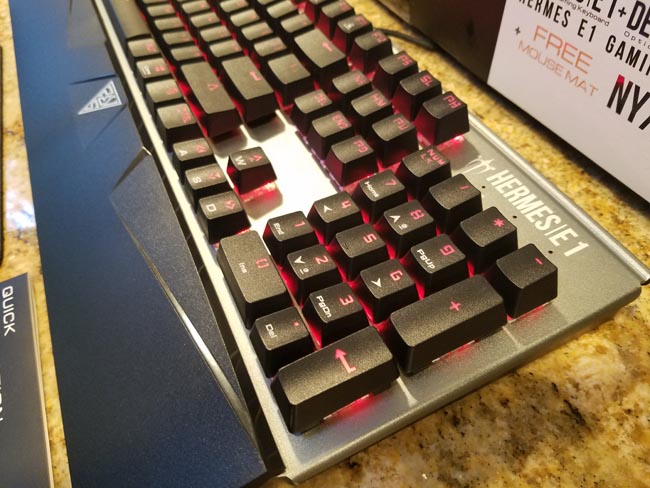 These particular switches are made by Gamdias in-house, although they are fully compatible with the famous Cherry MX switches. If you wanted to buy custom keycaps, they'll be compatible with this board. The switches they use are the "Blue" style ones. Many gaming keyboards use red switches. Red switches have a shorter throw (they move less before actuating the key) and are a little quieter. That being said, the Blue switches are still the most popular option.
They have a slightly firmer feel, and give a more tactile response. The only downside to these switches is that they are a little louder. If you were planning to bring this keyboard to your office cubicle, your neighbor might not be too impressed. But if you're heading out to a LAN part (where there will be other mechanical keyboards) or gaming in your room, the loud click isn't a problem.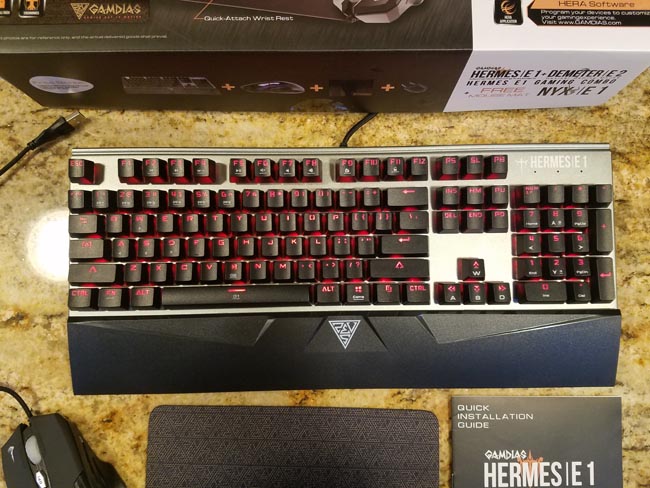 The Hermes E1 keyboard has a very aggressive look, featuring a flat aluminum base and red LED backlighting. While the top is very sleek, it's the wrist-wrest that brings the whole thing together. The LEDs have several lighting options available. Normal is simply a flat backlight, breathing causes the LEDs to pulse in and out, while response lights up as you press the keys.
The E1 keyboard can store up to 2 macros, each including up to 21 keys. Just hold the FN key and press either G1 or G2. Then you enter your macro. From there, anytime you press the G1 or G2 keys the keyboard will replay the key combination just as you entered it.
Although this is a fairly entry level mechanical keyboard, it's got all the features we look for in a high end model. If you haven't used a mechanical keyboard before, this is a great place to start.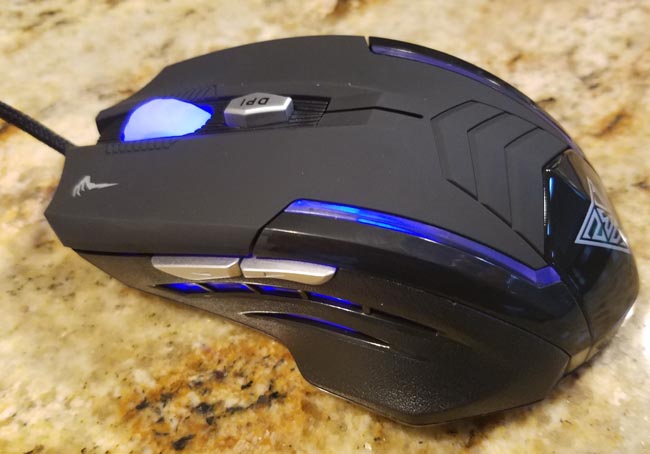 Mouse
The Demeter E2 is a wired mouse with plenty of gaming-specific features. For us, its biggest asset was its ergonomics. The mouse is very large, and fits comfortably in the hand. The left and right buttons are slightly indented, allowing your fingers to rest gently on top of them. When you do go to press a button, the mouse responds with a very firm "click." Moving down the mouse, the large base supports your palm and prevents any cramping that would be associated with a smaller mouse.
It's weighted a little more than your standard mouse, which makes it easier to make tiny, precise movements. You get used to the weight really quickly, and it quickly became much more pleasant to use than our previous mouse.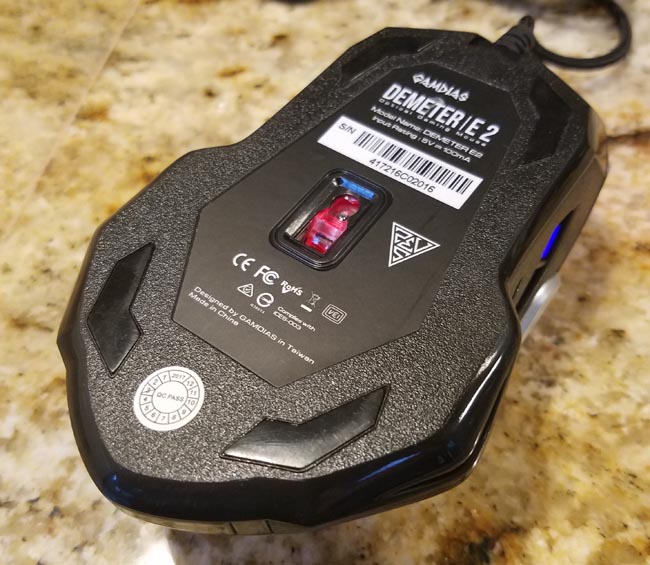 Depending on what kind of game you're playing, you may want to change the DPI. Low DPI is ideal for games where precisions isn't of great importance. MMOs or adventure games where most commands are given though the keyboard are the perfect example. But if you're playing first person shooters or other precision games, you'll want to crank the DPI way up. It goes all the way up to 3200, which is the best you can find in an optical mouse. Changing the DPI is easy – just hit the button below the scroll wheel.
In addition to the standard buttons (scroll wheel, left, and right buttons) you also get two navigational buttons. These are located on the side, controlled by your thumb. Next to these buttons is a large LED strip. Additional strips are located on the side, and behind the transparent scroll wheel. These LEDs give a very aggressive look, and allow you to set custom lighting scripts through the HERA software.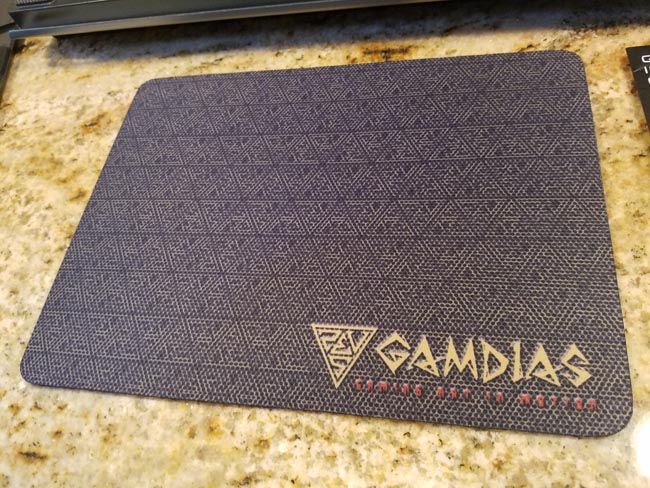 Mouse Pad
Not everyone is going to need the mouse pad. If you've got a high quality synthetic desk, your table top will work fine. But if your desk is made from glass or wood, the mouse pad ensures that the high DPI settings on your mouse still provide accurate input.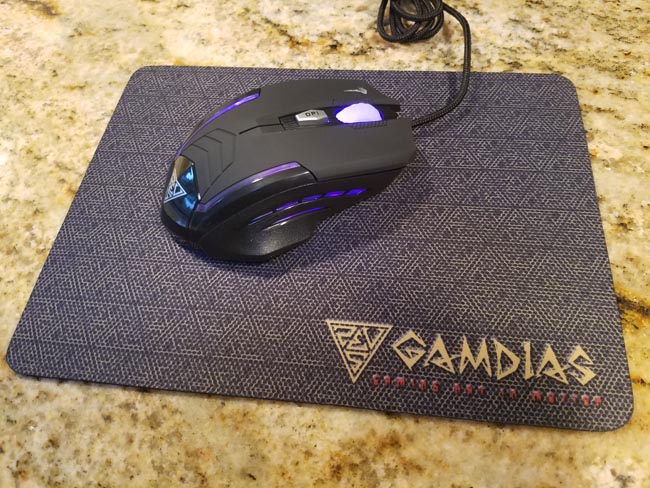 The mouse pad does add a little friction to your movement. Although it takes a few minutes to get used to, we quickly found that we preferred to use it. It's dual-layer material ensures that the bottom sticks firmly to your desk, while the top portion gives a smoother area for the mouse to move on. The mouse pad is fairly basic in design, but it's a high quality addition to an already impressive piece of kit.
Final Verdict
If you're looking for an affordable way to get high quality input devices, the E-series kit from Gamdias is a great choice. The entire package is very affordable. In fact, most stand-alone gaming keyboards cost more than the entire kit.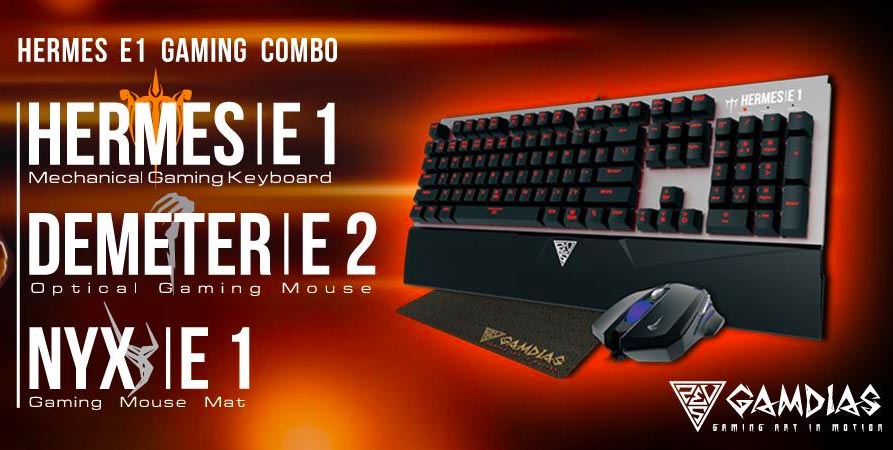 You do make a few sacrifices in the name of savings. You don't get RGB LEDs on the keyboard, and the Gamdias switches don't carry the same 10+ year guarantee as Cherry switches. But from a functionality standpoint, there is very little to complain about. All components feel high quality, you get to use Macros, and custom lighting is still available.
We'd recommend this kit to any gamer who is still using a low end mouse or a rubber dome keyboard. The improvements you'll get from a mechanical keyboard and high DPI mouse outpace the advantages of even internal component upgrades. Most gamers find that when they move to a mechanical keyboard, they never go back. If you're been wondering what all the hype was about, this is the most affordable way to find out.
Meet Derek, "TechGuru," a 34-year-old technology enthusiast with a deep passion for tech innovations. With extensive experience, he specializes in gaming hardware and software, and has expertise in gadgets, custom PCs, and audio.
Besides writing about tech and reviewing new products, Derek enjoys traveling, hiking, and photography. Committed to keeping up with the latest industry trends, he aims to guide readers in making informed tech decisions.