Keeping track of your daily run or bike ride is an important ability to many athletes. With full capabilities to track distance, time, heart rate, and more, the Garmin Forerunner 230 and 235 give you the upper hand in your workout regime. With connected features that give you an in-depth look on your daily training, both of these watches make a great investment, but what can they really offer?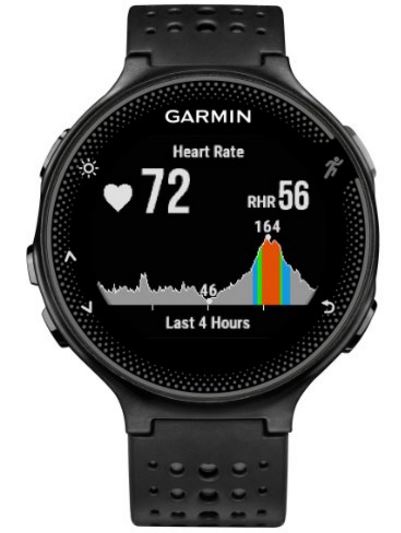 To get started, we'll need to distinguish the difference between the two. The main difference being, the Forerunner 235 has a wrist based heart rate monitor, and the Forerunner 230 doesn't. However, the option to add a heart rate monitor to the 230 is always available if you decide to purchase a heart rate monitor strap separately or buy it as a bundle. The nice thing about the 235 is that you won't need to make any upgrades to the heart rate monitor in the future, it's built right into the back side of the watch itself.
Unboxing
Upon arrival, you'll probably be really excited to unbox the Garmin Forerunner 230 or Garmin Forerunner 235 and get it configured for the first time. Inside the box are a few items – the charger, the heart rate strap (230 bundle only), a charging cable, and a bit of paperwork (instruction manual). One thing to keep in mind is that the strap doesn't have the HRM-RUN and HRM-TRI features, so we would recommend investing in the 235 rather than the 230. But if price is a big concern or these features don't matter to you, the 230 still makes a fantastic option.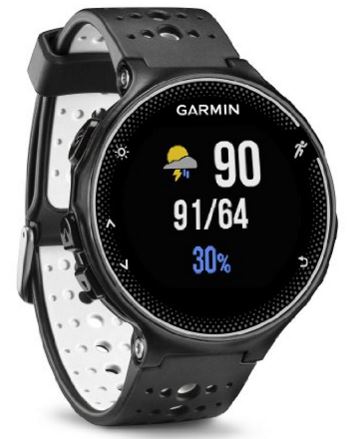 Garmin Connect
When you pair your smartphone to the Forerunner 230 or 235, you can gain access to "Garmin Connect". It's a platform that will give you the full details of your daily workouts and fitness levels. You can set goals, track progress, and view charts, graphs, and maps of your entire workout history. It will automatically keep all of the relevant data in a clear and concise reporting format so it's easy to understand and become familiar with as time goes on and your fitness improves.
Additionally, Garmin Connect lets you share your workouts, compete with friends, and setup different challenges, all through social media. You can even compare your results live, in real time with "LiveTrack". There's also a feature called "Connect IQ" that gives you access to custom data fields, downloadable watch faces, and other useful widgets.
One more notable advantage that's worth mentioning is the watch's ability to keep you updated on current conditions. Weather, forecasts, and other smart notifications are available right from the device itself.
Internal Technology
Integrated into the Garmin Forerunner 230 and 235 is an accelerometer that records the distance and pace of your run, even if you're using a treadmill or indoor track. There's no need to buy a separate foot pod accessory like other watches on the market. Also, it's equipped with a sophisticated GPS and GLONASS antenna that connects to satellites to locate your position precisely and instantaneously. Whether you're on a deep forest trail or a busy city street, this antenna provides accurate coordinates anywhere in the world.
Activity Tracker
Keep the watch on all day to track all of your daily activities and progress, even when you aren't necessarily working out. Like all of Garmin's watches, it doubles as a fully-featured activity tracker that records calories, steps, distance, and sleep. One of the coolest features of the activity tracker is the move bar. It's a small red bar that fills up if you haven't had any had any activity in the last 60 minutes. If it fills up all the way after an hour, it'll chime a "chirp" sound to let you know. However, do keep in mind that you have the option to disable this feature if this isn't something you'd like to potentially be annoyed by.
When you head to bed and go to sleep, the FR 230 & 235 will give you an in-depth analysis of the hours you've slept for, from when you fell asleep, to when you woke up. And once you login to Garmin Connect, you'll have a detailed insight on sleep movement and sleep levels throughout the night.
Larger Screen
One of the first features that most notice about the new Garmin Forerunner 230 & 235 is the improved screen size over the previous 220 and 225 models. In fact, it's 44% larger, but the size of the watch is still the same. The improvement with the screen is a noticeable upgrade that gives you a clearer, brighter view at your progress, ultimately giving you the best visual on your current workout and daily habits.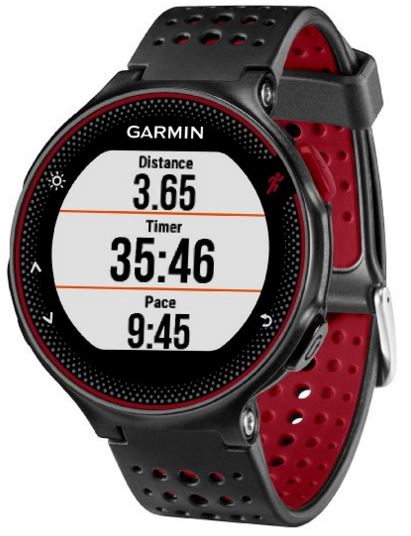 Sleek Look and Design
Garmin created these watches with comfort and functionality in mind, but they also paid close attention to how they looked. The 230 is available in three colors – black/white, force yellow, or purple strike. The 235 is also available in three colors – black/gray, frost blue, or Marsala. The screen is large, and the band is comfy. There's plenty of ventilation provided around the strap so it breathes well through humid and hot conditions. But don't let the sleek look fool you, it still features the durability and strength you need. It's fully waterproof to a depth of 50 meters, so there's no need to worry about it in damp or wet conditions.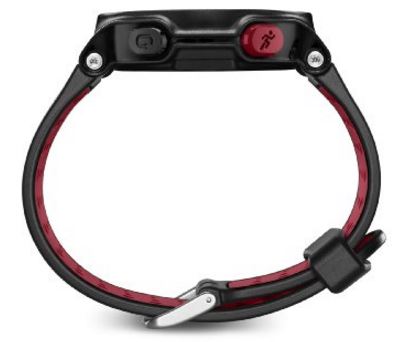 Battery Life
With an improved battery from the last FR 220 or 225 version, you can use the watch for 16 hours in training mode, and for up to 5 weeks in watch and activity tracker mode. They include a USB cable that recharges the battery when the time comes, just connect the four pin clip to the watch and plug it into any available USB outlet.
Overall Thoughts
Whether you're interested in the Garmin Forerunner 230 or the Garmin Forerunner 235, both watches are a fantastic representation on how far technology has come. They give you all of the accurate statistics you need to create a healthy and successful workout regime, no matter if you're a runner, biker, hiker, or just an overall fitness geek. With a 44% larger screen than the previous model, these are both attractive fitness watches that should give you an upper hand on your training.
Login to the "Garmin Connect" app, and you're given all of the useful statistics right from your smartphone. Here you can compare and compete with your friends and family, and also gain access to a wealth of additional configurations. Overall, we're quite impressed, and would highly recommend both the Garmin Forerunner 230 or the Garmin Forerunner 235 to those who want to be one step ahead of their fitness and want the best bang for their buck.