A long time ago, in a galaxy far, far away; there once was a consumer electronics company that dominated the GPS market. Do you remember a time when the thought of having a GPS in your pocket seemed like the stuff of science fiction? It seems like ages ago, yet the first iPhone (the device we consider to be the first true smartphone) was only released in 2007. Apple's first foray into the smartphone market changed the world. There is no other way to put it. As a result, the stand-alone GPS, once an essential piece of automotive hardware, has since been relegated to the position of fancy paperweight.
Garmin, the brand that consumers have come to associate with stand-alone GPS technology, by all rights, seemed like their time was up. But smart companies don't let a competitor's technological breakthrough define their entire business, and Garmin is a smart company. With the Speak Plus with Alexa, Garmin has once again found a way to make their technology indispensable to the average consumer.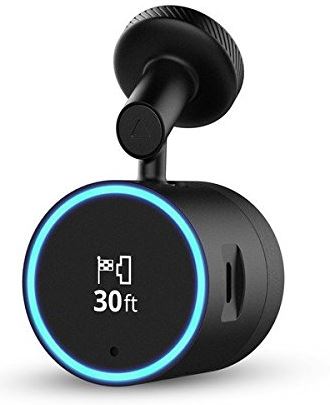 The Basics
Garmin's newest device brings the power of Amazon's Alexa into your vehicle. With the convenience of hands-free voice commands, you can use the Speak Plus as your very own portable personal assistant. It's like driving around with an amazing PA in your passenger seat; though we are yet to find an assistant who can offer you perfect on-demand navigation at the drop of a hat. You can stream the Speak Plus's audio through your phone's speakers via either Bluetooth or an AUX cable. How does the Garmin Speak Plus measure up?
First Impressions
The first thing we noticed when we opened the box is that the Speak Plus was thankfully missing a suction cup mount. Every mountable device we had used up to this point came with an awful suction cup mount system which would often come loose, sometimes even resulting in the device falling into our laps while we drove. The Speak Plus contains a low-profile magnetic mount which mounts securely and doesn't obstruct your field of vision. Inside the box you'll find the device itself, a magnetic mount, a power cable for your car, a microSD card and the Quick Start manual.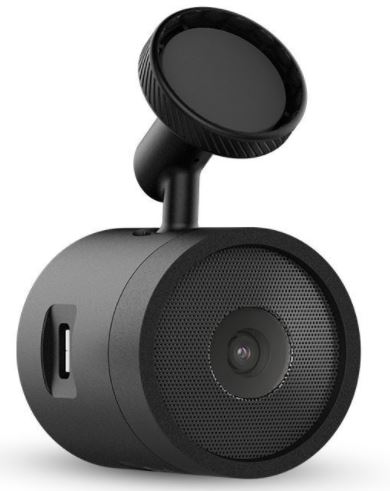 Dimensions
We were also struck by the small size of the Garmin Speak Plus. We remember Garmin GPS devices being bulky and cumbersome. The old GPS units had to be strategically placed to ensure that they weren't obstructing our vision. Those days are over. The Speak Plus is about a third of the size of a pack of cards. The main unit has a radius similar to that of a fifty-cent piece. The entire device measures 37.5 mm x 37.7 mm and weighs only 38.8 grams. So, when we say it's tiny, we mean it.
Audio
If you want to stream the Speak Plus's audio through your car speakers using an AUX cable, that's is something you're going to have to pick up on your own. If you don't want to use either Bluetooth or an AUX cable, the audio will play directly through the device itself. We found the quality of the audio to be tremendously improved when it was streamed through our car's stereo system. No big shocker there. It was like comparing the speakers on your phone to the speakers on your home surround sound system; the difference is pretty stark.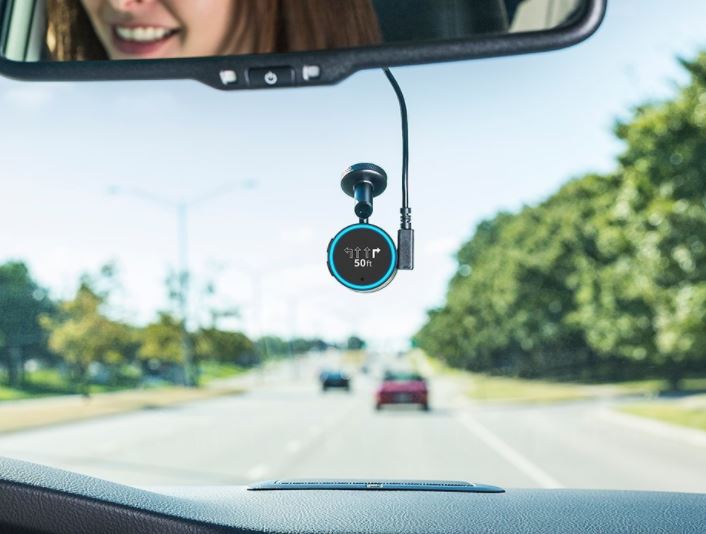 If you are planning on streaming the Garmin Speak Plus's sound through your car's speakers via Bluetooth, you're going to need to download the Garmin Speak app for your phone. Instead of connecting directing to your car's integrated Bluetooth functionality, the Speak Plus connects to your phone through the app, and then uses the phone's Bluetooth to transmit the audio to your car speakers. Keep in mind that you will need a data connection for this feature to work. Garmin makes it clear that any data fees that accrue are your problem. There are no hidden fees, but the potential for fees are there depending on your data plan.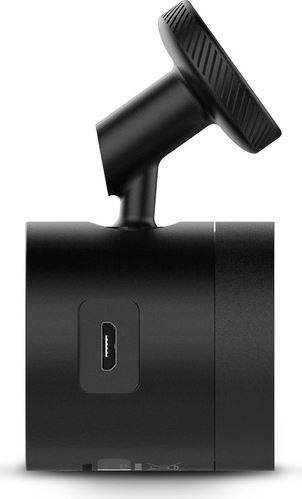 Display
The Speak Plus's display is a far cry from the cruddy displays of Garmin's original GPS devices. Gone are the gaudy, cartoony road graphics, and in their place, beautiful and minimalistic graphics which adhere to the cold and simple aesthetics of the Amazon Alexa. Instead of the cheesy graphics, you get simple and bright icons that direct you to your next move. Garmin's GPS Speak feature is clear and concise, interplaying perfectly with the display icons, telling you exactly where you need to go and when to do it. We were relieved to find that the navigational services are no extra charge and that the maps are updated automatically.
Dash Cam
The Speak Plus includes an awesome dash cam feature which not only records your drive, but also provides driver assistance features such as forward collision warnings, which let you know when you are too close to the car ahead of your, and lane departure warnings, which alert you when you start drifting out of your land or into oncoming traffic. The Garmin device also lets you know if the cars in front of you have started to move forward, which is perfect for those of us who find ourselves daydreaming while in traffic or sitting at long lights.
We'll be the first to admit that we are terrible highway drivers, but, in our defense, so are most people. Honestly, people have a habit of transforming into absolute monsters when they get behind the wheel. We've seen some of the sweetest people in the universe transform into hideous, demonic, vehicular homicidal beasts; it can be truly terrifying. That's why having a dash cam can really come in handy.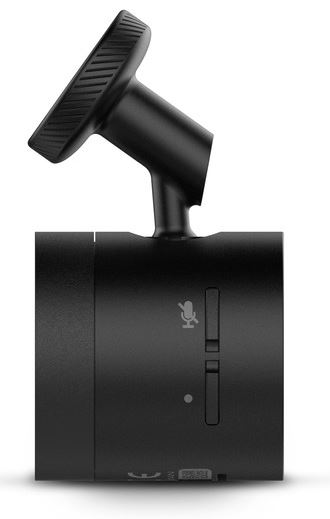 If you were to encounter someone with intense road rage: let's say someone who has decided that destroying your vehicle with a baseball bat is an appropriate response to you beeping your horn at them as they cut you off, the Speak Plus would provide proof of their deranged behavior. The intelligent sensors within the Speak Plus will save video footage when it detects that an incident has occurred. Garmin offers free VIRB mobile software which allows you to review and share your footage right from your phone. And if you're the one that decides to totally wig-out, then you can just chuck your Speak Plus into a ditch and call it a day.
Check Your Local Dash Cam Laws
Before you buy the Speak Plus, we suggest that you research your local dash cam laws. Some jurisdictions have certain rules or restrictions that regulate the usage of dash cams within their borders. Every state has their own concept of what is considered an obstructed view and what isn't. Much of the United States doesn't allow anything to be mounted on your windshield at all. There is also the question of local surveillance laws. While it sounds like a lot of work, it really isn't a big deal. It took us only a few minutes of Googling to figure out whether we were good to go.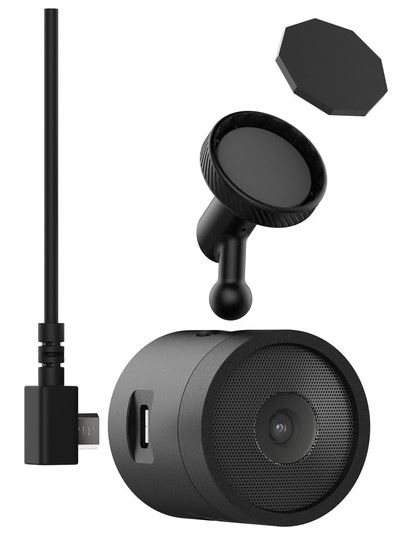 GPS Navigation
Garmin's turn-by-turn navigation is still as fabulous as it used to be. The only difference is that now it's easier to manage. Getting directions is as easy as saying "Alexa, ask Garmin…". The voice commands on the Speak Plus are a lot of fun. It's like living in the future. In addition to directions, the Speak Plus follows the same commands as your Alexa. You can ask Alexa to play you some music, read you the news, manage your calendar, check the weather and traffic conditions, control your smart home devices and even play interactive games with your passengers.
Smart Home Interplay
One of the ways we used the Alexa feature on the Speak Plus was to turn our shower on while we were on our way home from work. Do you know how amazing it feels to get home from a long day at work, slip off your shoes, and jump right into a perfectly warmed shower? My lord. We even used our own voice to unlock our door. The smart home feature was truly a little piece of heaven.
Amazon Music
When you buy the Garmin Speak Plus, it comes with a free 2-month trial of Amazon Music Unlimited Family Plan, which is really the best music option on an Alexa device. While the Speak does play nicely with Pandora and SiriusXM, with the expected launch of a Spotify app coming soon, its integration with Amazon Music is clearly the tightest option. Amazon Music lets you play music based on era, mood or genre, all through the power of your own voice.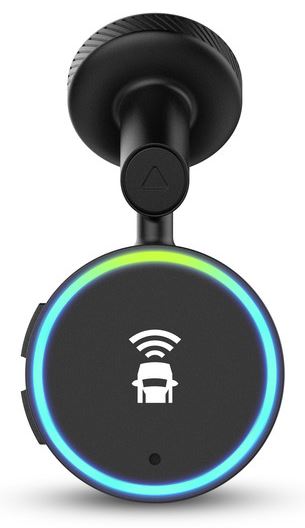 Alexa Commands
Here is an annotated list of what Alexa can do: add items to your Amazon shopping cart and have them delivered to your home, check your bank statement, find a gas station, get sports scores, answer music and movie trivia questions, play audiobooks, make phone calls, turn off or dim your lights, teach you a skill, teach you a history lesson and so on and so forth.
One of the features we found most amusing were the entertainment options. The Speak Plus offers a variety of ways to keep you and your passengers entertained while you make your commute. There are several interactive games, including trivia (my personal favorite). You can also learn about local attractions and historical sites, which one of our favorite features on the entire device. If you are easy to entertain you can always have Alexa pick a card, roll a die, flip a coin or tell a few silly dad jokes.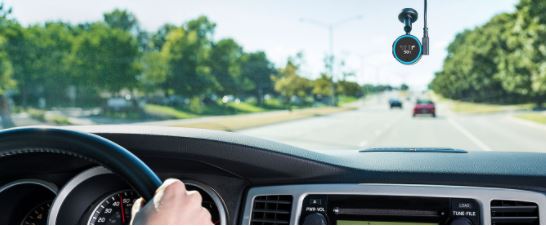 Final Thoughts
All in all, the Garmin Speak Plus with Alexa is a total recommend. With its small and non-obstructive size, clean design, GPS and navigational functionality, smart home interplay and superb Alexa integration, you'll wonder how you went so long without one. That's how we measure the greatness of a gadget; if we can't imagine a world without it, it must be pretty special. We didn't realize how badly we needed the Alexa experience in our vehicle until we were able to draw a warm shower during our commute. We don't think that we'll ever get over that warm shower.
Meet Derek, "TechGuru," a 34-year-old technology enthusiast with a deep passion for tech innovations. With extensive experience, he specializes in gaming hardware and software, and has expertise in gadgets, custom PCs, and audio.
Besides writing about tech and reviewing new products, Derek enjoys traveling, hiking, and photography. Committed to keeping up with the latest industry trends, he aims to guide readers in making informed tech decisions.