Projectors have been on the market for a long time, but they've only recently started to explode in popularity. For a long time, projectors were expensive and limited. Low resolutions, dim bulbs, and poor optical flexibility meant that many consumers wanted a projector, but couldn't find one that met all their needs.
Today, there is a projector on the market that can suit almost any environment. Challenges that were once impossible for projectors to overcome now have simple solutions. Want a big-screen image in a small room? A short throw projector can take care of that. Working in a brightly lit room? Just get something with a very high ANSI lumen rating. Plan to use the projector a lot, but don't want to spend money on bulbs? Just grab an LED projector! No matter what challenges you face, high end manufacturers have a solution. The downside? These solutions are often expensive.
For consumers on a budget, there are advantages to all these high-end projectors flooding the market. If you're flexible, you can save a ton of money. Projectors that have slightly lower resolution, a little less brightness, and a somewhat limited feature set are now even cheaper than a TV. However, it's important to pick the right model. Choose wrong, and you'll be disappointed. This doesn't necessarily mean that a projector is bad, it just means that it's not right for your needs. So how do you know?
For us, the only way to find out is to go hands-on. In this review, we'll be testing out the ultra-affordable GooDee Movie Projector. We'll find out what it can do, and help you decide if this is a good choice for your home-theater.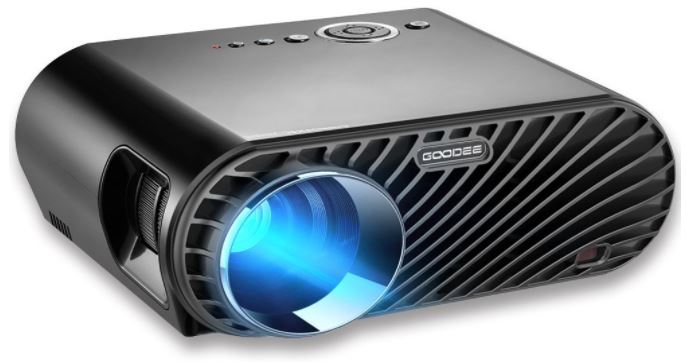 First Look
The GooDee projector sits somewhere between a full-size model and a pico projector. It's still compact, but not exactly a hand-held model. In exchange for a few extra inches, you also get a few extra lumens. Rated for 3200 (non-ANSI) lumens, this is one of the brighter models we've tested. You also get a proper HD resolution (720p) and a built in media player! For the money, the specifications definitely impress. But the real test will be to see if it can hold-up in the real world.
Use code "Nerd30OFF" for $30 discount when you purchase from GooDee's Website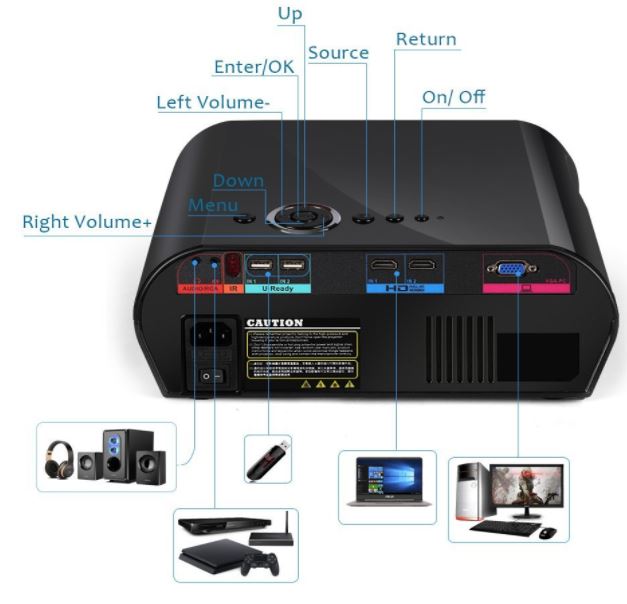 Connectivity & Media Support
Before you buy a projector, you're going to have to make sure it will work with your video source. One increasingly common trend we've seen is to sell projectors with only a single HDMI port. Fortunately, GooDee made sure to include a decent array of connectivity options.
It's got two HDMI ports available, as well as two USB 2.0 ports. VGA is also included, which will be a popular option for users who want to use this as a data projector. For analog video, you also get a composite input as well as RCA audio. You can also supply audio through the HDMI port, or through the analog 3.5mm input.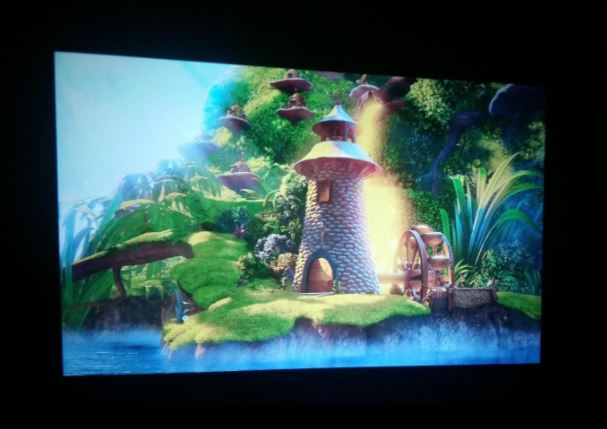 One of the key advantages of this model is that the HDMI ports support MHL. This means that you can use a streaming stick like a Roku or Chromecast, and you can also play videos directly off of your phone. If you don't have an MHL adapter, you can put the files directly onto a USB drive or external hard drive and play them from there.
The projector supports most of the common video formats including MP4, AVI, and MKV. It can also support JPEG slideshows, or play back your MP3 collection. There are plenty of other formats supported, although they are a little less common.
Video Quality
This projector has a native resolution of 1280×800. This is technically 720p, although they aspect ratio is 16:10 instead of 16:9. Computer displays are slightly taller than televisions. For this reason, projectors used for presentations, PC gaming, or any other computer sourced data typically have a 16:10 display. If you do watch a movie, you'll notice a tiny black bar on the bottom. It's noticeable, but very easy to ignore.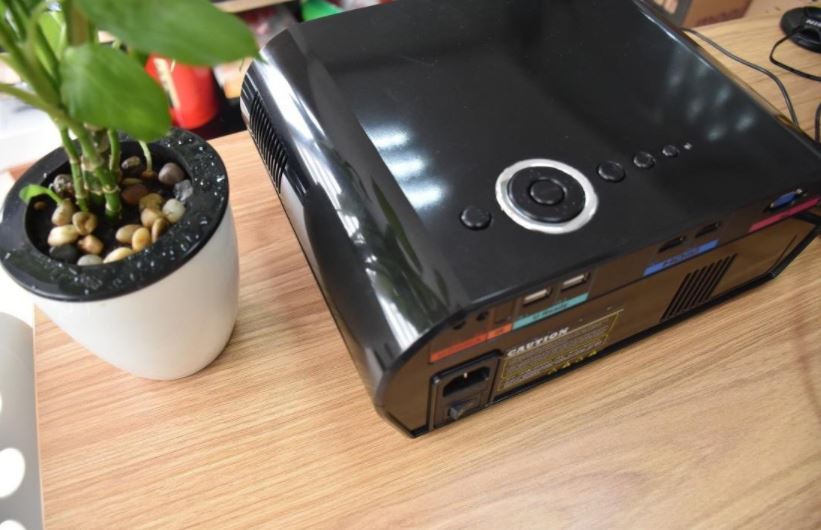 Compared to most projectors in this price range, 720p is an impressive resolution. This allows you to enjoy HD content with a level of detail and clarity that you just can't find on most affordable projectors. The video can be downscaled from 1080p, and is done so quite effectively. There is no added noise and minimal loss, so it's clear to us that the video is scaled appropriately.
It's clear that this projector looks much better than competing models, but it's important to set realistic expectations. On large displays (79 inches and above) pixels are noticeable at 1080p. This isn't the kind of projector that's going to replace a top-tier models, but it does create an enjoyable experience. Video is easy to enjoy, and you really do get the full experience. The "wow" factor caused by an ultra-large screen definitely overpowers the slight drop in resolution, making this the perfect choice for a family movie night.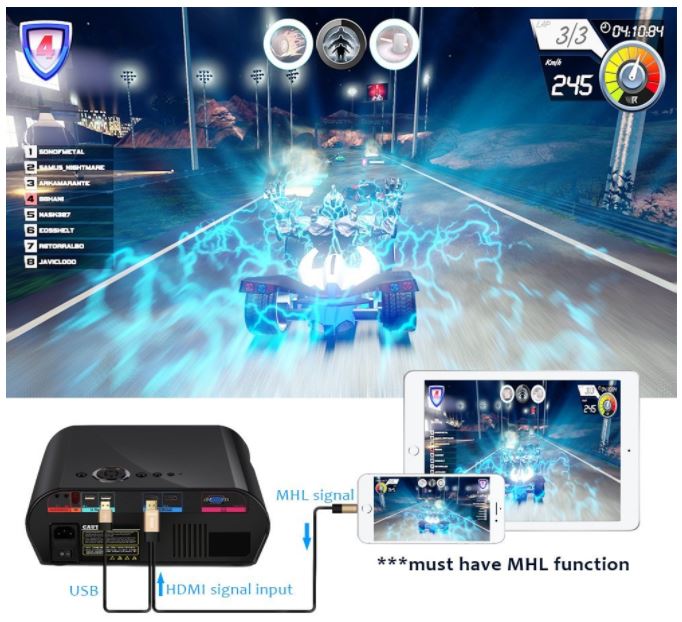 Brightness & Bulb Life
One of the most important factors to consider when buying a projector is the brightness of the bulb. In order for your video to look good, it has to be brighter than the room. In complete darkness, a 500 lumen projector is watchable. But if you flip the light on, you suddenly can't see a thing.
At 3200 lumens, this projector seems like it would be bright enough to use even in an office with fluorescent lighting. However, that is not entirely the case. A 3000 ANSI lumen projector is recommended for bright rooms. ANSI lumens measure the actual quantity of light that hits the screen. The 3200 lumen rating of this projector is measured at the bulb. After it goes through the displays, mirrors, and optics, the actual image is much dimmer.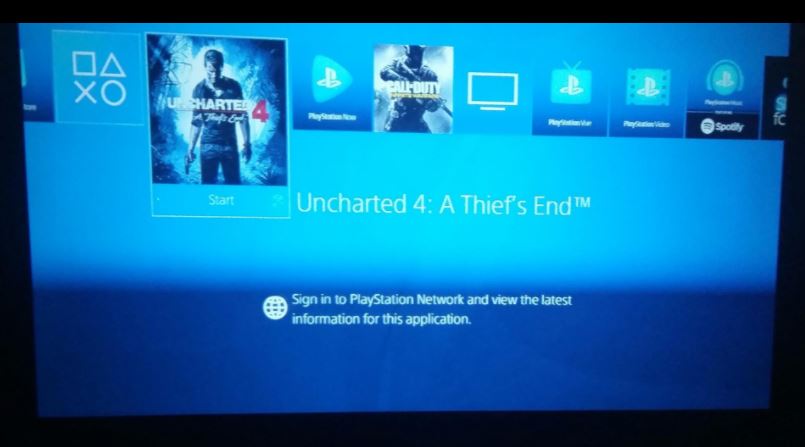 In all honesty, 3200 lumens is unheard of at this price point. We'd peg the projectors actual light output around 1400 lumens. But this isn't necessarily a bad thing. If you close the blinds and shut off the light, the image looks incredibly bright and vivid. You can turn on a lamp or other atmospheric lighting and still enjoy it. It's bright enough that you can use it whatever time of day you like, as long as you make a little effort to dim the room.
Although there are brighter projectors on the market, most of them do not use LED lights. Incandescent lights can get much brighter, but they wear out overtime and generate a lot of heat. The advantage to the LED lighting used in this model is longevity. You can get up to 30,000 hours of use out of the bulb. If you used this projector for 8 hours a day, every single day, you'd go nearly 10 years before it needed to be replaced! In our eyes, that's pretty good value!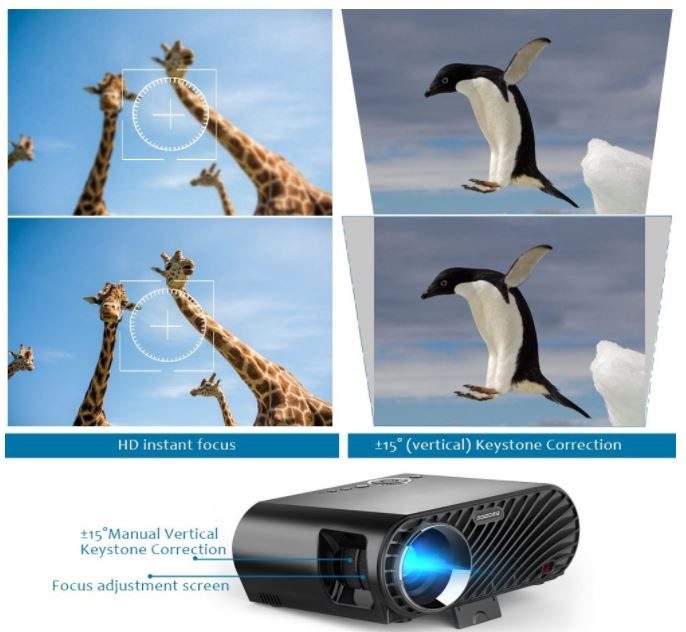 Display Size & Placement
This projector is rated for screen sizes between 32 and 180 inches. Although this isn't the highest on the market, this is about as large as any consumer would want to go. Very few projector screens are larger than 180 inches, and very few homes can hold such a large display.
Their ratings were accurate, although we'd still recommend using a slightly smaller display. To get a 180-inch screen, you need to have the projector 6 meters from the wall. At this size, the screen seems a little more washed out than usual. We found the ideal size to be 120 inches, with the projector placed 4 meters from the screen. This gives you a display larger than most TVs can produce, but you can still place the projector in the average sized room.
Disadvantages
We were happy to learn that this projector has stereo speakers built in. But once we heard them, we weren't nearly as impressed as we wanted to be. The speakers are about the same quality as the ones you'd find in the average laptop. They're quite, a little tinny, and lacking detail. We'd highly recommend you use external speakers with this projector. They can be connected to your video source, or to the 3.5mm audio output on the back.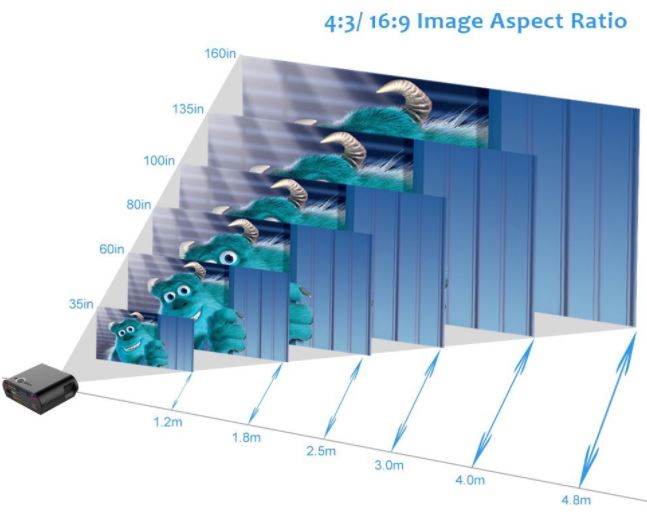 Use code "Nerd30OFF" for $30 discount when you purchase from GooDee's Website
Final Verdict
The GooDee Projector sits in the middle of the two most popular price brackets. The popular Pico projectors tend to approach the two-digit price range. You're going to pay anywhere from 25 to 50% more for this model, but you get a lot more value. The lighting is much brighter, so you can use it in a wider range of spaces. It's got a proper HD resolution, so the image seems a lot more detailed. If you like, you can even leave your laptop in the office and use the built-in media player to play back your video files.
It might not be as bright, as detailed, or as flashy looking as the top-end brands. But unless you're planning to use a projector as your primary television, there is no reason to spend so much money. The GooDee Movie Projector is both competent and fun, making it one of the better entry-level projectors we've tested.