Growatt INFINITY 1500
Pros
Charges up to 12 devices simultaneously.
Works as an uninterruptable power supply (UPS).
Powerful app controls.
Extremely quiet operation.
Smartphone app works great.
Cons
Relatively heavy.
Somewhat expensive.
Nowadays, we're far more reliant on electronic devices than we were in the past. Roll back the clock 20 years, and a power outage wasn't that big a deal. Sure, it was inconvenient, and you couldn't watch TV. But other than that, you could do anything else you wanted. Old-school landlines even worked when the power was out. Unless it went out for long enough for your food to spoil, it wasn't that big of a deal.
But today, we rely on our smartphones, tablets, and other gadgets for everyday life. A phone isn't just a way to keep in touch with friends and family. In many ways, it's your lifeline. Most people use an app for banking.
Maybe you use a rideshare app to get around. And if you want to order food, there are any number of apps to do the job. And that's just your smartphone. If you're a remote worker, you probably count on your laptop to get your job done. Laptops and tablets can also be useful when you're hiking or camping. You can bring along a movie on your laptop, or use a GPS app on your table to plan your route.
Losing power can be even worse if you rely on certain medical devices. For example, many people use a CPAP machine to get a good night's sleep. Without it, sleep apnea sufferers can experience long-term side effects. If you're one of those individuals, you want a reliable source of backup power. In all of these scenarios, a good portable power station will solve your problems.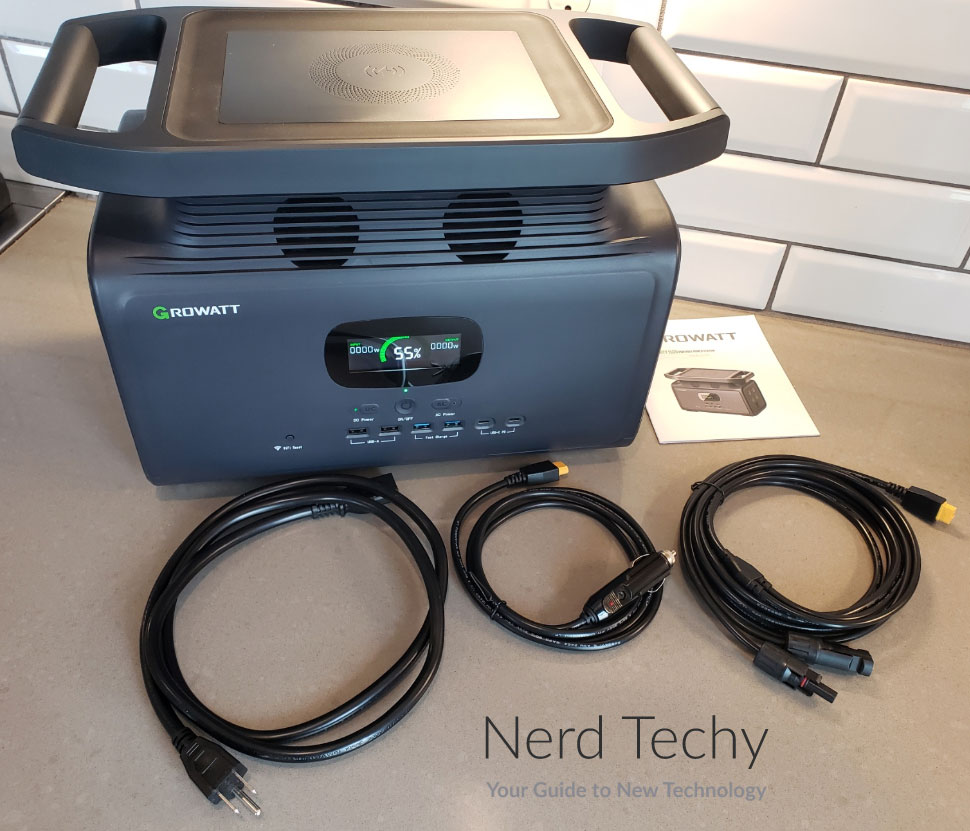 Growatt INFINITY 1500 Portable Power Station
Today, we're going to review the Growatt INFINITY 1500. This is a robust portable power station with a capacity of more than 1,500 Watt-hours (Wh). It can power up to 12 devices simultaneously, and comes with an impressive suite of safety features.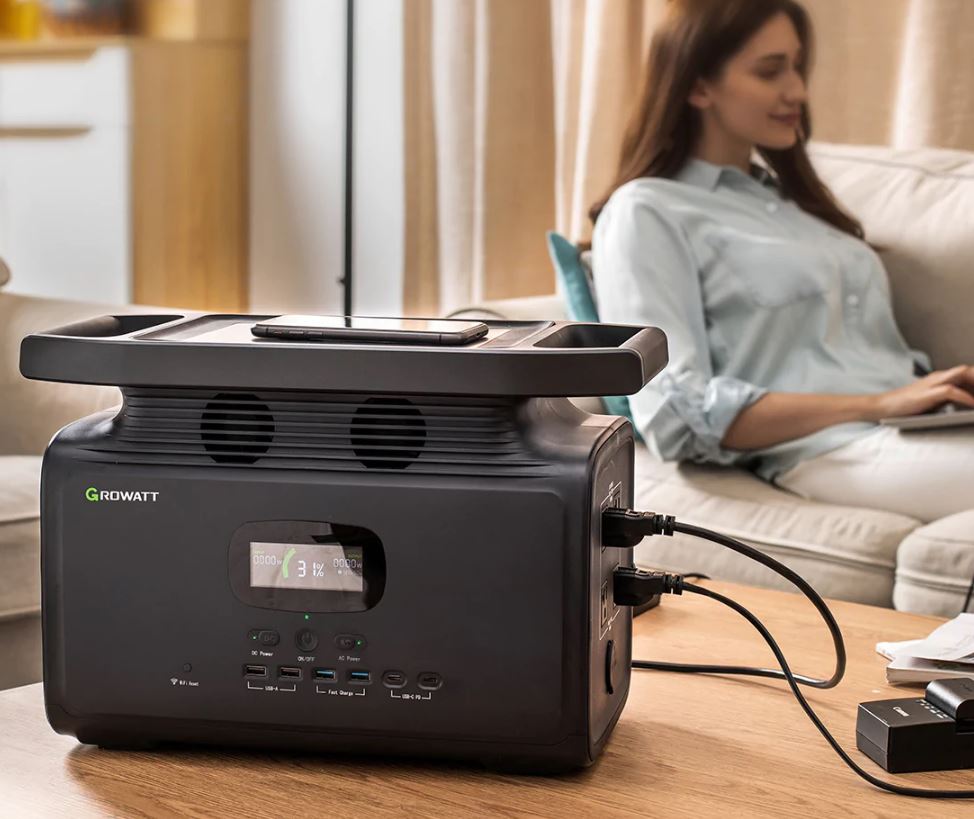 But those are just a few of the things we'll need to consider when making our evaluation. We'll need to examine the physical build, and how the unit is constructed. We'll talk about each of the charging ports, and go over what they're capable of. And of course, we'll have to discuss how you can charge the battery. After that, we'll have a complete picture of what we're dealing with. Let's begin!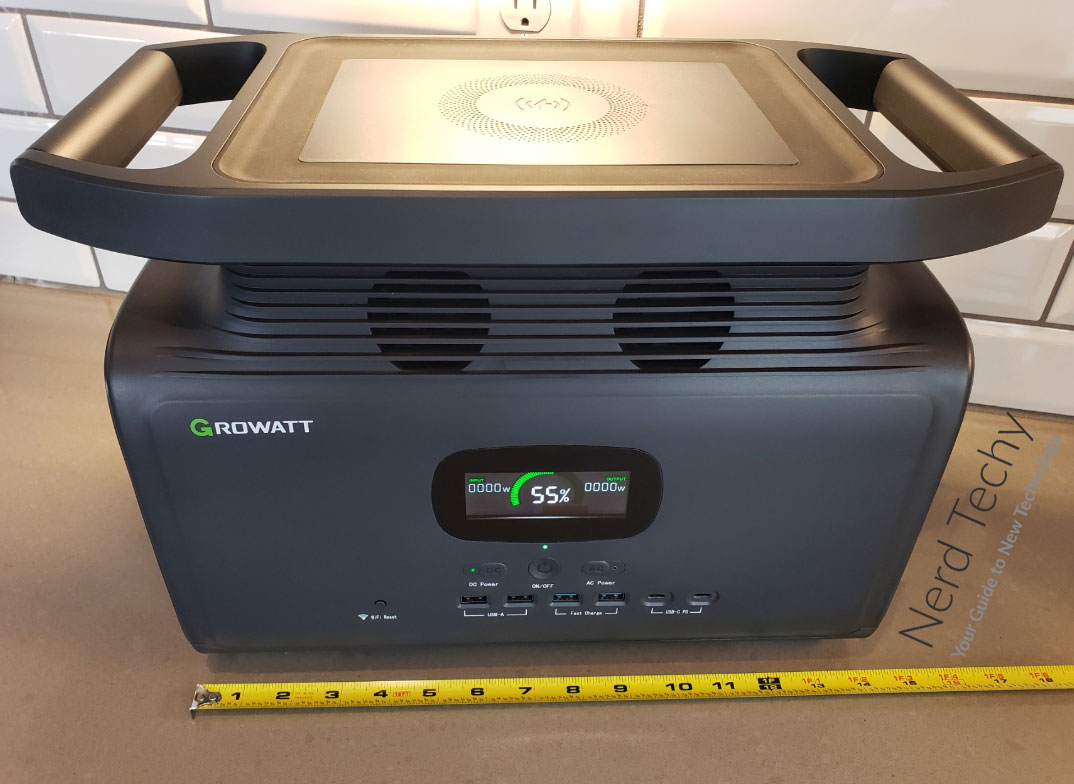 Design & Durability
The Growatt INFINITY 1500 Portable Power Station has an unusual shape. Most power stations are rectangular, or at least close to rectangular. This one looks a bit like an antique scale. The main portion is rectangular, but it tapers to a narrow neck. At the top is a wide panel, with a wireless charger in the center. There's a little green LED on the panel to let you know the charger is active.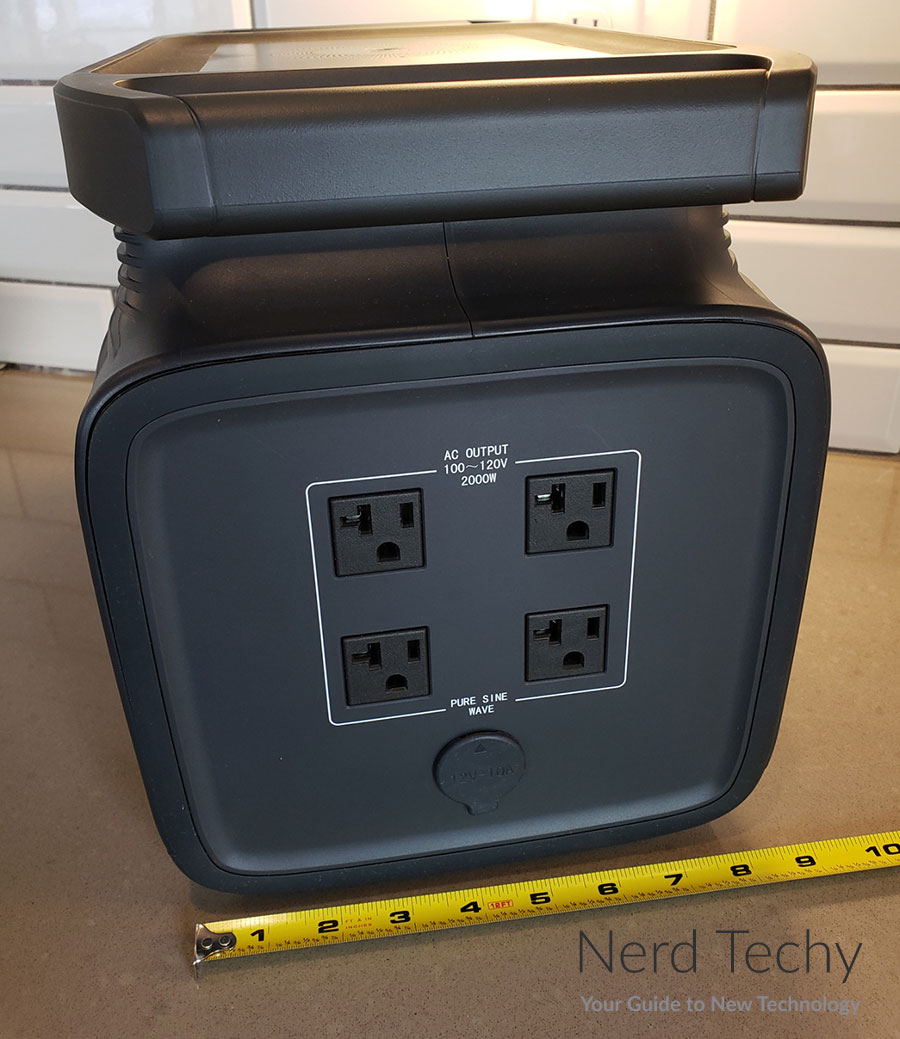 A pair of handles are built into the sides of the top platform, providing an easy grip. That's a good thing, because this power station is surprisingly heavy. It weighs 36.4 pounds, despite measuring only 16.5 x 9.1 x 11.3 inches in size. You won't want to take it hiking. But for use around the house or at an off-grid cabin, it's perfect. It's also a good size for RV enthusiasts.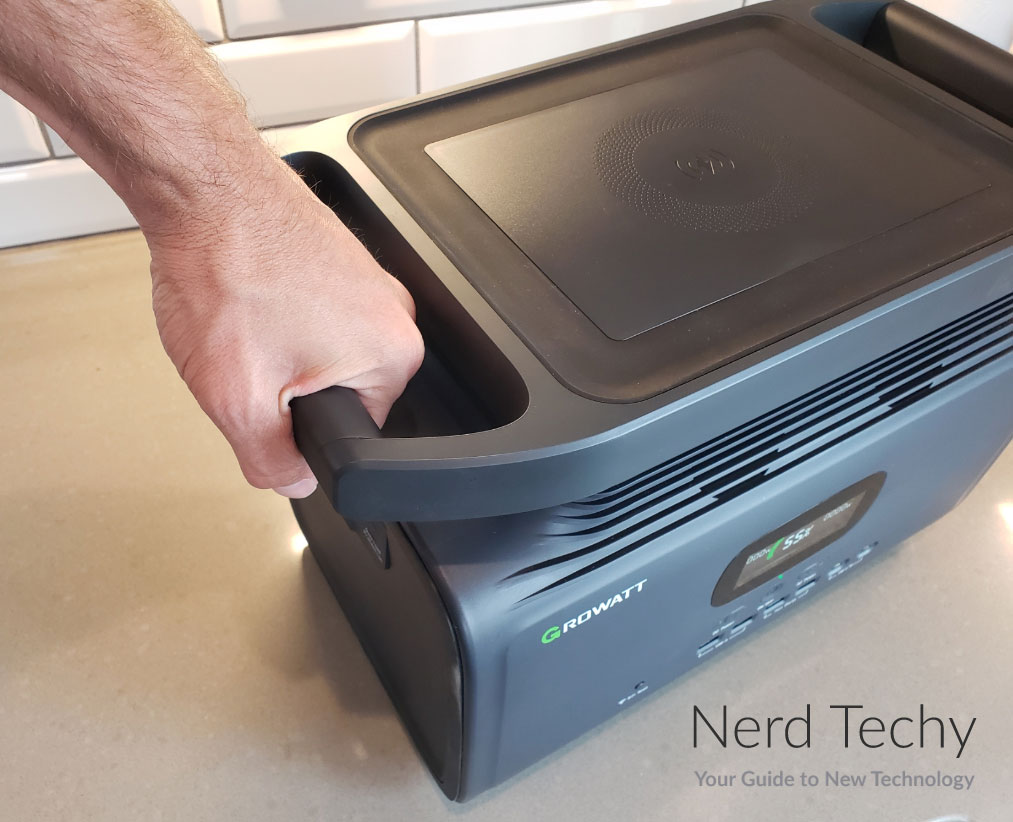 The housing is constructed from black polymer, and seems fairly tough. It has a smooth finish that wipes clean easily and is virtually scuff-proof. In the tapered "neck," you'll notice a pair of round vents, both at the front and on the back.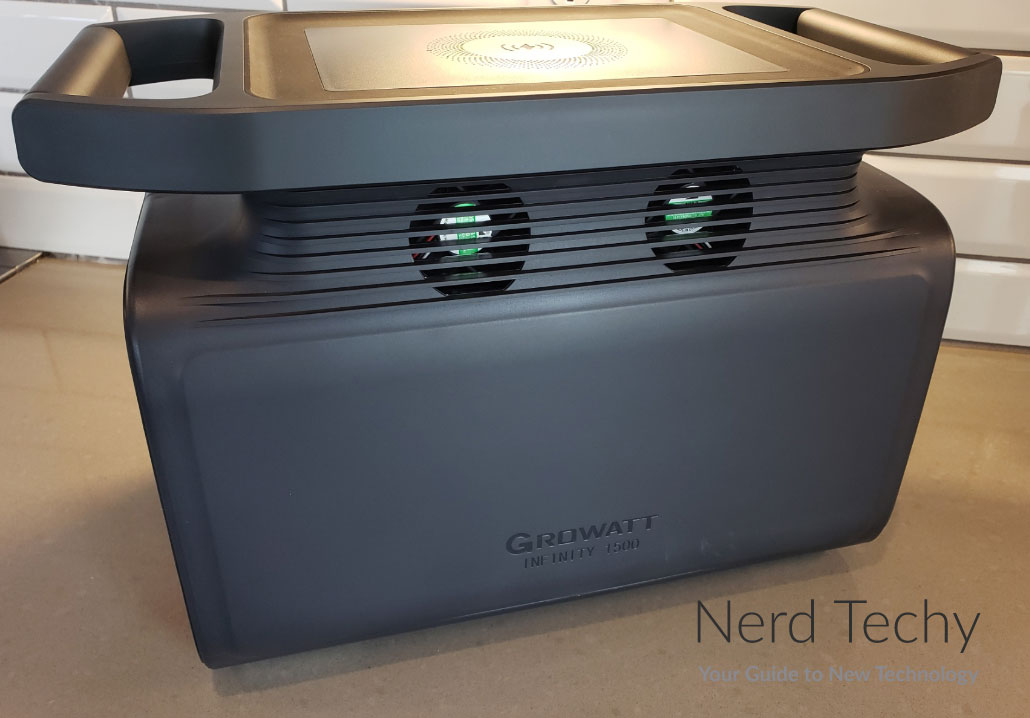 These are where the cooling fans are located, and need to remain unobstructed. The volume level of the fans will depend on how hard you're pushing the charger. Get them spinning at maximum speed, and they'll produce around 50dB of sound. That's quieter than normal conversation, so you won't have to shout over it. And under less stressful loads, the fans will be even quieter.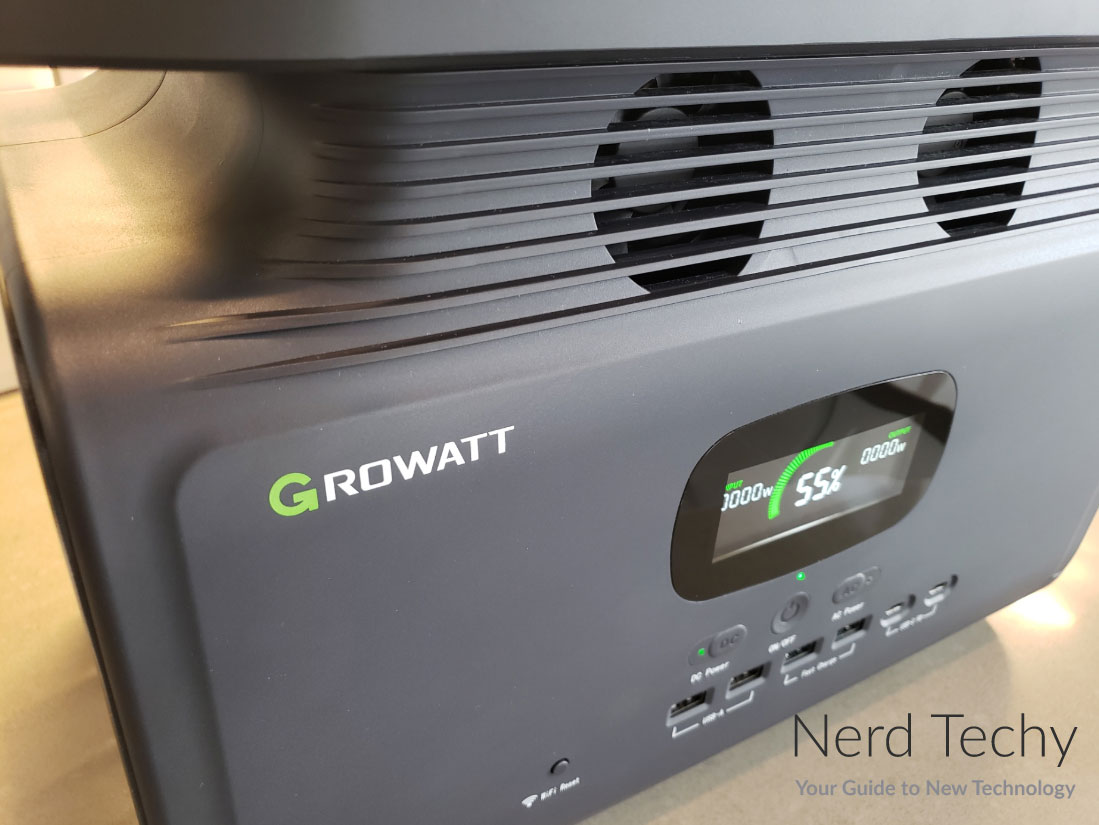 Growatt backs the INFINITY 1500 with a two-year manufacturer's warranty. This provides a reasonable amount of protection, since most electronics fail early or last for many years. You also get a 30-day return window. If you try the power station out and decide you don't like it, you can simply send it back.
Ports & Display
In the middle of the front panel is a bright, colorful LCD display. This shows you the INFINITY 1500's vital statistics. You'll see the current battery level displayed as a percentage in crisp blue-white numerals. Above this is a green arch that shows the battery level in a visual format. To the left and right, you'll see the current input and output wattage. That way, you know whether the battery is currently charging or currently draining.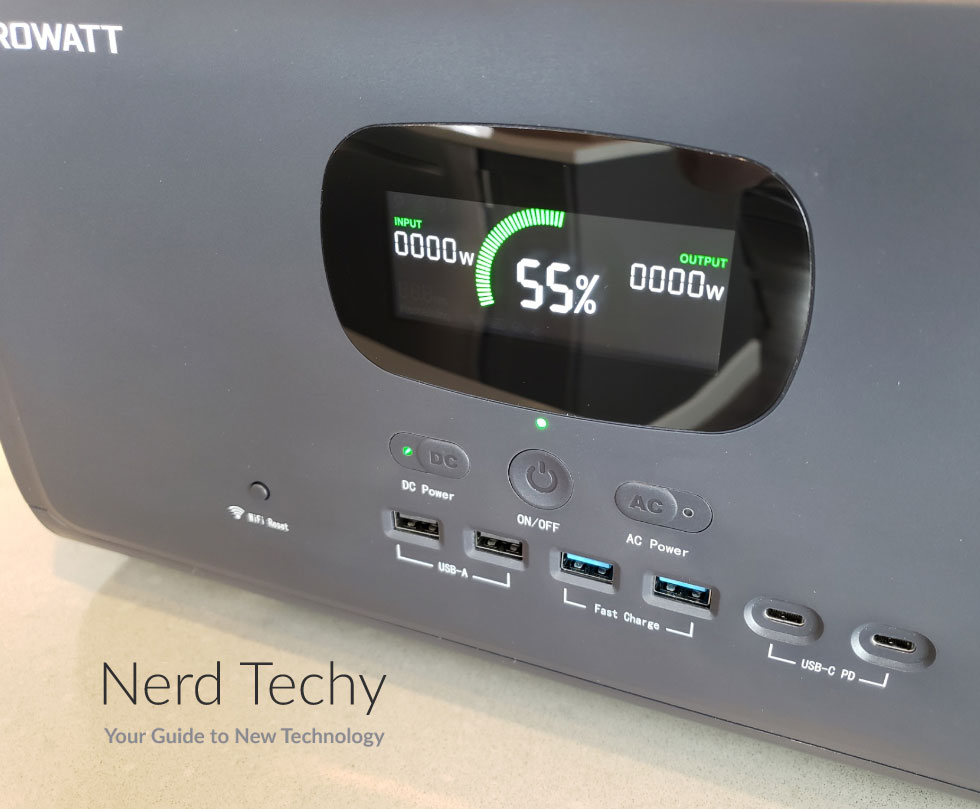 Underneath the display is a power button that's the same color as the housing. It has a little white LED pip above it to let you know when the power station is powered on. To the left is a button to toggle the DC power ports, and there's an AC toggle button to the right. Each of these has its own white LED indicator, so you always know which of your ports are active. Below these buttons, far to the left, is a tiny WiFi reset button.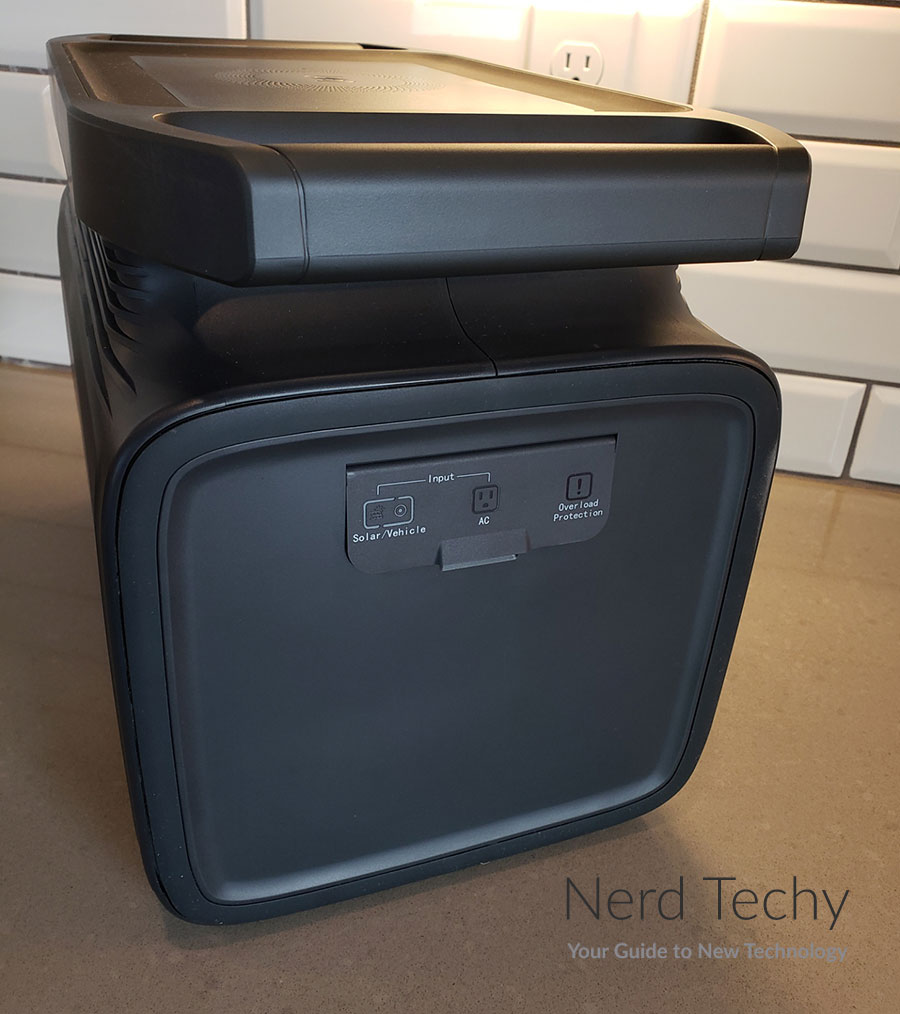 Below the power button, smack in the center, is a row of USB charging ports. The two at the left are ordinary USB Type-A ports. The two in the middle, the ones with the blue inner tabs, are USB Type-A QC charging ports. The last two ports are USB Type-C PD ports.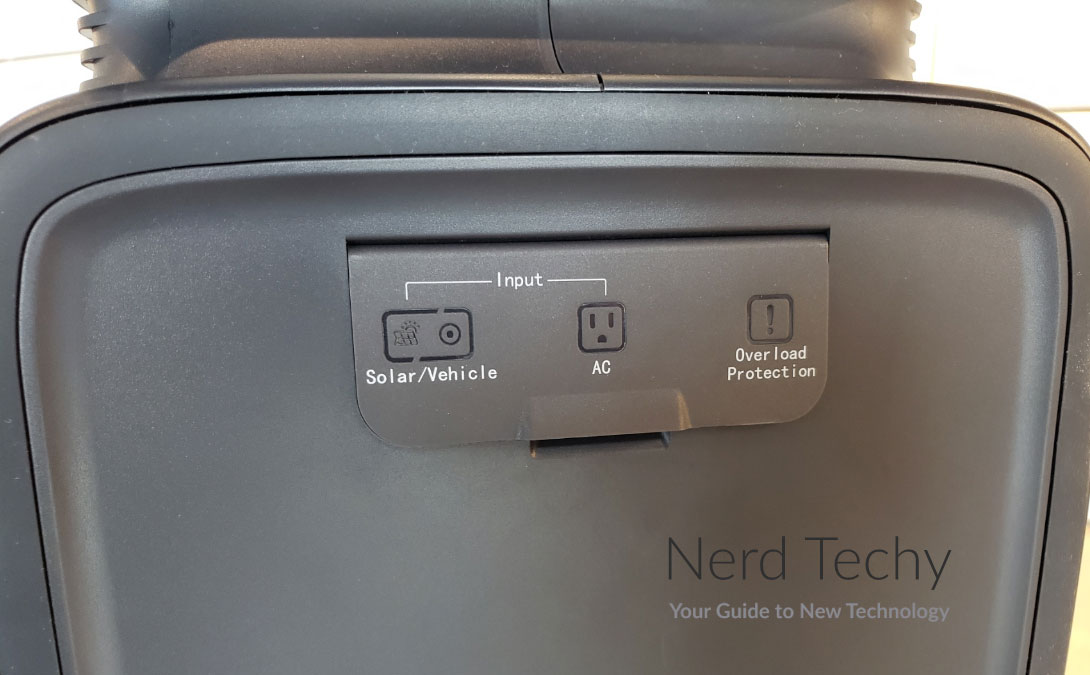 The AC power ports are located on the right side of the housing. There are four of them, arranged in a square grid. All of them have three prongs, so you can use them with devices that require a grounded outlet. Underneath the AC power ports is an automotive-style DC power port. It has a little plastic cover to protect it when it's not in use.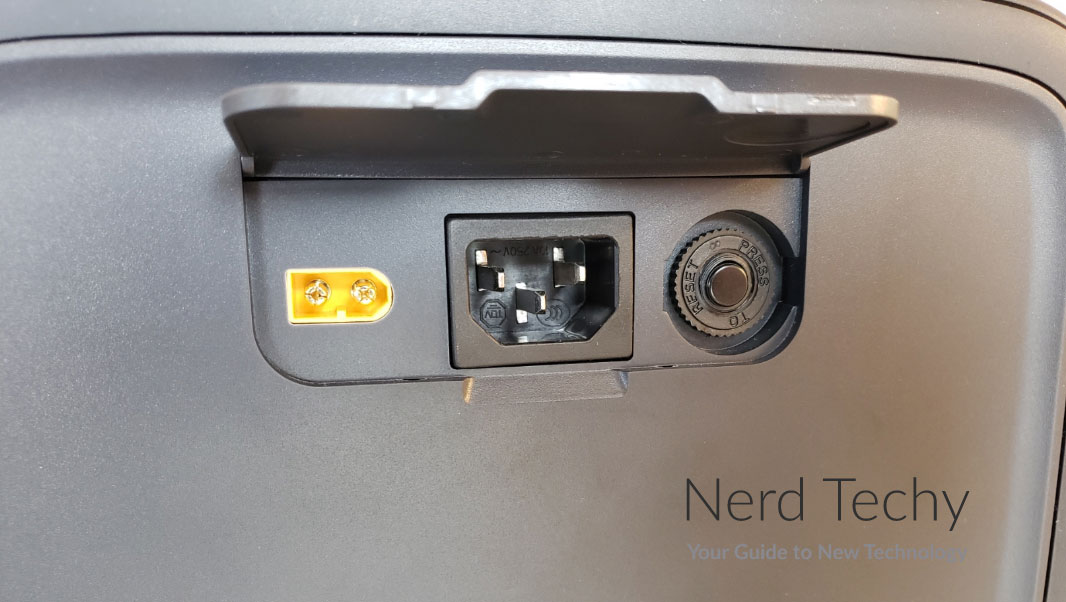 On the left side of the housing, you'll find the charging input sockets. Like the DC power port, these are protected by a plastic cover. Flip it up, and you'll see a solar-style power input, followed by an AC power input. To the right of these, there's also a reset button for the overload protection feature.
Battery Capacity and Recharging
The internal battery has a capacity of 1,512Wh. That's enough to run a 100-watt cooler for 15 hours. Put another way, you can charge the average smartphone somewhere in the neighborhood of 150 times. If that's not enough, you can expand its capacity even further. You can use the AC charging cable on one power station to plug it into an AC port on a second unit. Do this a second time, and you can connect a maximum of three INFINITY 1500s together. That will give you a total power capacity of more than 4,500Wh.
Charging on this power station is very efficient. Plug it into a standard wall outlet, and it will fully charge in just two hours. In the first hour, it will even quick charge from 0 to 80%. That's a useful feature if you're in a hurry to get on the road.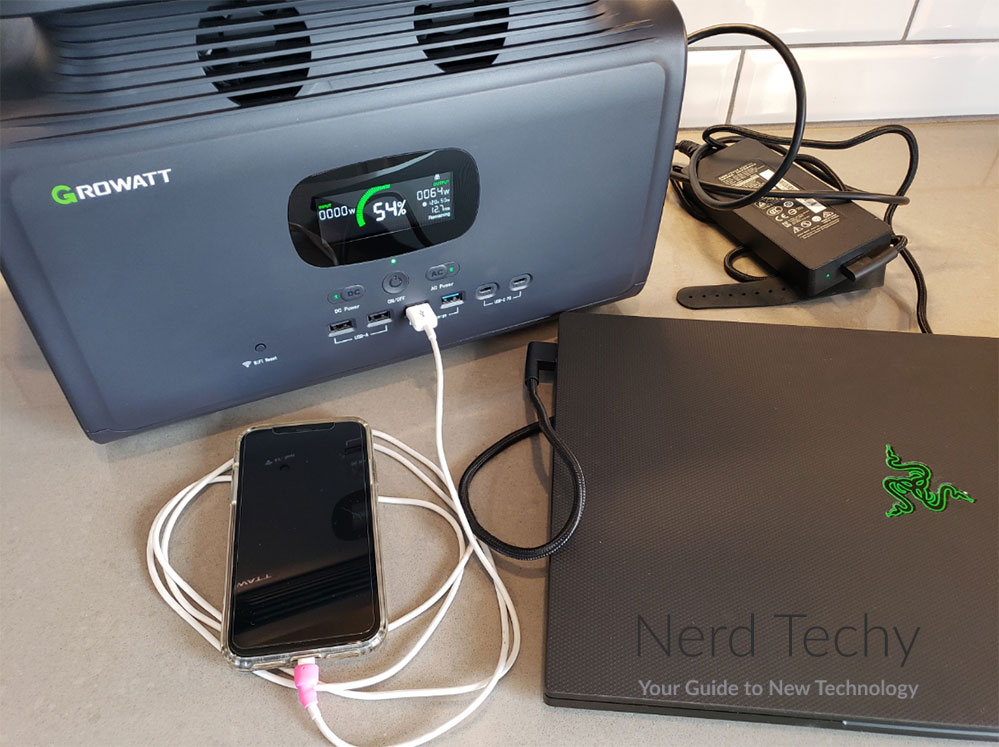 Speaking of being on the road, you can charge the INFINITY 1500 anywhere by using solar panels. It will accept up to 800 watts, which is a lot for solar charging. Assuming you have 800 watts of solar panels and bright, direct sunlight, the battery will charge in about 2.5 hours.
Alternatively, you could charge from a 12-volt DC automotive outlet. This method is a bit slower, and will take 13.5 hours to charge the battery from 0 to 100%.
All of the charging cables are included in the package. The automotive charger plugs into the same outlet as the solar cable.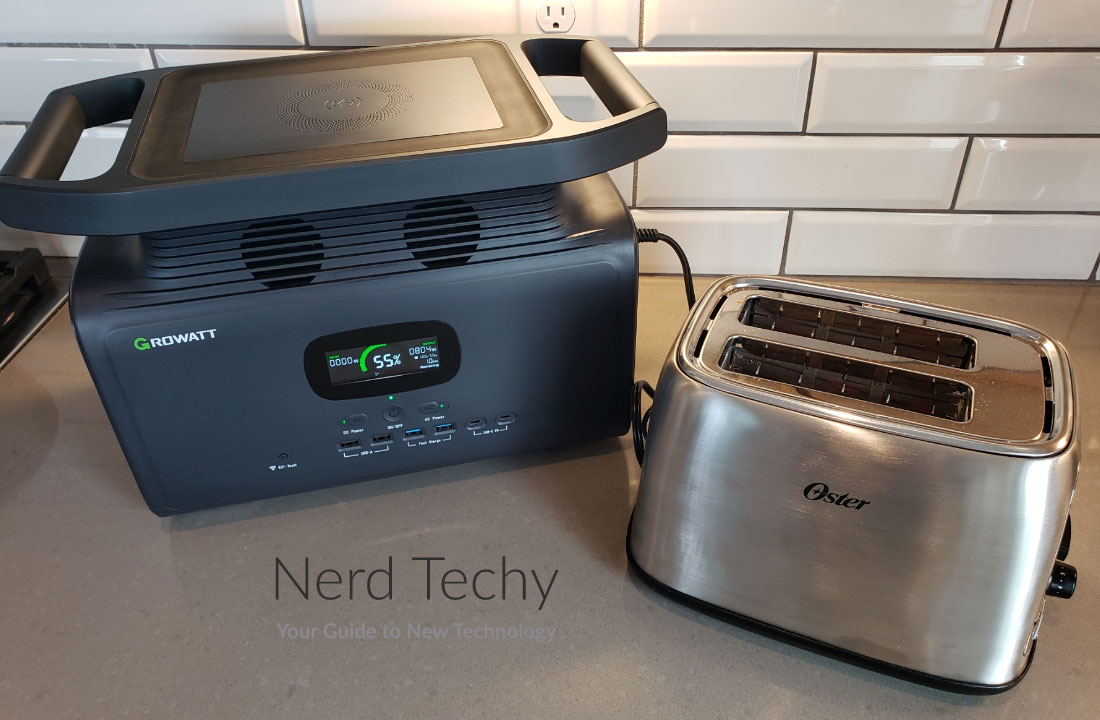 Charging Capabilities
The INFINITY 1500 can output up to 2,000 watts of power. This is the maximum total across all ports. So if you're drawing 1,500 watts from one AC outlet, you'll have 500 left for the others and your USB ports. That said, you'll get a surge capacity of 4,000 watts. If you have a compressor-driven device like a cooler, the breaker won't trip when the compressor kicks in.
Each AC outlet delivers up to 1,800 watts of power. That's more than a standard wall outlet, but not as much as a 20-amp outlet. Similarly to the power station as a whole, these also have a surge rating. Each outlet can deliver up to 3,600 watts of surge power.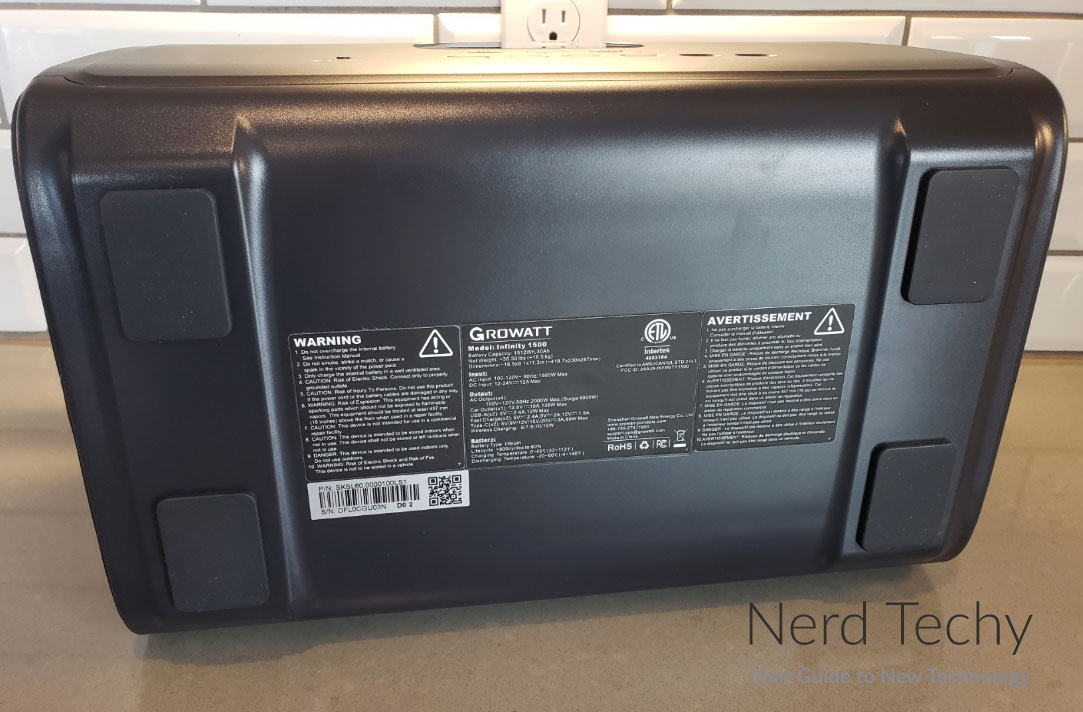 The automotive charging port is also more powerful than the standard. A typical automotive port delivers 12 volts of DC power. This one delivers up to 13.6 volts, which can come in handy depending on what you're powering with it.
The two USB ports to the left deliver ordinary USB power, or 12 watts. That's less than ideal for charging a modern smartphone, although it will get the job done. But it's great for earbuds, watches, and other less power-hungry devices.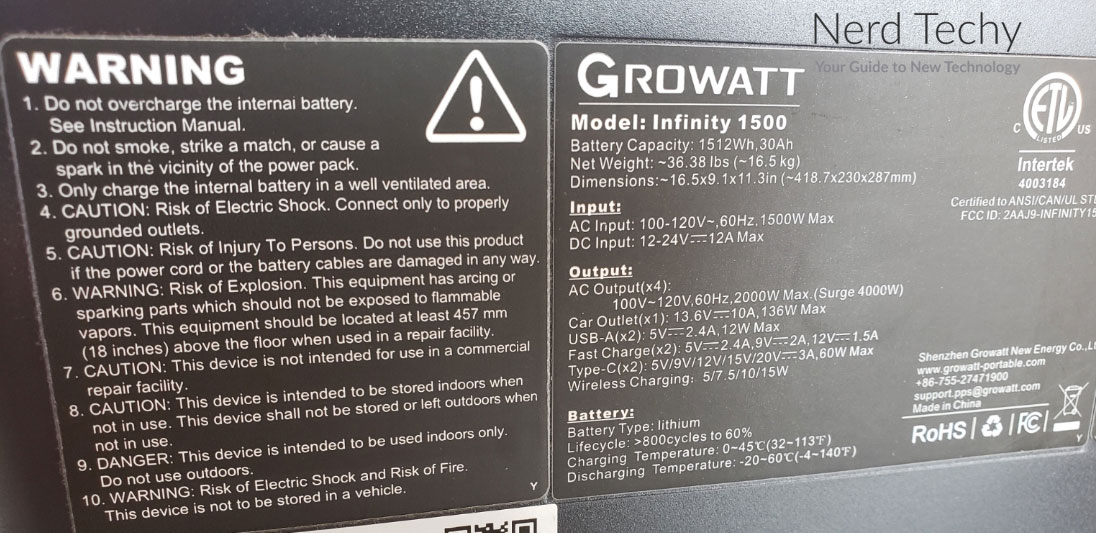 The two Quick Charge 3.0 ports are more robust, and deliver 18 watts. This will allow for fast charging on iPhones and many Android phones. However, it still won't put out the maximum amount of power for other Android phones, like the Samsung Galaxy.
The USB Type-C PD ports are the most powerful of all, supplying up to 60 watts apiece. That's enough to get the maximum charging speed on any smartphone. It's also great for all but the largest laptops.
Safety and Extras
The INFINITY 1500 is designed to function as an uninterruptable power supply (UPS). For example, you could plug your computer into it, and then plug the power station into the wall. As long as wall power remains active, the battery will remain inactive and receive a small trickle charge. When the wall power goes out, the power station will seamlessly kick in. Along the same lines, it supports pass-through charging. You can plug it into the wall to charge, and simultaneously use it to charge another device.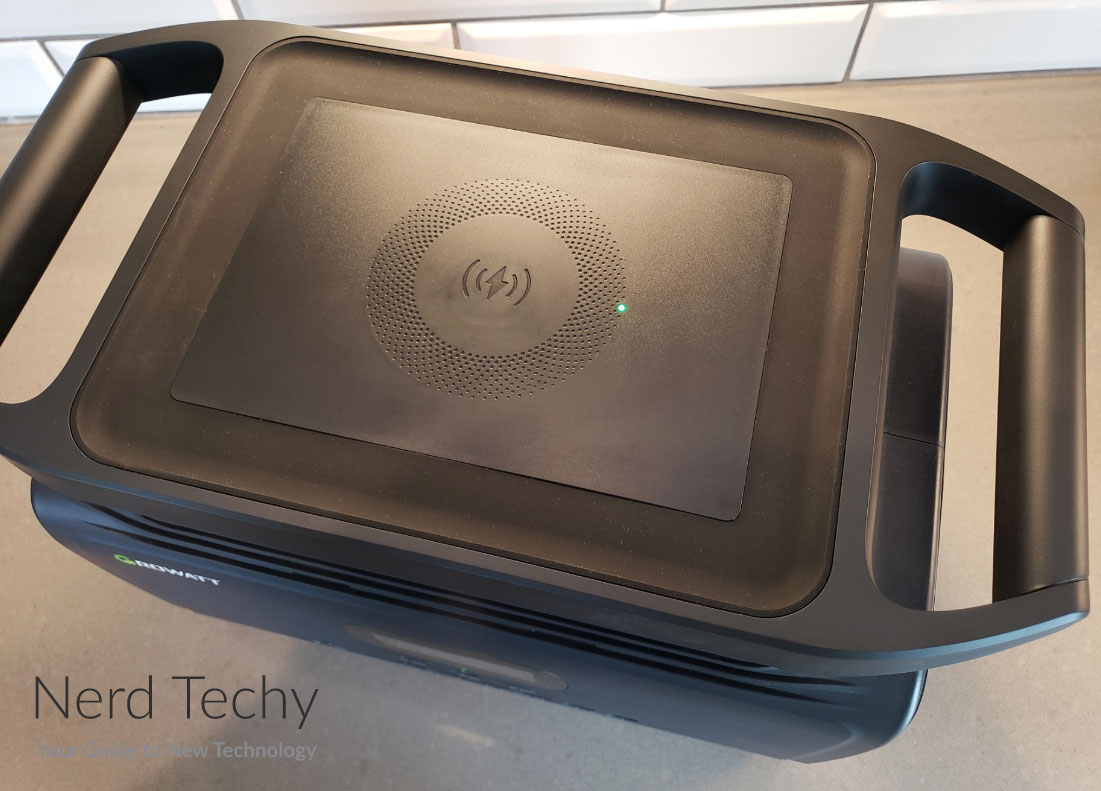 As far as safety goes, the AC outlets provide pure sine wave power. This means that the wave form has been smoothed out to provide natural curves, not edges like from an inverter. It's an essential feature if you want to power sensitive electronics. As a result, this power station is perfect for CPAP users.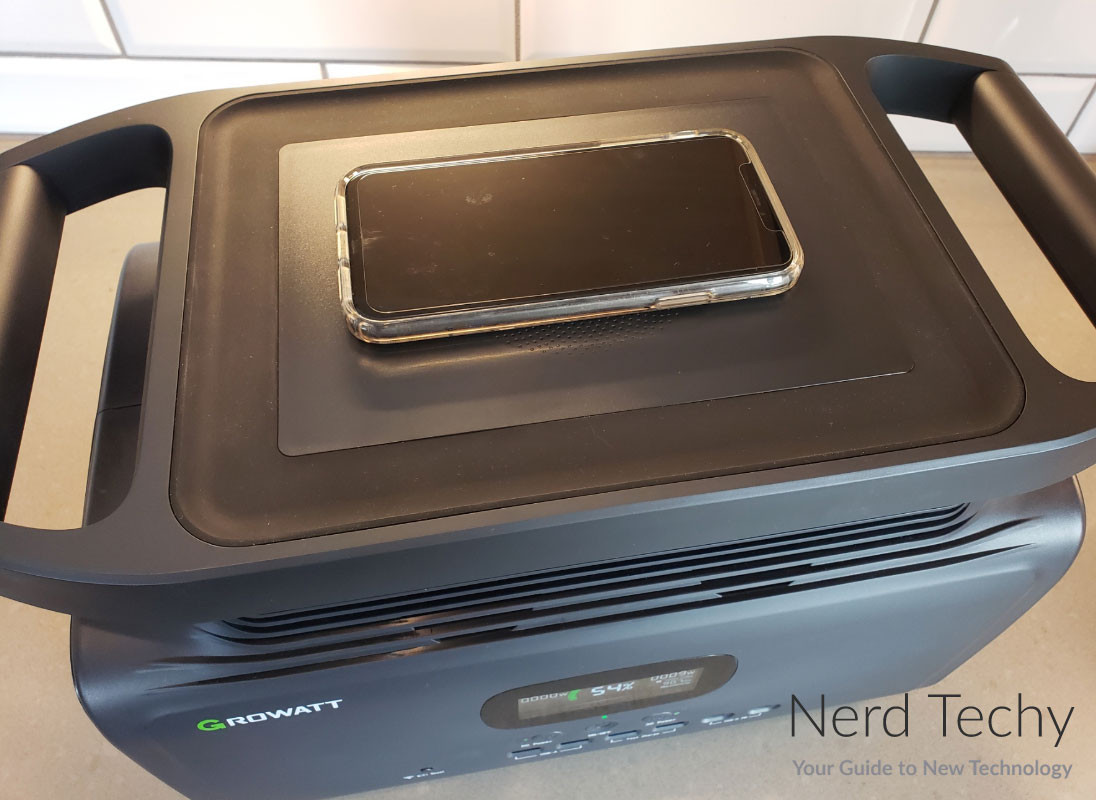 With the companion smartphone app, you can unlock even more features. You can monitor the system's status, change your settings, and upgrade the firmware to improve your efficiency. The app also has a quick access button for calling Growatt's customer support line.
When you log into the app, you can turn the INFINITY 1500 on and off remotely. You can also adjust the power delivery from individual ports and outlets. This might seem like an odd thing to do, since it means you'd be charging more slowly. But it can come in handy if the fans are at full speed and you want to quiet them down.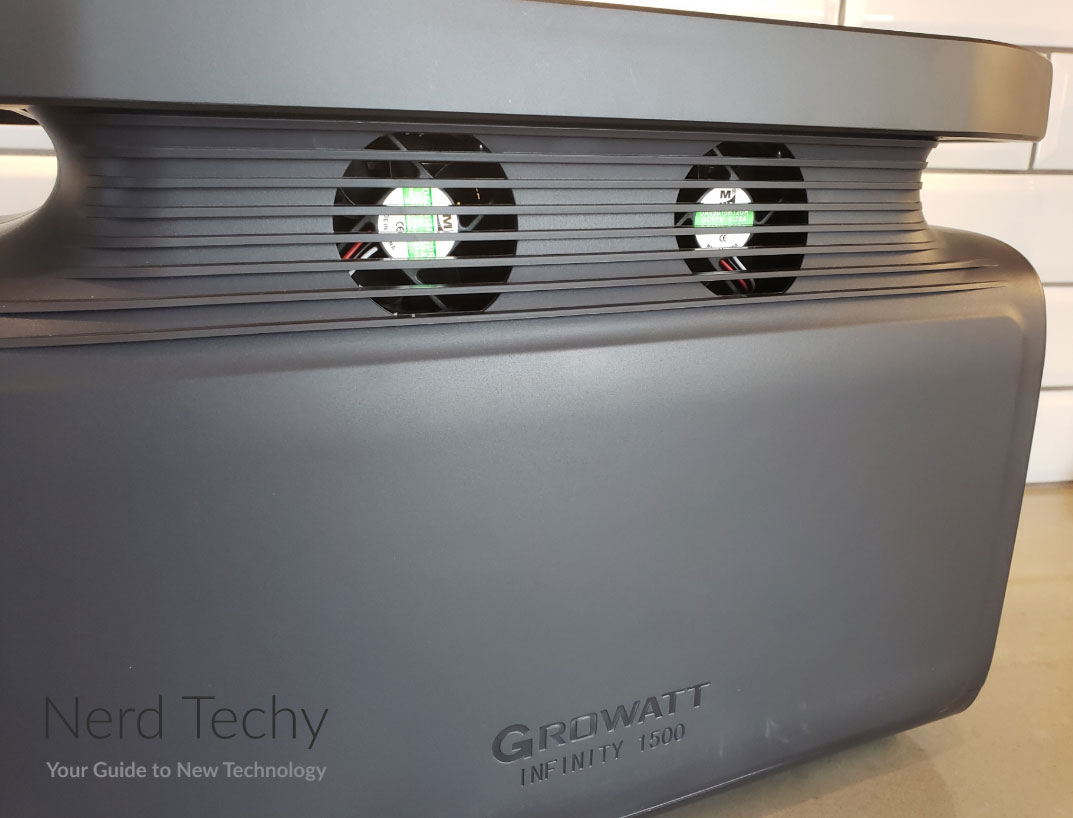 You can also the app to monitor the charging status on each port. This is more useful for entertainment than for any practical purpose. However, the app will also show you how much charge time you have remaining at the current wattage. This can be useful if you want to know if you need to unplug a device to conserve battery life. You can even monitor the current temperature!
Speaking of temperature, you get a full suite of safety features, including over temperature protection. You're also protected from short-circuits over-discharge, overpower, overcharging, and overvoltage.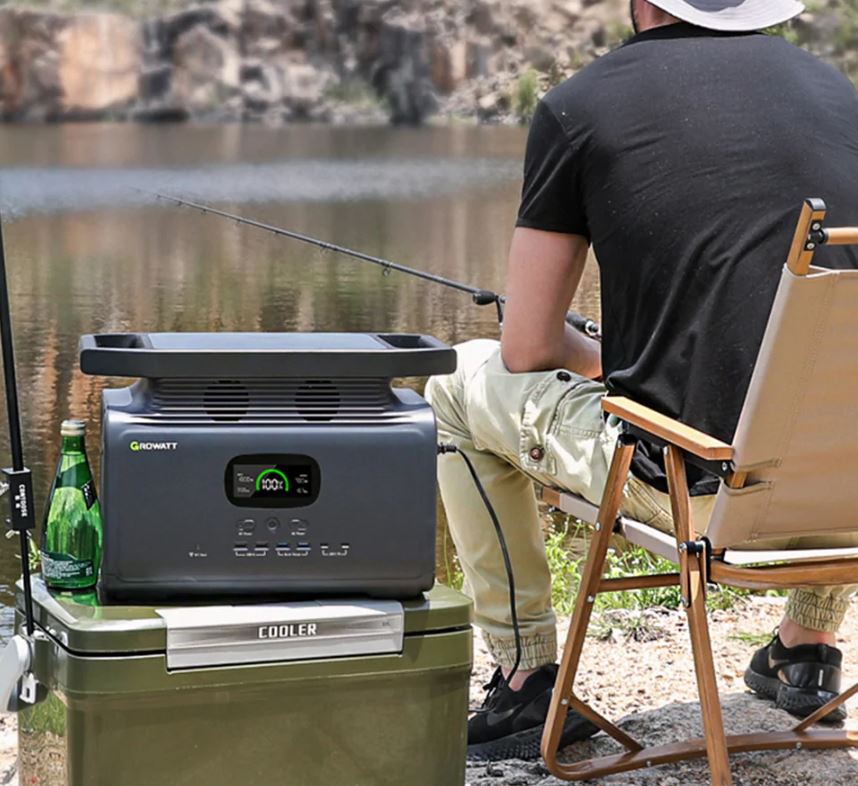 Final Verdict
The Growatt INFINITY 1500 Portable Power Station is one of the more robust power stations on the market. It can power pretty much any device and deliver up to 2,000 watts. And while it's a bit heavy, the safety features and easy charging are well worth the weight.
Meet Derek, "TechGuru," a 34-year-old technology enthusiast with a deep passion for tech innovations. With extensive experience, he specializes in gaming hardware and software, and has expertise in gadgets, custom PCs, and audio.
Besides writing about tech and reviewing new products, Derek enjoys traveling, hiking, and photography. Committed to keeping up with the latest industry trends, he aims to guide readers in making informed tech decisions.