Lamicall Phone Stand
Pros
Stable design with weighted base.
Fits almost any phone, including thick cases.
Padded backrest and hooks.
Collapsible and portable.
Available in a variety of colors.
Cons
No way to tighten the telescoping arm if it gets loose.
A bit heavy to carry in your pocket.
Whether at home, at work, or on the road, a good phone stand can make all the difference. Maybe you're using your phone as a second monitor and want to raise it up. Maybe you want to watch a YouTube video at your kitchen table. The right stand will hold your screen at the height and angle you need it.
Of course, you don't want just any stand. You want one that has the right design for your needs. Before you choose one, think about how you're going to be using your stand. There are many types of stands, with different applications.
Today, we'll be reviewing the Lamicall Foldable Phone Stand. This is a collapsible stand with a weighted base that helps to keep it stable. It's also adjustable, so you can position your phone at the height or angle you desire. But is it the right phone stand for your needs? To find out, we'll have to take a much closer look. Let's get started, and see what we find!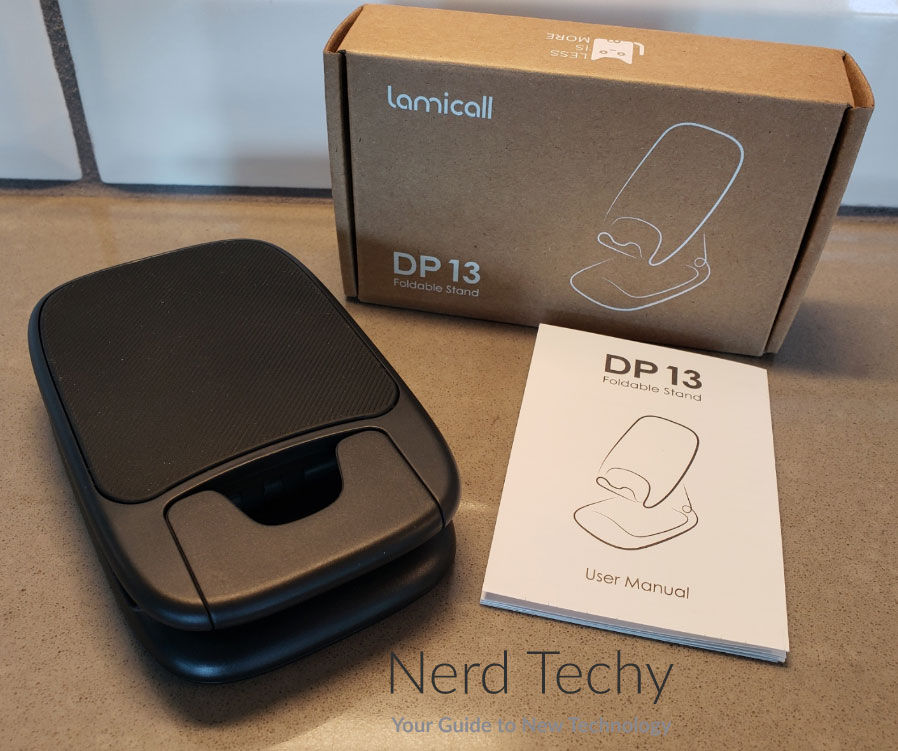 Overall Design
The Lamicall Foldable Phone Stand is primarily made from a durable polymer. It has a smooth matte finish that's easy to keep clear of fingerprints and dust. And you can choose between six color options. It's available in black, blue, green, pink, white, or yellow. You can match it to any phone or case, or even just pick a color that fits your personality.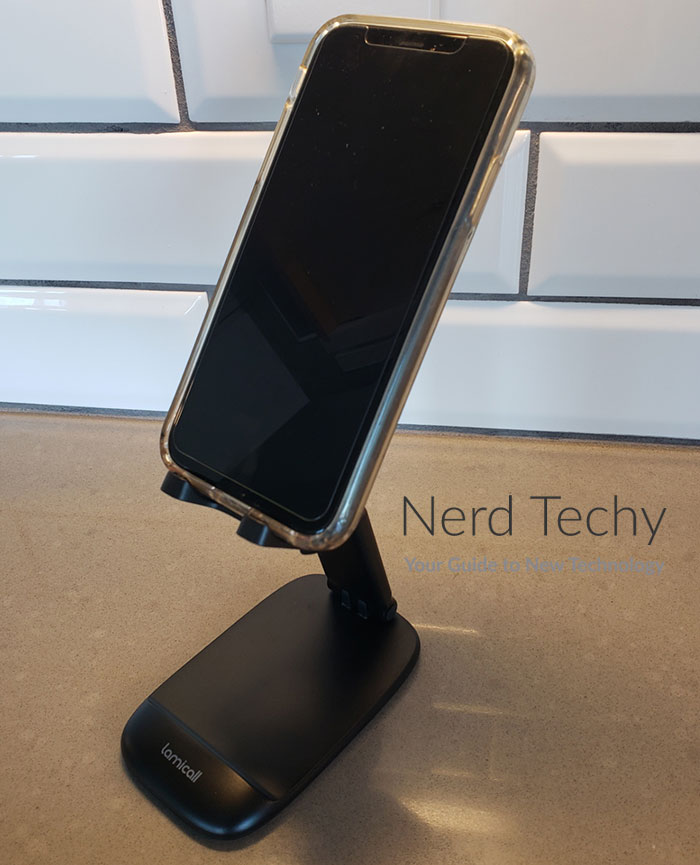 One issue with many phone stands is that they tend to be top-heavy when your phone is in place. Bump your desk, and they fall over. To prevent this, Lamicall has built a heavy metal plate into the bottom. Even when your phone is in place, you don't have to worry about it getting knocked over.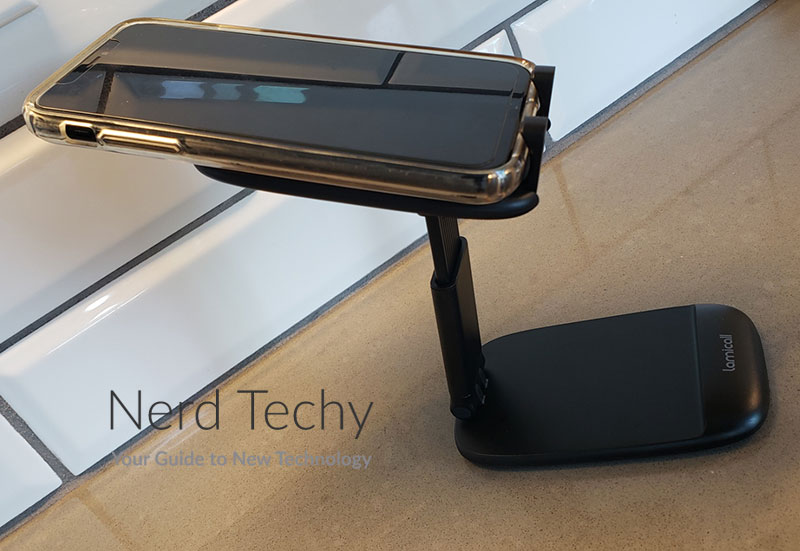 On the bottom of the housing is a set of anti-skid pads. These keep the stand from sliding around, and also prevent it from scratching delicate surfaces. The top of the base is smooth, with a raised front portion that sports a grey "Lamicall" imprint.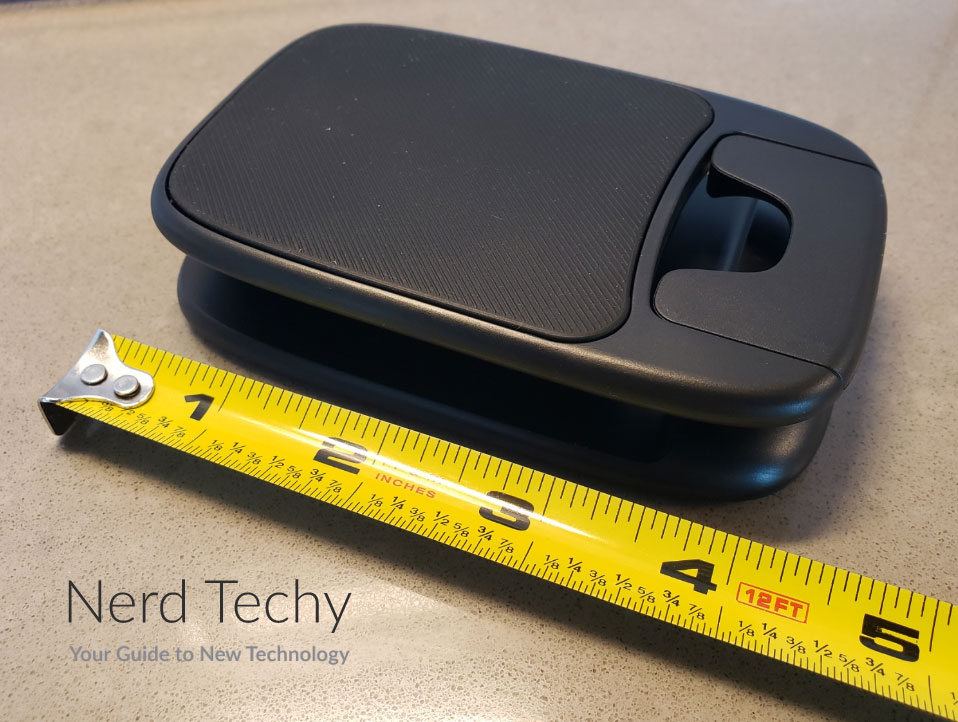 There's a metal arm attached to the rear of the base. This arm has a telescoping design, and the outer portion is also made of metal for durability. At the end of the arm is a plate where your phone rests, and a pair of hooks that hold it from the bottom. When fully extended, your phone will be directly over the stand's center of gravity. This ensures that it's as stable as possible.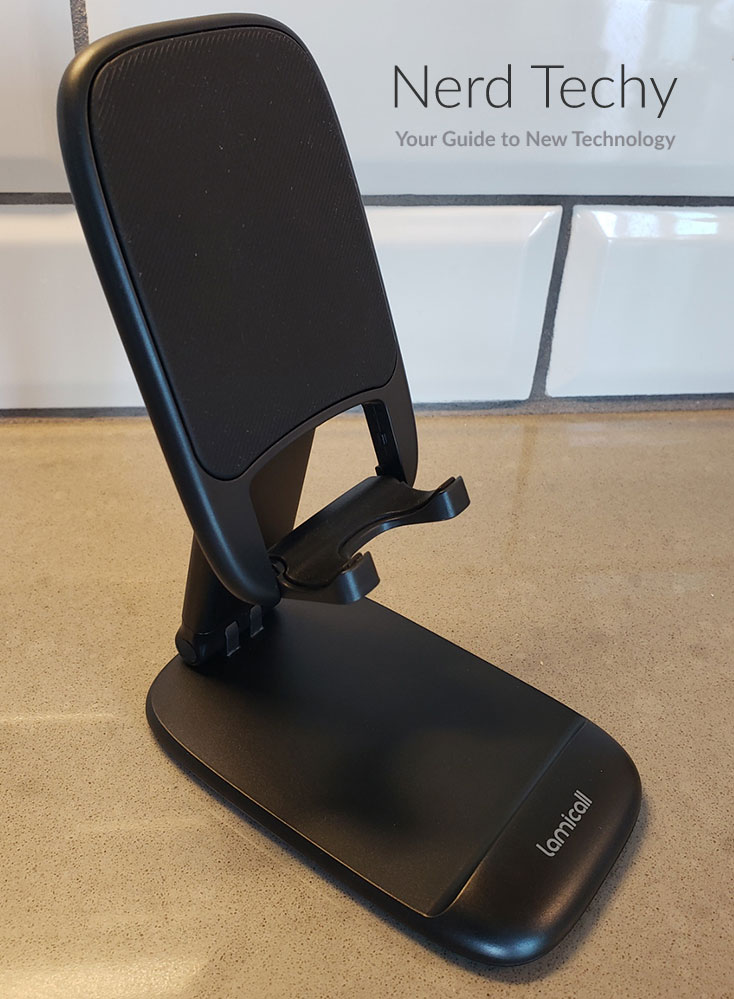 The phone rest itself is very well-engineered. It's broad and flat, with a silicone coating that keeps your phone from getting scratched. The hooks are also padded, so every surface that makes contact with your phone is protected.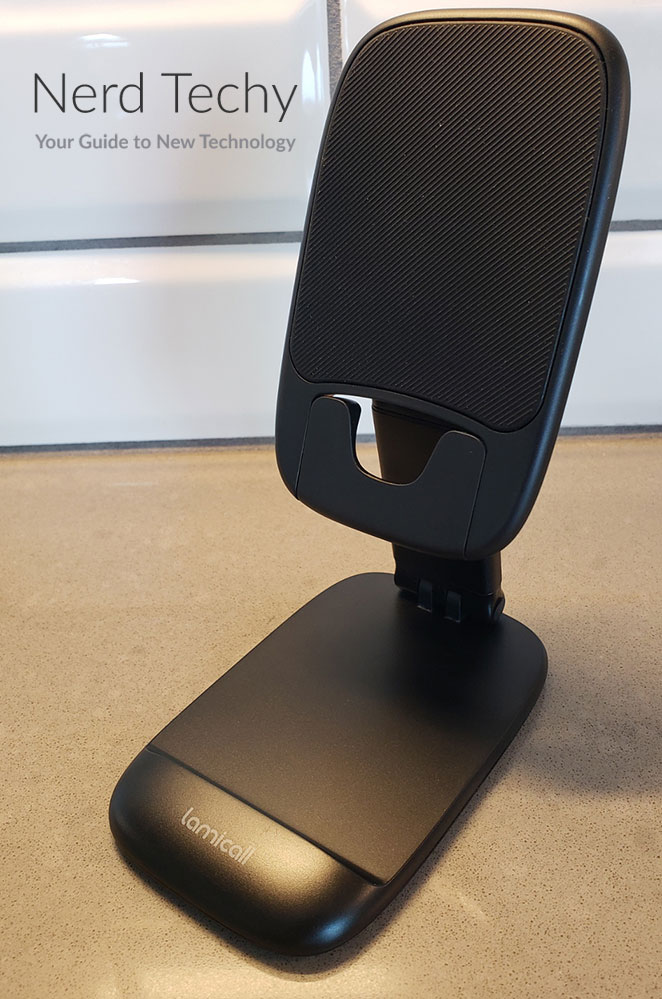 Adjustability
The Lamicall stand has a completely collapsible design. The support arm folds down and the backrest folds back. The hooks even swing into the backrest and sit in the hollow area of the base plate. This makes the stand surprisingly compact.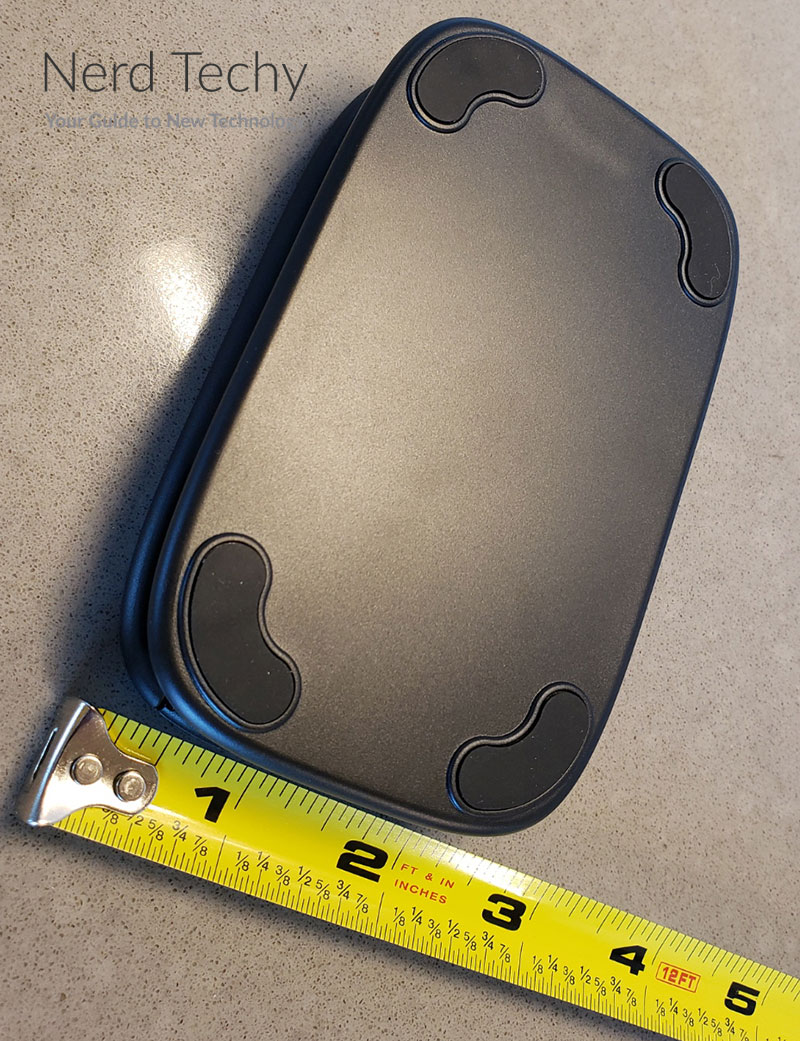 When collapsed, it's only 4.45 inches long, 2.75 inches wide, and 1.06 inches thick. That's small enough to put in your pocket. Then again, the base plate is heavy, so the whole thing weighs 8.8 ounces. You'll probably want to carry it in your laptop bag or backpack.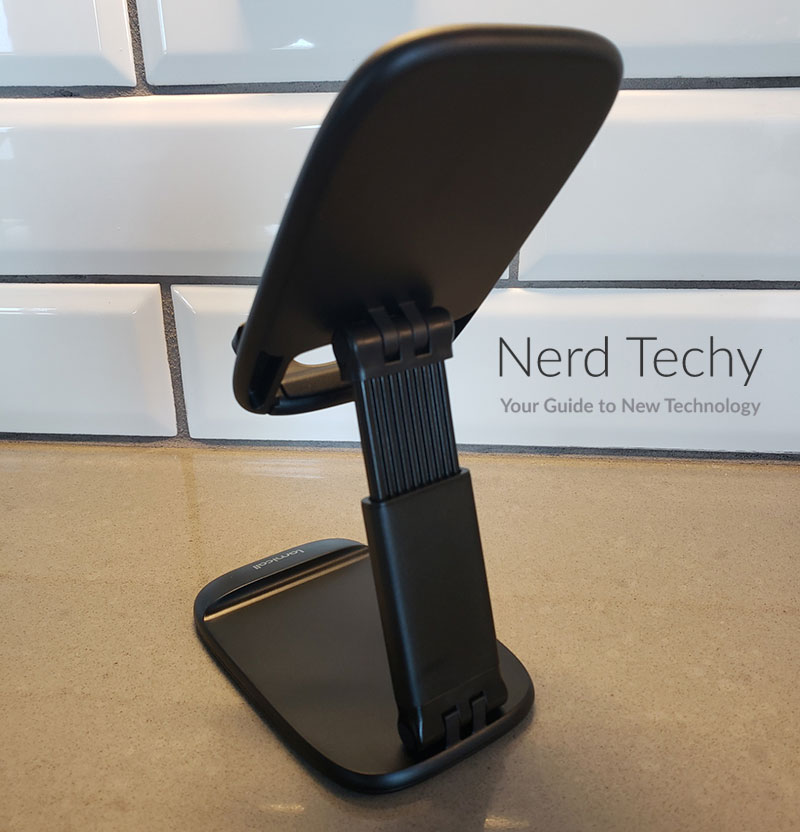 The telescoping arm can adjust from 2.87 to 4.52 inches. That gives you plenty of flexibility. Adjustment is right in the sweet spot between too loose and too stiff. It's easy to move up and down, but it won't go down by itself. On the downside, there's no way to increase the tension. When it starts to wear – as it inevitably will – it may end up becoming too loose.
You can also tilt the backrest as desired to adjust the angle. Your phone can be practically on its back or almost vertical. No matter your viewing position, you won't end up with a crick in your neck.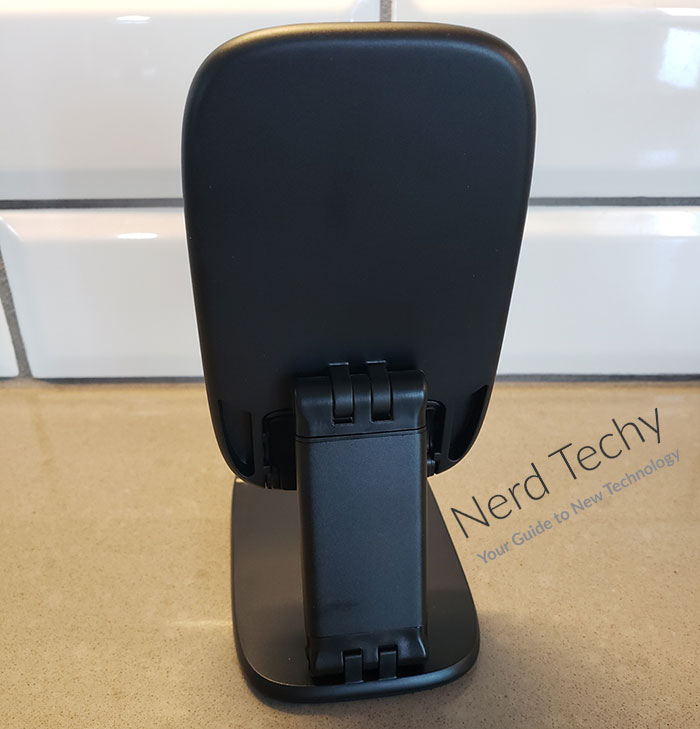 Device Compatibility
The Lamicall phone stand is more or less universal. It works with any phone between four and eight inches in size. This encompasses all the major players. It will work with your iPhone, Samsung Galaxy, or almost any other brand. In fact, we'd be hard-pressed to come up with a phone that's too big or too small. The backrest is even big enough to accommodate some smaller tablets. If you have an iPad mini, it will fit just fine.
Besides accommodating large phones, this stand is also great if you have a thick phone case. The 15mm hooks are capable of supporting up to a 0.71-inch case. That's fatter than an OtterBox, which is among the thickest phone cases on the market. Once again, you're looking at near-universal compatibility. That's great news for anyone who takes their phone protection seriously.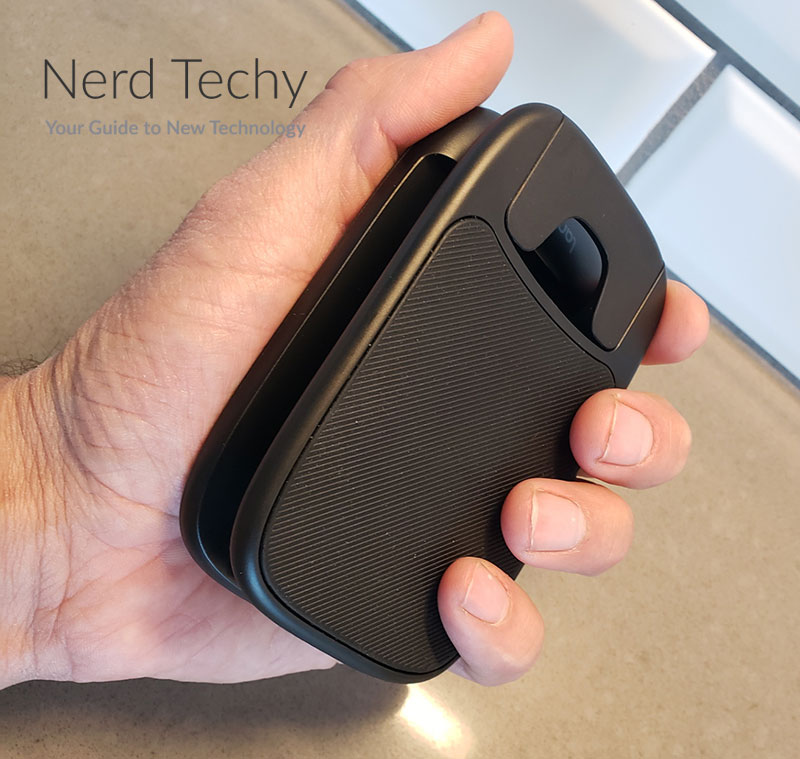 Why Use a Foldable Phone Stand?
So, why use a phone stand to begin with? There are any number of reasons. The bigger question is what your reasons are. Here are some benefits to using a good quality phone stand:
Convenience – This is a no brainer. Holding your phone ties up your hands, and can be a pain. If you're watching something long like a movie, your hands are going to get tired. It's also not always practical to hold your phone. Maybe you're working at a PC and need both of your hands for your mouse and keyboard.
Ergonomics – When your body is locked into an uncomfortable position, it's not just uncomfortable. Over time, you can develop repetitive stress injury (RSI). Well-known types of RSI include tennis elbow and carpal tunnel syndrome. But you can also develop an RSI in your neck or back from staring at a screen. A stand can support your phone at a more optimal viewing angle, protecting your neck.
Productivity – Many people use a phone as a second monitor. But this is impractical when your phone is lying on your desk. With a stand, you can support it next to your monitor, where it can actually be of use.
Organization – When you're not using it, your phone turns into just another piece of clutter. It's easier to stay organized when everything on your desk has its own assigned spot. A phone stand provides a convenient location, so you don't have to hunt around for your smartphone.
Eliminating distractions – While a stand is useful for keeping your phone in view, you can also use it to cut down on distractions. When you don't know where your phone is, it can nag at the edge of your mind. When you know it's safe in your stand, it's easier to focus on your work.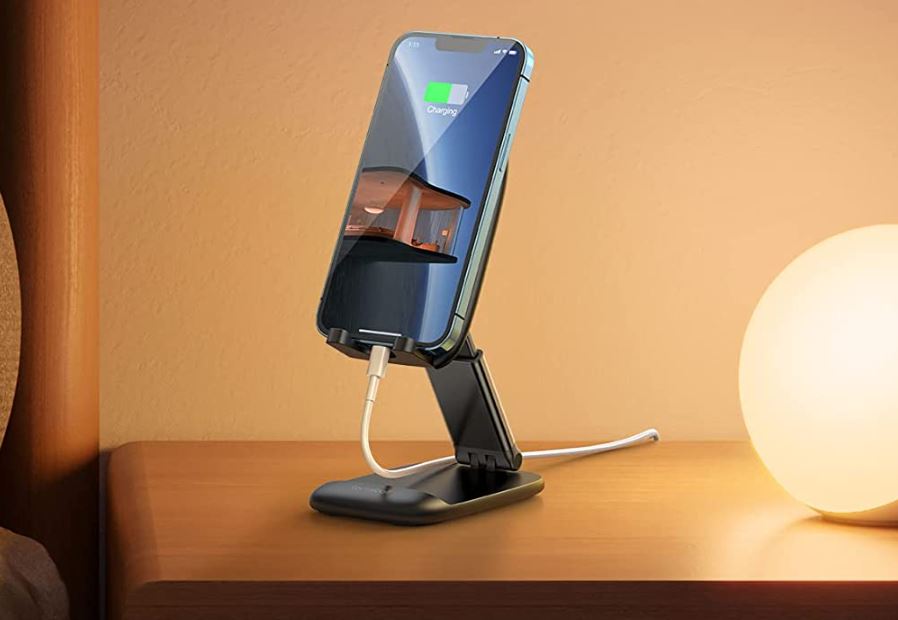 When is a Phone Stand Useful?
We've talked about the practical benefits of a phone stand. But what are the situations where you might use one? There are many scenarios, not all of them applicable to the Lamicall stand. Here are some reasons you might want to use a folding stand in particular:
Multitasking – Maybe your job involves a lot of data entry, and you listen to podcasts while you work. Or maybe you use your phone as a second monitor to run a "go-to" app. No matter your reason, a stand makes it easier to switch between tasks.
Watching videos before bed – If you're trying to fall asleep to a movie, you can't be holding your phone in your hands. It will keep you awake! A phone stand on your bedside table leaves your hands free to relax along with the rest of your body.
You're doing household chores – Maybe you want to watch a YouTube video while you're doing dishes, or follow a tutorial while you're cooking. Either way, a stand holds your phone while your hands do the work.
Types of Phone Stand
As we mentioned at the outset, there are many types of phone stand available. Aside from folding stands, here are some other varieties:
Rings – Rings are a simple option, and are even built into many cases. They only hold your screen at one angle, but they're always on your phone. They also double as grips.
Easel-style stands – These stands hold your phone at a designated angle, and often collapse thin enough to fit in your pocket. Most of the time, they're not adjustable.
Pillow stands – Pillow stands are designed to be flexible and conform to irregular surfaces. They're ideal for use on the couch, since you can comfortably hold your phone in your lap. They're also great for using your phone in bed.
Automotive mounts – If you use your phone as a GPS device, you need an automotive mount. That way, you can keep your hands on the wheel when checking the app. You also won't fall afoul of any distracted driving laws.
Final Verdict
As you can see, the Lamicall Foldable Phone Stand is very robust. The collapsible design is very well thought-out, and makes it very easy to carry. Yes, there are more compact stands out there. But few of them expand to such a large size or offer so many helpful functions.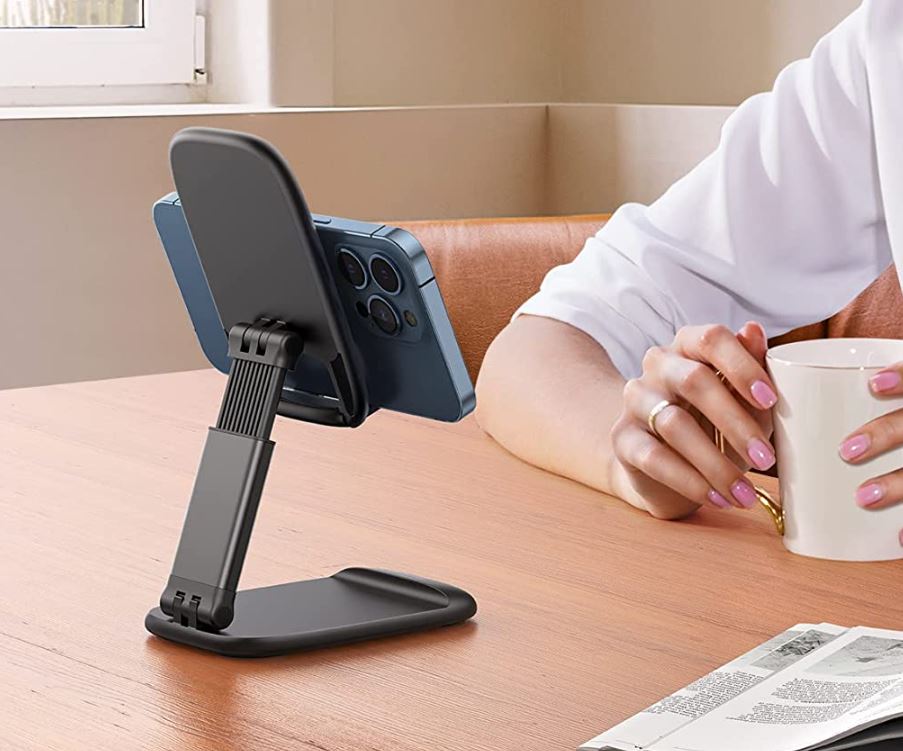 We particularly appreciated the weighted base plate. This makes a huge difference in stability, particularly when the telescoping arm is fully extended. It does add a bit to the weight, but in the big picture, the trade-off is well worth it.
The large backrest is a great feature. It's big enough to accommodate any smartphone, and even some smaller tablets. The hooks underneath will support even the thickest phone cases, which is not the case for many stands. And with generous amounts of silicone padding, you know your phone is well-protected.
We also loved the adjustability of the Lamicall stand. Not only can you change the angle of your screen, but you can also adjust your phone's height. This makes it versatile enough to use in different locations and on different working surfaces. That's an important feature in any portable phone stand.