Kovol 140W PD Charger
Pros
Up to 120 watts of PD charging and 18 watts of QC charging.
Compact and portable design.
Equipped with folding prongs for travel.
Efficient GaN charger with multiple safety features.
Cons
Does not include MagSafe 3 cable (required for 120W charging).
Slightly larger than the comparable Apple charger.
Only available in two color schemes.
Electronics play a huge role in our modern lives. Think of all the things you do with your smartphone. If you're like most people, your home page is full of various apps. We use banking apps instead of driving to our local branch.
We use apps to order food instead of calling the restaurant. Most people use two or more different messaging apps. Apps like Waze have all but replaced traditional GPS devices. A phone is more than just a method of communication. It's your lifeline to the rest of the world. Which is why it's so important to keep it charged.
But thanks to standardization, most phones can now charge via a USB port. And with USB technology getting more and more powerful, most new laptops now use USB Type-C. Not to mention the fact that tablets also charge via USB, as well as any number of other devices. With the right charger, you can keep all your electronics fully powered.
Of course, some chargers are more powerful than others. If you're only charging a phone, this is a minor concern. Even an 18-watt charger will be more than enough for just about any phone. But when you charge something as powerful as a laptop, you need a more robust charger. Yes, an ordinary charger will get the job done. But you won't be able to use the laptop while it's charging. The battery will continue to drain. With a stronger charger, you can keep using the laptop while it charges.
Kovol Sprint (KV-PC019) 140W PD 2-Port GaN Wall Charger
We're about to review the Kovol Sprint (KV-PC019) 140W PD Wall Charger. This charger has USB Type-C and Type-A ports, with 120 watts of power delivery on the Type-C port. It's designed for easy travel, and is available in three international variants. It also has a number of safety features.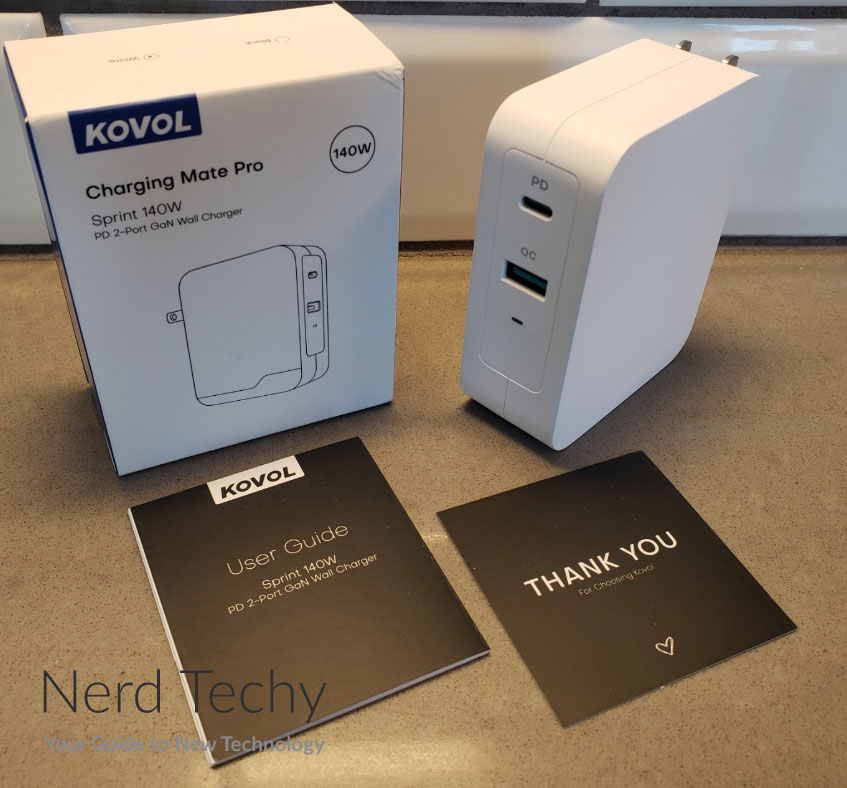 But how well does it perform, and is it the right choice for your devices? To find out, we'll have to take a much closer look. We'll examine its housing and physical construction. We'll dig into its charging capabilities, and what devices it's suitable for charging. And we'll dig a little deeper into those safety features. Let's dig in, and see what we come up with!
Overall Design
The Kovol 140W PD 2-Port GaN Wall Charger has a rectangular housing. It's constructed from a white plastic, and seems tough enough to handle travel and everyday abuse. The overall size is 3.42 inches tall, 1.3 inches wide, and 2.71 inches deep. It's mostly nondescript, with an embossed "Kovol" imprint on each side.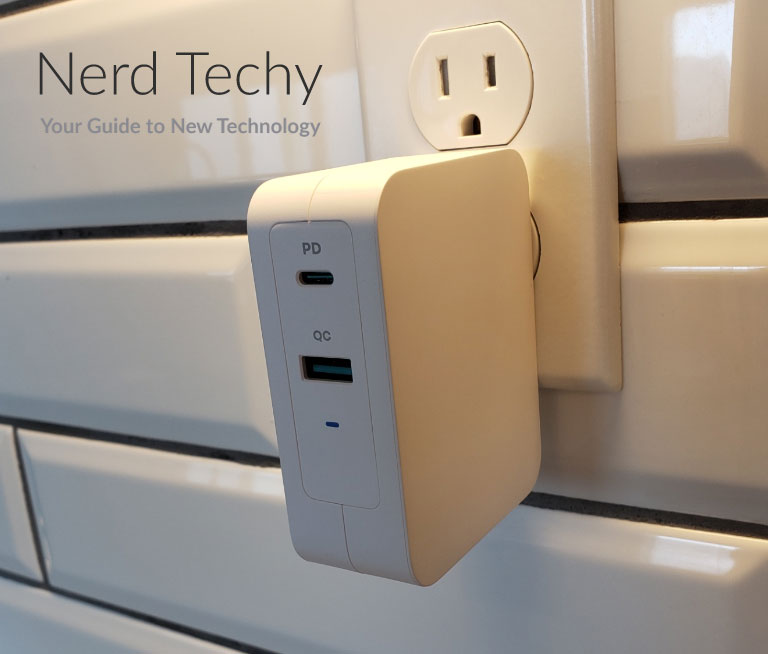 On the front edge, you'll find a USB Type-C PD charging port near the top. Beneath it is the USB Type-A QC port. Both of these are labeled with a grey text. Both also have green tabs inside them for better visibility. On the Type-C port, this is purely a cosmetic decision. But on the Type-A port, it serves a practical purpose. With an easy-to-see tab, it's simple to orient your USB plug.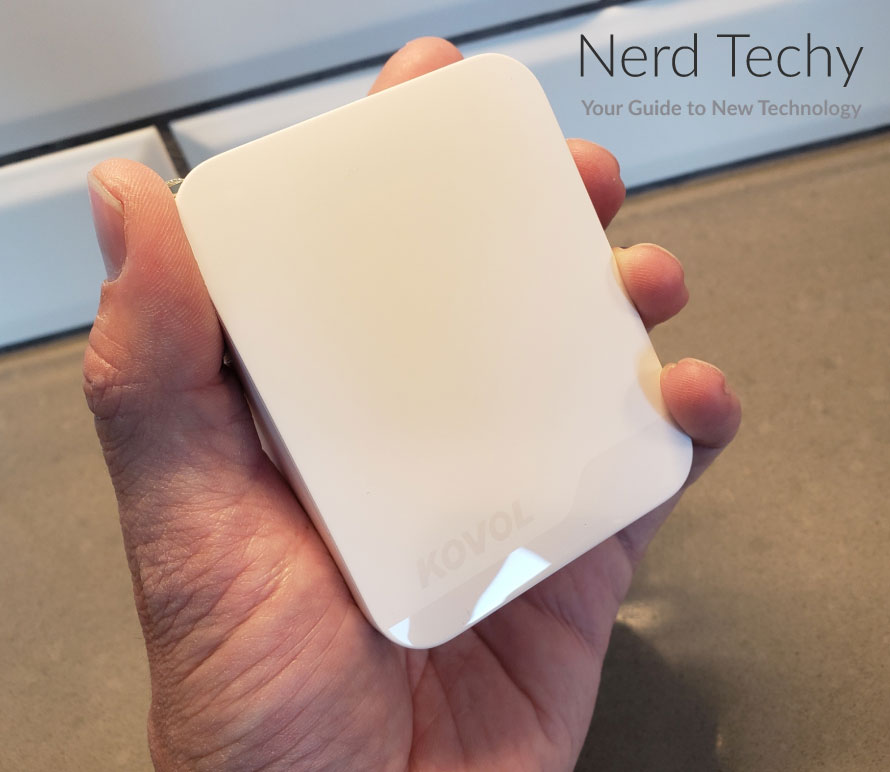 Underneath the plugs is a small blue LED pip. This pip isn't labeled, but its function is pretty straightforward. When the charger is plugged in and powered, it will light up. If it's not lighting up, it's either not plugged in or there's an issue with your outlet.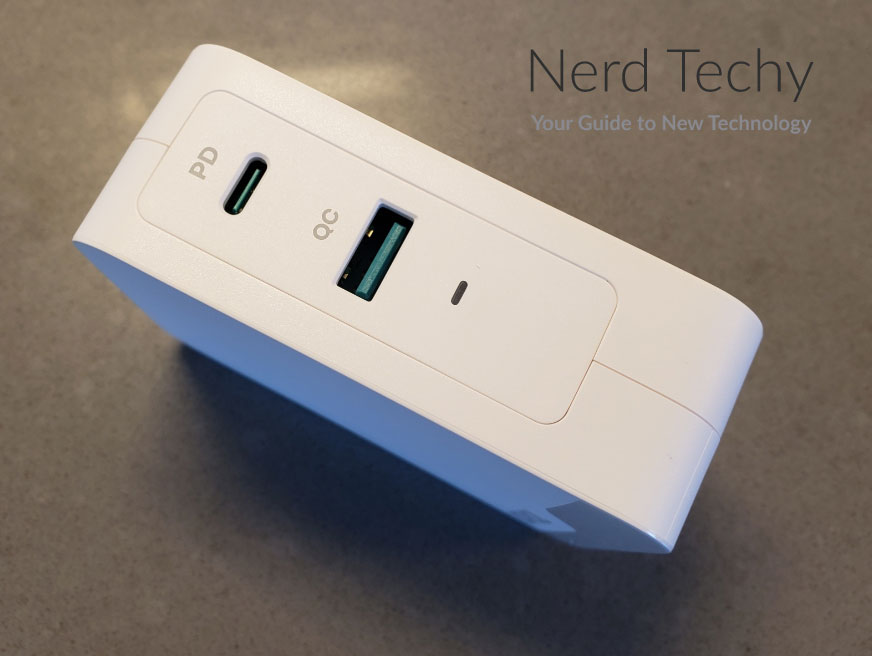 When you order the Sprint charger, you'll have your choice of three versions. In addition to standard North American prongs, you can also order it with EU or UK plugs. No matter where you live or travel, you'll be able to get the right prongs for your needs. The prongs also fold down for travel, so they won't get damaged in your luggage – or damage anything else.
Kovol backs their charger with an 18-month manufacturer's warranty. That's more than long enough to find out if there are any defects. They also provide a 30-day return window. You can try the charger out and send it back if it wasn't what you wanted.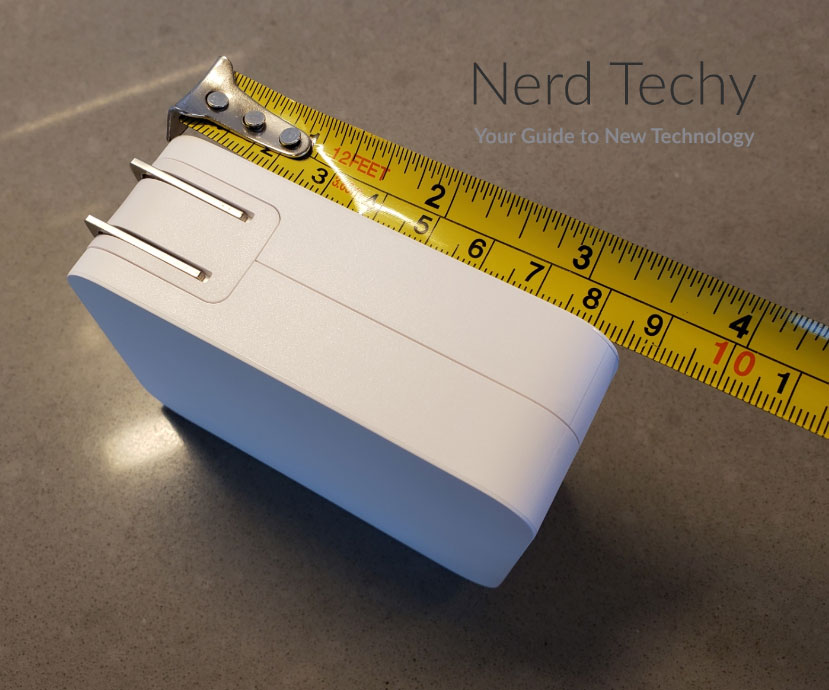 If you want an even smaller charger, take a look at the Aohi Magcube. It's less than half the size of the Sprint, which makes it even better for travel. That said, there's only a single PD charging port, with a maximum power delivery of 30 watts.
Charging Capability
The USB Type-C port on the Kovol Sprint is capable of delivering up to 120 watts of power. That's an insane amount of energy. In fact, it's more than earlier versions of USB Type-C have even been capable of. By comparison, you can get away with a 60-watt charger for most laptops. But if you have a big, beefy machine like the MacBook Pro 16", you'll probably want more. A 120-watt charger will get you fully charged in no time.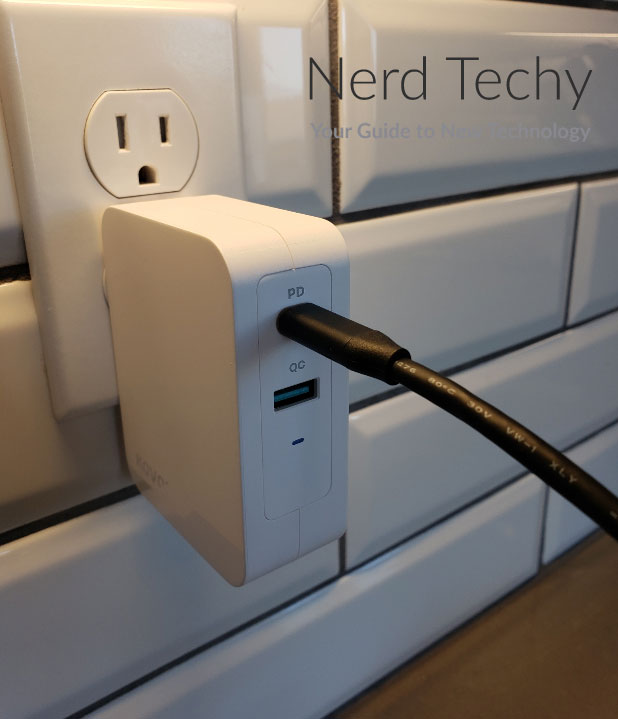 There is a downside, though. If you want 120 watts, you'll have to use an Apple MagSafe 3 cable. There's none included in the package. That said, you can get up to 100 watts of charging with your current cable, depending on the cable.
The USB Type-A port provides 18 watts of QC charging. This is standard for QC power, and it will provide the fastest possible charging speed on many smartphones. For example, Apple's Lightning cable carries 18 watts of current. Unless you're charging a Samsung Galaxy or other high-end Android phone, you'll have plenty of juice.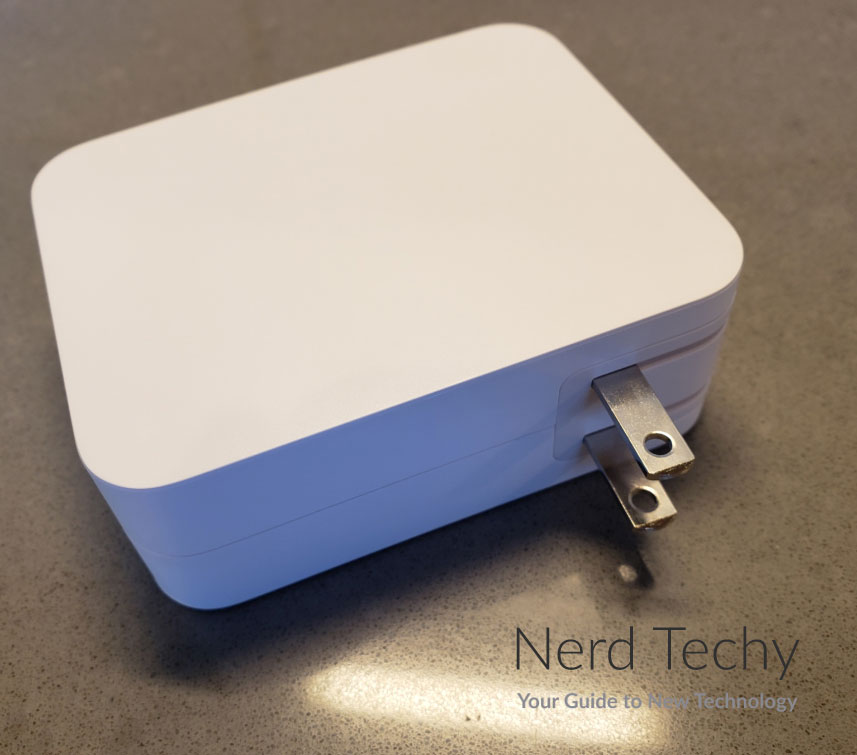 If 120 watts is overkill for your needs, check out the Kovol Sprint 65W. It's an earlier version of the Sprint, which sports an integrated AC power cord. It also has four USB ports instead of two. On the downside, the maximum charging power is "only" 65 watts.
Compatibility
Because it has both USB Type-A and USB Type-C ports, the Sprint 140W charger is compatible with almost any device. The QC 3.0 port is a perfect fit for today's smartphones. It's also a solid choice for most modern tablets, even those that charge via USB Type-C. In most cases, delivering more than 18 watts will be of minimal benefit.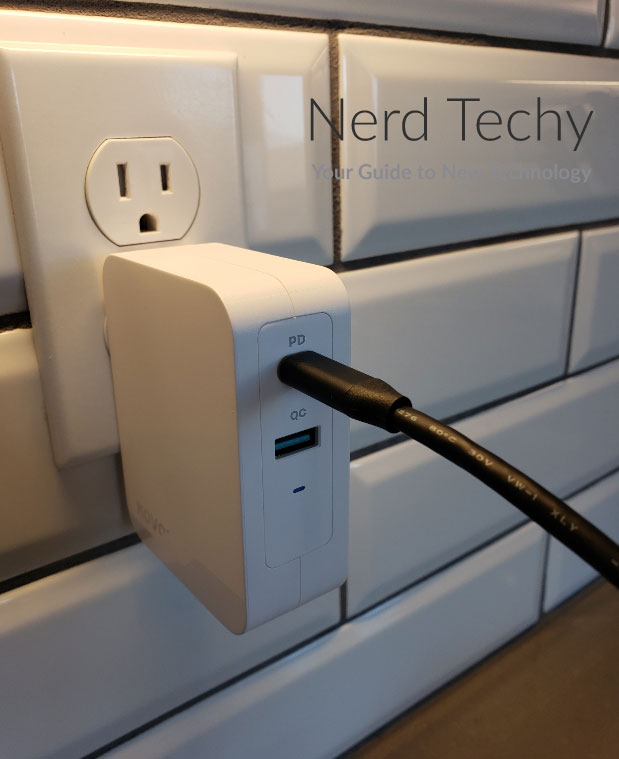 When you need more power, plug into the USB Type-C port. With a MagSafe cable, you can charge a MacBook Pro 16" in under 90 minutes. In only 30 minutes, you can charge to 56%. Your performance may vary on other laptops. Most are capable of accepting 100 watts or less, since that used to be the maximum. Then again, you're looking at a future-proof charger. When 120-watt charging pops up on non-Mac devices, you'll be prepared.
If 100 watts is enough for your needs, consider the Topvork 100W PD GaN Charger. It has a very similar design, right down to the form factor. But it has a pair of USB Type-C ports, with no Type-A port. Each port can provide a maximum of 100 watts, although that's also the limit for the entire charger.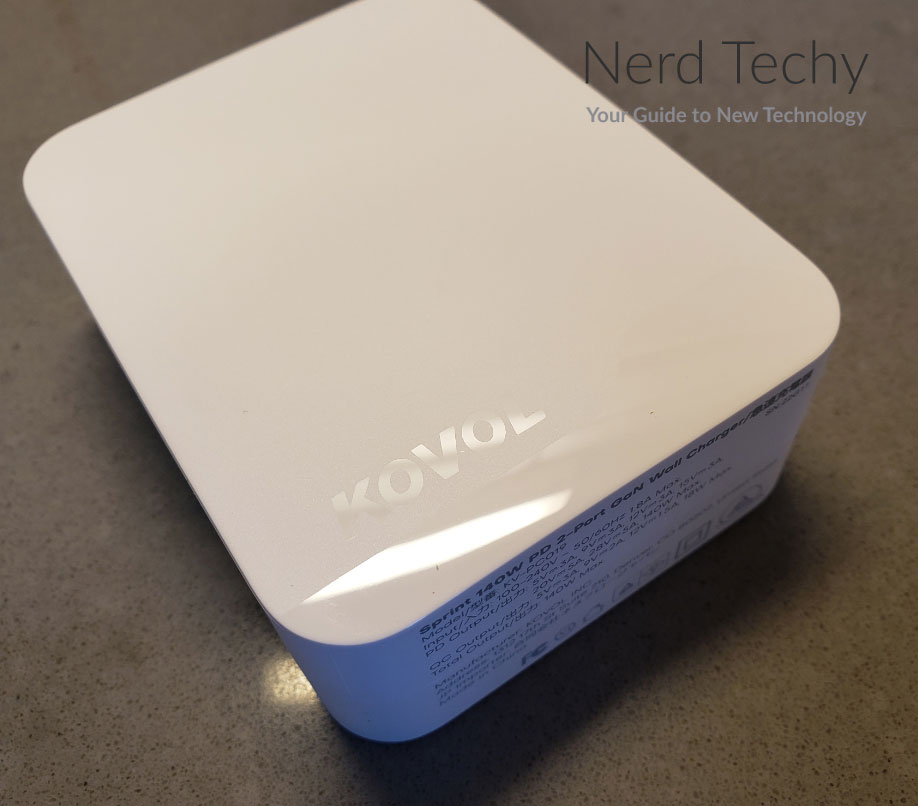 Safety and Extras
The Sprint 140W charger's internal circuitry is mad of Gallium-Nitride (GaN) instead of traditional silicon. This material is far more efficient at conducting power, so you won't waste energy while you're charging. Not only that, but wasted energy is radiated as heat, which means more efficient chargers run cooler.
Even if the circuitry were to get too hot, it wouldn't pose a safety hazard. There's an internal temperature sensor that shuts things down if it starts to get too hot. Similar sensors will protect against power surges, short-circuits, overcurrent, or over-voltage. That way, you know your devices are safe while they're plugged in.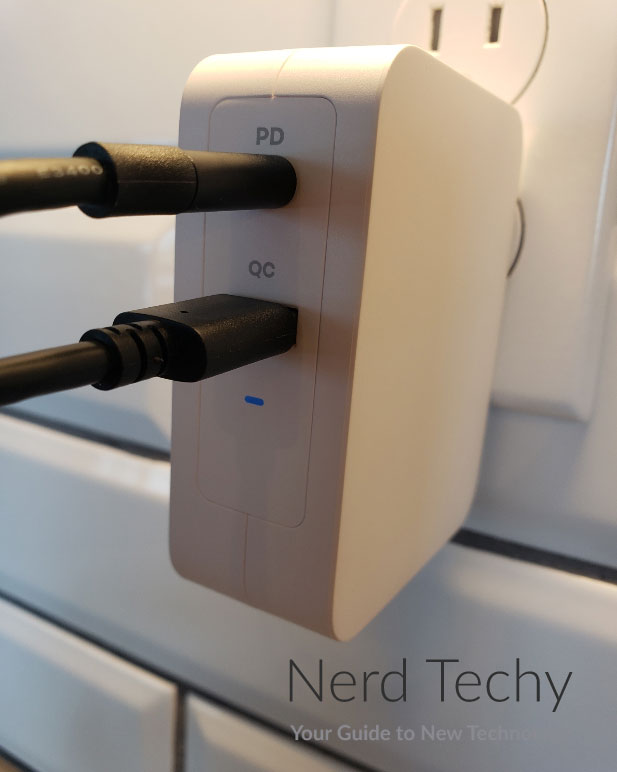 USB PD Power – The Basics
Before we wrap up, let's talk about PD power. How is it that a USB capable is capable of carrying a 120-watt current? To begin with, you need to have the right equipment. Not every cable is that capable, nor is every port. And not all devices are capable of accepting that much current.
Originally, USB cables were just for transferring data. In the late 90s, there were multiple data transfer cables and ports. This was a problem for manufacturers and consumers alike. So a group of companies came together and called themselves the USB Implementers Forum. USB is short for "Universal Serial Bus," meaning a unified data transfer standard. Power transfer simply wasn't on their radar.
But USB cables have a pair of copper wires inside them, which are inherently capable of carrying power. At first, there were few practical applications. People marketed novelty USB fans alongside thumb drives that lit up when you used them. Even so, the USB Implementers Forum took notice.
Future versions of USB would deliver more and more power. The current standard, USB 3.1, delivers 12 watts as a general rule. Using the Quick Charge protocol, some cables and ports can deliver 18 watts, or even as many as 36.
But for even more wattage, you'll need to turn to turn to PD power. It's only available on USB Type-C ports, and has become popular for charging laptops. Until recently, the upper limit for PD power was 100 watts. However, Apple has upped that to 120 watts with their new MagSafe technology. Now that it's out in the wild, we'll no doubt see more 120-watt charging ports in the near future.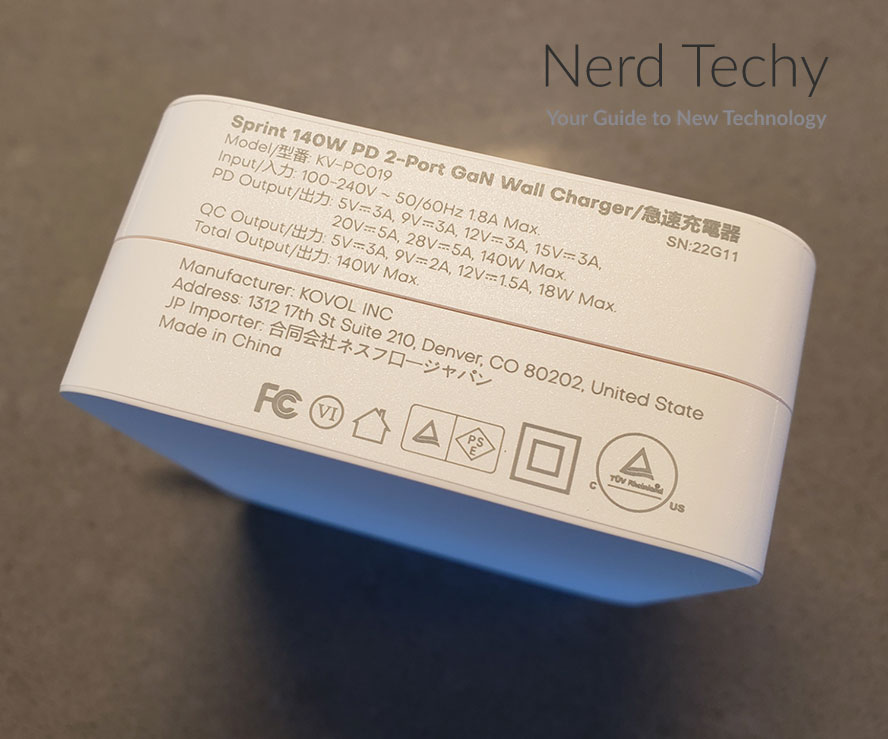 Final Verdict
The Kovol Sprint (KV-PC019) is one of the most robust chargers on the market. With the ability to deliver 120 watts of PD power, it's right in line with Apple's new MagSafe technology. The USB Type-A port is no slouch either, with 18 watts of QC charging. You can use both ports at the same time and get peak charging speeds on your laptop and smartphone.
The design itself is well thought-out, with collapsible prongs for easy travel. The safety features are robust enough to offer excellent protection. You can charge pretty much any device. And the GaN circuitry is as efficient as it comes.