When your smartphone battery runs dead, it can be a real bummer. All of a sudden, you're cut off from your friends, family, and coworkers. But nowadays, you use your phone for way more than just keeping in touch. For many people, their smartphone is an extension of their person. Think of all the apps you run with yours. Without your phone, it's harder to do your banking, listen to music, or browse the web. The same is also true of laptops and tablets. When they die, you can't run your work apps, play video games, or use their other features. The bottom line is, it's important to keep all your batteries charged.
But if you're using a bunch of devices, you end up having to carry a bunch of chargers. This can be annoying, particularly when you're on the road. And with the right charger, it's not even necessary. There are plenty of multi-port USB chargers on the market nowadays, so you can charge more than one device simultaneously. That said, you don't want to use just any charger. You want to find one with the right ports for your device, and this doesn't just mean the right style of USB. You also want the right amount of wattage. After all, there's a big difference between charging a powerful laptop and a relatively small smartphone.
Today, we're going to review two corded USB Type-C fast chargers. First, we'll examine the KOVOL Sprint 65w USB-C Fast Charger. This charger sports two USB Type-A and two USB Type-C ports, and a maximum power delivery of 65 watts. Next, we'll look at the KOVOL Sprint 120w USB-C Fast Charger. This charger has a very similar design, with the same ports, but almost twice the power delivery. But there's a lot more to a good charger than just the surface features. To figure out how these two chargers compare, we'll need to take a deeper dive into their functions. After we've given them both a thorough examination, we'll be able to make a fair comparison. Let's begin!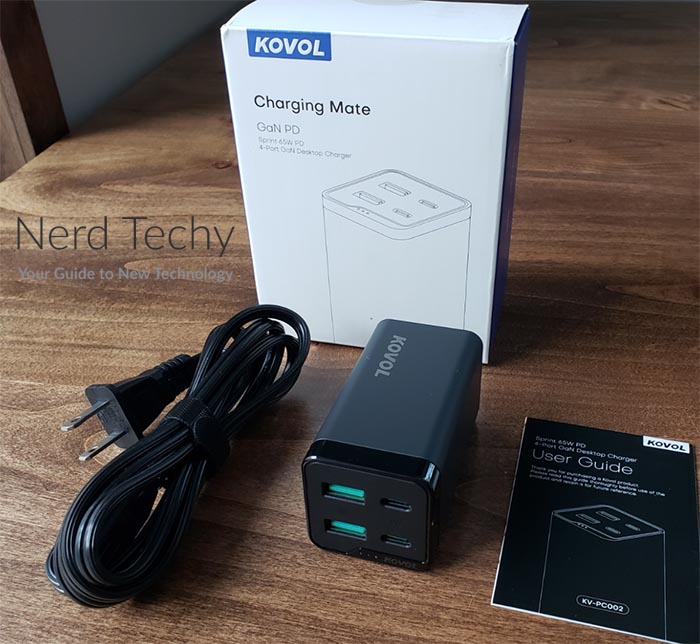 KOVOL Sprint 65w USB-C Fast Charger
The KOVOL 65w USB-C Fast Charger consists of two components: the charging block, and the power cord. The charging block itself is constructed from a matte black plastic, with a glossy face plate. The finish is smooth and easy to clean, with a grey KOVOL imprint on the side. It's rectangular in shape, measuring 2.99 inches in length, and 1.61 inches on each side. The corners are rounded off, which makes it comfortable to slip into your pocket and carry around.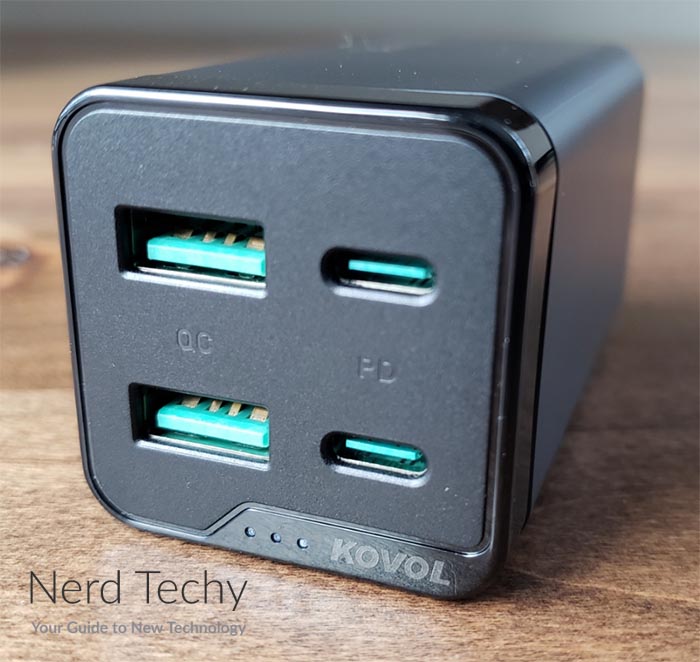 The cord plugs into the back, and is 5 feet in length with a simple two-prong tip. The nice thing about this detachable design is that it makes the charger easier to pack. You can coil the cord up and store it alongside the charger, instead of it sticking out of the end. Not only that, but the corded design allows you to put the charger on a desk or table. So when you need to plug in your devices, you don't have to plug them in adjacent to the wall outlet. There's no need to reach over your desk or behind your sofa every time you want to plug in.
That said, you might not care about this particular feature. What if you just want the most compact multi-port charger possible? In that case, you might be better off with a flat, outlet-mounted charger. You'll have less freedom of movement, but there's no denying their portability.
Use code AWCLXBKG for a discount when you order the KOVOL Sprint 65W on Amazon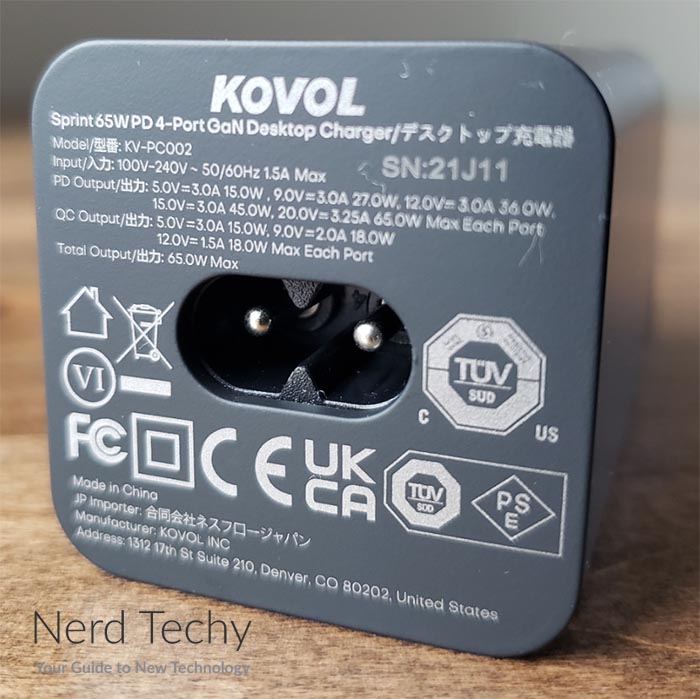 All four of the KOVOL charger's USB ports are located on the front of the housing. On the right side, there's a pair of USB Type-A ports, stacked one over the other. These ports have neon green internal tabs, which make it easy to identify their orientation. As a result, you don't have to struggle with which way your USB plug is facing. On the right side of the faceplate, there are two USB Type-C ports, also stacked vertically. They also have green tabs inside, which serves no practical purpose, but balances out the aesthetic.
The internal circuitry utilizes Gallium Nitride (GaN) semiconductors instead of traditional silicon. GaN is significantly more efficient, and helps to reduce energy wastage. To be clear, GaN circuitry alone won't help your devices charge any faster. But it will keep waste to a minimum, along with your energy bill. All of this is covered by a 12-month manufacturer's warranty. This protects you from defects in materials or workmanship, and is actually extendable. If you mail in the warranty registration card, your coverage period will be doubled to 24 months.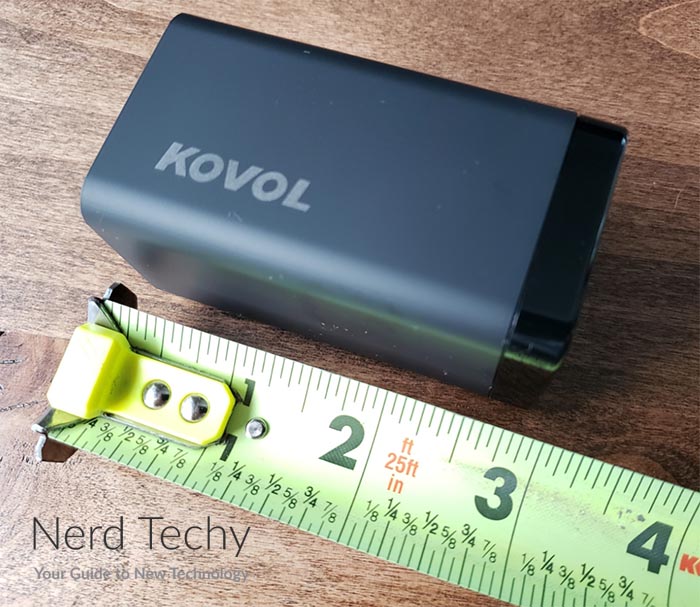 Performance & Safety
So, we've established that the KOVOL 65w charger is well-designed. But how quickly will it charge your devices? In large part, that depends on what you're trying to do. The maximum total power delivery is 65 watts, but that number isn't always consistent. When you plug in multiple devices, the wattage gets shared between them.
Let's start with the most basic scenario: you plug one device into one of the USB Type-C ports. In that case, the full 65 watts will be available. Keep in mind that your device may not draw all of this power. For example, a MacBook Pro 15" will charge in about two hours. Now, you might expect that an iPhone 13 would charge in under half an hour, based on its size. But the MacBook Pro will be drawing the full 65 watts, while the iPhone is only capable of drawing 20 watts. That said, you'll be able to charge any device that requires up to 65 watts.
When you're using both USB Type-C ports, the top port delivers 45 watts, and the bottom port delivers 20. This way, you can charge a phone and a tablet or small laptop at full power. But if you have a larger laptop, your battery won't charge as fast as it's capable of in this configuration.
Both USB Type-A ports are Quick Charge 3.0-compatible. This means they will each deliver up to 18 watts, suitable for fast charging most smartphones. When power is shared with one of the Type-C ports, the wattage on both Type-A ports will drop to 15 watts. Phones that don't support quick charging will charge at the normal USB rate of 12 watts.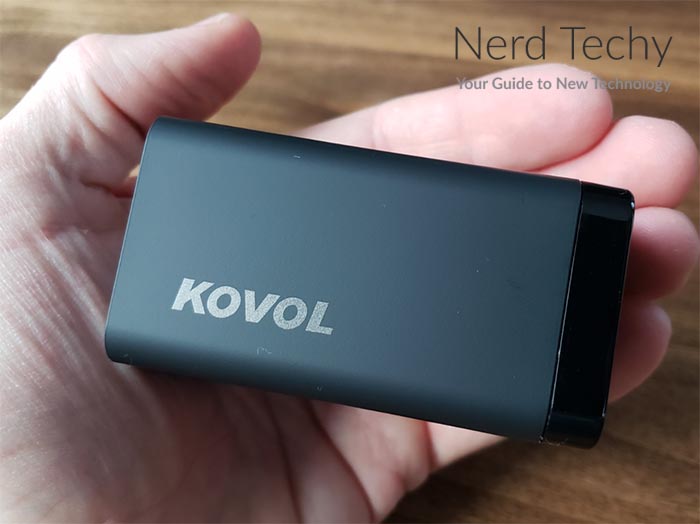 One thing to bear in mind is that the power will be redistributed whenever you plug or unplug a device. When this happens, you'll lose power for less than half a second. It's not a big deal. But if you have your phone volume turned on, you'll hear the plug/unplug chime when it happens.
The KOVOL 65w charger has a number of safety features built into its design. There's overcharging and overcurrent protection, which keeps your devices from getting damaged. There's also short circuit protection, which prevents damage due to frayed or nicked cables. Temperature protection, meanwhile, will shut the charger off if it starts to get dangerously hot.
That said, you might also want a charger with surge protection. If that's a major consideration, check out the POWRUI USB Wall Charger. It goes over your power outlet, and includes six AC outlets as well as a built-in surge protector. That said, the only USB charging comes from a pair of 12-watt USB Type-A ports.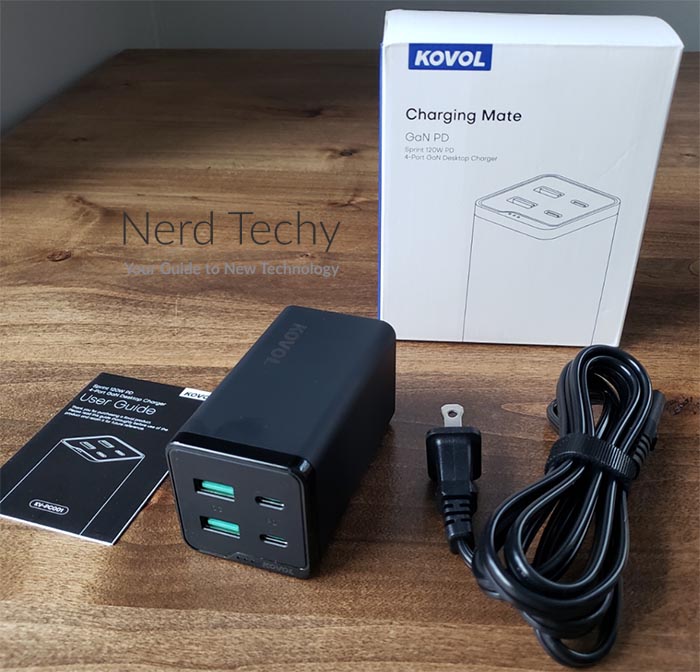 KOVOL Sprint 120w USB-C Fast Charger
The KOVOL 120w USB-C Fast Charger is a suitable big brother to the 65w charger. It has a near-identical physical design, with a removable AC cord and black rectangular housing. The housing is ever so slightly larger, at 3.35 inches long and 1.81 to a side. But even so, it's small enough to carry in your pocket when you need to. And packing it away is no issue.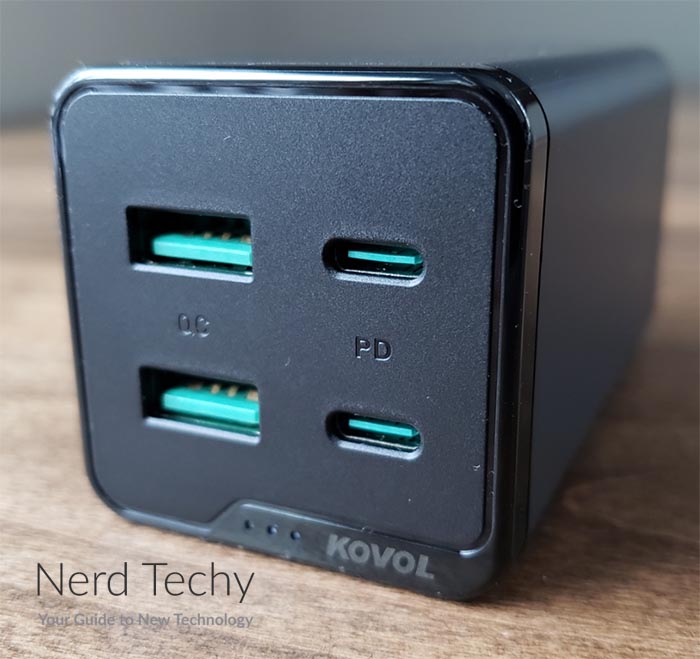 The other features are all the same, right down to an identical face plate. You get the same high-efficiency GaN semiconductors, and the same extendable 12-24-month warranty. But suppose you want a charger with an entirely different design? The Cirtek Fast Charger is an excellent choice. It provides similar power, plugs directly into your outlet, and comes with folding prongs for portability. That said, it's large, and it covers both halves of a duplex outlet when it's plugged in.
Use code T4ZHGKKO for a discount when you order the KOVOL Sprint 120W on Amazon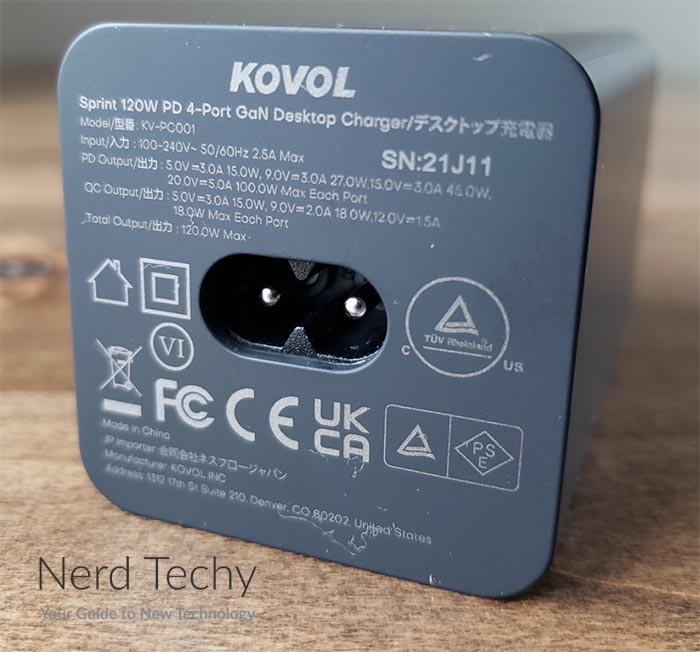 Performance & Safety
The main difference between this charger and the first one is in the name. It has a maximum power delivery of 120 watts, so it can charge even more powerful devices. When you use a single USB Type-C port, you'll draw 100 watts, which is the maximum for USB right now. This is enough for even the largest laptops, like the MacBook Pro 16". When two Type-C devices are plugged in, the wattage will drop to a maximum of 60 watts per port. When all ports are in use, the top port will deliver 65 watts, and the bottom one will deliver 20. Both Type-A ports are QC 3.0 ports with a maximum power of 18 watts. This remains consistent no matter how many devices are plugged in.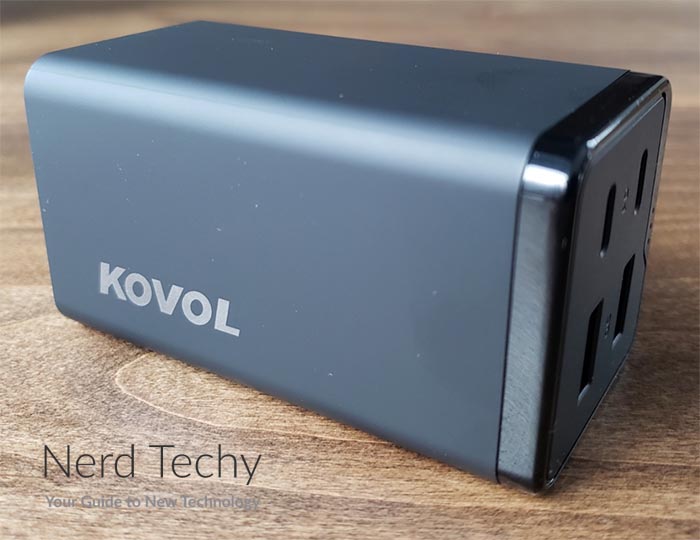 Just like with the 65w charger, there's a slight gap in power delivery when you swap out devices. You also get thermal protection, overcharge and overcurrent protection, and short circuit protection. However, the 120w charger also comes with surge protection. This will help keep your devices safe in the event of an unexpected spike in power.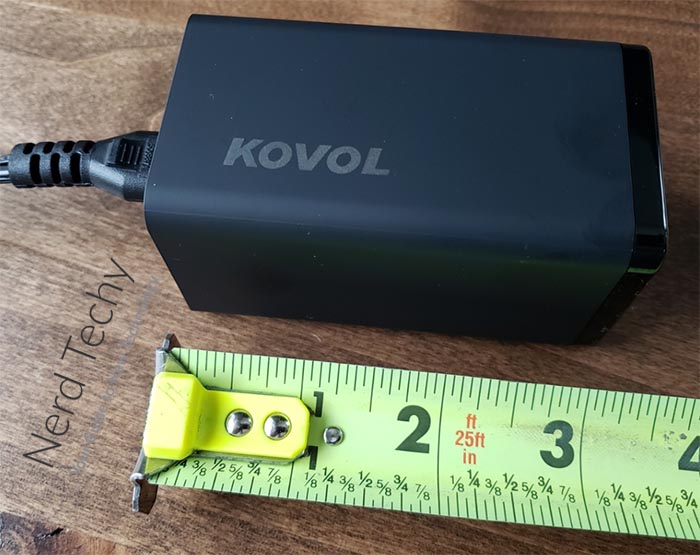 Final Verdict
As you can see, both of these chargers have a lot in common. They have the same general rectangular design, along with a detachable cord. You get the same two sets of dual ports, and wide device compatibility. That said, there are also some important distinctions between the two chargers.
The KOVOL 65w USB-C Fast Charger Discount Code: AWCLXBKG is more affordable and compact. This makes it a great choice if you don't need the full power of the 120w charger. It also has plenty of safety features, and efficient GaN circuitry. Then again, the KOVOL 120w USB-C Fast Charger (Discount Code: T4ZHGKKO) has some benefits of its own. To begin with, it provides enough power for larger laptops and other demanding devices. Not only that, but it also includes surge protection circuitry. Combined with all the existing safety features, you'll be well covered for most charging scenarios.