Here at NerdTechy, we've had the pleasure of reviewing hundreds of different Bluetooth speakers over the years. There are countless brands always trying to outperform each other, releasing new models that promise to be better than the previous. However, very few stand out with unique features that set them apart.
Sure, sound quality, durability, wireless range, battery life and compatibility all play an important role. But we're always fans of brands that incorporate more-unique features that others tend to leave out.
Take the new Hercules WAE Outdoor 04Plus FM for instance. It's a new-release, outdoor-oriented, Bluetooth wireless speaker that's designed for adventurous individuals who tend to "get out". Packed with most of the same technology as the competition, but with the inclusion of an FM radio tuner, it's enticing in many regards.
We were recently invited to test it out, put it to use, and see exactly how it handles in a real-world environment. We'll take an in-depth, unbiased approach to help you determine whether or not it's the right outdoor portable speaker for your situation.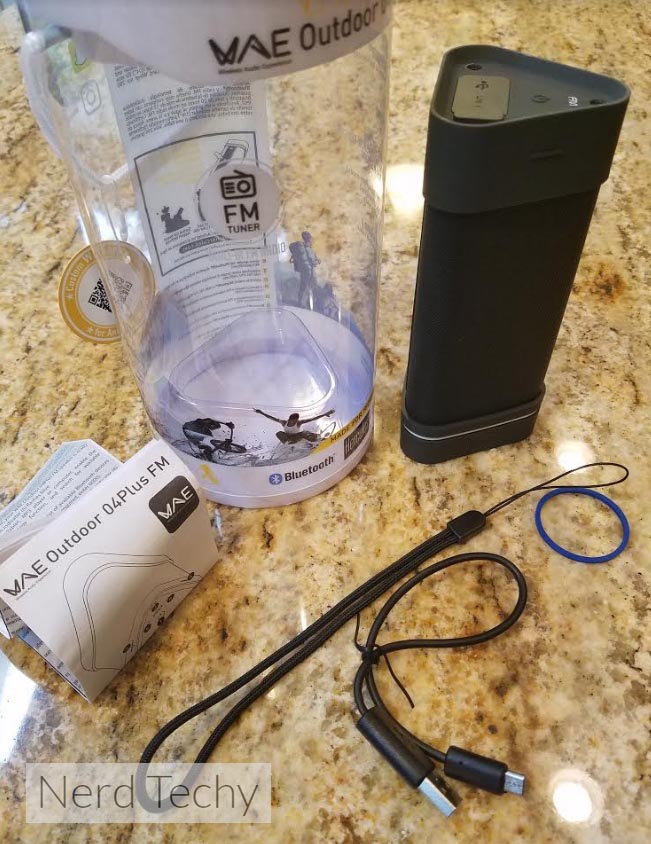 First Look
At first glance, you'll notice that the Hercules WAE Outdoor 04Plus FM carries a pretty basic, triangular design. Measuring 15.1 x 6.1 x 6.1 centimeters, it's fairly compact and feels nice and solid in your hand. One of the first things we noticed was the aesthetically-pleasing metal grille that encapsulates the whole thing. It gives it a high-end look and carries through nicely with the standard jet-black color scheme.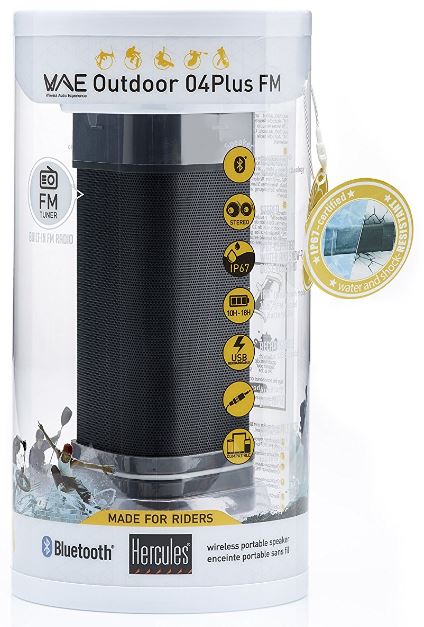 Located on the top is the power button, LED indicator, aux input, micro-USB input. In addition, there's a 'plus' and 'minus' button that act as both the volume and the skip/previous track buttons. Simply tap to switch tracks, or press and hold to adjust the volume.
Near the center, on the side, you'll see three holes. Two of them form a loop for attaching the included wristband while the other one is a screw thread for a 1/4″ mount. This small screw thread lets you place the speaker on a tripod or stand (not included).
The rest of the speaker is pretty basic – which we love. The simplicity gives it a nice effect that ties in well with the ease of use that it offers.
Setting it Up
The initial setup process is very straightforward. First, make sure that your Bluetooth setting is activated on your mobile device. Then, press and hold the power button for two seconds. The LED indicator will then flash blue, letting you know that it's looking to pair. Browse for available Bluetooth devices on your phone and you should see "WAE Outdoor 04Plus" listed as a connection. Simply give it a tap and wait a few seconds. Once a connection is established, the blue LED will become solid. At this point, you're ready to play any track or tune you'd like!
If you're not a fan of Bluetooth, you can always opt to use an AUX cable. Although not included, it allows you to physically connect whichever playback device you'd like directly into the speaker and skip the whole pairing process.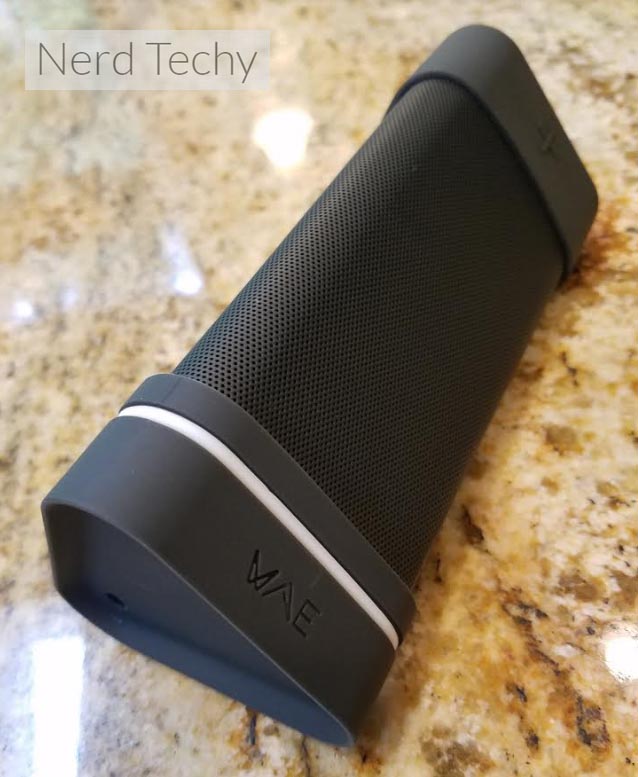 Sound
Likely the most important factor for most is the sound quality itself. With the WAE Outdoor 04Plus, we weren't expecting a whole lot of sound to come out of it, but it honestly left us quite impressed. Throughout testing it for the last week, we've played all sorts of music through it. Rock, rap, country, classical – you name it. We found the sound to be crisp, clear and full of accurate tone. Cranking it up all the way, we were really astonished on how vibrant the sound still was. No distortion or chattering tones gave off any unwanted effects and the music seemed to play exactly true to form.
While the treble and bass isn't manually adjustable, we found that it's set to a decent level. The bass wasn't all too impressive, but it never over-powered the lyrical or harmonious aspects of the song. We couldn't compare it over something that costs double the price, but for the price range, we were quite happy with how the speaker handles such a wide variety of playback.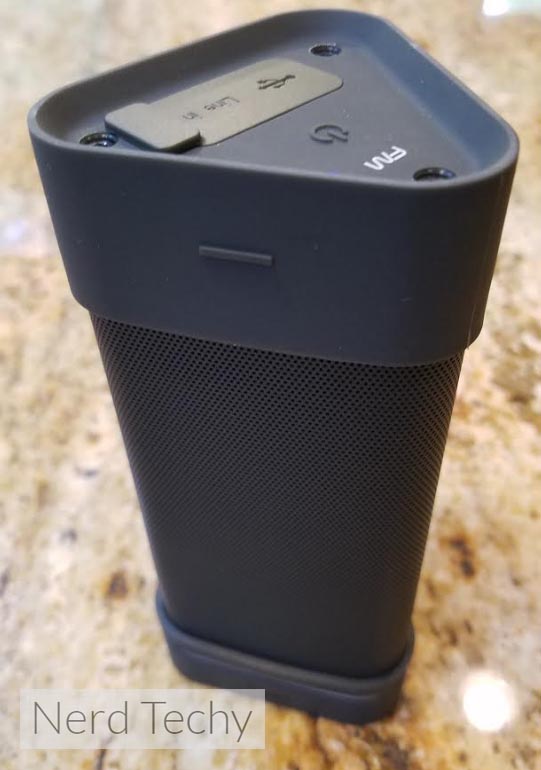 Durability
Since the WAE Outdoor 04Plus is IP67 certified, you can rest assured knowing that it's built to stand-up to some abuse. Specifically, IP67 assures that it's sealed and protected from full immersion between 15 centimeters and 1 meter for up to 30 minutes. This keeps out dust, water, snow, and any other problematic particles or debris that can get in the way. Knowing that it can handle the elements, it's safe to take it with you on virtually any outdoor excursion. In fact, we took it in the pouring rain for over an hour and it did just fine.
Holding the speaker in your hand, you'll instantly feel the solid and rigidness that it's made up of. Each end is reinforced in a rubberized coating that keeps adds grip and boost durability quite a bit. While we wouldn't recommend intentionally doing so, dropping it onto the ground from a few feet up shouldn't break it. Testing it out for the past week, we've put it through quite a bit of abuse and it's still looking like new.
FM Tuner
As mentioned before, the integrated FM tuner is really what sets the WAE Outdoor 04Plus apart from other Bluetooth speakers. It's a really cool inclusion that actually works quite well. To get started with it, simply press and hold the FM button located on the top of the speaker, right next to the power button. Once you do that, you'll see the LED indicator turn green. It'll then perform an automated scan and save all of the detected stations. Once that is done, you can then manually seek through the stations by long-pressing the + or – (volume) buttons.
The quality of the FM tuner was pretty standard of any FM tuner. A bit fuzzy here and there, but this was as to be expected. FM transmission totally depends on your specific location and the available stations in your area.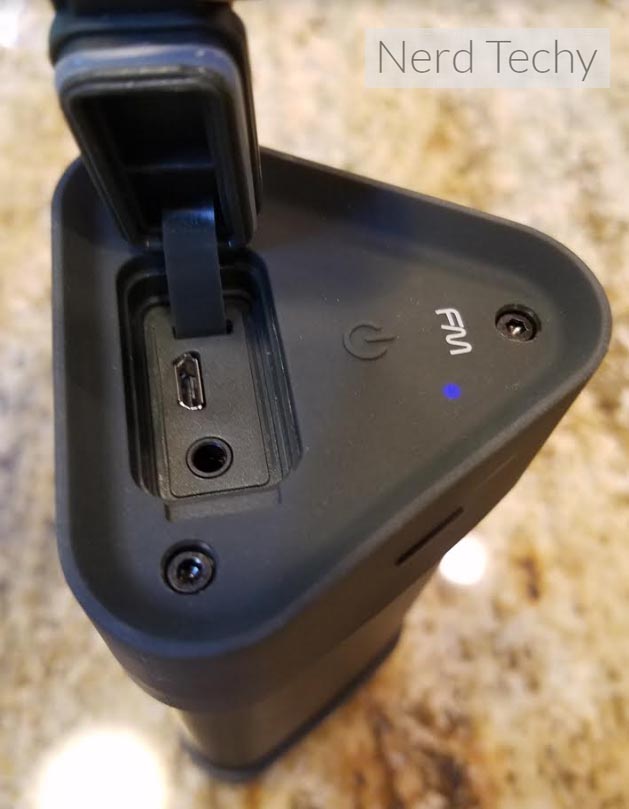 Wireless Range & Battery Life
With any Bluetooth speaker, wireless range and battery life are crucial factors. In addition, they sort-of go hand-in-hand. You'll need a battery to let you use it wirelessly, but you'll also need that said battery to be able to power it through any situation you encounter. Luckily, Hercules included a built-in lithium-ion battery that's easily rechargeable from the micro-USB port on the top of the speaker.
In our experience, we found that the battery lasts roughly 10-12 hours in most scenarios. Now. this is totally dependent on a few factors such as wireless range, temperature, and volume. Mostly since each one of these factors can fluctuate and require a bit more "juice" than the other. We did find, however, that the FM tuner doesn't put quite as much strain on the battery as a wireless connection to your smartphone or tablet.
As far as wireless range goes, we found that the speaker works best when it's within about 25-30 feet. In some situations where you have direct line of sight between the connected device and the speaker, this can be improved to around 40 feet or so. Realistically, ~30 feet of wireless range is pretty standard and a fair amount for most listeners to be pleased with.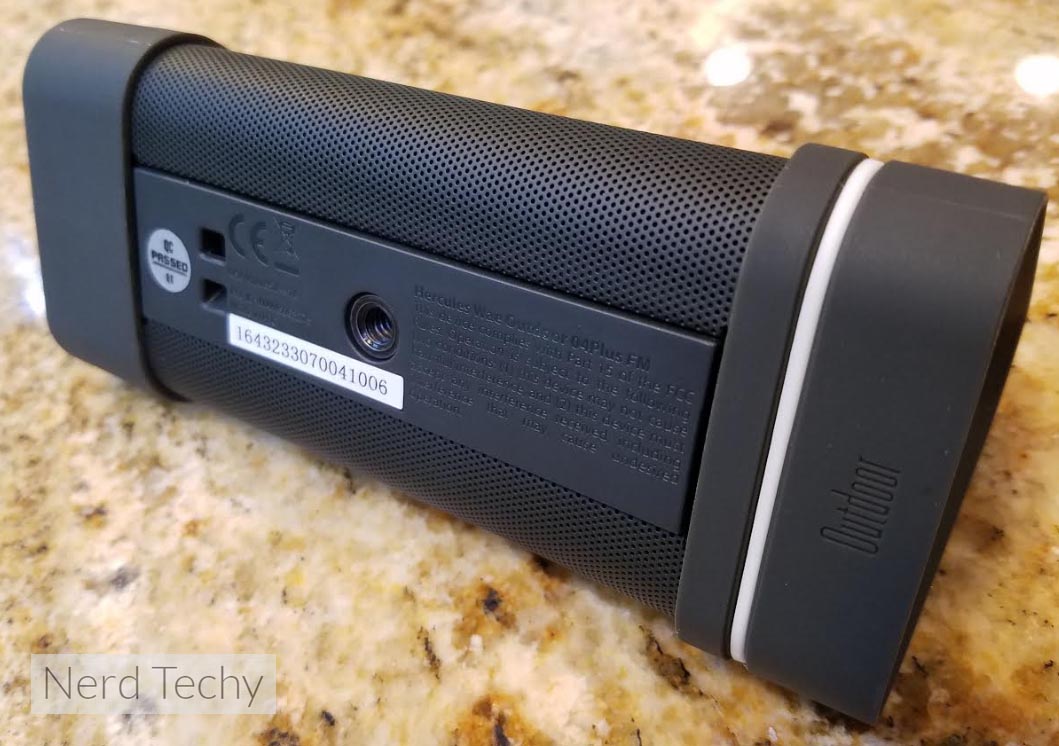 Disadvantages
One of the most obvious disadvantages we found on the WAE Outdoor 04Plus was the speaker direction. At first glance it appears that the metal grille goes all the way around the speaker – which it does. The problem is, half of it is for looks. The sound only comes out of one side of the speaker (the side with the + volume button). While this may not be that big of deal for most, it may be a deal breaker for those looking for 360 degree sound.
Final Thoughts
Overall, we found the Hercules WAE Outdoor 04Plus to be an excellent little Bluetooth speaker. It's loaded with useful features that make it a great choice for those looking for the perfect blend of portability, durability and sound quality. Sure, it's not the best of the best, but the sound quality is jaw-dropping for the price it retails for.
We're huge fans of functionality and how easy it is to use. Within a minute or less from unboxing, we were blasting music and enjoying every second of it. Although there's one noteable downside, every other facet of it left us impressed.