Being in charge of your children's safety is incredibly important. Any tool that you can use to put you in the driver's seat and bring you peace of mind is worth looking into, if it provides the unmatched benefit of safety to your loved ones.
It's not that you can't do it alone. The advantages afforded to you and your children by the hereO GPS Watch extend all the way to durability, convenience, appearance and price, yet it can fully deliver overall greater security and better peace of mind.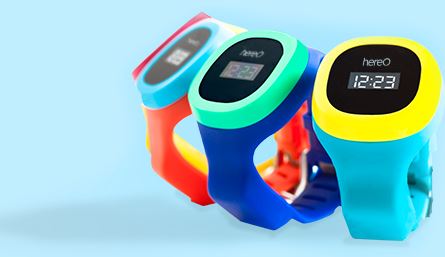 These qualities are also strong on their own, to where the watch itself is attractive to kids, comfortable to wear and well-built, among other smart features that make using one quite easy. The digital age has provided many benefits to the modern parent, however due to hardware constraints, much of it has remained too unreliable to spend money or depend on, because up until now, you wouldn't have the range, durability or overall battery life that would make it worthwhile.
Software has also been a limiting factor in the past, due to the lack of desirable features that can make it easier to track and monitor your children, no matter where they go.
This will all be taken into consideration in this review of the hereO Children's GPS Watch, as you'll discover what its greatest overall qualities are, and which specific problems it can solve for you as a loving parent.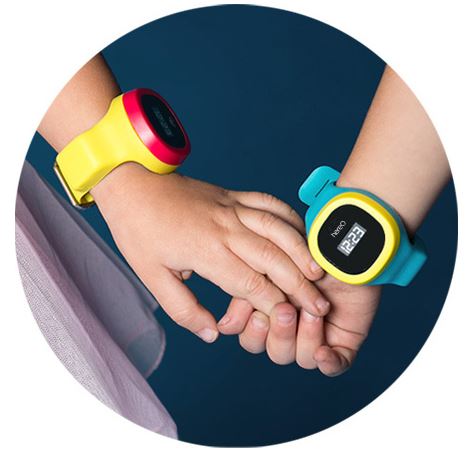 Comprehensive Connection
Known as the first GPS watch that's been specifically designed for kids, the overall performance of it is critical to keeping your family safe. Typically, in order to have full time, total access to your child's exact whereabouts would otherwise be impossible.
One of the major advantages of the hereO is that it's completely GPS enabled, giving you on-demand access to real time location data that's precise enough to show you exactly where your children are – down to the coordinates. This allows for tracking and logging where they've been via breadcrumb trail logging, along with advanced safety features, which we'll discuss in a moment.
It's both GSM and WiFi enabled as well, meaning that it's fully compatible with all of your cellular devices including a SIM card that provides connectivity in over 120 countries. Combined with advanced WiFi triangulation algorithms, this gives incredibly detailed information at a very economically price-point.

As you may know, GPS access isn't always available as the signal must bounce off of a satellite dish, however with its GSM, you'll almost always have constant access to location data, due to greater access to cell services in most areas, especially in cities.
With an added WiFi option you'll also have total access while at home and achieve greater battery life at the same time.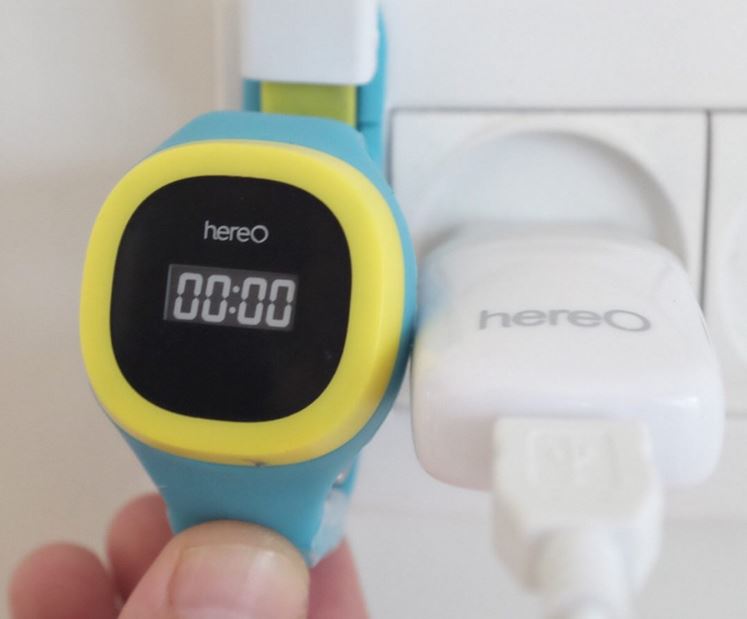 Smart Access in the Palms of Your Hands
Smartphones and tablets are an excellent platform due to the virtually limitless access that they provide for other wireless-enabled devices. On the other hand, without a talented and professional team to design, develop and update dedicated apps for the GPS watch, the advantages can be more "pie in the sky" than effective, since feature limitations and bugs can ultimately reduce safety and throw reliability right out the window.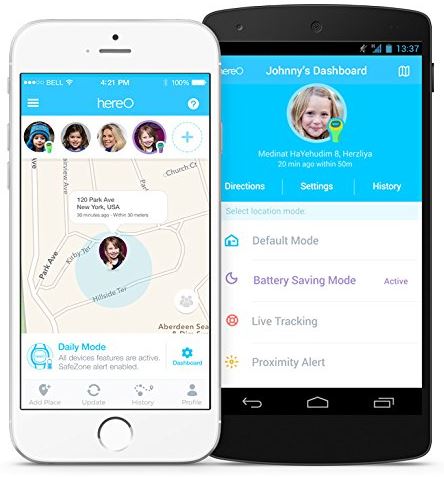 Like its connection capabilities, the smart features of the hereO Kid's GPS Watch are quite comprehensive, offering full compatibility with both iOS and Android operating systems, so that no matter which specific smartphone you're using, you always have access to everything.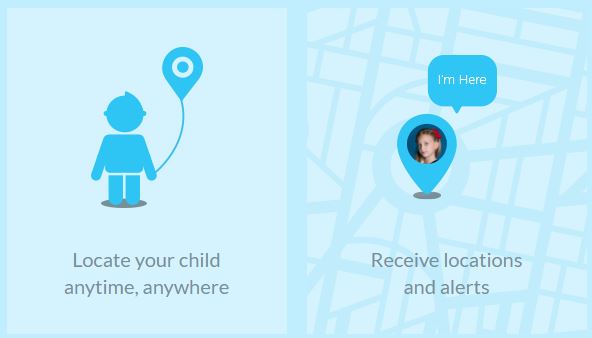 What's more is that the GPS chip has geo-fencing capabilities, allowing you to create safe zones for your child, so that any time they enter or leave these areas, you'll receive automatic alerts and updates, if you choose to.
You can also share them securely with any family members you choose, so that if an emergency alert is triggered from the hereO GPS watch or hereO Family App, everyone will be notified with directions to provide the fastest route to the precise location of your children.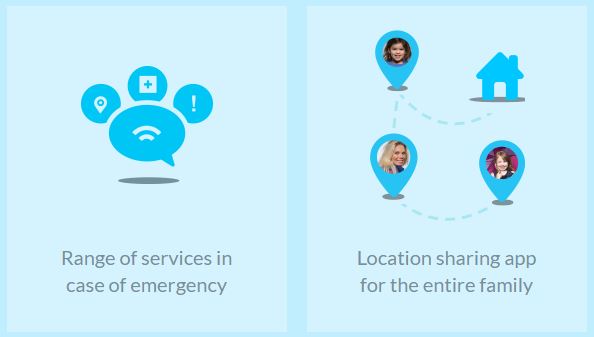 Communication between family members is even taken into consideration, allowing you to send messages to them from one central app, keeping information secure and accessible. Each family member will be able to notify the group with specific location updates, so that everyone knows that they've made it to their destination safely and on time. This ultimately will provide added peace of mind, and complete information in case of an emergency.
Durable, Comfortable and Attractive Design
It's obvious that durability and comfort are extremely important qualities to any GPS watch, but what's often overlooked is the appearance. Being able to hold up to whatever your children can throw at it is essential, because children tend to play anywhere. It doesn't matter much to them what environment they're in, whether it's raining, snowing or they're playing in the dirt, it'll always hold up well.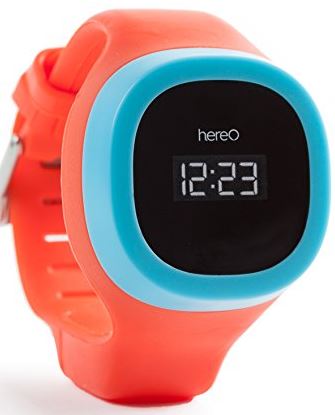 The hereO Watch has been specifically engineered to be very resilient, with a water resistant outer cover to protect all of the inner-technology from potential damage.
As you know, it's been designed with some advanced technology, with GSM, GPS and WiFi capability. However, there's also an electronic paper display screen and a panic alert button integrated into the smart software capabilities, but also with your child in mind.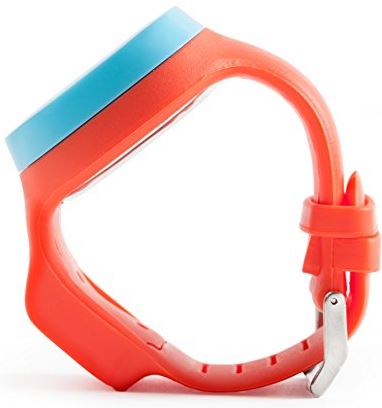 In terms of safety and ease of use, it contains a battery that holds a charge of up to 60 hours and automatically alerts you via your smart device when it runs low, so that you can rely on it for extended periods of time without second guessing. Charging is made simple by an integrator USB connector that allows you to charge it anywhere you have access to an electrical outlet or computer. Additionally, it can always upgrade to the latest firmware update without requiring access to a WiFi signal.
All of this is made possible within a small, attractive design that your children are really going to enjoy wearing. It weighs only 40 grams, meaning that it'll always fit securely and comfortably on their wrist, without weighing it down too much. With a wide variety of colors to choose from, both comfort and appearance are well taken care of for any child aged 3 years and up.
Full Features & Specifications
Locate your child anywhere, no matter what time it is.
Receive specific locations and alerts.
Offers a wide range of services in case of emergency.
Use the app to share with the entire family.
Compatible with both iOS and Android
Create your own Safety Zones and setup customized alerts.
Connectivity in over 120 countries around the World.
Up to 60 hours of battery life on a single charge.
Fully water resistant and built to withstand constant wear.
Utilizes both GSM, GPS and WiFi connections for the most precise, up-to-date tracking.
Adjustable band size from 112 to 136 millimeters.
Weighs just 40 grams.
Screen is an EPD (Electric Paper Display), assuring long-lasting battery life.
Final Thoughts
The hereO Children's GPS Watch is primarily a safety device and using it must be taken seriously if you truly want to know exactly where your child is at all times.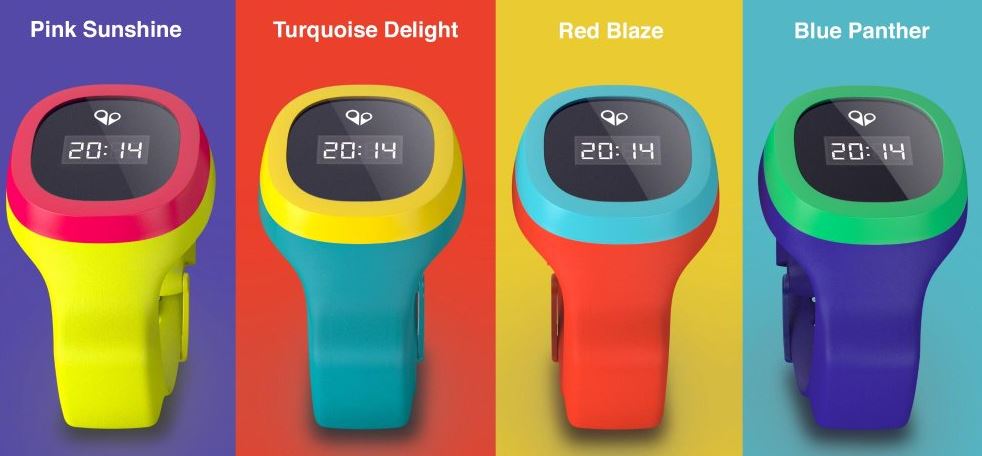 With the performance capabilities of GPS, GSM and WiFi the it provides access to both a host of reliable, advanced features as well as ultimate reliability, whether it has connection to a GPS signal at any moment or not. As long as your child wears it, you'll always be presented with precise location details, with full iOS and Android compatibility, allowing you to track pertinent information without the involved guess work.
In the event of an emergency, or just for convenience, it's all been integrated seamlessly to bring you the quickest route to anyone who's wearing it, direct communication between everyone in one app, and you're also given access to automatic alerts.
The design is visually pleasing to both children and adults alike – comfortable and durable to wear in all seasons and activities, providing greater safety overall, including a panic button and an easy-to-charge battery with an incredibly long lifespan.
Without cutting a single corner, the hereO GPS Watch for Kid's provides the latest advantages without putting too much of a strain on your budget. Overall, it's a highly recommended piece of technology that'll surely provide a substantial amount of benefits for any loving parent or family member.
Meet Derek, "TechGuru," a 34-year-old technology enthusiast with a deep passion for tech innovations. With extensive experience, he specializes in gaming hardware and software, and has expertise in gadgets, custom PCs, and audio.
Besides writing about tech and reviewing new products, Derek enjoys traveling, hiking, and photography. Committed to keeping up with the latest industry trends, he aims to guide readers in making informed tech decisions.