When consumers are looking for a pair of headphones that are convenient to use, they often turn to Bluetooth. But what many people don't realize is that there are many differences from one type of Bluetooth headphone to the other. Although they make look the same on the surface, one style can vastly outperform another.
Hhusali's affordable Bluetooth headset looks great on paper, but there are a few details you'll want to investigate before you decide if they are right for you. We went hands-on to find out what these headphones had to offer. First, we'll show you how they perform. Then, we'll help you understand the differences between these headphones and competing models.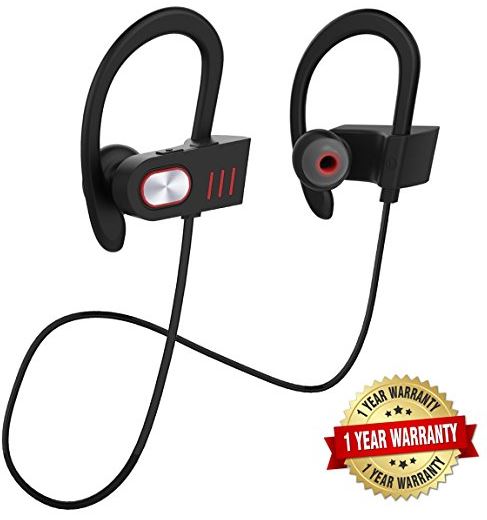 First Look
These clip-style earbuds were first made popular in the early 2000s, but they've had a bit of a resurgence in popularity recently. This design allows manufacturers to use larger, more powerful internal hardware that improves things like sound quality and battery life. There is a single cable that runs behind your head, connecting the two earbuds. This means that they're not truly wireless headphones, but the fact that there is no cable from the earbuds to your audio source means that they're still very easy to use. Most importantly, the Hhusali Bluetooth Headphones are IPX certified to be water resistant. They can withstand dust and rain, so you can use them outdoors in almost any conditions.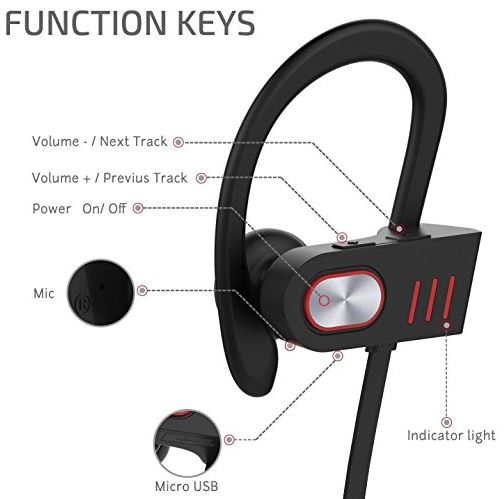 Design
Considering their affordable price, we're happy to see that the appearance of these headphones is a little more stylish than usual. The earbuds themselves are mounted on the top of a long plastic extension. Since they aren't quite as compact as many models, most earbuds that fit this style tend to stand out a little. Fortunately, some creative design choices helped these earbuds to look great. The three silk-screened red lines help to reduce the visual space, and your eyes are drawn to the brushed aluminum style cap. Overall, the headphones have a very youthful and attractive appearance, despite their budget-friendly price they look a little more appealing than most options in this price class.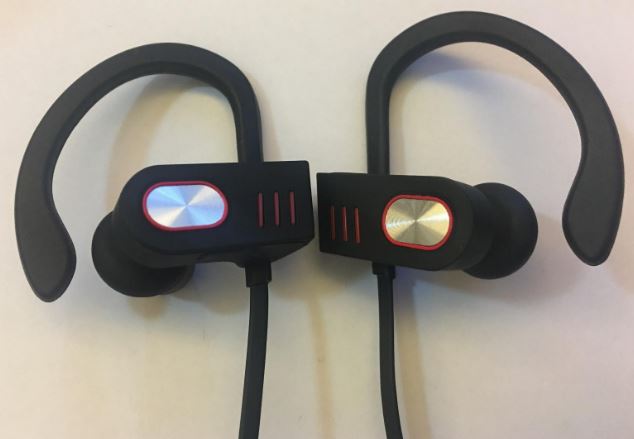 Sound Quality
We've tried out a lot of headphones in this price category, and rarely have we found something that sounds this good. The bass is very well presented. It's powerful and strongly highlighted, but isn't too in your face. From a musical perspective, we'd recommend these headphones to anyone who likes energetic, peppy music. They've got a lot of power too them, and produce the kind of sound that makes you want to get up out of your chair.
High quality bass is definitely a mark of quality, but it's not exactly rare. What we like to see is headphones that present sound well not only on the low end, but also all the remaining frequencies. This is one of the things we really liked about these headphones. They don't have the same pristine clarity we see on ultra high end models, but the upper audible range is surprisingly well presented. Music is clear, free of that "harshness" you get with lower end models, and simply enjoyable. For the money, it will be hard to find a pair of headphones that performs quite as well as these.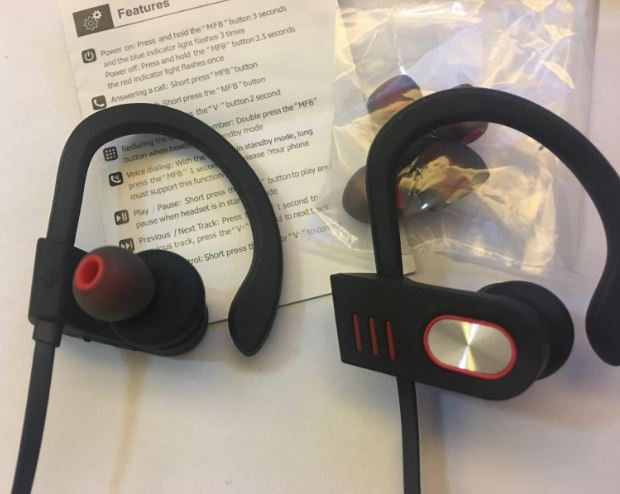 Noise-Cancelling
If you're commuting on a busy subway train or in a loud environment, it can be hard to hear your music. All earbud style headphones have passive noise cancellation by design, but very few have active noise cancellation. With these earbuds, a tiny little hole in the enclosure allows sound into a microphone. By measuring the outside sound, it can cancel it out by performing an equal and opposite movement. This type of noise cancellation is found in many types of full size headphones, but rarely do we see them in compact models. When you're wearing them, you feel as if your music comes from a blank canvas of silence. This feature will be most useful for people who use their headphones in a loud environment. The earpieces themselves do a pretty good job of cancelling out basic noise, but the active noise cancellation makes these headphones usable in challenging conditions.
Connectivity
You might think that Bluetooth is a simple communication protocol. In reality, it's a blanket term used to describe a number of different variations. Each is backwards compatible. A new updated Bluetooth will work retroactively with devices that use older standards, but the opposite is not true. If you have a pair of headphones that use an older standard, you won't be able to use many of the features found in new models. In high end headphones, you rarely get an outdated standard. But when a new model is released, the price on older chipsets drops substantially. So when you shop for affordable headphones, there is always the risk of getting something that isn't quite up to date. But this is one of the few budget headphones that has Bluetooth 4.1, and there are a few important advantages.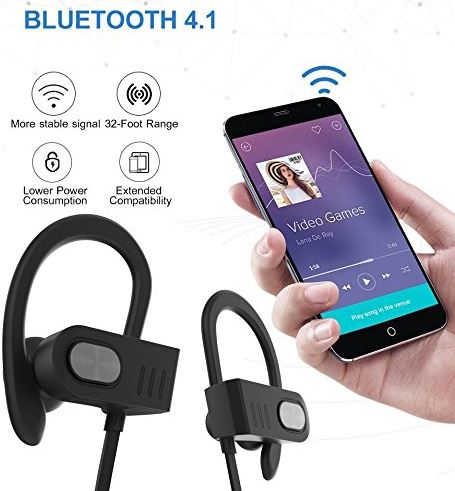 The main advantage is for anyone who uses their phone as a music source. Bluetooth and LTE do not coexist very well. The frequencies interfere with each other. When you're using an older Bluetooth headset, your LTE speeds will drop significantly. This isn't a problem with these headphones.
Another important advantage is the bandwidth. Because Bluetooth 4.1 operates on different frequencies, it can transfer data at a faster rate than older options. This is important for audio quality. With older headphones, the audio is heavily compressed in order to keep file sizes small. But with these headphones, the enhanced data rate allows them to have very high quality audio.
Battery Life
Although Bluetooth 4.1 includes some enhancements that reduce power draw, it's not really a fair assessment to say that Bluetooth 4.1 devices consistently have better battery life than Bluetooth 4.0 devices. That being said, the performance was still acceptable. The headphones are charged through a micro-USB charger, and can be fully charged in less than 2 hours. Once the battery is topped off, you get about 8 hours of music playing time. This isn't amazing, but it's still totally acceptable for most peoples uses. Even for those of you that need a lot of music listening time, throwing them on the charger for only 30 minutes can give you two hours of play time. In our eyes, there is very little concern about the battery life.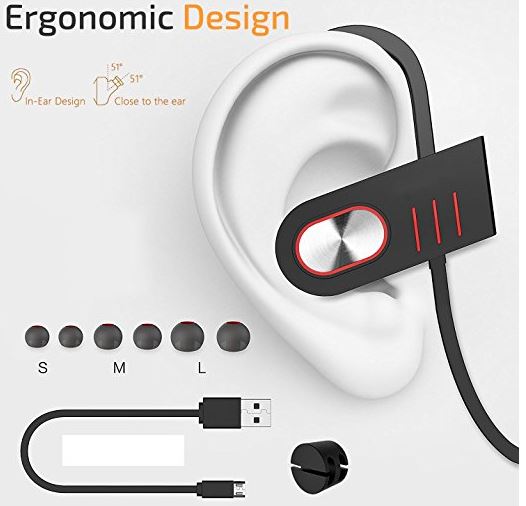 Comfort
These hook-style earbuds have a long plastic piece that rests behind the ear, supporting them. For some of you, bad experiences with this style of headphone may put you off the design forever. And with good reason. There are many headphones in the $5 to $10 range that are downright uncomfortable. But with the Hhusali Bluetooth headphones, a lot of time and care went into making them comfortable. The hooks can barely be felt, and the headphones are lightweight enough that they don't cause any discomfort at all. There are many earpads, so you can find the size with the best fit. This improves noise cancelling, and makes them very comfortable to use.
Disadvantages
The sound quality is acceptable for the price, but for many this isn't the draw of audio. Hearing a new set of headphones is the opportunity to hear your music in a way that you never have before. If you have the budget, it might be worthwhile spending a little more to get a pair of headphones that have that "wow" factor.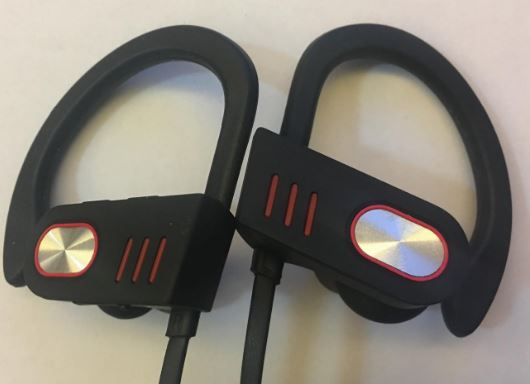 Final Verdict
For the money, you really can't go wrong with the Hhusali Bluetooth Headphones. They are up to date with all of the latest standards, have great battery life, and a peppy, energetic sound. They certainly don't look the price, and you'd pay significantly more for a brand name model. In our eyes, these headphones are a bit of a hidden gem. Not many know about them, and it's clear that Hhusali is a company that wants to go over and above to earn your business.
Who should buy them? Fortunately, these earbuds are designed in such a way that they're entirely universal. If you're into fitness, the waterproofing and durability mean that they can survive much more than your typical headphones. The earclips keep them firmly in place, without making them uncomfortable. If you're commuting long distances to work, the active noise cancelling will help to drown out the external noise, letting you enjoy your music.
Overall, this is one well-thought out pair of earbuds, and one of the few models that impressed us in this price category.