No matter what your hobbies are, it's essential that you have the right tools for the job. A good pair of basketball shoes can help you execute more precise jumps, a decent snowboard can help you tackle harder terrain, and a decent surfboard will help you catch the waves that others can't tackle. What do all of these things have in common? They're the tools that help you interact with your environment. The better they are, the better your performance. If you're a gamer, your keyboard and mouse is your point of contact to the digital world.
Gamdias has made a name for themselves with their affordable but high quality peripherals. We were incredibly impressed with their M1 mechanical gaming keyboard, but this is only half the equation. Their M1 gaming mouse completes the set, so we decided to go hands-on to see how it performs.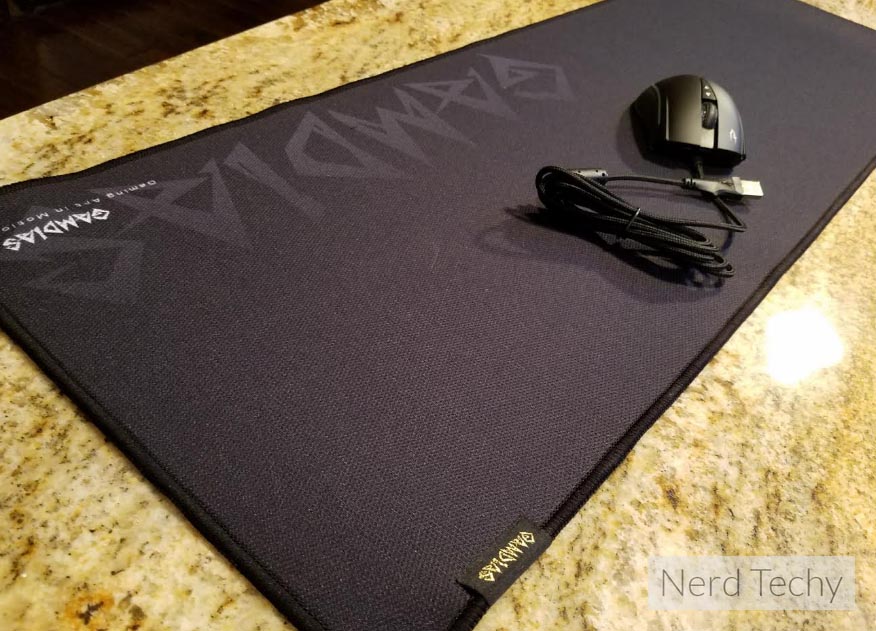 First Look
Although the Gamdias Zeus M1 Gaming Mouse and the P1 Mouse Mat come from different lines, they make the perfect pair for each other. The M1 mouse stands out from the crowd with it's expertly designed weight tuning system, which allows you to give your mouse the feel and tactile response you're looking for. When combined with the large, anti-slip surface of the P1 mouse pad, the experience goes beyond what you'd expect from such an affordable mouse. Since performance can vary depending on what surface you're using your mouse on, we decided to test these peripherals together to give you an idea of what you could expect, should you choose this combination.
Appearance
There is nothing that gamers love more than an eye-catching design, and Gamdias went the extra mile for you. The M1 mouse has four separate LED strips built right in. The pair of strips located along the side of the mouse help to accentuate the gentle curves, creating a futuristic look. There are two more strips located on either side of the mouse wheel, and the logo is illuminated as well. The RGB LED's inside are capable of producing 16.8 million colors, offering a ton of impressive lighting options.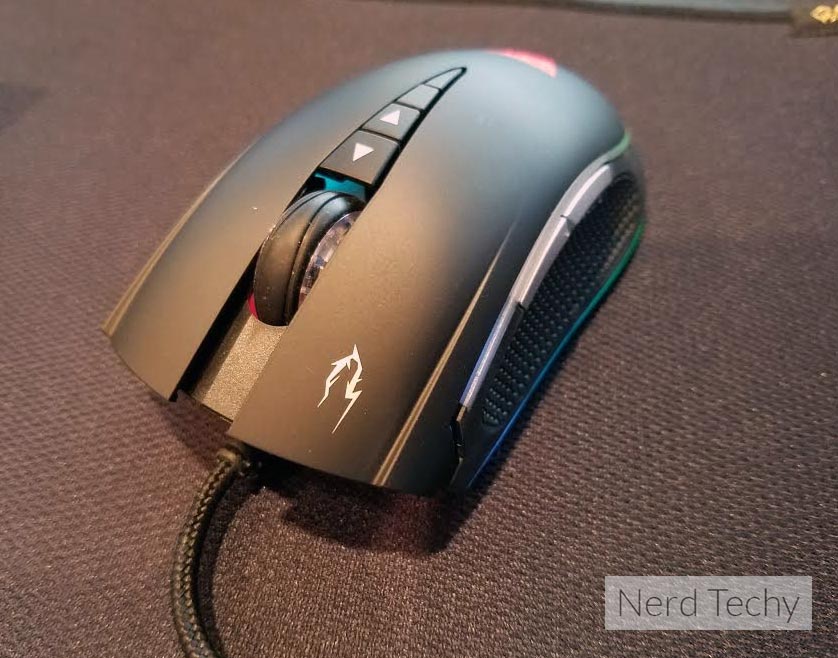 The rest of the design carefully strikes a balance between subtlety and intent. From a distance, it doesn't seem all that different from your average mouse. But once you get up close, you'll notice things like the texture of the rubberized grips on either side, and the moulded rubber bumper on the top of the mouse. Gamdias went for the split-button look that is becoming increasingly common, which makes for one mean looking mouse.
The mouse pad is mostly black, but has the aggressive looking Gamdias logo faded into the lower right corner. You've got a strip of icons at the top, which add a sense of exclusivity to the pad.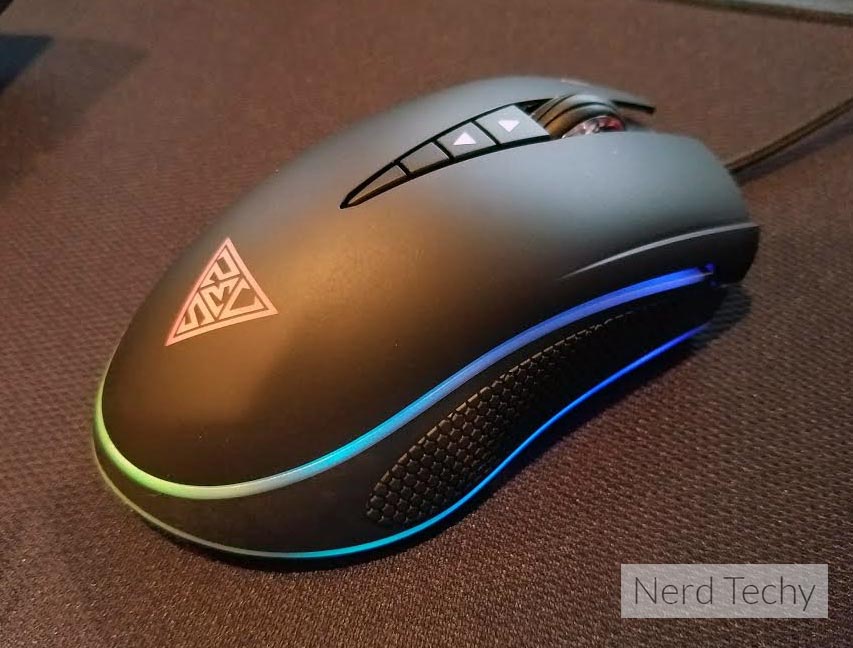 Controls & Ergonomics
The most buttons you have, the more you can customize your control layout. But as many of us learned the hard way, this tends to interfere with the ergonomics of the mouse. Fortunately, the M1 has managed to cram a ton of handy buttons that are not at all awkward to use.
All of the basics are there – a right and left mouse button, as well as a scroll wheel that clicks. By your thumb, you've got two buttons that can be programmed as you like. There are two more located below the scroll wheel, which are easy to press with your middle finger.
This mouse is extremely comfortable to hold in your hand. The textured rubber on either side make it easy to grip, and allow you to execute precise movement. The slope is gentle, making it comfortable for any hand, whether large or small.
The mouse pad is much larger than standard models, and it's designed to sit just below your keyboard. This allows it to function as a keyboard wrist wrest, which can help to reduce strain from extended gaming sessions.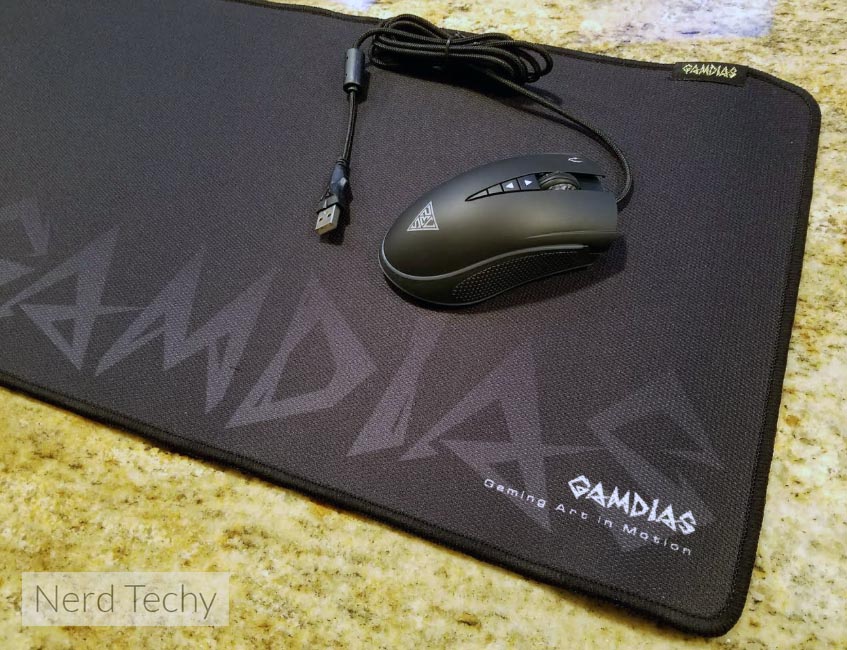 Precision
Getting a mouse that lets you perform fine movements is a challenge. Every game is different. With some, high DPI settings mean that the tiniest motion results in a huge movement. With others, the DPI can be adjusted different play styles. We're not stranger to seeing mice with "high" and "low" DPI settings, but Gamdias gives you more control over this than we're used to seeing. You can choose from 1200, 1600, 2400, 3200, 4800, and 7000 DPI. This can be configured before the game, or adjusted on the fly. If you haven't configured the up and down arrows below the scroll wheel, they can be used to increase or decrease the DPI. Overall, this can be one of the most precise mice on the market, and you'll rarely find such a high resolution on such an affordable mouse.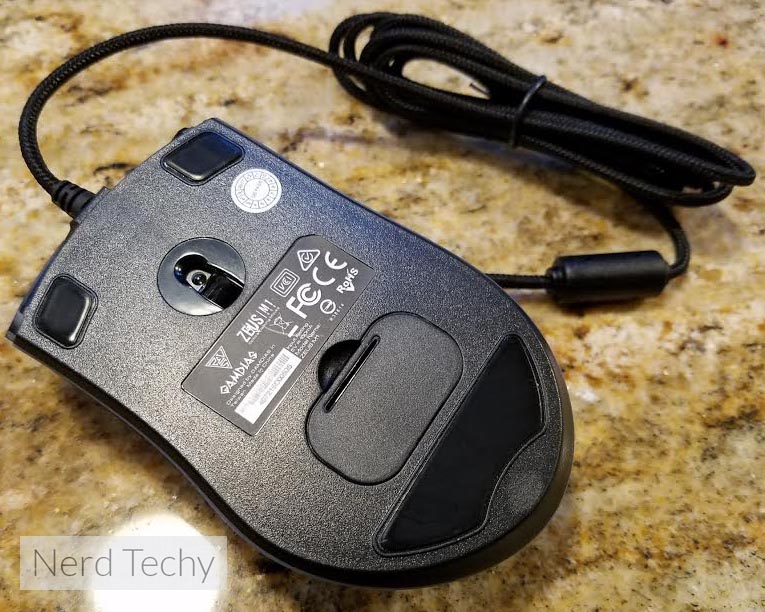 Weighting
How a mouse feels in your hand is almost as important as the DPI settings. If it's too heavy, you'll find that your hand cramps up from long periods of gaming. If it's too light, you'll have trouble getting the cursor exactly where you want it. Stock, the M1 weighs a little under 100 grams. This is slightly lighter than many gaming mice, but heavier than your typical budget model. A tray on the bottom slides out with slots for two metal weights. You can install one or both, making the mouse as heavy as you like. We preferred the mouse with both weights in, which is heavier than most. But this is completely customizable, so you can get it exactly the way you want.
Traction
How a mouse tracks along your desk is very important. Typically, mice have rubber feet designed to provide a little friction on a smooth surface, such as glass desk. However, different desk types can affect this. For example, a wood desk will track differently from a glass one. For this reason, we recommend using the M1 mouse with the P1 mouse pad. This pad has a rubber bottom, which prevents it from moving around on the desk. The top of the pad has a woven fiber material with a very smooth finish. It provides just enough friction to help you move the mouse precisely, but doesn't add any unnecessary drag.
Should you choose to use the mouse without the pad, you'll find that it still tracks quite nicely. But in our eyes, the combination really is a very luxurious feel, and we'd highly recommend it.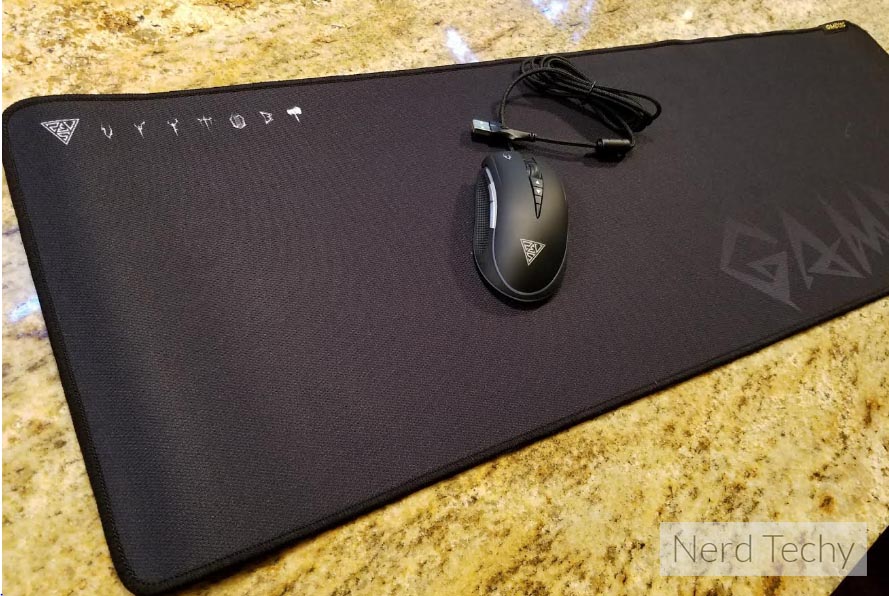 Lighting
These aren't your average, everyday LED lights. This is Gamdias' unique system called HERA. HERA is a piece of software that runs on your desktop computer, and controls the LED lighting on your mouse, keyboard, and any other GAMDIAs peripherals that you have. You can have the lights pulse and change with the sound, use it to measure certain aspects of your computer, or simply play back scripted lighting.
There are literally thousands of different options, and we could spend all day playing with them. The fact that the lighting will sync up with your keyboard is a huge bonus, and we feel this is one of the better lighting systems on the market.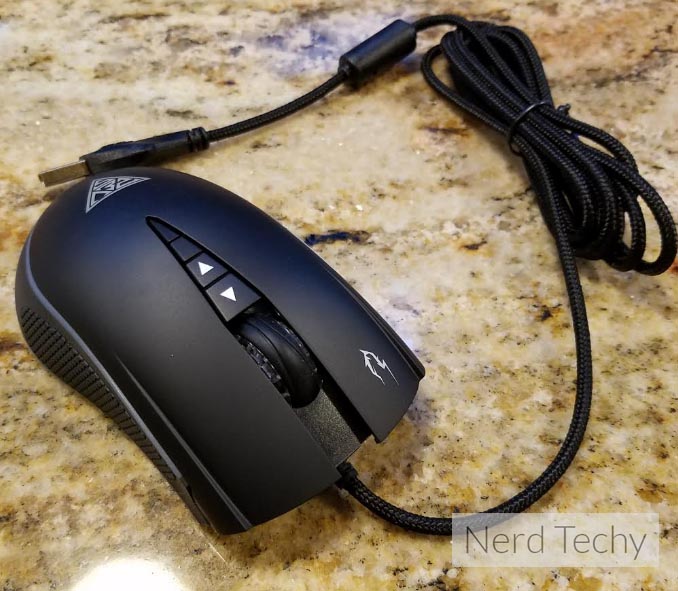 Disadvantages
Although the lighting is one of the stand-out features of the mouse, you really need to be using the Gamdias keyboard as well if you want the full effect. This is currently very common among peripheral manufacturers, but we'd like to see some universal options in the near future.
Final Verdict
Gamdias is quickly becoming a rising star in the gaming peripheral industry. Their products are much cheaper than competing models, but often perform just as good. The M1 mouse offers many features that you won't find elsewhere. The adjustable DPI and weighting means that this is something that you can tweak to meet your exact specifications, no matter what the playstyle may be. But if you really want to get the most of this powerful platform, you really need to purchase the P1 mouse pad along with it. This creates for a smooth and customizable gaming experience, well beyond what you'll find with other mice.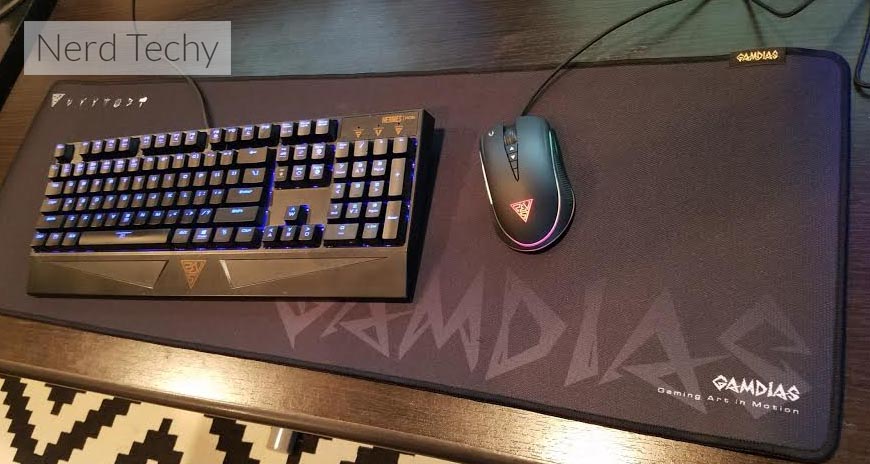 If you're looking for a keyboard to go along with your mouse, we'd highly recommend checkout out our review of the Gamdias Hermes M1 Mechanical Gaming Keyboard. Mechanical keyboards provide a night and day difference to the speed and accuracy with which you can kit keys, and the lighting system will sync up with this stylish mouse.
If you're lucky enough to get the full set of Gamdias' peripherials, you'll be able to enjoy a premium gaming experience rarely found in this affordable price bracket.