When you're shopping for headphones, it's easy to get caught up in the little details. Which ones are the smallest? Which ones have the longest battery life? Which ones have the most bass?
The problem is that none of these qualities necessarily mean that the headphones are better. In reality, it's not size we're looking for. It's portability.
When we say that we want the most bass, what we really mean is that we want our music to be delivered with impact and soul.
When we want headphones with the longest battery life, what we mean is that we don't want to be caught without them.
Our desire for these features is based off experiences we've had before. Often, we're right. Innovation in the audio industry moves slowly. Instead of massive leaps forward, we get minor steps towards the ultimate audio experience. Instead of game changing headphones, we're seeing minor updates to a tried and true platform.
With this in mind, it takes something unique to make us re-evaluate what we're truly looking for. It's rare, but once in a while you get something that looks, on paper, much worse than the competition. In reality, it's that the metrics we used to measure performance aren't always comparable.
The Leophile EEL Headphones are one of those products that makes you go "why didn't I think of that?" What is it that's so unique about this inexpensive pair of Bluetooth buds? They're not the smallest, they don't have the longest battery life, and they don't have the most bass. But in terms of portability, audio quality, and functionality, we found that they worked better than headphones that did meet our initial criteria. Let's go in-depth and explore what makes these headphones special.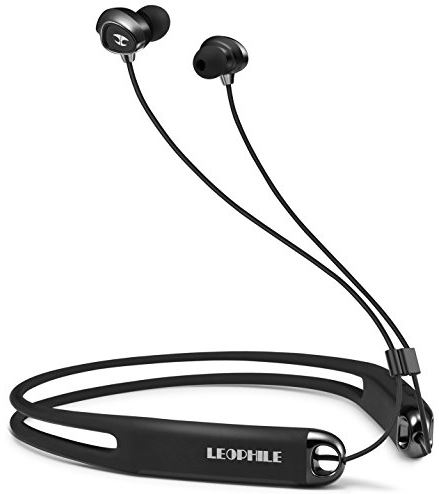 First Look
The EEL headphones are neckband-style Bluetooth earbuds. There have been several products in this form factor released, originally designed as a way to increase comfort. By moving the electronics into a neckband, you get something portable and lightweight without having to sacrifice hardware. Unlike earbud-only designs, battery life, range, and audio quality is generally improved. But this isn't your standard neck band. In fact, the "neck band" is really an "anything band". It's flexible, and wraps around your neck, arm, leg, or can simply be crumpled up and chucked in a pocket. Combined with an incredibly durable case, the EEL headphones are designed for the active consumer who isn't afraid of elements. If you need a pair of headphones that won't give up, whether in rain, sleet, or snow, these are the ones for you.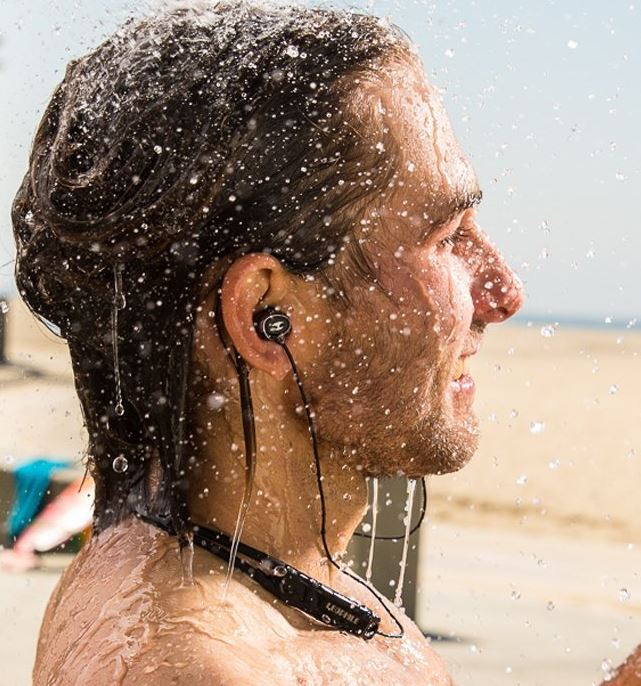 Design
There are two main components to the EEL headphones: the earbuds, and the band. The buds themselves are very small, and fit comfortably in your ear. The enclosures are heavily stylized, featuring both a molded plastic case and a flat center cap with the Leophile logo silk-screened on.
Between the buds and the band, there is roughly one foot of cable. The cables enter through a plastic cap which is designed to prevent the cord from bending or breaking, and enter into a long silicone sleeve. At the front of the band, there are two plastic enclosures. This houses the "guts" of the headphones. Namely the Bluetooth receiver and the battery. About a quarter of the way down, the silicone splits off into two round bands. These are actually metal wires. They are bendable, but can hold their form. Visually, the design is nothing fancy. But it's what this design can do that's impressive.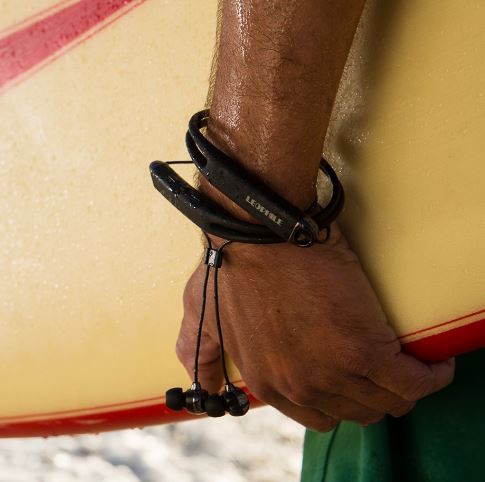 Comfort & Portability
Around the neck, these headphones are extremely comfortable. They are very lightweight, and you don't really feel them at all. One thing we've noticed with most neckband headphones is that they have a bit of a memory. While they will stretch, they always want to move back to their natural position. The EEL's neckband is different. Whichever position you put it in, it will stay. If you're running or jogging, you can tighten it a bit to stop it from bouncing around. If you're just casually strolling down the bus stop, you can leave it loose and not feel any pressure on your neck.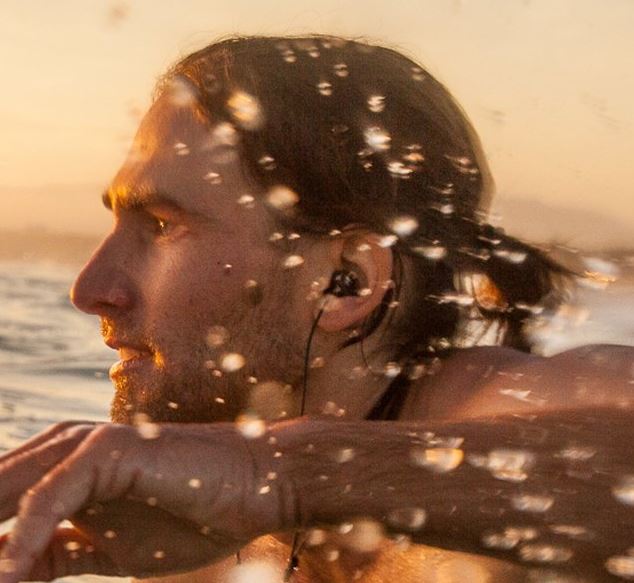 But what happens when you no longer need the headphones? Should you just leave them on your neck? Throw them in a bag? With the EEL, you can really do whatever you like. Our personal way to carry them is to wrap them around our wrist like a bracelet. Since they are lightweight, it just feels like we're wearing a watch. But even if you don't want them on your body, you can simply crumple up the silicone band and chuck it in a bag. You're not going to damage it, and won't spend any time worrying about them. In the past, we've always made sure to carefully wind up our earbuds, and tuck them away somewhere safe. The whole process takes place out of fear, and having this concern alleviated is comforting.
But it's not just the band that's comfortable. The earbuds themselves are also quite well designed. The inserts are angled off to the side, which allows them to sit comfortably inside your ears. They don't put any unnecessary pressure on one side or the other, so you can wear them for long periods of time without any strain.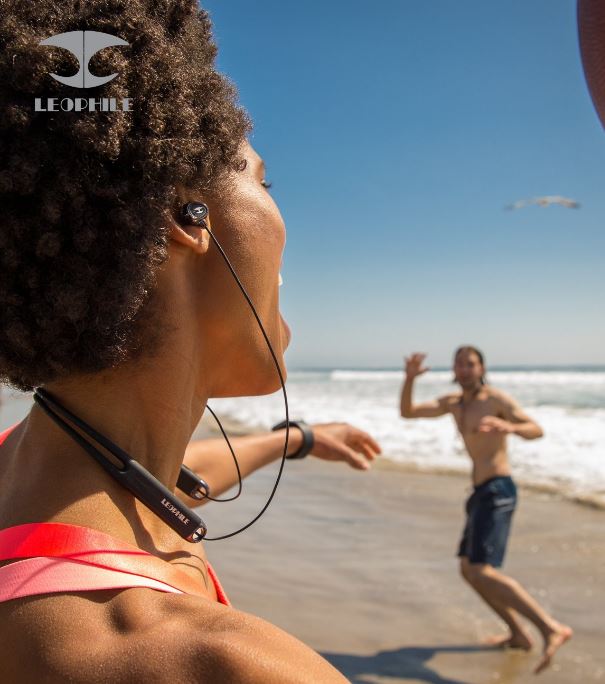 Durability
For us, this is one of the main advantages of these headphones. They're easily the most durable neckband headphones we've come across. We already discussed how the band itself was malleable and strong, but there is a lot more to it than that. They're fully waterproof. And we're not just saying that, either. They were independently verified and earned the IPX67 rating. This means that you can swim with them up to 1 meter, and they're not going to be damaged by dust and scratches either.
We've used ours in the shower, and haven't had any problems yet. The only thing that we will note is that water tends to block Bluetooth. If you're surfing or in the shower, you won't have a problem. But if you're actually swimming, transmission might be an issue. That aside, these earbuds are a great choice for anyone who loves the outdoors, and needs their electronics to keep up with them.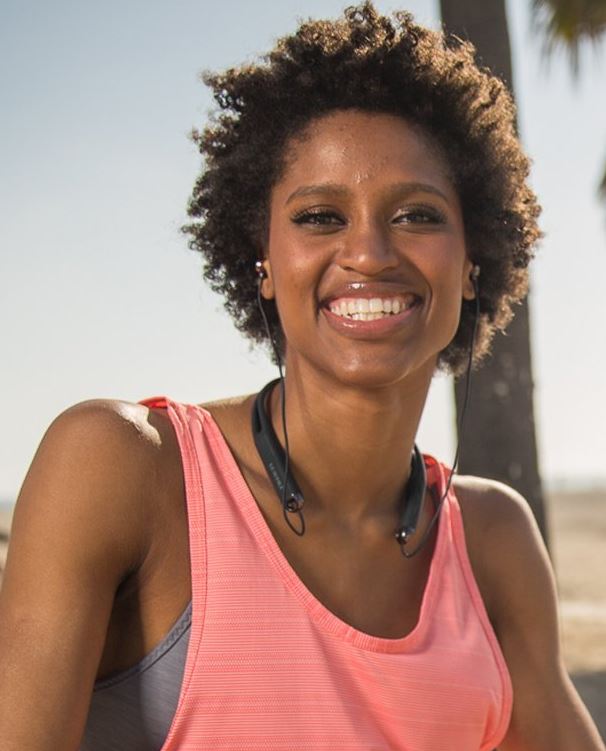 Sound Quality
The drivers on these headphones are definitely tuned for an active lifestyle. They're very punch, with a well defined but clear bassline. The highs are well defined, and the sound overall feels very full bodied. You might find them a little bass-heavy for relaxing music, but their engaging sound signature will be great for any kind of "get up and go" music.
If you're going out into a noisy environment, isolation is important. The ear inserts on these headphones are a little larger than some, which does a great job of cancelling out all the sound around you. We'd be apprehensive to recommend them while riding your bike on the street, because you won't be able to hear traffic. There isn't any active noise cancellation feature on board, so we weren't expecting them to be quite this isolating.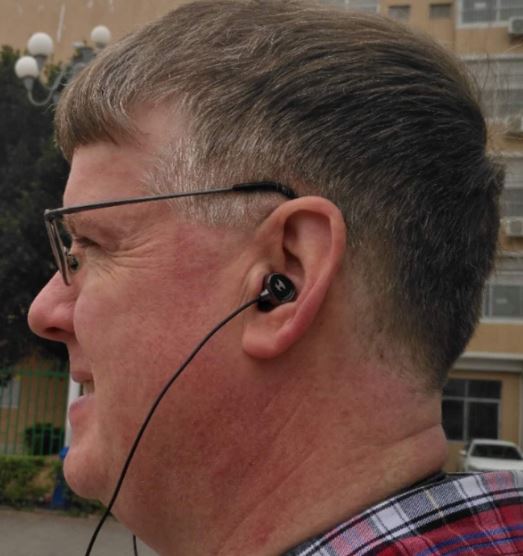 Battery Life
Thanks to the larger band, Leophile managed to squeeze a pretty large battery inside. We were about to get about 9 to 11 hours of listening time, depending on how loud it was. When the battery did run low, we were impressed at how quickly it could recharge. From 0%, we managed to get a full charge in only 2.5 hours.
If you're listening to talk radio, chatting on the phone, or just leaving them on standby, your battery life will be a lot longer. You get about 15 hours of talk, or 12 days of standby.
Disadvantages
It would be nice if the cables were retractable. We find that, when we try to package them up nice and small, we wound up having to wrap the cable around the band. This does take away from the portability a little bit, and one small change could make a large improvement.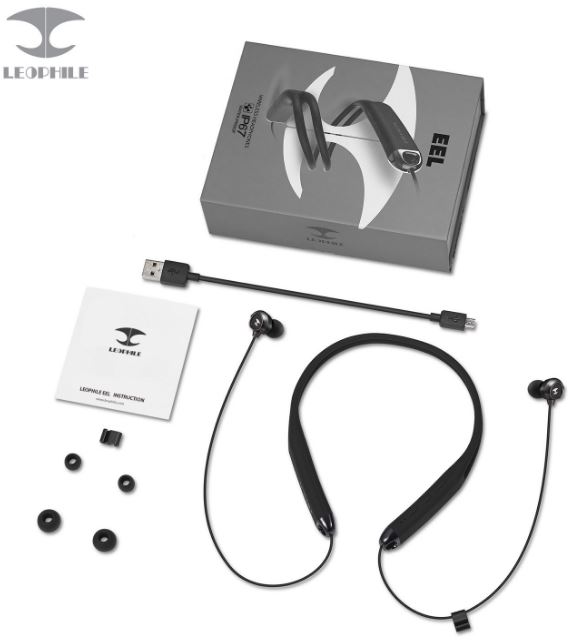 Final Verdict
The Leophile EEL would be our first choice for athletic headphones. They're extremely comfortable, and address some of the major concerns we have with smaller models. The battery life lasts a lot longer than truly wireless models, and the impressive amplifier cranks out very high quality sound. Impressively, their IPX rating means that they are fully waterproof, making them one of the few options available for anyone who wants to listen to music while participating in water sports.
All of the above features are great to have. But there is one specific feature that really stands out: the flexible band. With one small tweak, Leophile has created one of the most versatile headphones on the market. You can wear them anyway you like, and they stash away easily when not in use. If you've ever worn a watch, then you already know how comfortable it is to store your headphones on your wrist when not in use. While Leophile is one of the first to market with this concept, we don't suspect they'll be the last. If you're looking for a great pair of headphones for your next adventure, we'd recommend that you give them a try.