If you're looking for a quick and easy way to enjoy some music wherever you go, put a Bluetooth speaker on your shopping list. The question is, which one do you choose? That's where things get tricky. You can find Bluetooth speakers that sound great. You can find Bluetooth speakers that are durable. You can even find Bluetooth speakers that are affordable. But manufacturers often treat these as separate categories. At best, you can pick two. Something that is durable and sounds great won't be cheap. Something that is cheap and durable won't sound great.
The good news is that we're constantly moving towards a happy medium. Every year, technology gets a little better. And manufacturers find new ways to improve the performance while cutting costs. The AOMAIS Sport II caught our attention because it appears to excel in all three categories, which is something we rarely come across. Is this little known speaker one of those hidden gems that outperforms name brand hardware? Or is it just another gimmick? We decided to go hands-on to find out.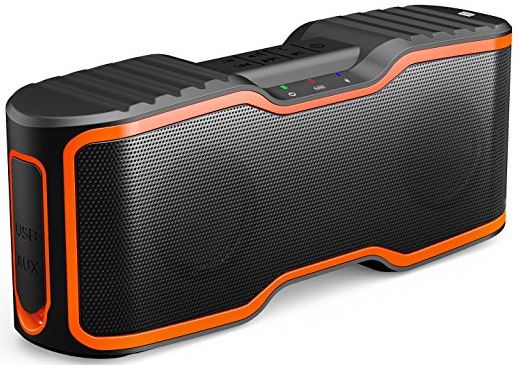 First Look
The AOMAIS Sport II Portable Speaker is a bit of a throwback to the late boomboxes of the 90s. It's got a very tough look to it, with virtually every major component of the speaker being heavily reinforced. Through a combination of build quality, eye-catching design, and powerful sound, AOMAIS has targeted this speaker towards consumers on the go. Whether you're hiking a mountain or hanging out at the beach, weather won't be a problem. It's a lot louder than some models, making it great for groups. But it's far from the only option on the market, so we'll have to go in-depth to see how it stacks up against competing models.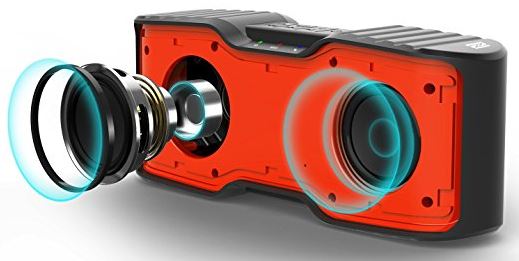 Design
Despite having some retro appeal, this speaker still has a very modern appearance. The rubberized exterior and metal grating wouldn't usually be fashionable design choices, but the tool-like appearance is offset by the bright orange strip that runs around the face of the speaker. On the top, you've got a set of six touch sensitive buttons located above the LED indicator lights. The charging and AUX ports are located on the left, protected by a rubber port cover.
Even though the design is visually appealing, it's all very intentional. Everything has a purpose. In no way does design ever impede functionality, which is something we like to see.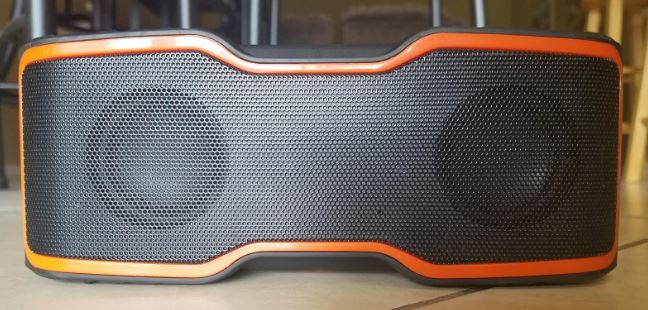 Durability
There are a lot of so-called "durable" speakers on the market, but many of them fail to earn the certifications that back up their claims. AOMAIS had their speaker independently tested, earning it an IPX7 rating. This means that it's fully waterproof, able to be submerged in up to 1 meter of water for 30 minutes. We wouldn't recommend using it underwater because the Bluetooth audio signal won't work very well. That being said, this certification means that it will withstand any rainstorm you get caught in, or any drink that is spilled on it.
This rating also means that it's protected from mud, dirt, dust, or anything else that nature throws it's way. The rubberized exterior protects it from being dropped, and doesn't show scratches. It feels very solid, and we wouldn't have any concerns about chucking it around as needed. This is one of those few speakers that can survive even extreme sports, making it a great choice for the avid outdoorsman.

Sound Quality
Right off the bat, there are several design features that put this speaker at an advantage over other models. For starters, you've got the size. The larger a speaker is, the more air that the drivers can move. But this has been improved by protecting the drivers from wind, ensuring that they sound good even outdoors. Thanks to a carefully designed cavity in the back, the air is channeled in such a way that there is minimal vibration, improving clarity.
What does this all mean in the end? In simple terms, the speaker sounds much bigger than it actually is. You get the same kind of power and presentation of a full size house speaker. The one difference is that this particular speaker is mono. There are two drivers on the front, but these each handle different frequencies. One takes the mid-range, while the other takes the bass. This is great for clarity of sound, but not ideal if you want the full stereo experience. The one alternative is to buy two speakers, as they can pair together to create stereo sound. This might not be the best option for everyone, but it's a feature that's gaining popularity.
The overall sound signature is very energetic and engaging. It would work best for pop, rock, or electronic music. But it's still balanced enough to play anything you desire.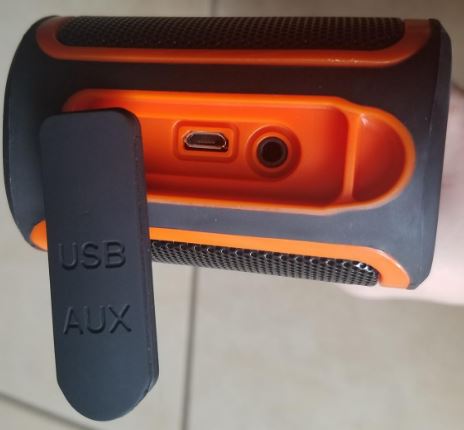 Functionality
The manufacturer doesn't make any claims regarding battery life, so we had to test it out for ourselves. Since the two drivers pull a combined 20W of power, how long the speaker will last depends heavily on how loud you're playing it. At full volume, we'd get about 5 hours of playback time. If you drop it down to around 60% volume, you can double the battery life to 10 hours. Compared to some ultra-compact speakers, this isn't anything mind-blowing. However, for the size it's still pretty impressive. When connecting it to a micro-USB charger, you can charge the battery completely in only 3 hours. So even when power gets low, you'll be back in action in no time.
There are a few additional features that we were pretty happy to see thrown in. There is a microphone built right in, so you can use it for hands-free calling. You can pair your phones easily using NFC, although this is not currently compatible with Apple phones.

Controls
The controls are all located on the top of the speaker on a small plastic bar. They're touch sensitive, but large enough that they're easy to use. The power button is located alone on the left, while the volume, answer call, play / pause, and track skip buttons are located next to each other. This may seem minor, but we were happy to see that the volume and skip track buttons were separate. Many modern speakers require you to long-press the volume up button to move forward, and this makes it a pain to flick through tracks.
Because there is a microphone built in, you can use voice activated features to control navigation. On an android, saying "OK Google, start my Spotify Playlist" immediately launched our request. The same is true for Siri on Apple phones. Not everyone will use these features, but it definitely gives the speaker a very futuristic vibe.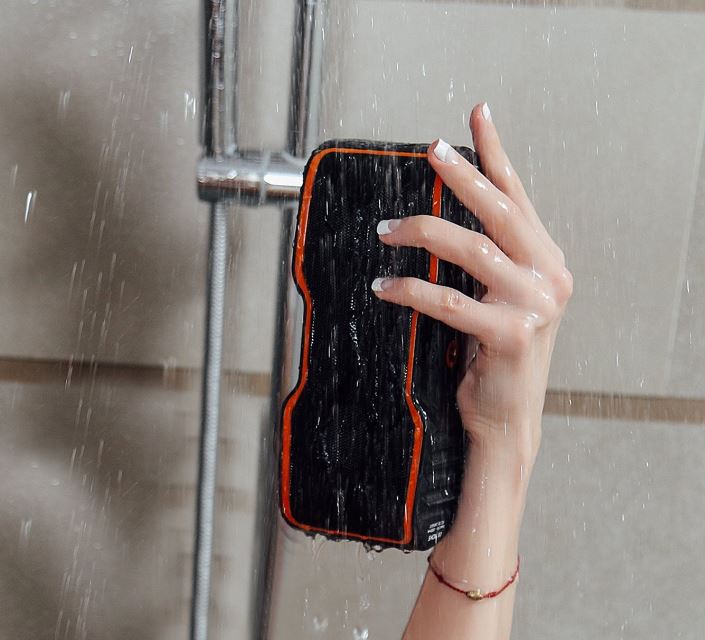 Disadvantages
Something that's important to note is that the waterproofing only works with the port covers closed. This means that if you're playing music through the AUX cable or charging the speaker, it's not waterproof. Since that's one of the main selling features of this speaker, it would have been nice to see a better design.
Final Verdict
The AOMAIS Sport II is a bit of a hidden gem. The manufacturer isn't one of the most well known brands, but they offer something that very few do – quality. Consumers are willing to pay a premium for name-brand merchandise because we know that it will be well made. But the Sport II is one of the few offerings that gives you brand-level quality for a surprisingly low price.
For certain uses, this speaker could be a great choice. We'd recommend it to anyone who wants to use it outdoors, and likes their music loud. With two large drivers totaling 20 watts, the impact and presentation of the music is several times more powerful than most of the speakers we're used to listening to. The size of the speaker means that AOMAIS was able to reinforce it, creating something that is much more durable than most options on the market.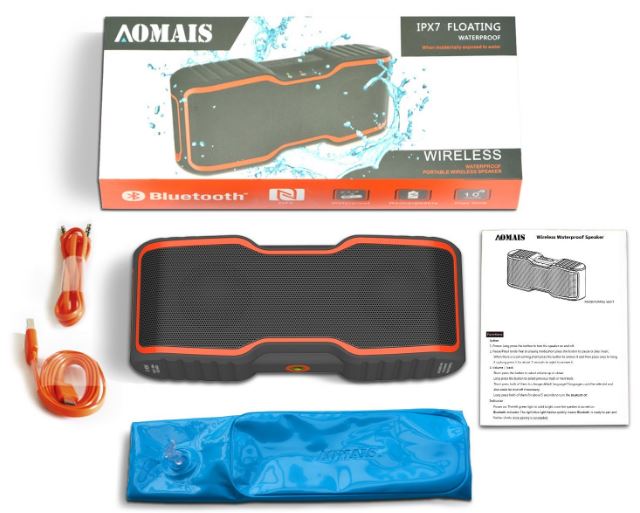 Unfortunately, this isn't going to be for everyone. The battery life is pretty good, but the large battery inside takes several hours to charge up. You're also losing a bit of portability, as you're probably not going to want to cart this speaker around in your backpack. For a compact alternative, we'd recommend checking out the SoundPeats P2. For individual listeners, the volume should be more than enough.
Another comparable option would be the Archeer A320. This speaker is a good choice for anyone who doesn't really need the durability of the Sport II. In exchange, you get something that is just as loud, a little clearer, and much more stylish.
In their own regard, all of these speakers are great. But the one thing they have in common is that they're well designed. AOMAIS knew how their speakers were going to be used, and they did a great job of making something that performed well.