Stabilization Performance -

9/10

Ease of Use -

8/10

Creative Flexibility -

9/10

Accessory Compatibility -

8.5/10
Summary
Although there's a slight learning curve involved, Hohem's iSteady M6 is a breeze to master with a little bit of time and patience. More than that, though, it boasts excellent performance and proved time and again to be an invaluable tool for getting the best-looking shots possible. If you want to improve your pictures and videos, the M6 is sure to accommodate your needs.
Pros
Exceptional stabilization performance
Intuitive control layout
Highly versatile accessory compatibility
Impressive battery life
Cons
Learning curve for beginners
Battery life can vary based on use
Are you searching for an affordable way to get professional-looking pictures and videos? The iSteady M6 is a feature-packed mobile phone AI stabilizer designed to elevate the quality of your shots, making it a top choice for vloggers, live streamers, and filmmakers.
It has a lot to offer, so we're doing a deep dive into the capabilities of this gimbal to provide you with all the information you need to decide if it's the right choice for your content creation needs.
Unboxing and First Impressions
The iSteady M6 comes with the stabilizer, a tripod, a magnetic fill light, a USB charging cable, a carrying case, and a user manual. The inclusion of these accessories makes it a comprehensive package for anyone looking to start creating professional-quality videos right away.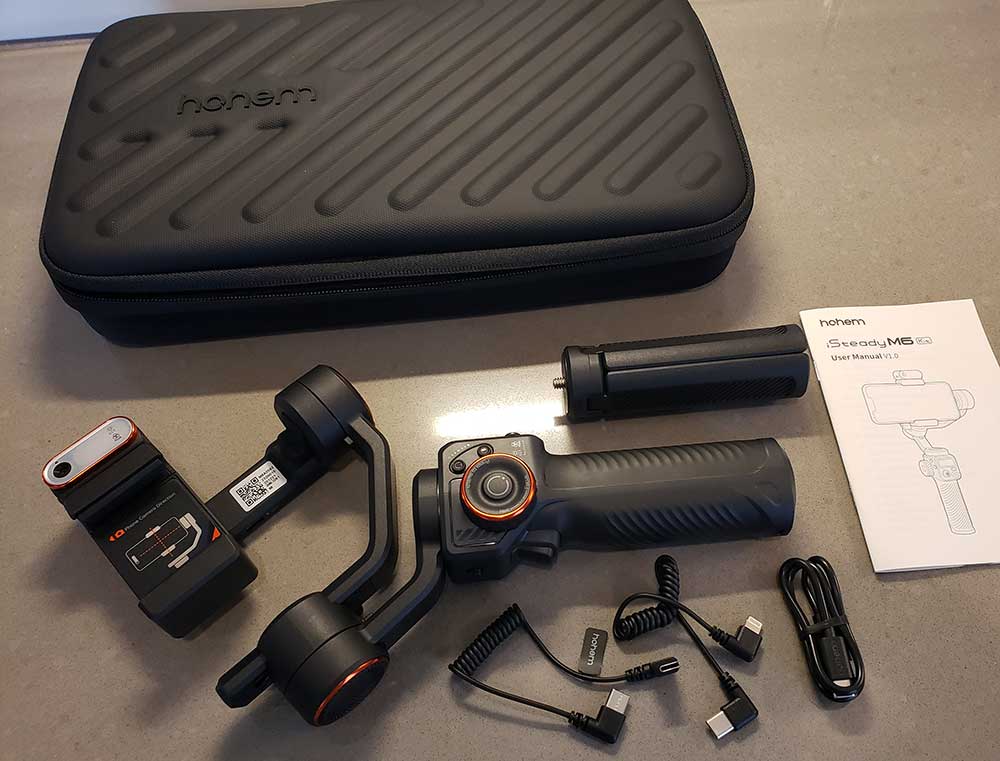 The stabilizer itself has a sleek, modern design with a matte black finish that gives it a premium feel. Its sturdy build quality is apparent as soon as you pick it up; the materials used are durable and lightweight, instilling confidence that the device will hold up well during extended use.
The gimbal's dimensions are compact, measuring 6.5 inches in length, 2.1 inches in width, and 11.8 inches in height, making it the perfect size for those who need to carry it around during their travels or daily vlogging adventures. It weighs in at a comfortable 1.3 pounds, which we found to be a good balance between portability and stability.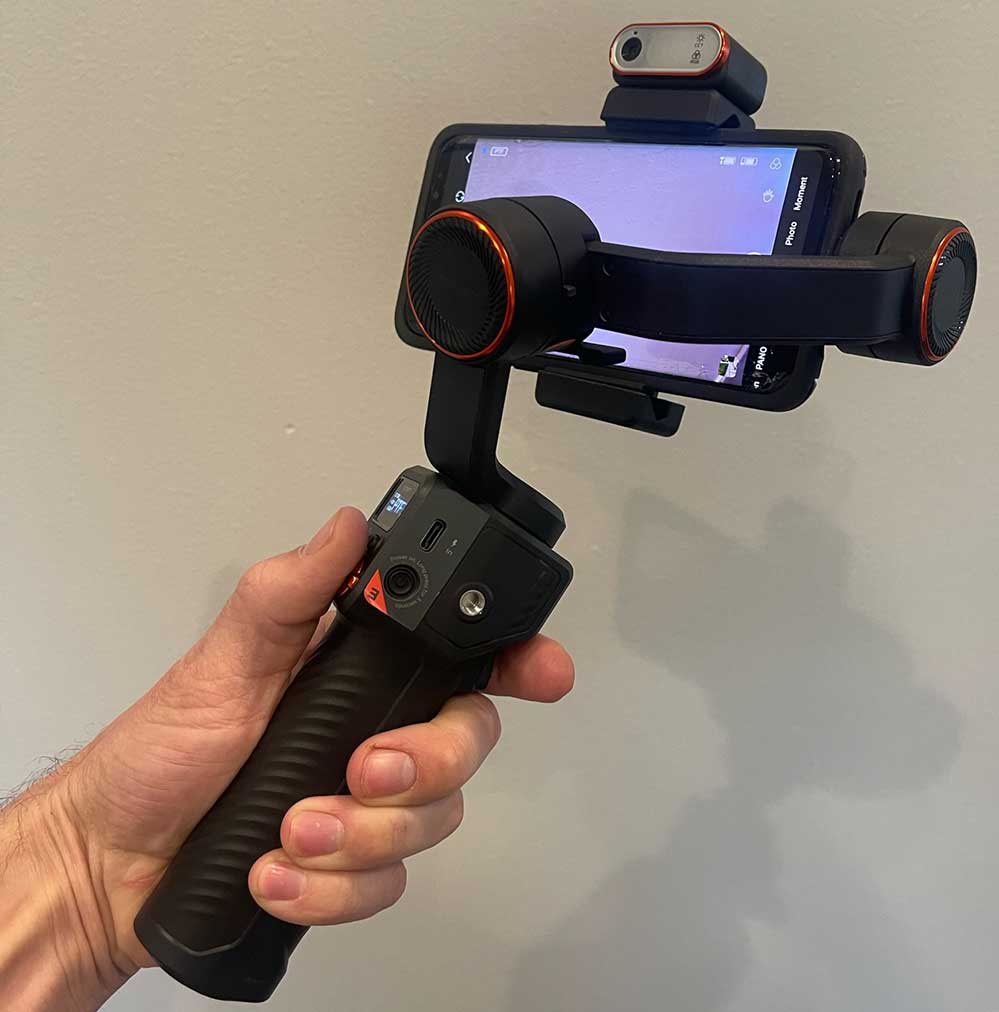 Holding the gimbal, we liked how well the ergonomic grip fit in our hands, allowing for a comfortable and secure hold. This is especially important during extended shooting sessions, as it reduces hand fatigue and ensures that you can maintain a steady grip on your equipment.
The tripod included in the kit is a welcome addition, offering extra stability when setting up stationary shots or time-lapses. It's easy to attach and detach, and the legs fold compactly, making it easy to carry around.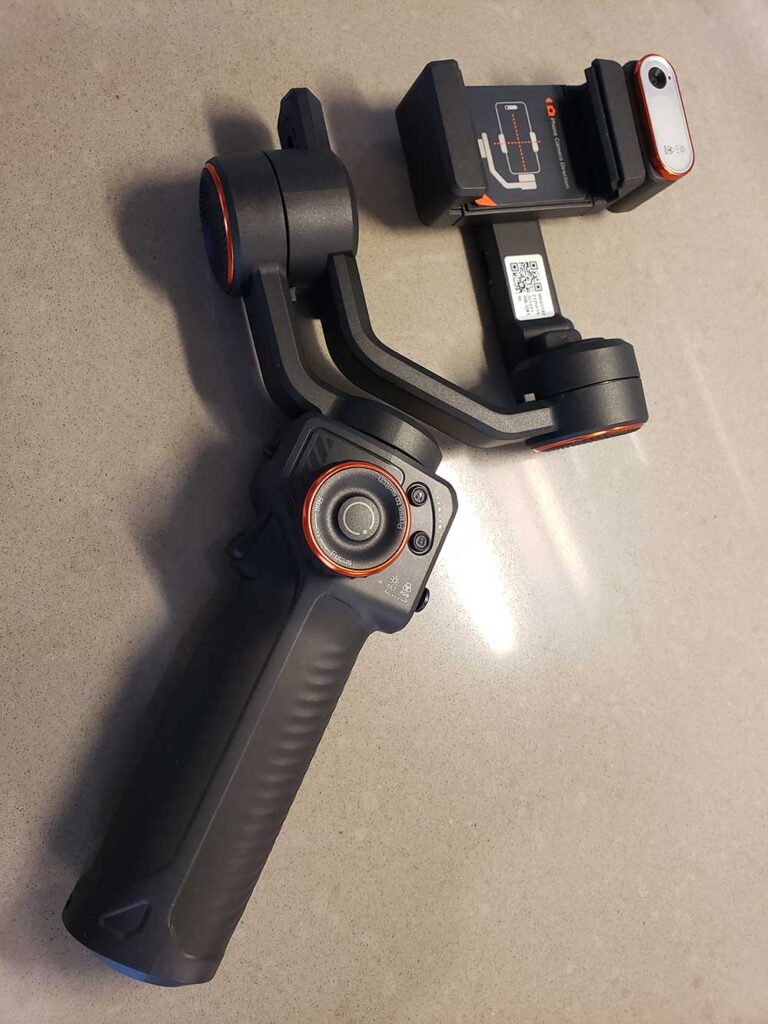 The magnetic fill light is another highlight of the package. With its strong magnetic connection, it easily attaches to the gimbal, ensuring that it remains securely in place during filming. The USB charging cable is a standard USB-C type, making it compatible with many devices and easy to replace if necessary.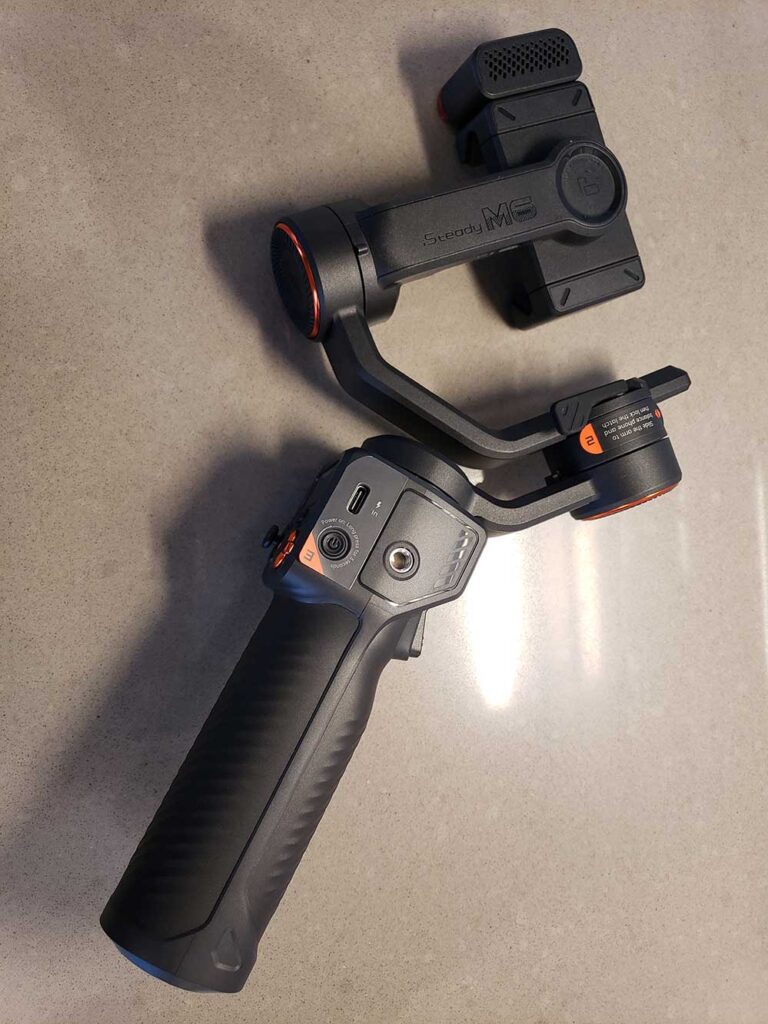 Finally, the carrying case is a practical and stylish way to transport the M6 and its accessories. It's not like traditional cases that most people are familiar with. Rather, it's a high-quality padded rectangle that works well to house everything. Moreover, it offers peace of mind thanks to its protective qualities. So you can trust that everything stays organized and safe during transport. The case is made of a high-quality material that resists wear and tear, giving us confidence that it will keep our equipment safe for a long time.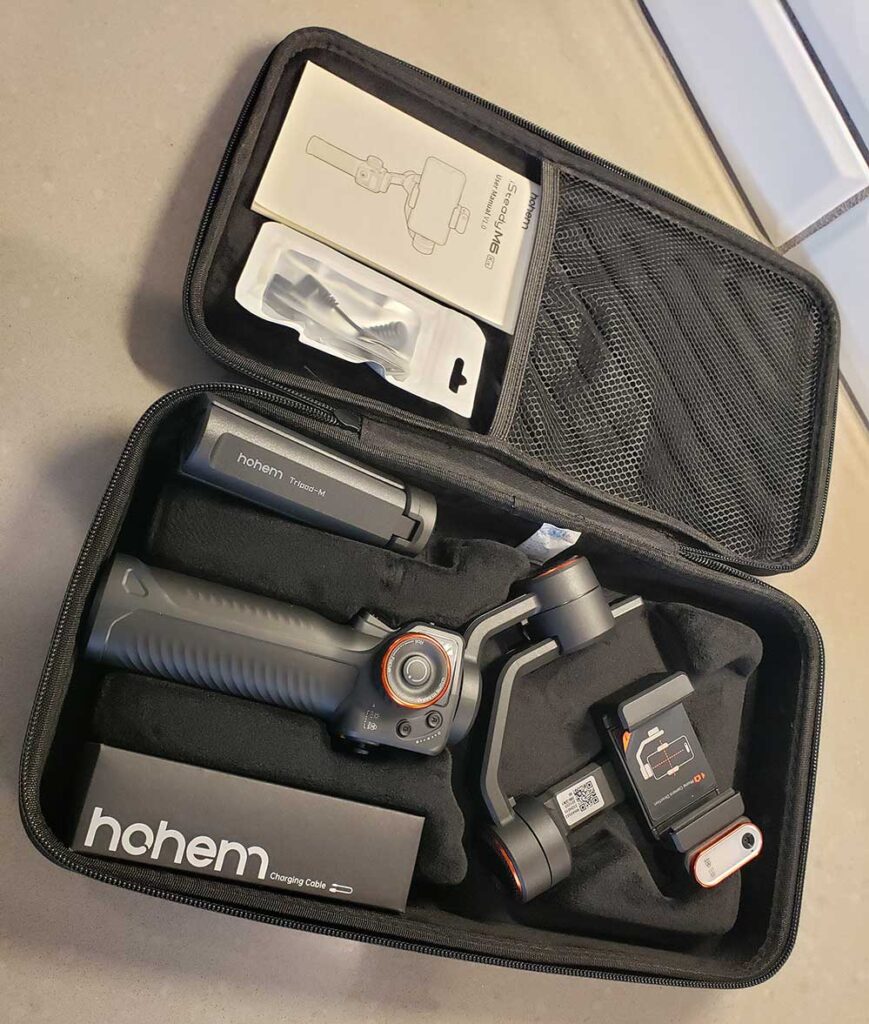 Overall, our first impressions were overwhelmingly positive. The unboxing experience was enjoyable, and the build quality, design, and included accessories left us eager to put the stabilizer to the test.
Magnetic Fill Light & AI Tracker
The magnetic fill light and AI vision sensor are standout features that truly set this one apart from the competition. We were eager to put these innovative technologies to the test and see how they performed under real-world conditions.
Our first test involved shooting a vlog-style video during the day in a well-lit environment. We attached the magnetic fill light to the gimbal, which snapped securely into place with a satisfying click. The fill light has multiple brightness settings, allowing us to adjust the intensity of the light to suit our needs. Even in the bright daylight, the fill light provided a flattering, even illumination that eliminated harsh shadows on our subject's face.
Next, we tested the AI vision sensor, which is designed to track faces and objects during filming. To activate the tracking feature, we simply tapped on our subject's face on the smartphone screen. The sensor quickly locked onto our subject and followed their movements smoothly and accurately, even when they moved quickly or changed direction.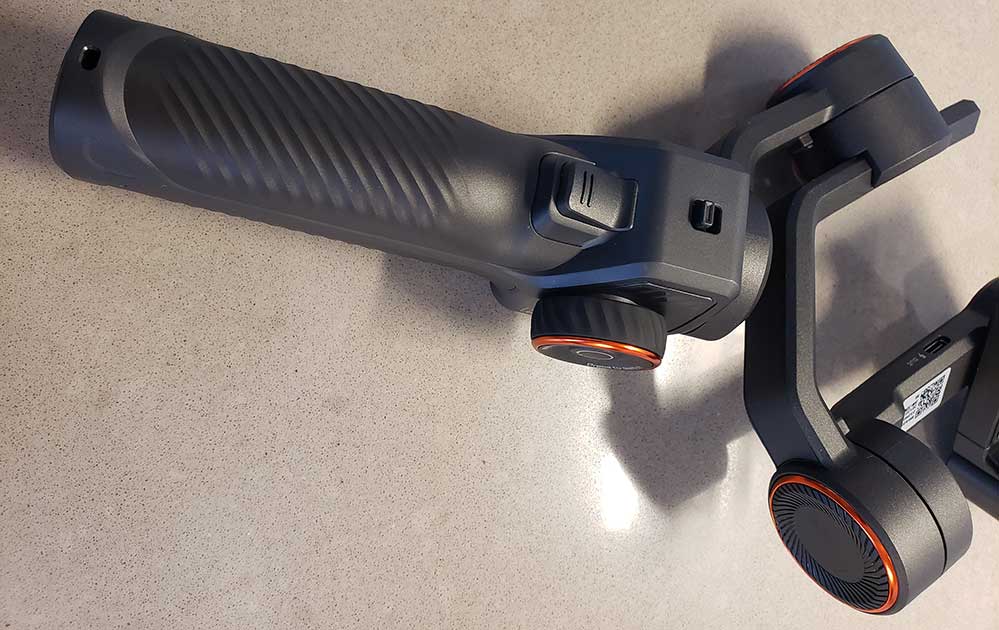 We were genuinely impressed by how well the AI tracker maintained focus on our subject throughout the entire video. To further test the capabilities of the magnetic fill light and AI tracker, we conducted a nighttime shoot in a dimly lit outdoor location.
The fill light truly shined in this situation, providing ample illumination to ensure that our subject was clearly visible in the footage. The AI vision sensor also continued to perform admirably, locking onto our subject's face and maintaining focus even in challenging low-light conditions.
During our testing, we also experimented with the object tracking feature. We placed a small item on a table and set the AI tracker to follow it. As we moved the object around, the gimbal smoothly panned and tilted to keep it in frame. This feature has great potential for product showcases, interviews, or any situation where you need to keep a specific item in focus.
Overall, the magnetic fill light and AI tracker on the iSteady M6 exceeded our expectations. These features proved to be invaluable for solo filmmakers and content creators, ensuring that subjects remain well-lit and in focus regardless of the shooting conditions. The seamless integration of these technologies with the gimbal's other features makes the iSteady M6 a truly unique and powerful tool for creating professional-quality videos.
iSteady 7.0 Anti-Shake System
One of the key aspects of a smartphone stabilizer is its ability to provide smooth, shake-free footage, and the M6 delivers on this front with its advanced iSteady 7.0 anti-shake system. We put the gimbal through a series of tests to see how well it performed in various scenarios, comparing it to other popular smartphone stabilizers on the market.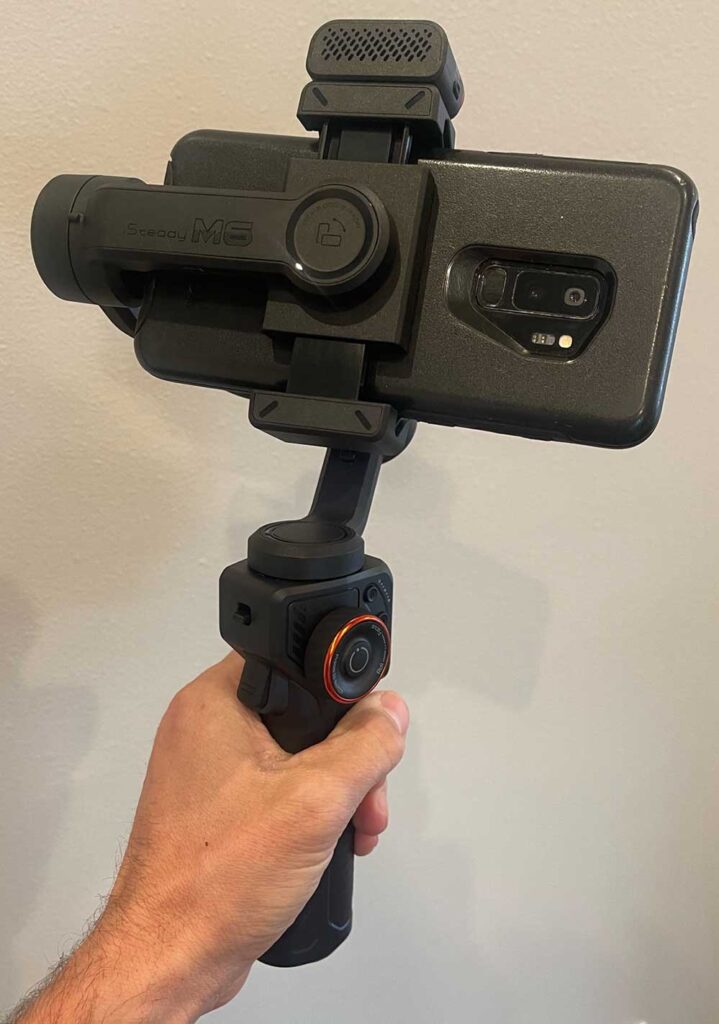 Our first test involved a simple walking shot, with our subject moving at a steady pace. The M6 immediately impressed us with its ability to eliminate the majority of the natural bobbing motion caused by walking. The footage appeared smooth and fluid, rivaling the quality of professional stabilizers used in the film industry.
To further challenge Hohem's technology, we conducted a running test where our subject sprinted across a field. This is a scenario in which many smartphone stabilizers struggle, as the rapid movement and sudden changes in direction can cause significant camera shake.
However, it performed exceptionally well, keeping the footage remarkably stable throughout the entire sequence. When compared to other smartphone stabilizers, the M6 clearly outperformed them in terms of stability and smoothness.
We also wanted to test the gimbal's performance in a more controlled environment, so we set up a tripod-mounted slider shot. This allowed us to move the gimbal along a predetermined path while keeping the camera focused on a specific point. The M6 delivered perfectly smooth footage, with no noticeable jitters or wobbles, further demonstrating the effectiveness of its anti-shake system.
Another aspect of the iSteady 7.0 anti-shake system that we appreciated is its ability to adapt to various shooting modes, such as pan-follow, lock, and all-follow. Regardless of the mode selected, the gimbal maintained its excellent stabilization performance, ensuring that the footage remained smooth and professional-looking.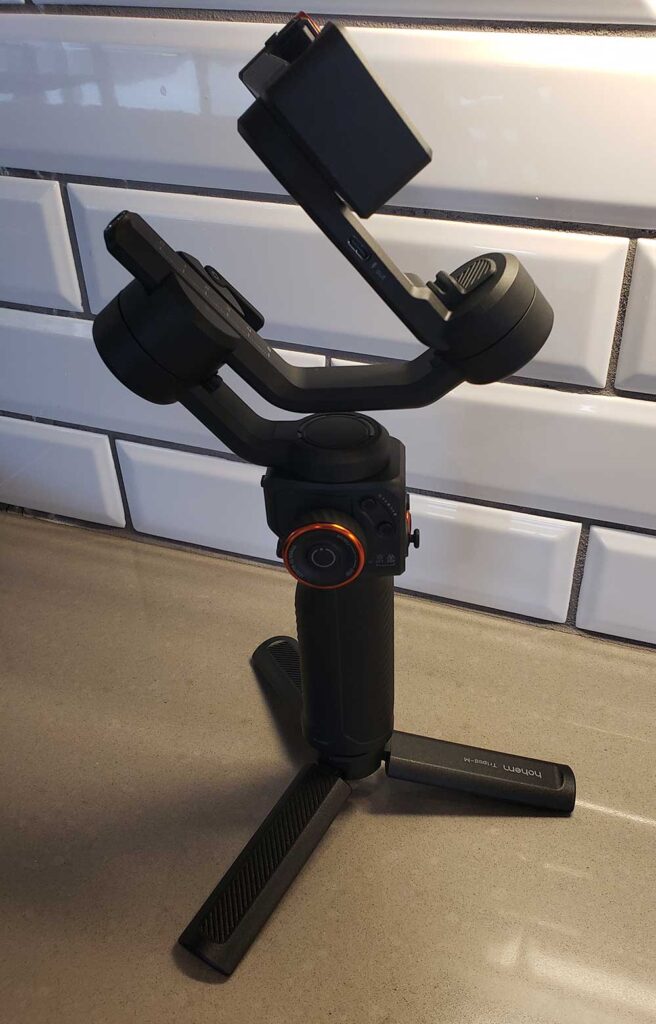 Bottom line, you have a significant advantage over many other smartphone stabilizers. It effectively eliminates camera shake and provides smooth, cinematic footage even in challenging shooting scenarios. The impressive performance in our tests makes this one an ideal choice for content creators who demand the highest level of stabilization for their videos.
360° Unlimited Inception Space
The 360° infinite panning rotation is a game-changer for creative content creators, unlocking a world of unique camera angles and effects. We decided to explore the capabilities of this feature with a series of test shots that would showcase its potential.
To begin with, we set up a shot that involved rotating the camera around our subject, creating a captivating "orbit" effect. The M6 executed this movement flawlessly, providing a smooth and visually stunning result.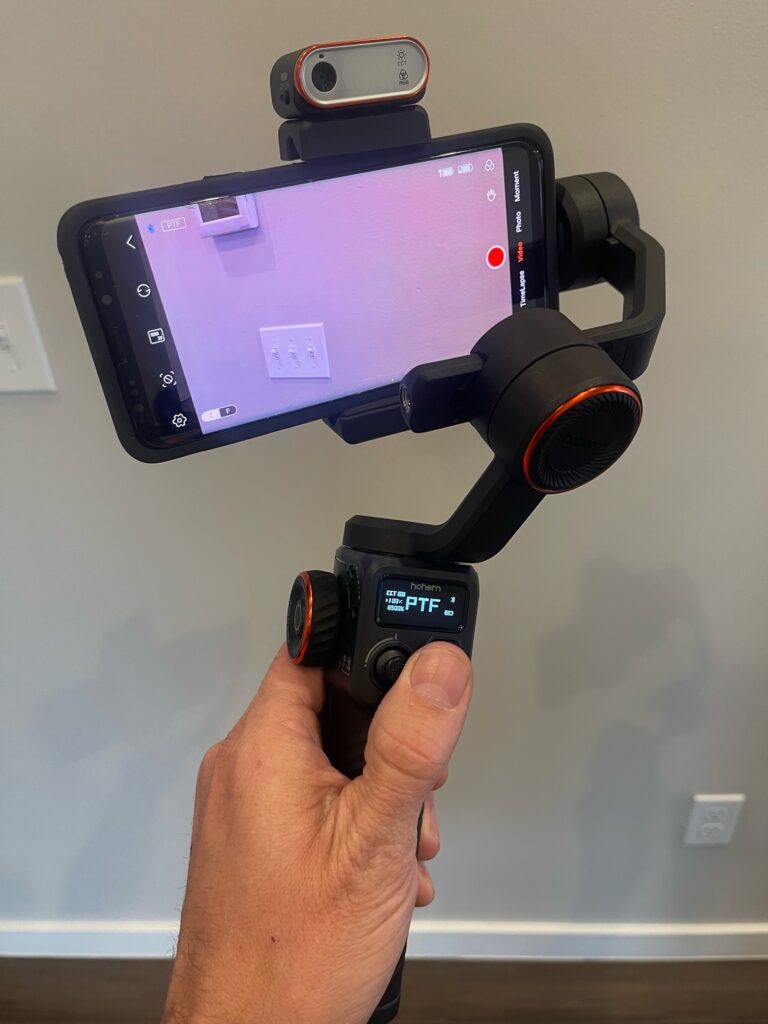 We also experimented with low-angle shots, using the 360° rotation to create an immersive "worm's-eye view" of our environment. The gimbal's free-angle movement allowed us to easily achieve this effect, resulting in engaging and dynamic content.
Throughout our tests, the infinite panning rotation consistently impressed us with its ease of use and the creative possibilities it unlocked. This feature truly sets the gimbal apart from the competition, offering content creators an invaluable tool for capturing unique and memorable footage.
0.91-inch OLED Large Screen Display
The inclusion of a 0.91-inch OLED display is a welcome addition, providing users with important information such as battery life, mode selection, and connection status at a glance. We found the display to be crisp and easy to read, even in bright sunlight, ensuring that we always knew our gimbal's current status.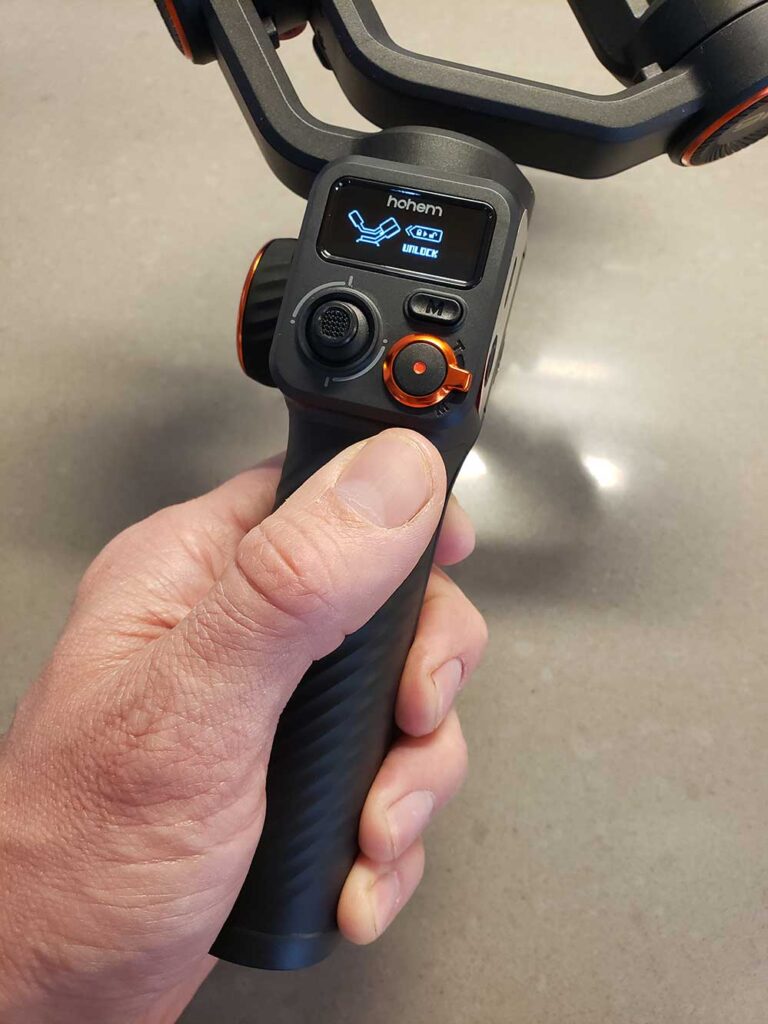 The display also proved to be a valuable asset during our tests, allowing us to quickly confirm which shooting mode we were in and make adjustments as needed. This added a level of convenience and efficiency to our shooting experience, ensuring that we could focus on capturing the perfect shot.
Professional Controls
A variety of intuitive controls are at your disposal that makes operating the gimbal a breeze. The shortcut gun key, multi-function scroll wheel, and A/B memory keys allowed us to easily adjust settings, switch between modes, and customize our shooting experience on the fly.
We particularly appreciated the multi-function scroll wheel, which enabled us to fine-tune our gimbal's movements and make precise adjustments to our framing. The A/B memory keys also proved to be a valuable feature, allowing us to quickly switch between custom presets and streamline our workflow.
Payload Capacity and Expansion Port
The onboard four-way expansion port and 400g payload capacity offer users the flexibility to attach multiple accessories for more versatile content creation. We experimented with adding a variety of accessories, such as an external microphone and a wide-angle lens.
The gimbal handled the additional weight with ease, maintaining its exceptional stabilization performance. Granted, we did want to exceed the recommended payload. But for what it's rated for, it didn't have any issues. But more than that, having the expansion port significantly expands the creative possibilities for users, allowing them to build a customized filmmaking setup tailored to their specific needs.
18-Hour Battery Life and Reverse Power Bank
One of the most critical aspects of a gimbal is its battery life, and the M6 delivers in spades with an impressive 18-hour runtime. Our battery life varied and sometimes lasted around 10 hours. But even then, the extended battery life allowed us to fulfill our shooting needs without worrying about recharging, providing peace of mind during extended filming sessions.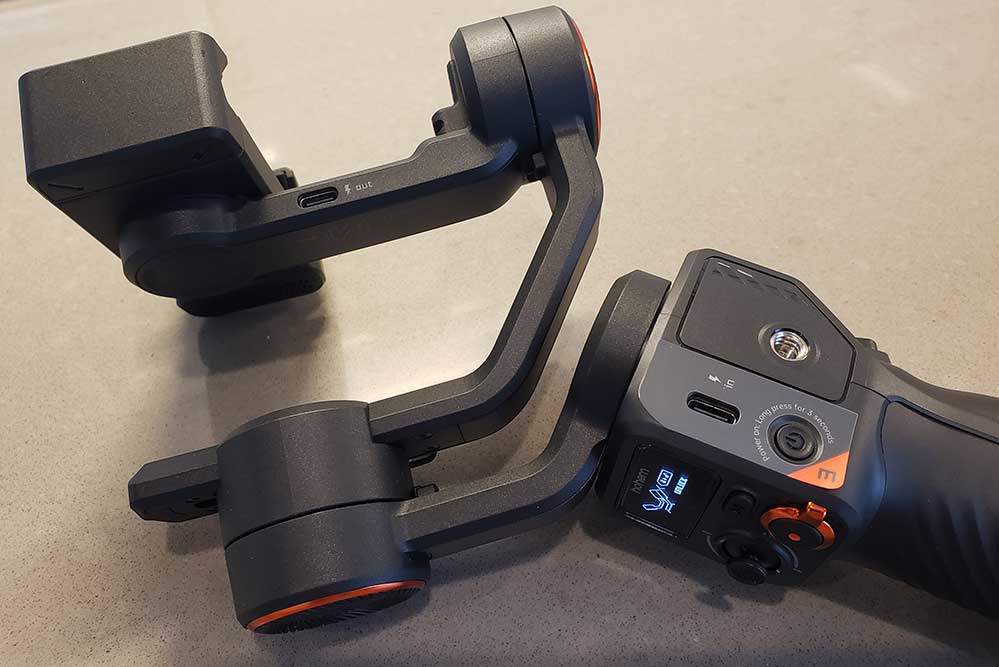 Additionally, the reverse power bank feature proved to be a lifesaver during our tests. When our smartphone's battery began to run low, we were able to connect it to the gimbal and continue shooting without missing a beat. This feature further solidifies it as an indispensable tool for content creators who need a reliable and versatile stabilizer for their work.
Final Verdict
Although there's a slight learning curve involved, Hohem's iSteady M6 is a breeze to master with a little bit of time and patience. More than that, though, it boasts excellent performance and proved time and again to be an invaluable tool for getting the best-looking shots possible. If you want to improve your pictures and videos, the M6 is sure to accommodate your needs.
Meet Derek, "TechGuru," a 34-year-old technology enthusiast with a deep passion for tech innovations. With extensive experience, he specializes in gaming hardware and software, and has expertise in gadgets, custom PCs, and audio.
Besides writing about tech and reviewing new products, Derek enjoys traveling, hiking, and photography. Committed to keeping up with the latest industry trends, he aims to guide readers in making informed tech decisions.