The word "3D" has taken a beating over the last decade. A combination of bad cinema experiences and mediocre consumer hardware has bestowed 3D with a reputation for stinking in multiple dimensions. 3D isn't only about overpriced movie tickets and shoddy home entertainment. Filming in three dimensions also has its practical purposes. Scientists use 3D for archiving and analyzing artifacts, museums use 3D to create interactive experiences with the past and archeologists use 3D scanning to create computerized copies of brittle bones. 3D printing uses a combination of image scanning and model production software.
In other words, 3D is used for a lot of things that don't involve Spy Kids shenanigans or Christopher Pratt wrangling raptors. 3D scanning has not even begun to scratch the surface of its technological potential. The integration of 3D camera technology into the home could one day lead to having the ability to transfer 3D objects to your friends. Imagine a world where your best buddy can share a meal with you through the cloud. The days of reproducing biological matter are still a-ways off, but there are gadgets emerging right now that can scan a plate of food and send a replicated 3D model to anyone with the right software.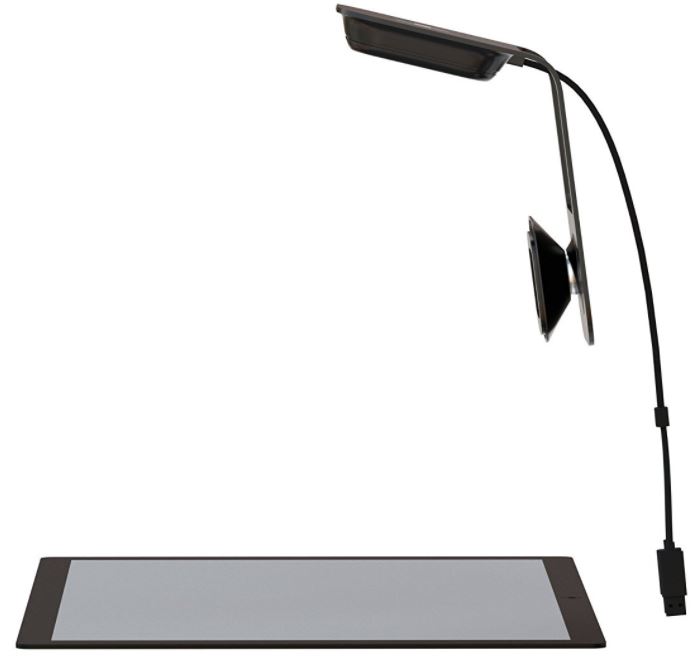 First Impressions
The Hewlett Packard HP Z 3D Camera takes us one step closer to our belly rumbling dreams. The Z camera is designed to attach right on to your monitor, offering features which help people to create 3D scans from the comfort of their own homes. While the HP Sprout Pro already featured a 3D camera and scanning technology, nothing has come close to the adaptability and portability of the Z. Basically, HP took the 3D technology of the Sprout, ripped it free, doodled around with it and made it portable and usable with almost any HP Z or EliteDisplay monitor.
Of course, not all of the Sprout features are going to be included. The lack of a desktop projection means you're not going to get any of the cool multi-touch features offered by the Sprout Pro, but at a fraction of the price, who could expect the same feature set. And to be honest, anything extra would be unnecessary. As far as we're concerned, the less bloat, the better. Unlike the camera on the Sprout, this one isn't shackled to the monitor, so it can be used on multiple computers at your home or office.
Dimensions
The main Z camera device measures in at 4.5 in. x 8.7 in. x 5 in. and weighs a lithe 1.2 lbs. It's very low profile. The camera should fit any flat backed monitor and won't take up much space on your desktop. The Z mounts to the back of a monitor with a magnetic mounting mechanism called a badge. The device comes with three different badges so you can make sure all of your screens are equipped and ready for the 3D camera. Obviously, you don't need the scanning mat on your desk if you're not using the camera, so the desktop space that is used is practically zero.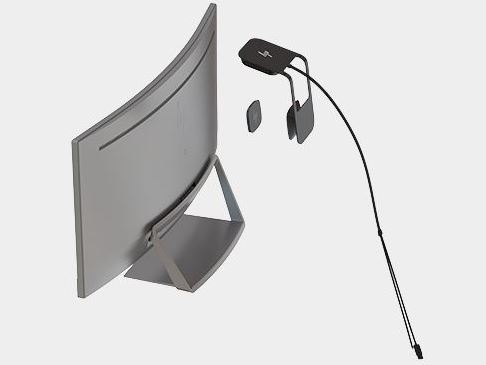 Manual Scanning
Most professional modern-day 3D scanning devices require some level of rotation, meaning the camera is mounted on an axis of some sort and the machine rotates the camera around the object, kind of like an MRI or modern-day X-Ray device. Since the HP Z is a stationary device, it is the user that does the rotating. While it's not the most glamorous way of 3D scanning an object, it certainly beats shelling out tens, if not hundreds of thousands of dollars on professional 3D scanning hardware. If you're looking for precise scientific accuracy, something that mounts to your monitor probably isn't the device that you're after, but the Z does what it says it does, and it does it well.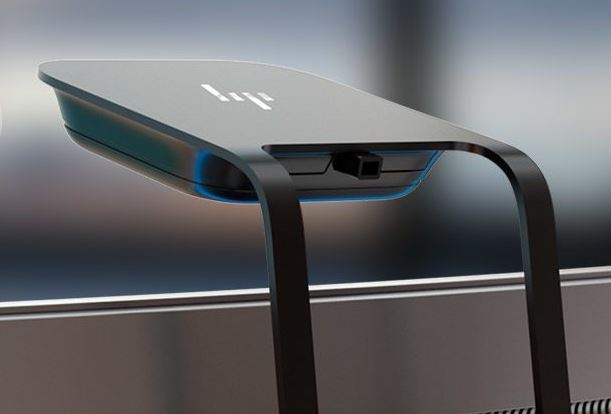 2D Scanning
The Z isn't only made for 3D scanning. The HP Z 3D camera also doubles as a scanner as well. The Z's 14.2 MP camera features document and image scanning capabilities with a 4:3 aspect ratio. The scan mat capture area is 11.8 in. x 17.7 in with a 3:2 aspect ratio. The document scans look completely clear, as long as you keep the frame clear. When comparing it to scanned images from our own designated scanning device, the Z camera looked just as good. When it comes to scanned documents, we judge the quality based on clarity, and the Z scores high.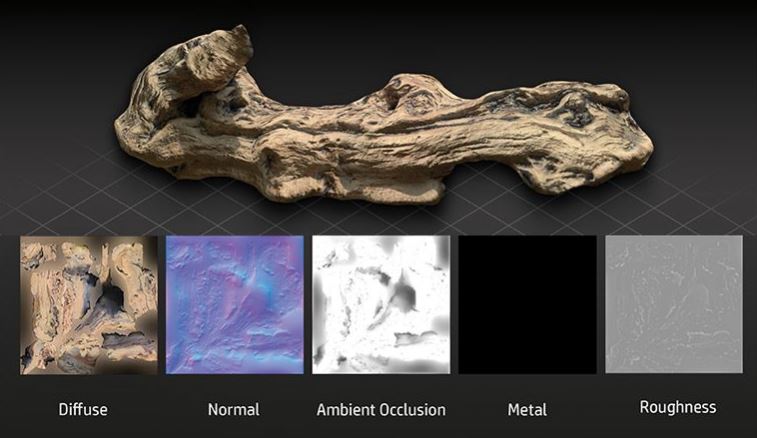 Data Rendering and Merging
One of the coolest features of the Z 3D camera is its ability to produce different types of data separately, which can then be compiled and merged with an existing 3D VR or AR object. The ability to merge different kinds of data into a single 3D object opens the door of creativity to developers. You want to put a Hawaiian shirt on that scanned GI Joe? Let's do some scanning and merging! Now Joe is ready for the beach. Helloooooo, Barbie!
A device like the Z camera really opens the doors to VR developers who are looking to add even more realism into their software's user experience. HP has designed he Z camera to scan 3D objects computer-graphics friendly resolutions. They even offer developers individual texture maps for all of their physical renderings and virtual reality development, so every unique object is actually unique.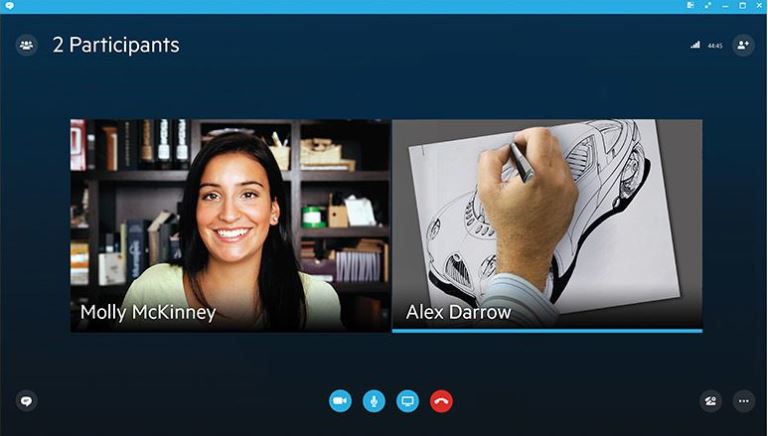 Live Streaming
In addition to scanning and 3D rendering, the Z is also a great tool for collaboration and workflow integration. The camera can be used for live video, which allows your entire work group to see what you're doing with your hands; whether you're drawing a mock up you just want to draw your significant other a pretty picture while they watch, even if they are away on business. The integration of multiple cameras with varying positions into your workflow if typically, a very pricey expense. Using the Z camera is a good way to cut out the extra expense while making your presentations look like they are much more professional than they actually are.
3D SLAM Technology
The HP Z 3D uses 3D SLAM technology to automatically remove your hands from the scanning area. If there wasn't a system in place to remove your hands, your scanned object would wind up looking like some kind of crazy finger monster. While the concept of a finger monster sounds pretty cool on its own (Finger Monster: coming to a theater near you), you're not going to want every object to look like a finger monster, no matter how cool it might be. The SLAM tracking technology is what allows the HP Z 3D to construct 3D renderings in real-time, without the need to go back and fidget with the data. The 3D SLAM tech works really, really well. We didn't notice any glaring compiling or merging issues during our hands-on review.

Textures
The hyper-realistic texture maintained by the Z camera is pretty impressive. The scanning software, in concert with the camera hardware, maintains separate displacement, albedo and normal maps ready for rendering at any time. This awesome texturing makes the 3D model objects perfect for virtual reality and augmented reality applications. The big concern with VR during the late-90s and early-00s is that the reality part of virtual reality was missing. It looked hackney and blocky, like one of those terrible, yet wonderfully nostalgic, Windows screensavers. VR didn't look much different than what you could see on your computer screen. There was no true depth. Hardware such as the Z 3D camera are taking finally taking care of the reality part of virtual reality. During our review we scanned in a variety of objects, including a bagel, a basketball, a pencil and a seashell. All of the renderings looked very realistic and maintained the proper texture.
Final Thoughts
Anyone interested in incorporating realistic textures and renderings into their development projects are going to want to take this bad boy for a spin. Cheaper than the HP Sprout and WAY cheaper than most other professional 3D rendering software, the HP Z 3D camera is the way to go for anyone who doesn't have the sort of resources that big name studios or imagery companies might have. Developers know that virtual reality and augmented reality are where the future of tech is headed. Companies who want to let their customers see their products up close and personal before they decide to buy will want to be on the forefront of the 3D scanning game. With its low profile, versatility, mobility, power, 3D SLAM tech and comparative affordability, the Z camera is a great choice.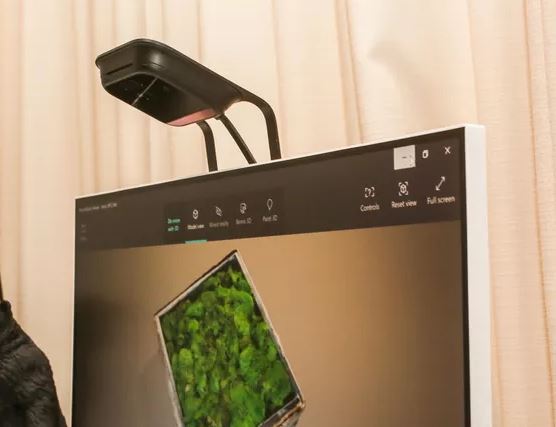 We also don't want to forget the workflow features of the Z. Even if you're not particularly interested in 3D imagery, HP's 3D scanning camera is a useful device. The ability to incorporate your hand activity into your presentations and live chats is an awesome way to create more rich and intriguing company presentations. Using multiple cameras exudes professionalism. The ability to demonstrate meaning during a presentation could change your entire company. You'll be the Steve Jobs of your chat window.
Even if 3D hasn't worked quite as well for home cinema as we would have hoped, the application of 3D technology is potentially world-changing. It has already changed the face of science, allowing researchers to replicate natural wonders. It has changed the way that historians document and archive artifacts, allowing anything from human skulls to raptor claws to be reproduced for posterity. Soon, it will change the way we interact with our computers and the way we communicate with each other. While the HP Z 3D might not be the gigantic step towards the virtual reality world that we've all been waiting for, it's a big step, nevertheless. For now, we'll be content playing 3D Candy Crush. All of us Crush heads have been begging for it and now the technology is here. There are no excuses now, King!