We love movies. Who doesn't? But we've got a problem. The movie theater experience can be pretty grim. There are plenty of reasons why we can't stand going to the movie theater, but there are a select few that are especially bothersome. First off, they have never let us bring our own couch, no matter how nicely we've asked and no matter how many times we've shown up with a pick-up truck full of our own furniture. Secondly, we refuse to buy expensive movie theater snacks when we can just smuggle in a freshly cooked rotisserie chicken inside of our parachute-sized JNCO jeans. Last, but certainly not least: sticky floors. For those of us who choose not to wear shoes in heavily-trafficked public places, sticky floors are an unacceptable faux pas. Going shoeless is a civil right, and we feel like our rights have been trampled upon.
Do you want to know what bothers us the most about going to the cinema? We could be having practically the same experience at home. That means no sticky floors, tons of leg room and all the rotisserie chicken we can eat. Even the VIP premium theater experiences don't measure up to the comfort of our own living space. Sure, we can argue about the "group theater experience" until the cows come home, but isn't it time we gave those poor cows a little freedom? We're here to watch movies, not mooooo-vies. Amirite?
We know what you're thinking. How in the world could we possibly replicate the movie theater experience in the comfort of our own homes? How about the Optoma UHD50 4K HD Ultra High Definition Projector? Someone call the looney bin because our minds are officially blown. Featuring 4K UHD, HDR10 technology and a color wheel so extensive that it makes rainbows cry out in shame, the Optoma UHD50 is a cinema-like projector for your living room. We were lucky enough to take the UHD50 for a test drive over the past few days, and our eyeholes are all the happier because of it. Here's our rundown on the newest and truest 4K projector on the market.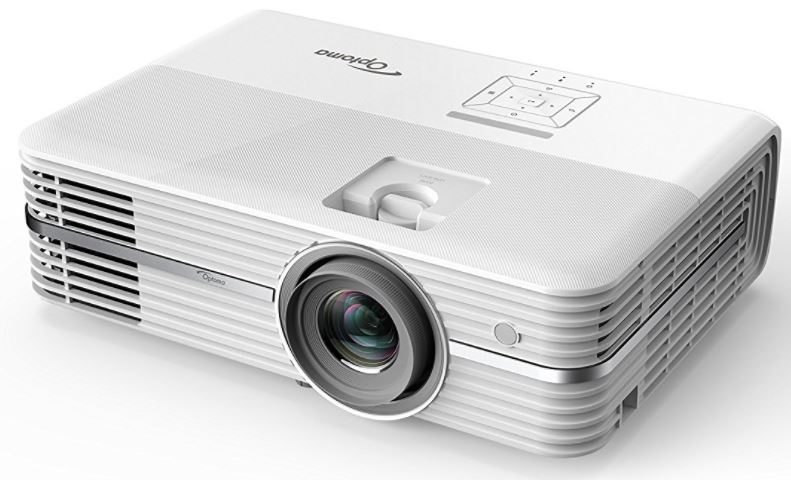 First Impressions
First things first, let's look at what's included in the box; we've got the projector itself (obviously, this wouldn't be much of a review without it.), a sturdy little lens cap to protect the sensitive lens from any dust particles or blunt force trauma, an AC power cord, an HDMI cord (there is nothing worse than opening up a new HD gadget and realizing you're short a cable), a remote control, including batteries, a carrying case for carting the projector around (trust me, everyone is going to want a piece of this action), and several user manuals and getting started documents. We usually start by throwing the manuals across the room, because we do it the old-fashioned way: blind and clueless, just as are ancestors intended.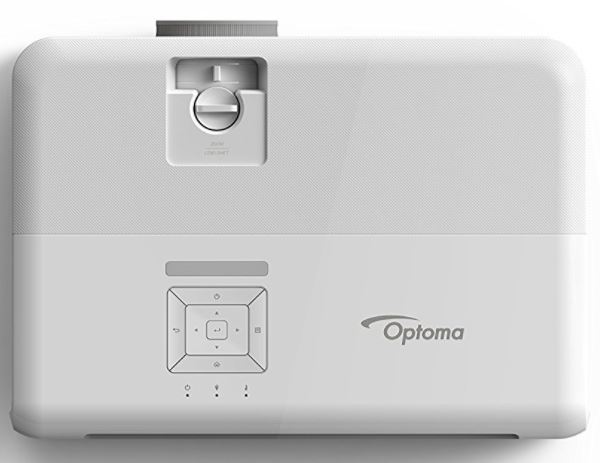 Resolution
The Optoma UHD50 packs some serious hardware into a rather compact design. Its true 4K UHD resolution produces an impressive 8.3 million addressable on-screen pixels. Before you run away in fear, keep in mind that we're talking about lower case pixels; this is an Adam Sandler-free zone. Having an immensely large number of pixels translates into an amazingly detailed and high-quality picture. Our standard test for judging a display's pixel quality is simple: how glorious do they make Morgan Freeman's freckles look in close shots? We tested this display using several different Freeman circumstances and the result was unanimous; it didn't matter if he was driving Ms. Daisy or hanging out on the beach with Andy Dufresne, Morgan's freckles were perfectly textured and color accurate. The UHD50's 2400 Lumens really did those bulbous black bumps justice.

Color
The color range and accuracy of the UHD50 is spectacular. Featuring a RGBRGB color wheel HDR10 compatibility and DCI-P3 wide color gamut support, this projector is going to look way better than an inexpensive, outdated projector. We tested the color accuracy by placing the projector display right next to our old 1080p TV. Optoma says that the UHD50 can display the entire REC2020 color space, which means it produces luminous whites and rich blacks. While we knew that the improved specs of the UHD50 would make a difference as compared with our old display, we didn't expect this much of a difference.
We used Planet Earth II as our test media because not only does it feature some of the most beautiful footage ever captured on film, but we have a soft spot for all things monkey related. As a bunch of hairy, hulking fellas, we share quite the kinship with those little guys. Thank you for watching Monkey Talk. Now back to our original programming. Planet Earth looks great on both TVs (who are we kidding. Planet Earth would look great played through a Nintendo Virtual Boy), but the video produced by the UHD50 was downright disgusting: just sickeningly spectacular. The UHD50's Dynamic Black feature, which delivers a 500,000:1 contrast ratio, makes the dark shades feel much more dynamic than the darks featured on our old TV. You don't realize how important the shades of darkness are until you are watching them in 4K Dynamic Black quality.

Viewing Range
Did you know that HD TVs require that you sit within 5 or 6 feet of the television in order to enjoy optimum picture quality? That's a pretty limited range. If we had to guess, we'd say that you probably aren't sitting that close to the TV. The number of pixels produced by the UHD50 allows you to sit up to 10 feet away from the picture and still view the picture in all of its optimized glory. Giving yourself a little room to soak it all in results in a more immersive experience. When you are required to sit so close to the TV, it can start to feel a little cramped. Close quarters can be distracting, and any distraction is a no-no in the world of immersive technology.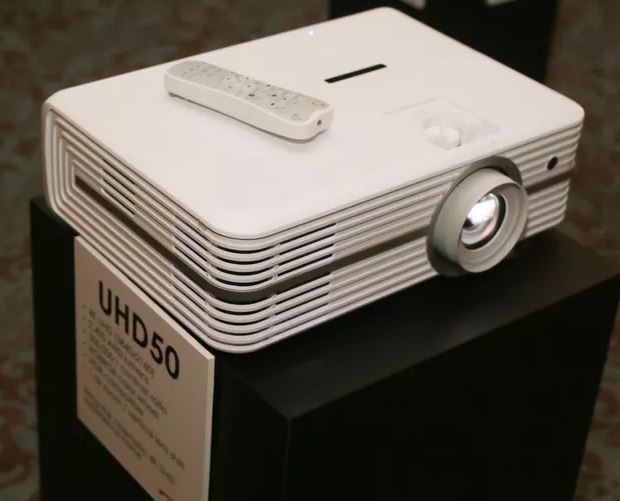 Chipset
The UHD50 features the latest Texas Instrument 4K Ultra High Definition DLP chipset. Here we were thinking that Texas Instrument was still relying on that sweet, sweet scientific calculator money. How wrong we were. The TI chipset provides state-of-the-art DMD with XPR video processing technology. Not only do you get 8.3 million pixels of 4K UHD quality resolution, but you get them at screen sizes of up to 140-inches. Take a second to let that soak in. 140 inches. The single DLP chipset system also provides an alignment-free experience. One of the concerns about projectors is their tendency to lose proper alignment over time. It's a real pain to have to make realignment adjustments every time you want to watch a movie. The 1-chip Texas Instrument chipset promises perfect convergence with a super easy set-up.
HDR10
One of the biggest selling points for modern displays is HDR10 compatibility. Everybody wants HDR10. Heck, WE want HDR10. There is just no other dynamic range that provides such an amazing combination of saturation, contrast and detail. The Optoma UHD50 is HDR10 compatible, which means any content that falls within the HDR10 format is going to look close to flawless. If HDR10 compatibility isn't enough to light a fire under your tush, the UHD50 also features Ultra Detail technology, which provides even more detailed fine-tuning. At times, the picture provided by this projector looks hyper realistic, just the way we like it.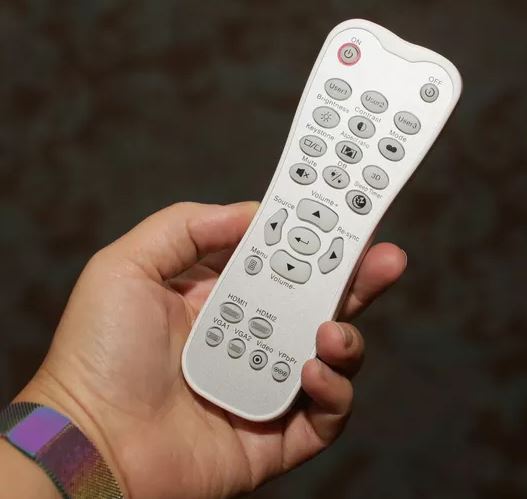 Installation
Optoma knows that not every home theater was created equal. That's why the UHD500 features a 15% lens shift and a 1.3x zoom. The installation was super simple for us, since we just propped it up on a book shelf on the wall behind our heads, but some people don't have shelving along their back walls. The lens shift helps account for any wonky placement or oddly decorated rooms. We wouldn't want to ruin the whole feng shui thing you've got going on here.
Gaming
Gamers are going to want to know if the UHD50 is optimized for some good ole button mashing. With all of that awesome display hardware underneath its rugged shell, it would be a shame if the latency was a nightmare. Luckily, you won't be disappointed by the projector's gaming capabilities. During our testing we determined that the latency was only about 48ms, which is more than acceptable for our needs and should be acceptable for almost everybody. Unless you're planning on playing in a competitive professional circuit, the UHD50 is an awesome choice for your gaming exploits. Have you even seen Lara Croft splayed across 140-inches of wall? As Mario would say, "Momma mia!" Mario looks awesome too, just for the record.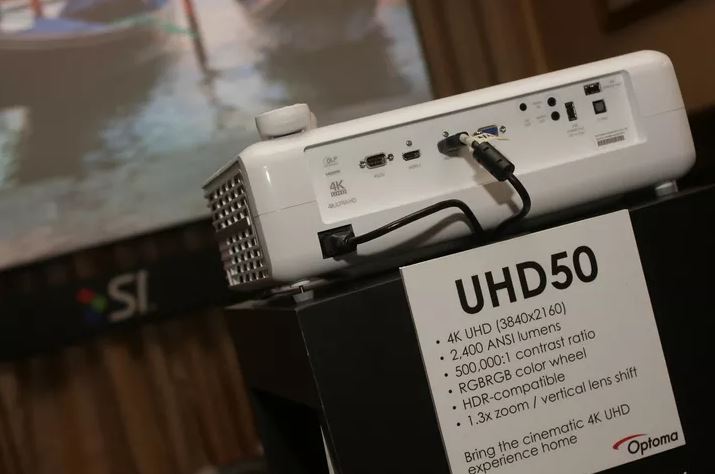 Final Thoughts
We began this review in a tizzy and we end it in one as well, but luckily, we're in a tizzy for two very different reasons. Is it worth being angry that movie theaters frown upon us sneaking in poultry in our pants? Are we in the wrong for wanting our shoeless feet to be stickiness-free? Is bringing our own furniture too much to ask? The answer is: it doesn't even matter. The Optoma UHD50 4K projector provides a superior visual experience in almost every way. Its HDR10 compatibility, Dynamic Black technology and high-quality Texas Instrument chipset make this projector a no-brainer. If you're looking for in at-home cinematic experience, you'll be hard pressed to find a better product.
If you've never experienced the home theater experience, you're truly missing out. There is nothing quite as impressive as a wall-sized 4K HDR10 picture. It provides an experience so immersive that you feel like you could literally sink into the picture's reality. If you pair the UHD50 with an awesome sound system, then there is no reason for you to go to the movie theater anymore unless you are just dying to see the millionth sequel of the year. I mean, come on, do we really need a Suicide Squad 2? Wasn't lasting through the first film enough of an endurance test? We get it. Jared Leto's Joker is, like, super damaged and stuff. How about, at the very least, we get more Margot Robbie and less Captain Boomerang. Do we have a deal? Pretty please?