Being able to have clear communication between your friends and allies while playing your favorite game can be a huge advantage. But the ability to do so is often dependent on the particular headset you're using. Whether you play video games on Xbox 360, PS3, PS4, PC, or Mac, the importance remains the same – being able to discuss strategy and in-game cooperation can be a crucial component to taking home the victory. But many gamers are struggling to find a comfortable wireless headset that they're happy with.
When searching around for ourselves, we came across the HUHD HW-398M Wireless Gaming Headset and we were presented with an opportunity to test it out and use it for ourselves. HUHD was kind enough to send us a free headset for us to test out, use, and compile a clear and honest review of it.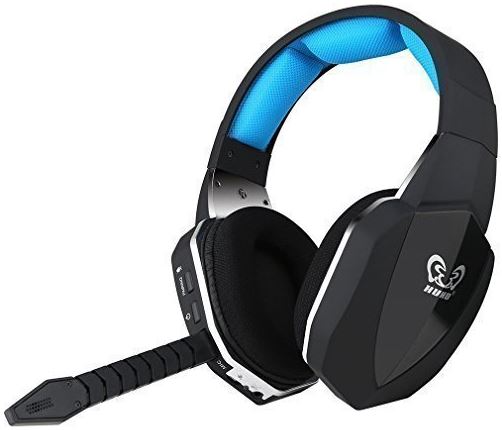 Built for Compatibility
First and foremost, we were very happy with the overall compatibility of the HUHD Wireless Gaming Headset. Designed for Xbox 360, PS3, and PS4, it also works just as well for your computer, whether you're using Windows, Linux, or Mac. Additionally, it's compatible with XBox One, but only if you have a Kinect or Microsoft Adapter. Working on a range of different platforms, it's nice that you can use it for virtually any video game you'd like.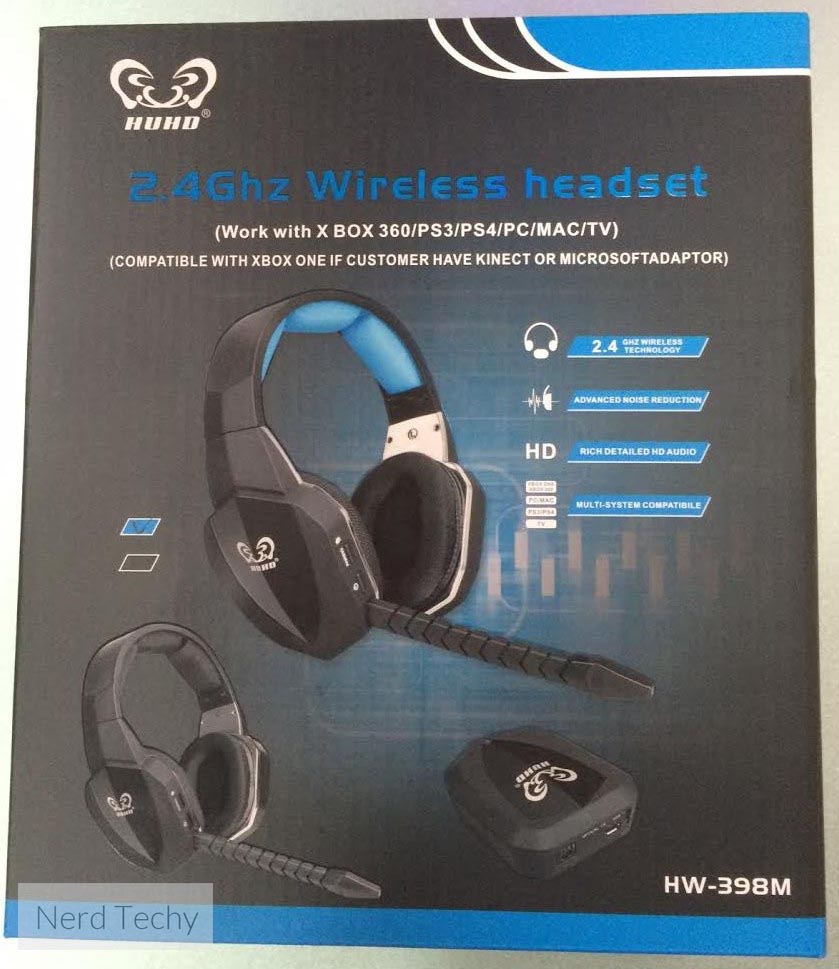 Initial Thoughts
Although there's miss-spelled words in some of the documentation, and even on the front of the box, we remained optimistic on what this wireless headset had to offer. Upon it's arrival we soon unboxed it and were pleased to find that it was packaged well and came included with a range of accessories. In the box was a transmitter, detachable microphone, micro USB to USB short cable, micro USB to USB long cable, an optical cable, and of course the headset itself.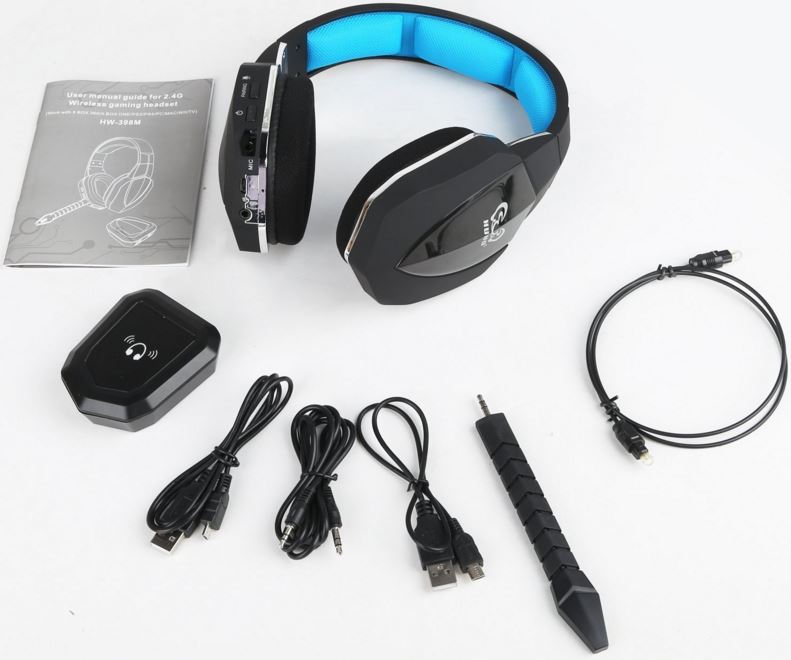 Setup and Configuration
In the instruction manual, there are different connection procedures for getting the HUHD Wireless Gaming Headset setup and configured on different platforms. The setup process is straightforward and completely plug and play – meaning that all you need to do is plug in the transmitter via USB or Optical Out, and then turn on the headset and connect the microphone if you desire. We set it up on Xbox 360, PS4, and a PC and didn't experience any issues. The simplicity of getting it configured for the first time use is a real treat considering you won't need to install any software or drivers.
Comfort
After we had it setup, we were pleased to find that the HUHD HW-398M was incredibly cushioned in all of the important areas. On the band and the ear cups there is a good amount of plush and padded comfort. Three large pads on the band, and over-sized padded ear cups. We could wear them for hours of continuous use without hesitation – they're that comfortable! We couldn't find any pressure points or areas that caused hot spots or discomfort after a few days of use.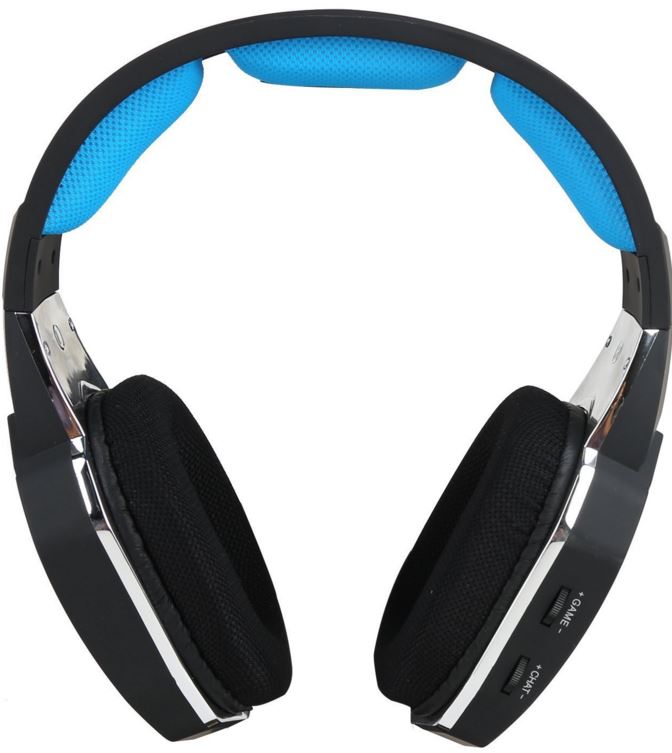 Sound Quality
To our pleasure, the sound seemed really good from our initial test. Upon using them for a few hours, we were assured of the great sound quality we had read about before we actually received them. We used them for playing Call of Duty, Halo 3, GTA V, Madden, Assassins Creed, League of Legends, and even throughout a few different Blu-Ray movies and have to say that we're very happy with how they sound. The highs, mids, and lows all sounded pleasant and the deep bass was a sure treat. Hip hop music, rap, classic rock, and jazz all sounded properly in-tune with a headset that you'd expect to cost much more.
Best of all, there are two small dials located on the right ear cup that give you the ability to adjust the game and chat volumes separately. This keeps your communication clear between players so that the sound of the game never over-powers the voice of your allies.
Microphone
Having a detachable microphone is a huge bonus. It allows you to use it as a pair of wireless headphones, rather than a dedicated gaming headset. The microphone comes detached, but it's simple to plug it in if you'd like to use it. The way that this microphone is setup is to keep unwanted background noise out of the sound. The holes for the microphone are on the inside of the detachable microphone, so you'll need to slightly cup it inward to get closer to your mouth.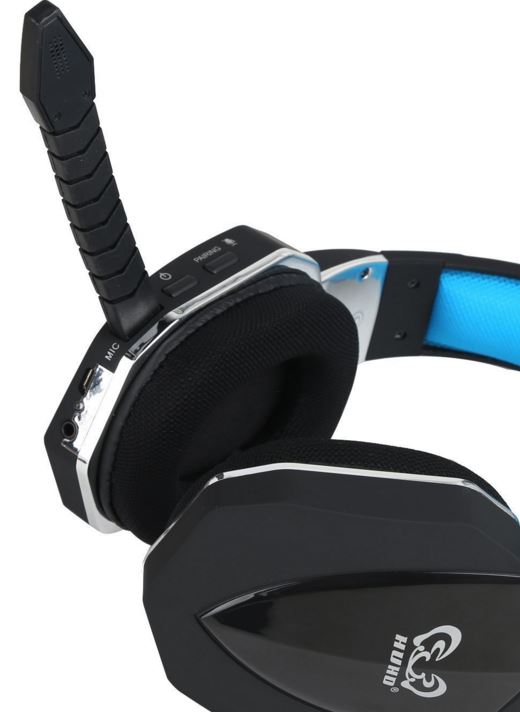 We found that you had to keep the microphone fairly close in order to clearly pickup the voice without difficulty. It may be too close for some, or it may be a very good thing for others since it gives better sound and clearer recordings for your friends to hear.
Battery
With a wireless headset, you'll definitely want one that has a good battery inside. To our pleasure, the HUHD HW-398M comes included with an integrated rechargeable battery that lasts up to 12 hours on a single full charge. This is a really good length since it offers lots of efficiency for those who want a headset that's excellent on energy use.
Charging it up is easy, too. Just plug it into any available USB port with either of the included micro USB cables, and within around 5 hours it'll be good to go.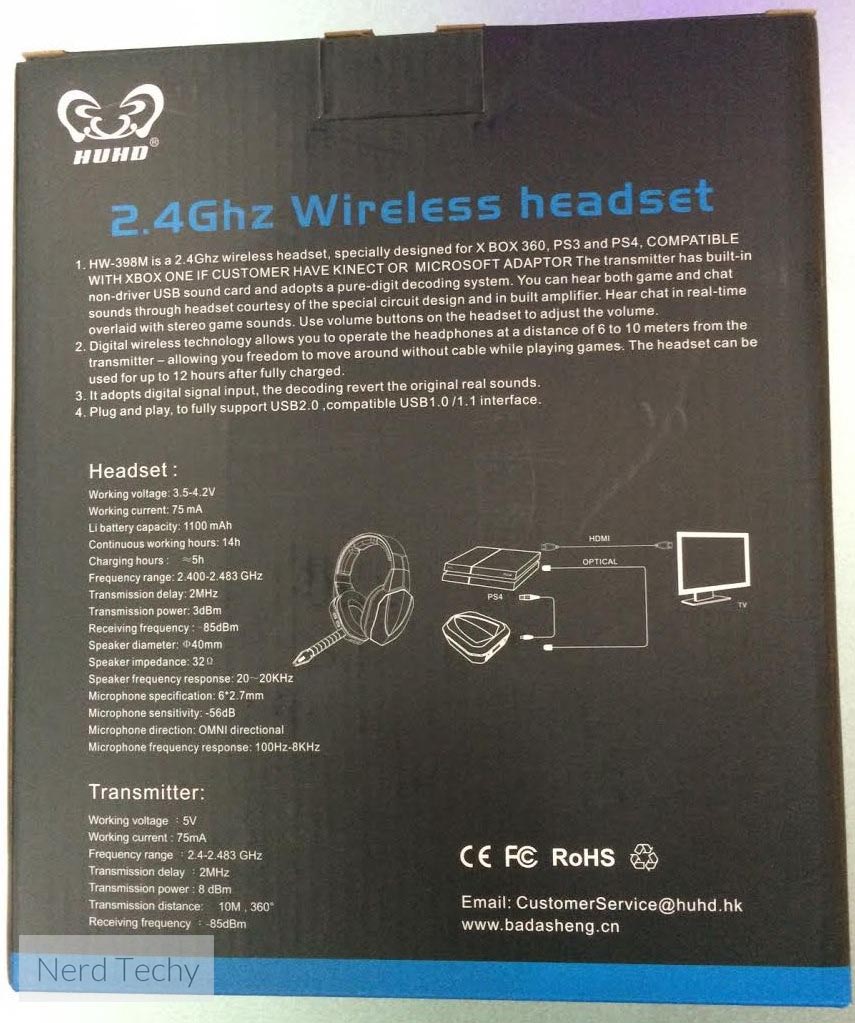 Conclusion
Overall, we were quite impressed with the HUHD HW-398M Wireless Gaming Headset. We're huge fans of the comfort it offers, and are glad to see that the sound quality and bass are both fantastic. One thing we don't like is that the microphone needs to be quite close in order to clearly pickup your voice, but this could be a really good thing from another point of view.
Priced just under $60, we feel that this would make a great investment for anyone looking for a budget-friendly and comfortable wireless headset that sounds great. With compatibility on virtually any system and/or platform, it can be used for a wide range of video games, or just used for listening to music, movies, or on the go entertainment.