A year ago, Kanex came up with a device that connects a variety of devices to Mac peripherals, the Thunderbolt to eSATA + USB 3.0 Adapter.  This year is no different. Although, this is the first time Kanex is releasing a dock, it sure seems like they one-upped their competition by releasing a better and faster hub for your Mac. The Thunderbolt 2 Express Dock is scheduled to be released this month for those who want an upgrade in performance and compatibility.

What's New?
There are several thunderbolt docks competing for a share these days. The three most popular ones are Belkin's Thunderbolt 2 Express, CalDigit's Thunderbolt station and Elgato's Thunderbolt 2 Dock. All of these serve the same purpose, but can Kanex be on top?
The Kanex Thunderbolt 2 Express Dock (KTD20) looks just like the Belkin's dock – which is the most expensive one among all these products at around $300. However, the price being offered by Kanex is a bit less than Belkin's, at $250 – it's closer priced to CalDigit's $226 and Elgato's $220. The mid-price range is the best way to offer it. Not too expensive, not too cheap.
The Look
There's nothing particularly fancy about the style of this thunderbolt dock. It is aluminum on the top with a black plastic core in the middle. On the front, it has a 3.0 USB port and two more in the back. Purchasing one also includes a 3.3 foot Thunderbolt cable and a power adapter. Though it's very modest, it's still very sleek and will never be an eyesore.
Size
The Thunderbolt Dock is close to the size of its competitors, Belkin and Elgato. The exact measurements are 7.5″ wide, 3.5″ deep, and 1.1″ tall. Despite the light materials used on the exteriors, Kanex still worked on internal heft, making it easy for users to plug or unplug things. This device is slim and powerful! In fact, you can charge your iPhone, iPad or other mobile devices on the USB port on the front.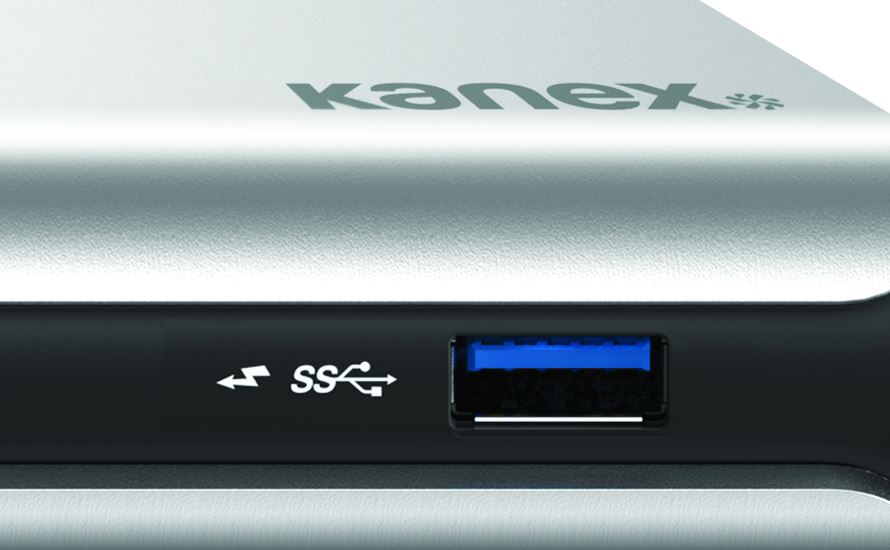 Functionality
All of the earlier mentioned docks from different brands have the exact same functionality. If we were to focus on the difference, the Kanex offers only one port. Unlike other thunderbolt docks that have a separate audio-out and audio-in port, the one port that Kanex offers is for the standard headphone output which can be switched to a microphone when needed.
The Kanex Thunderbolt Express 2 Dock constantly supplies power to the USB 3.0 port on the front. This allows charging even when the computer is not turned on or not connected. Like its competition, the port only has 1.5 Amp output, which is just enough power for recharging an iPhone.
Fast Speed
When transferring data, two Thunderbolt ports can be used with an impressive rate of 20 gigabits per second as a result. With that impressive speed, you can back up movies or music in just a matter of minutes. That's four times faster than using just a regular USB 3.0.
Stand Out Features
Able to connect to 8 separate devices with just one Thunderbolt cable.
Supports 3 full speed USB 3.O ports at 5Gbps.
1 USB port with 1.5 Amp for charging.
Sleek and modern design.
Plug and use.
Auxillary audio-in, audio-out combination port.
Daisy chain up to four Thunderbolt devices.

Should You Buy It?
The choice of an investment in a Thunderbolt dock isn't so difficult since there are some worthy options to choose from. If the price is an issue, opting for a cheaper one than the Kanex could be tempting, however, you need to take into account the cable that's included with this dock. A normal Kanex cable is sold for $37 on it's own, making the $250 asking price seem pretty reasonable.
The performance stands out. When the Express 2 Dock was tested, it did not disappoint. It writes and reads speeds of 260 to 375MB/second. Everything worked as promised by the company. There are no problems with the audio or the recharging, and no issues were found with the HDMI output. So if you have a $250 budget for a Thunderbolt Dock and you're looking for a quality choice, then the Kanex Thunderbolt 2 Express Dock (KTD20) may be the right one for you. Overall, we feel that it makes a worthy investment for those who want to take their computing power and compatibility to the next level.
About Kanex
Kanex is one of the leading manufacturers of connectivity device for Apple, Android, iOS and PC. They were founded in 2009 and have long since been providing users with a selection of solutions. Last year, the company was given the Mac World Best of Show award for their Kanex Thunderbolt Adapter. They were also an honored in the Consumer Electronic Show Innovations 2014 Design & Engineering Awards for their Simple Dock (3-in-1 USB 3.0 docking station).
Meet Derek, "TechGuru," a 34-year-old technology enthusiast with a deep passion for tech innovations. With extensive experience, he specializes in gaming hardware and software, and has expertise in gadgets, custom PCs, and audio.
Besides writing about tech and reviewing new products, Derek enjoys traveling, hiking, and photography. Committed to keeping up with the latest industry trends, he aims to guide readers in making informed tech decisions.