As the market of wireless speakers continues to expand and improve, more and more high end brands are coming out with impressive products that pleasantly surprise us. That being said, it's always refreshing to have the opportunity to review a product from an established brand that is doubtlessly exceptional.
The KEF LS50's hardly need an introduction if you keep up with audio equipment rewards. In the last four years, these speakers have received dozens of rewards, including the Hi-fi+ "Value Priced Loudspeaker of the Year" in 2016. This year, KEF is set to release a wireless version of these critically acclaimed speakers: the LS50 Wireless Speaker. If these speakers are what we expect them to be, they should deliver everything we love about the original LS50, but with the added advantage of being completely wireless. And if history serves as a lesson, then there is no reason to think that KEF doesn't deliver exactly that.
KEF is one of these "diamond in the ruff" brands; while its long history of premium quality products makes it one of the best audio equipment producers on the market, they somehow remain away from the limelight that makes brands like Apple and Bang & Olufsen household names. If you're not already convinced, let's take a close look at what will probably become known as some of the most highly recommended wireless speakers on the market.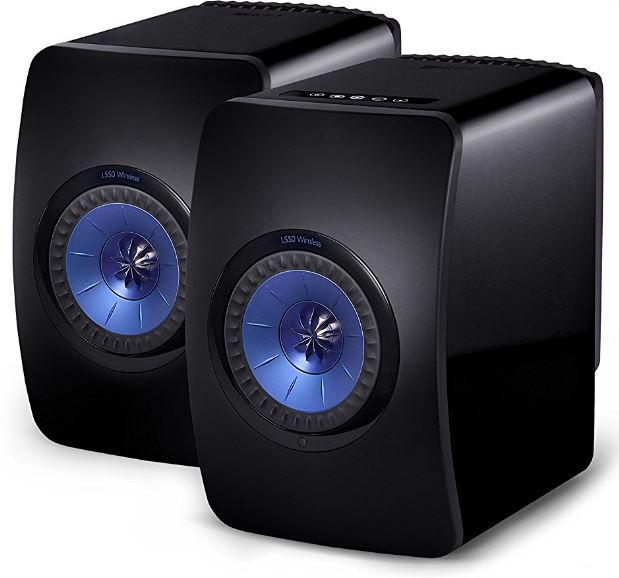 First Look
The KEF LS50 Wireless Speakers are surprisingly flashy, with a design that divides users on whether or not their look properly reflects the quality of their sound. Listening to them, you might expect some sort of polished cherry-wood casing with classic exposed diaphragms and a sharp black cover. Instead, you get a sharper, more modern looking speaker that simply demands your attention. Don't be fooled by their compact size: these speakers will make a statement in any room, and add a flare of luxury and modernism to your audio equipment collection.
The speakers come in 3 different color schemes: Gloss Black with Blue diaphragms, Titanium Gray with Red diaphragms, and White with Copper diaphragms. The color contrasts are sharp and sophisticated, while the diaphragms seem to strike some perfect balance between futuristic and classic. The speakers have a very simple layout, with a flat control panel on the top and power source plugins on the back underside. The face of the speakers hauntingly bare, and the baffle has a sleek, precision made curve to. The diaphragms are eye catching, as if to draw you into the source of their exquisite sound. It's hard to pick which color scheme we like best, but we're certain any user would be pleased with either of the three options.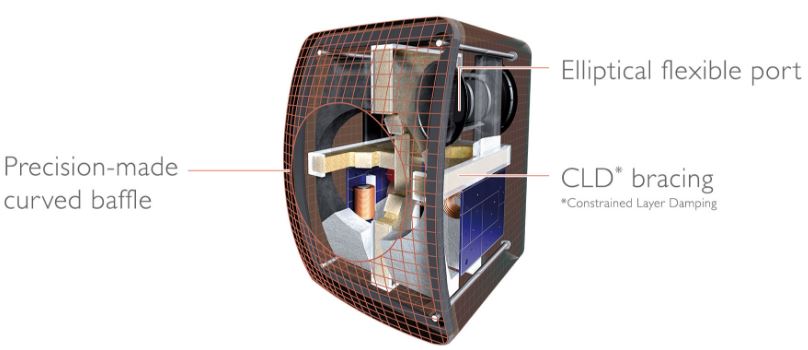 Build Quality
When you're in the market for a premium quality set of speakers, you want to be rest assured that they'll last. Unlike budget priced equipment, the purchase of a premium set of speakers is meant to be used and enjoyed for years rather than simply satisfy a basic need. You will almost never come across a premium quality speaker built by a company that decided to cheap out on materials, and KEF is no exception.
You can tell by just looking at the speakers that are built to last. Every part is connected with solidity and craftsmanship, and from a distance you'd almost think the speakers were carved out of a single piece of material. The curved baffle gives the speakers an ere of solidity that lives up to the touch and feel of the material itself. The rectangular shape of the speaker has no loose hanging pieces or off centered chunks, demonstrating with beautiful simplicity how highly craftsmanship was valued in the construction of the LS50 Wireless.
Even the rear subwoofer and power source plugins reflect the high quality of the speakers. The materials are strong and durable. Every component of the speakers are constructed in a way that demonstrates the results of combining good materials and premium craftsmanship into a set of speakers.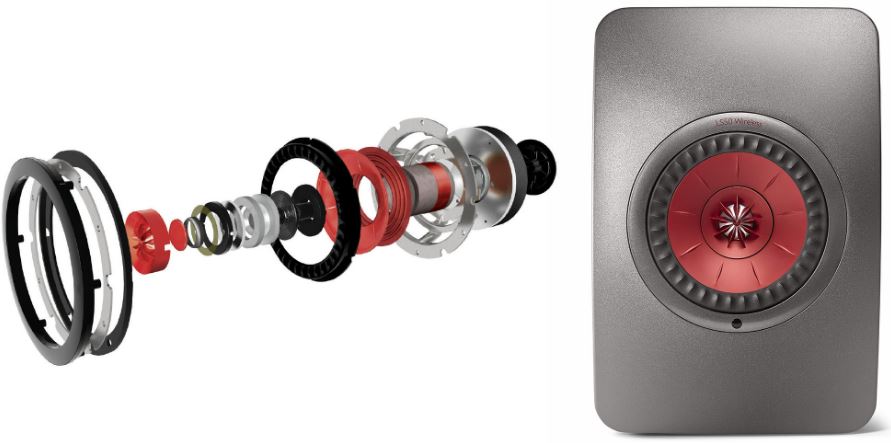 Sound Quality
Drum roll please… the sound quality is the big question on the tip of everyone's tongue with the LS50 Wireless. These speakers are faced with particular scrutiny because of the immense success of their predecessors, and we had no intention of being easy on them.
For starters, there's no surprise that the speakers feature KEF's patented Uni-Q technology. Anyone who's heard the sound these drivers produce (if you're lucky, you'll have experienced them in their original form in KEF's legendary MUON speaker) will know what to expect. The Uni-Q sound comes from KEF's unique drivers that deliver an immersive 360-degree sound experience. Now that the technology is in its 11th generation, you can be sure that it has only improved. The LS50s Wireless speakers now include a tweeter in the acoustic center of the bass/midrange cone. This provides an impossibly more detailed, perfectly integrated 3D sound.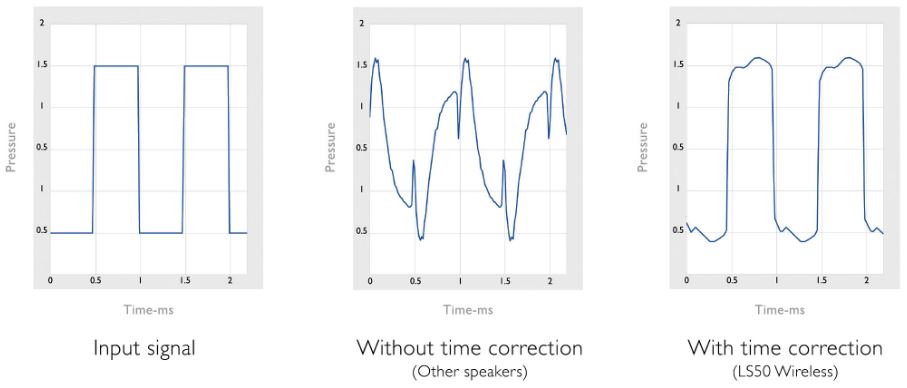 While the Uni-Q driver sound is almost enough to give these speakers a premium sound, KEF didn't stop there. Right down to the curved baffle, these speakers are completely optimized for the most immersive sound experience possible. They are built with CLD bracing and an elliptical flexible port and boosted with crossover timing correction technology. The time correction allows the high and low frequencies to hit your ears at precisely the right time. KEF's gift to the audio industry is time corrected accurate sound in all different kinds of rooms.
These outstanding features are hardly the tip of the iceberg. With even more features including an array of built in sophisticated components, and end-to-end 192kHz/24-bit hi-res digital signal path, and a 230-watt x 2 amplification, you truly need to hear these speakers to believe them.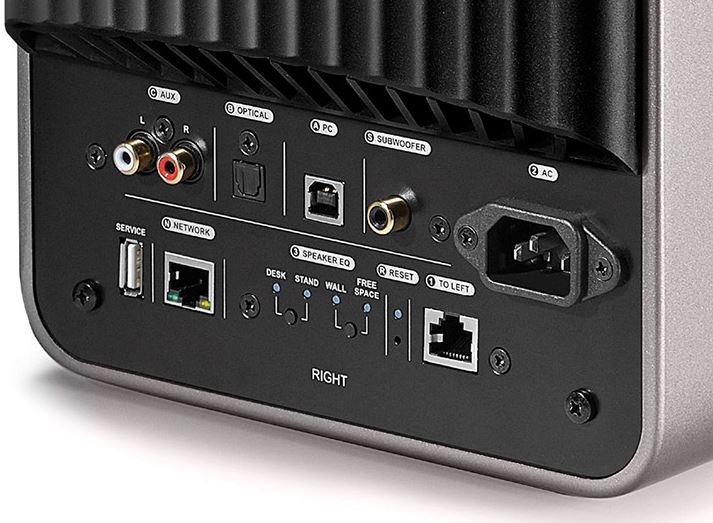 Functionality
Functionality is a top priority of any wireless speaker. The wireless feature itself is a testament to this fact. With the freedom to move the speakers wherever you like without the constraints of wiring, you can experience the otherworldly sound from any direction in any room. However, for the die-hard audiophiles who swear by plugged in audio, the speakers come with the ability to deliver wired connectivity as well.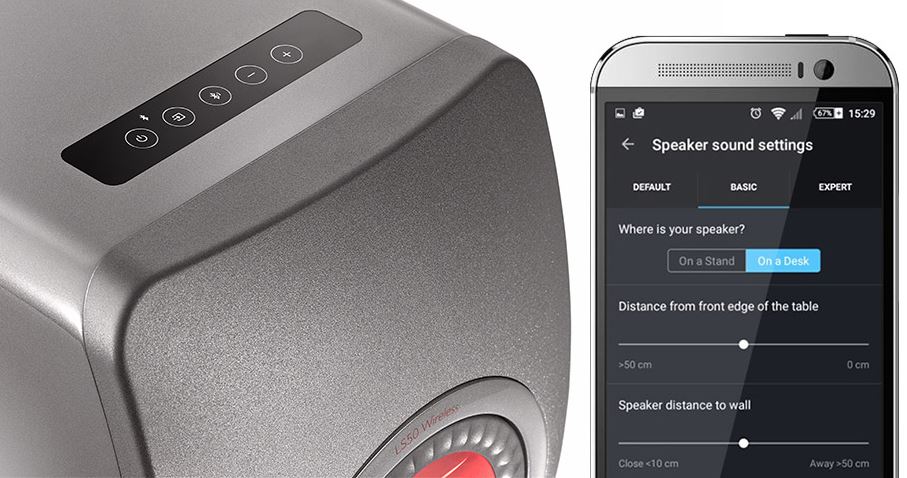 The speakers boast comprehensive connectivity, allowing you to connect them to a huge range of devices. These include 2.4 GHz/5GHz Dual-band Wi-Fi, Bluetooth 4.0 with aptX codec, RCA Analog, Asynchronous USB Type B and TOSLINK Optical. With all these options, you can connect up to a whopping 12 devices and easily switch between audio inputs. For even more advanced, personalized use, you can even use the dedicated iOS or Android app to adjust every detail and perfect the sound of your speakers to any room.
Value
As with any premium quality audio equipment, you're going to pay top dollar for the KEF LS50 Wireless speaker. However, anyone already interested in the product probably know the value of a set of speakers of this caliber, and is well aware of how worth it the purchase is. Plus, the LS50 Wireless are not your average speakers. Built with pristine craftsmanship and packed with the best technology KEF has to offer, these are speakers that will be talked about for years. For the cautious type, 3 and 4 year protection can be added to the purchase of your speaker so you can sleep easy knowing your premium equipment will last for the long run.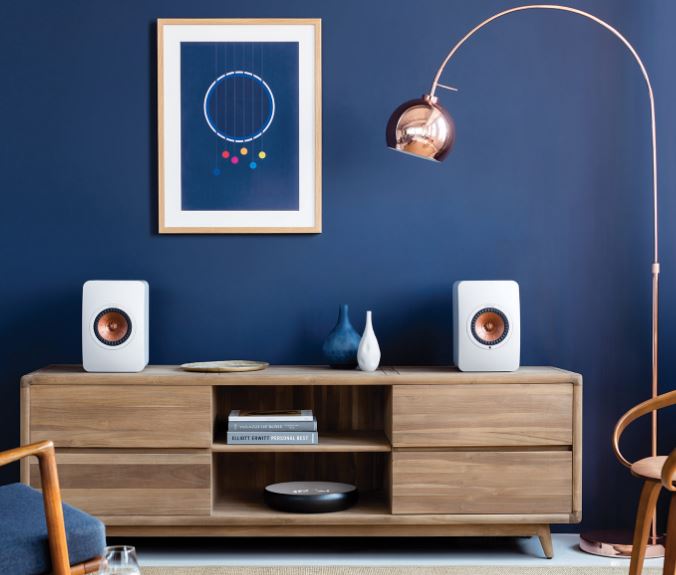 Not to mention all the great features the speakers have to offer. KEF has done their utmost to allow users to optimize their listening experience from every angle. From the wireless enhancing build and technology right down to the customizable app, these speakers will bend to your will to deliver the best possible sound in any room. And who can put a price on that?
With the LS50 Wireless, KEF has accomplished exactly what it set out to do: produce a wireless speaker that lives up to the LS50 name and just might shock and awe skeptics of the wireless audio industry. If these speakers are a reflection of where wireless sound quality is headed, then those who turn their noses up might just have been given a reason to reconsider.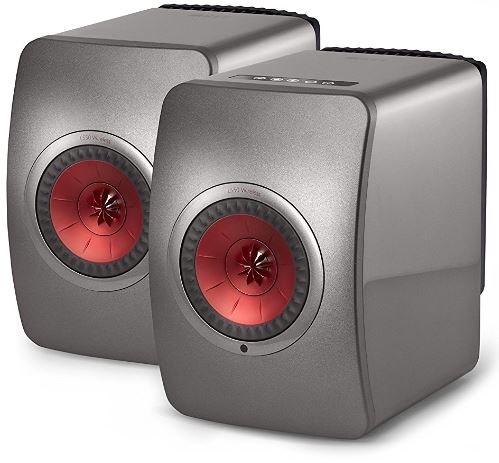 Final Thoughts
Anyone familiar with the original LS50's hardly needs convincing that the wireless version is worth a listen. The KEF LS50 Wireless Speakers are as close to perfect wireless sound quality as we imagine you can get. With an immersive soundscape and smooth, crystal clear audio, they will leave you feeling invigorated like the first set of truly amazing speakers you ever heard. If you're not convinced wireless speakers are for you, we urge you to challenge your conception.