Instant film cameras aren't always bad. But they often are. They tend to have terribly short batteries, and they can only produce photos as good as you can snap on your very first try. And anyone who's tried to take a selfie before knows you generally don't get your best shots on the first try. There's something to be said for being spontaneous, but there's something just as important to be said about the cost of film for every shot.
From a smartphone, you can shoot drastically better than any old-style instant camera is going to be able to provide. That's why when people want to print from their smartphone, they turn to smartphone picture printers. With a fraction of the cost and effort of instant film, you end up with all-around better results.
KiiPix Smartphone Picture Printer
It's not hard to find smartphone picture printers. And the KiiPix Picture Printer is exactly that, allowing you to print straight from your phone, without having to deal with a print shop. But unlike a regular photo printer, the way the KiiPix Smartphone Picture Printer works is quite unusual.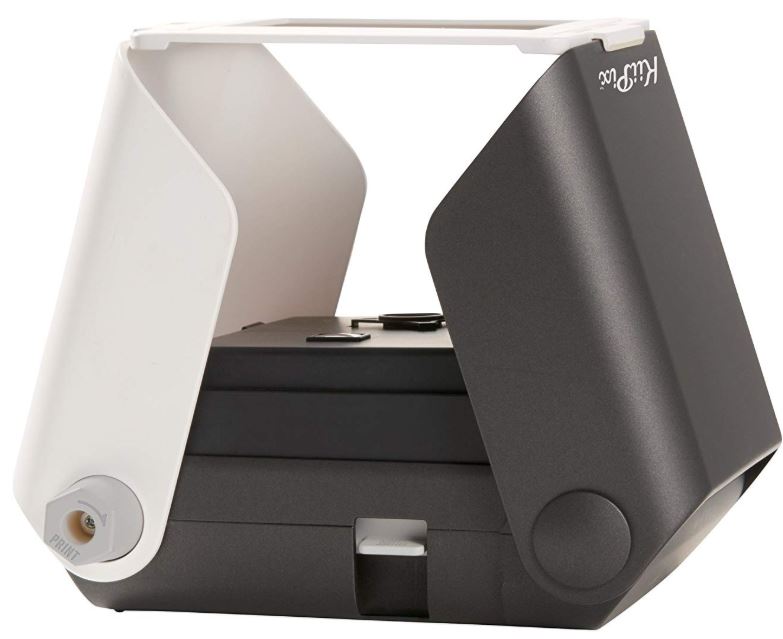 Looking down at the flat and folded-away KiiPix, you'll want to start preparing it for printing. You begin by extending each of its two arms together, to form a sort of sky-bridge above the center of the printer. With the bridge assembled and one arm latched over the other, there's a space to place your smartphone on the center of the newly created platform. Load up the picture you want to have printed on the screen of your smartphone, and then place your phone on that platform.
With your phone in place, you just press the shutter button on the KiiPix, and the printer will take a photo of your camera. Taking a picture of a picture is somewhat unusual, but it's what allows this printer to be cost a fraction of the cost of similar smartphone photo printers. For a fun gadget to give to your kids to play around with, or for having fun with crafty hobbies, it's perfect.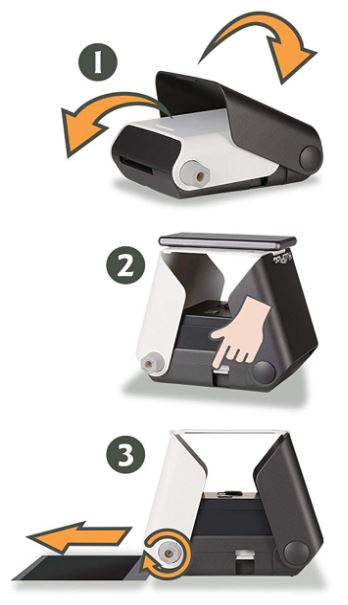 Build & Design
As described above, when the KiiPix is use, its two arms are opened to create a platform. This kind of transformation is actually incredibly simple once you've done it once, and it's something you can work out on your own in about five seconds. So while the KiiPix can give off the outward impression of being complex there's no need to be worried about the KiiPix being hard to use. It's intended to be accessible even to younger children.
When in its extended and operational position, the KiiPix sits at 5 x 2.1 x 10 inches, and weighs just short of a pound. But it normally doesn't take up that much space because its two arms can be folded together, producing a flat device for storage. With colors that heavily suggest its target audience, the KiiPix is available in both pink and baby blue. There's also a rather professional looking black unit.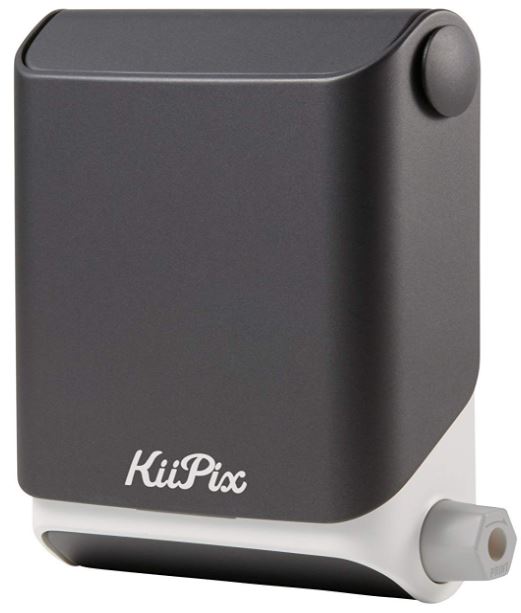 Image Quality
The KiiPix Smartphone Picture Printer uses standard film size, consisting of 3.4 x 2.1-inch prints. However, prints from the KiiPix Smartphone Picture Printer come out with an image size of 2.4 x 1.8-inches. That's due to a small margin around the edges of the film, which gives you a chance to label or write on the image similar to a polaroid print. That's a minor difference, but it's good to expect it coming, especially if you have detailed craft ideas in mind for the KiiPix.
Typically speaking, taking a photo of a photo isn't going to produce a high quality image. Anyone who's tried to take a photo of their monitor or TV screen can tell you the results are usually not great. But the KiiPix has been specially calibrated to capture the images on digital displays. Whether you're using a common 60Hz smartphone display, or an exceptionally fast 120Hz high performance display, the KiiPix is equally equipped to handle both.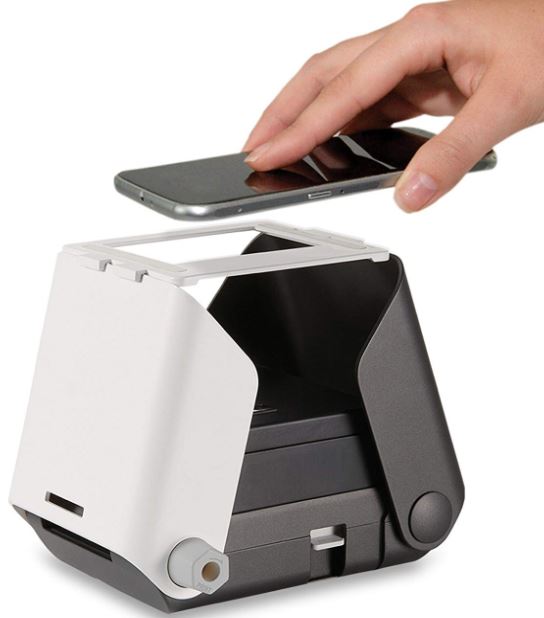 Making Better Pictures
And the KiiPix onboard photo scanner does provide a little extra help in letting you create great prints. For example, you can crop out red eye and make similarly minor edits before scanning to film. You can also apply a handful of colorful filters or augmented reality filters to your shots. If you've used Snapchat, then you have a good idea of what to expect from the augmented reality features on the KiiPix. For the most part, the added AR feature seems to be another thing that makes the KiiPix excellent for giving the KiiPix as gift to young adults.
In short, the KiiPix Smartphone printer provides the standard dimensions for photo prints, the one used by print shops everywhere for decades. And the KiiPix is a fraction of the price of printers which do essentially the same thing. Except the KiiPix offers clearly better portability, ease of use, and the ability to store away the printer between each use.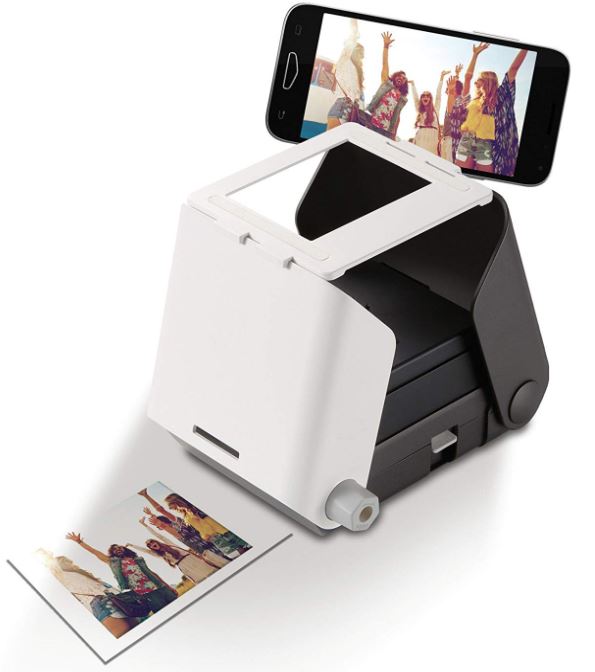 Ease of Use
One of the biggest appeals of the KiiPix is that you don't need batteries or cords, making it fully portable. And the KiiPix won't be holding you up its need for a charge while you're doing your prints. Although you have to setup the KiiPix from its storage position, actually using it as a picture printer is exceptionally simple. A child as young as eight could likely navigate the KiiPix printer without help, and that's by design.
One more thing to notice is that strictly speaking, you're not limited to capturing from smartphones. Portable game devices, tablets, and similar LCD displays can be fair game for the KiiPix Smartphone Picture Printer. Of course, capturing from things that aren't smartphone-sized can involve a little trial and error because the KiiPix is configured for smartphone capture. But it doesn't take much time or effort to start taking shots from an iPad or similar devices.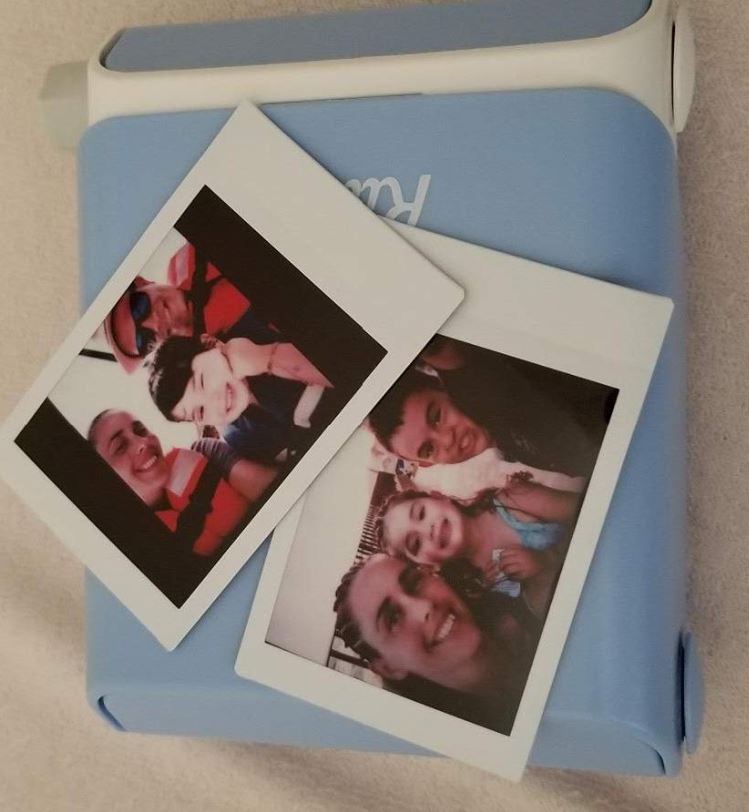 Price Point and Film
Another thing that can't be ignored about the KiiPix is its aggressively low price. It has a manufacturer suggested retail price of $39.99, which compares favorably to virtually any reputable mini-printer. That price starts increasing somewhat, depending on the amount of printing you intend to do, but never becomes unusually expensive. Even for steady printing, the costs of the prints are about in line with what you would expect.
Film for the KiiPix Smartphone Picture Printer is sold separately. The good news is that the KiiPix film uses a ubiquitous brand and high standard film that's easy to get your hands on: FUJIFILM Instax mini film. The film-sized 3.4 x 2.1-inch productions are perfect for the KiiPix Smartphone Picture Printer. Depending on the volume of photo paper you purchase, Instax film costs between 50-cents to $1 per sheet.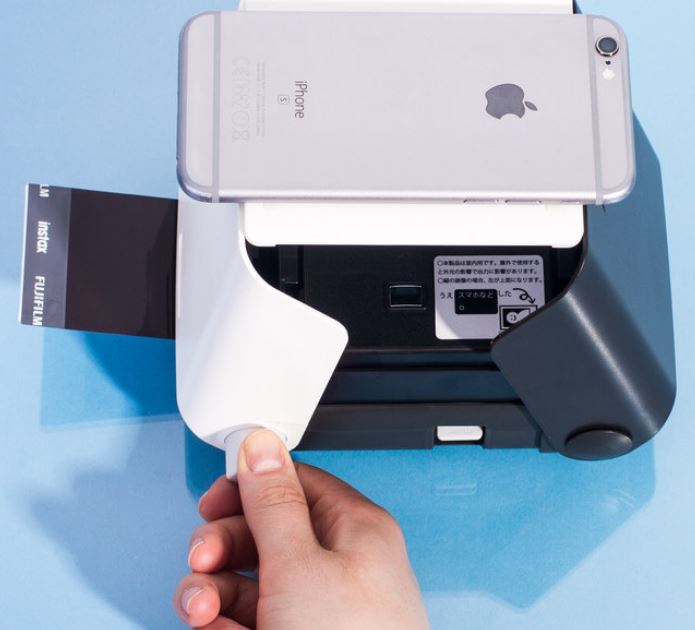 Other Considerations
The KiiPix isn't as sophisticated as an ordinary mini-printer. It's not intended for people who are looking to do professional photography. It's a picture printer that's an inexpensive alternative to fully-loaded min-printers, and it's a fun gift for young people who like to take photos. The KiiPix isn't office equipment, it's more a fun gadget, a cool toy, and a great gift for anyone who takes lots of photos.
If you're looking for something more sophisticated than the KiiPix, and you're willing to triple your budget, you can try the Canon IVY Wireless Bluetooth Mini Photo Printer. Rather than taking a photo of your screen, it pulls photos straight from your phone, and is powered by a rechargeable lithium-ion battery. Being able to load images from your devices can provide a far greater range of versatility, ease of use, and even image quality. But those differences all come out in the cost of the device.
And even though the KiiPix Smartphone Picture Printer has a setup process that looks a little intimidating at first, it's actually one of the easiest-to-use smartphone photo printers on the market. If you can navigate a smartphone, then you can easily navigate the KiiPix.
If you're giving the KiiPix smartphone Picture Printer as a gift, you'll want to take the time to grab a package of the FUJIFILM Instax film as well. The KiiPix doesn't include any printing paper, so you can't get started without taking the time to grab film first. Fortunately, absolutely everything else you'll need is included.
Who Should Choose the KiiPix Smartphone Picture Printer?
Using the KiiPix is fun. It's cool just to see how it works, and that novelty seems to continue to be enjoyable as you start churning out some of your favorite photos in print form. For school projects, making gifts of the prints, and simply having fun, the KiiPix Smartphone Picture Printer provides plenty of interesting opportunities.
If you're willing to double your budget, you can greatly increase the level of customization and quality you can get from a smartphone picture printer. But for what you pay, the KiiPix is a fairly strong value. If you feel invested enough to spend $200 for a top-shelf smartphone picture printer, that's great. But not everyone needs pristine business-quality prints. For a simple and inexpensive way to have fun with instant photos, the KiiPix Smartphone Picture Printer is a great choice.
All in all, the KiiPix is a great gift for someone who likes to take photos, and anyone who likes to share their work with others. After using it, you feel a little more enthusiastic about rushing out in the world to take new photos. It's a bit like having renewed enthusiasm in the very subject of photography. And even though KiiPix isn't a household name, the FUJIFILM Instax mini film is exceptionally easy to find, which makes owning the KiiPix an easy hobby to maintain.