Whether you're storing photos of your cat or your company's financial data, storage is something that we just can't do without. Like most technology, storage is improving at a slow and steady pace. But since the launch of the SSD, there haven't been many announcements that make us sit back and go "Wow!"
It's not always easy to look back and think about how far we've come. But within our lifetime, we've gone from unreliable magnetic media that holds kilobytes of information, from having direct access to every album ever made with the click of a mouse.
Kingston has been leading the way with portable storage for many years. While a flash drive is far from novel these days, the latest DataTraveler Ultimate GT is something to be admired. Featuring more storage space than you're used to having in your pocket, any data fanatic will be drooling over the specifications. As we know, specifications only tell part of the story. Let's go hands-on and see how it performs.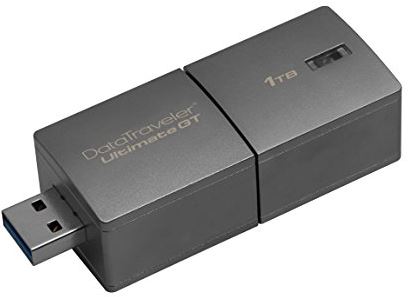 First Look
Kingston's flash drives come in all shapes and colors. But if there is one particular feature that stands out above the rest, it's their durable models that have stood the test of time. As one of their top-tier drives, the DataTraveler Ultimate GT comes finished with a tough-as-nails alloy finish. This is a capless drive, with the USB port being exposed via a sliding mechanism. But what stands out the most with this drive isn't something you can see. With up to 2TB of internal storage, this flash drive gives most full-size external drives a run for their money.
Design
Perhaps the best word to describe the look of the DataTraveler Ultimate GT is "unique." It's much thicker than your standard flash drive, having a very tank-like appearance. Even though it's much larger than your standard flash drive, it's much smaller than common portable SSDs. This is one of the few portable storage devices that can rival the capacity of dedicated external hard drives, while still sitting comfortably in your pocket.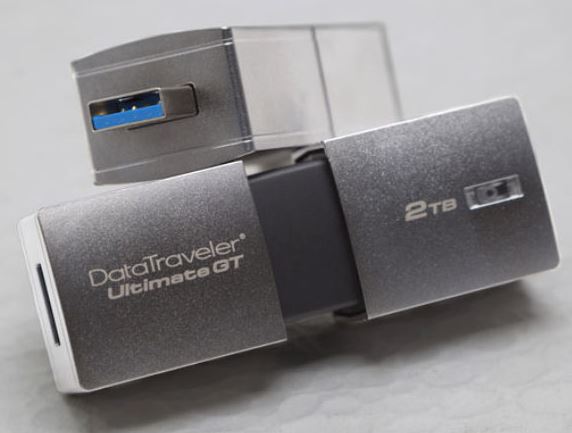 There isn't much in terms of visual features on the flash drive, although there is a single LED status light on the top of the housing. This goes solid when the drive is plugged in, and blinks while it's in use.
While the drive looks great, Kingston put a lot of effort into making the entire out of box experience something positive. It ships in a stylish metal flip tin, which opens up to reveal a plus holder. Inside the box, you get the flash drive itself, a USB extension cable, and a nice carrying case. Overall, you definitely get to visually enjoy the fact that you've got a premium drive in your hands.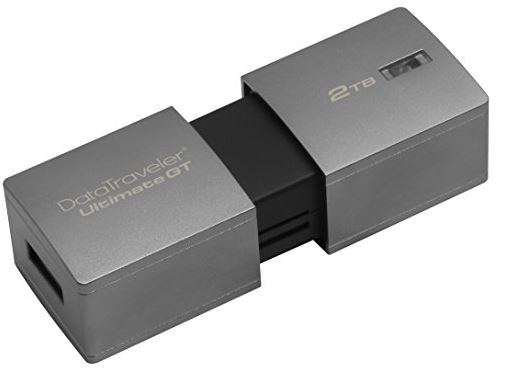 Durability
The drive enclosure is made from a zinc alloy metal. It is lightweight, but still extremely durable. You can drop it, kick it, or generally abuse it any way you see fit and not have to worry about it. The metal has a somewhat matte finish to it, helping it to remain scratch resistant. Although there are a few ridges around the outside of the flash drive, which makes it appear as if it's made from multiple metal pieces. However, the drive is actually cast from a single solid piece of metal, which adds a lot to it's durability.
The only vulnerable part of the drive is the USB connector, which retracts inside of the enclosure. This is done through a sliding mechanism, which has a very sturdy feel to it. While we're happy that Kingston included a carrying case, we can't say that it's warranted. Even in extreme environments, we have very little concern over the durability of the DataTraveller Ultimate. In the unlikely event that something unfortunate did happen to your drive, the five-year warranty should give you some reassurance that you'd be taken care of.

Storage Space
This is the first formal flash drive on the market to ship with up to 2TB of storage space included. In order to fit all of this capacity onto a reasonably compact drive, Kingston is using the latest MLC chips. This is part of the reason for the size. Most drives just have a single, or occasionally two, memory chips. Inside this drive is several layers of circuit board, all of which are sandwiched with several ribbon connectors. All of these different chips are a lot to manage for the simple drive controller inside, so the drive needs direct write access. This means that you can't use encryption with it, at least not the way that you'd expect.
With most encrypted flash drives, the controller acts as a middleman between the storage and your PC. Your PC sends the raw data, which is then encoded and written. If you want to keep your data secure, you'll need a program like TrueCrypt that handles all of the encryption on the software side of things.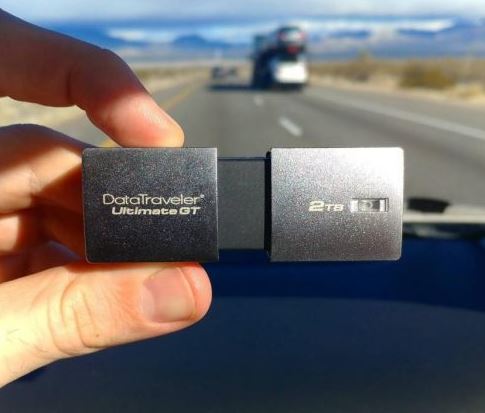 Performance
This drive connects to your PC over the USB 3.1 Gen 1 standard. This is most commonly referred to as USB 3.0. In order to take advantage of the performance, you'll need a computer with a blue USB-B port. With this standard, you'll be able to approach Kingston's advertised speeds of 300 Mb/s read and 200 Mb/s write.
There is a catch with these speeds. USB is a buffered communication protocol. These speeds represent a theoretical maximum, and rarely will you ever see these in the real world. So how does it perform? In our tests, we were able to get sustained write speeds of 165.6 Mbps, and read speeds of 326.94 Mbps.
The reason for the discrepancy is the MLC flash. MLC flash can store multiple bits under a single register. This means that there is occasionally a delay while the controller works to address the correct bit. Although you can get a 10 to 20% increase in performance with a SLC drive, this cuts your storage space by up to 75%.
Overall, this flash drive is still fast enough for even the most challenging applications. Anyone working with 4K video or other large file sizes will definitely appreciate the near-SSD speeds that are possible.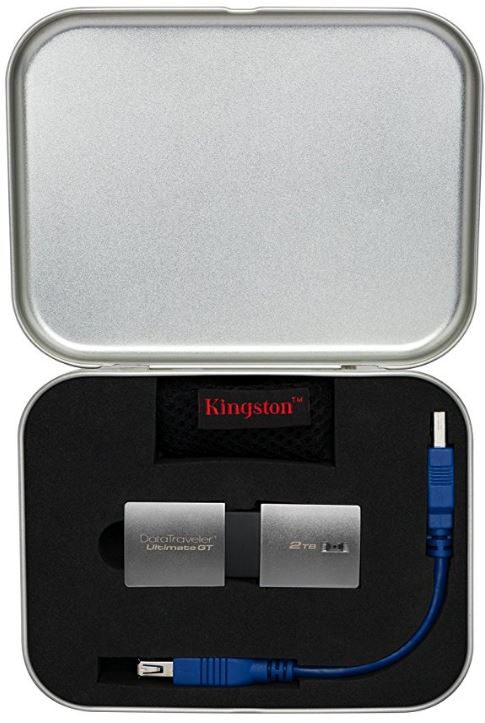 Connectivity
We're at a bit of an awkward transitionary time with USB standards. USB-C is still quite new, and most consumers don't yet have access to it. At the same time, many manufacturers (such as apple) have decided that their computers will ship only with USB-C, requiring the use of a dongle to access standard USB hardware.
This choice could be a bit polarizing for consumers. When it comes to storage space, this is a top tier flash drive. Anyone who's used to using the best of the best will likely wish that it came with a USB-C port. That being said, the performance limitations are set by the memory itself, not the communication standard. USB 3.1 Gen 1 is still fast enough that it doesn't hinder the performance, so we think that going with this format is a reasonable choice.
Disadvantages
For mobile users, the main disadvantage will be the size. If you plug this flash drive into a USB port on your ultra-slim computer, it likely won't be able to sit flat. Kingston does include a small USB cable that allows you to use it in tight spaces, although that does reduce the portability a little bit. Additionally, it's thickness means that it's plugged directly into a desktop USB port it may restrict the use of any ports next to it. Buyers might want to look at their special limitations, and decide if they'll be ok with the use of an adapter.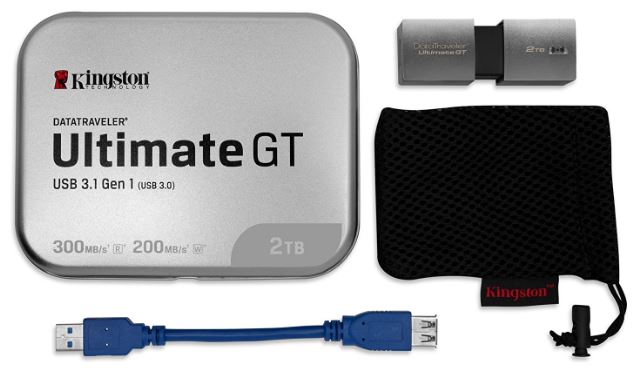 Final Verdict
There aren't many flash drives that can cram such a large amount of storage space into such a compact device. For that reason, this drive is ideal for anyone who's working with large files and doesn't want to worry about bulky external drives or laggy cloud storage.
Is this drive going to be for everyone? Not necessarily. The Kingston DataTraveler Ultimate GT represents the current pinnacle of flash storage. For that reason, it comes at a premium price. If you're willing to sacrifice either storage space or size, there are a few other options out there. We reviewed several of the best external solid state hard drives quite recently, so you may want to consider one.
If you like the rugged design of the Ultimate GT, you might be interested in our list of the Best Rugged, Waterproof USB Flash drives. They don't have quite as much storage space, but many of them are just as durable and reliable as Kingston's options.