If you're a digital artist, Wacom is a household name for you. Their unique drawing tablets revolutionized the industry when they first came out. For the first time, the skills you'd developed with a pencil or paintbrush could be translated into digital form.
While their tablets are still known to be the best, they're far from the only contender on the market. With so many options out there, it seemed like the tablet industry was losing that sheen that every game-changing product has.
With the announcement of the Cintiq tablet, Wacom has once again captured the attention of creatives all over the world. They've managed to combine a high-resolution display with a touch sensitive tablet, allowing you to draw directly on the screen. But this isn't your standard pen-based input device, so let's go in-depth and see what makes this tablet so special.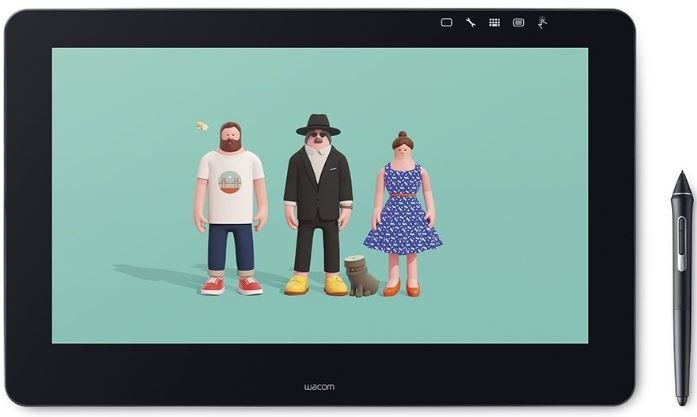 First Look
The Cintiq Pro 16 feels like a combination of a Macbook and a Surface Pro. It's got that precisely engineered feel to it that gives it a luxurious appeal. Much like the latest iPhone, Wacom's products hold a lot of prestige in the art community. It's enough that owning one is almost a status symbol. However, it's not the tablet itself that makes the platform great. It's the stylus, known as the Pro Pen 2. This pen provides some of the most realistic and adaptable input we've ever come across on a tablet, which is enhanced by the touchscreen's easy to configure settings.

Build Quality
When you first take the Cintiq out of the box, you'll be amazed by how well it's made. Wacom went for a build that is almost entirely metal and glass. The back of the tablet is covered with a large aluminum plate. Like most Apple laptops, this enclosure is machined from a solid piece of metal, giving it a very durable and professional feel to it. There is one strip of rubber that runs along the bottom of the tablet, and two little feet that sit at the top. This helps keep it in place on your desk, especially important when you're interacting with it.
What stands out the most is the precision that went into this tablet. The edges of the cooling vents are sharp and exact. The tolerances between the rubber, the metal, and the glass are perfect. There is no flex or movement where there shouldn't be. It's an extremely solidly made tablet. Because the entire face is coated with glass, we wouldn't recommend abusing it. But it's certainly not going to be harmed by standard day to day use.

Display
When you're an artist, attention to detail is key. And there are very few displays in the world more detailed than this one. Even though it's only 15.6 inches in size, they've managed to pack a fully featured 4K resolution display inside. At 3840 x 2160, it is slightly thinner than a television. But the aspect ratio is correct for this type of work.
But resolution is only part of the puzzle. Another important thing about the display is color accuracy. With HDR media becoming common, people expect more than your standard color space. This display is capable of displaying 94% of the Adobe RGB colorspace, making it best in class.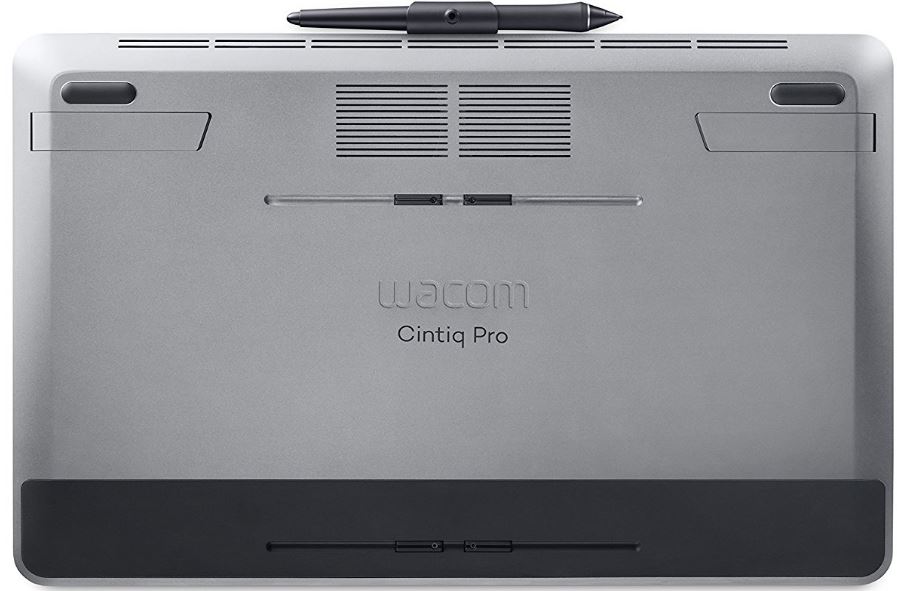 Ergonomics & Layout
This isn't just a typical display. You're going to be spending a lot of time interacting with the tablet. For this reason, it's important that it's comfortable and ergonomic to use. Personally, we found it quite awkward to use while lying flat on the table. There are two little metal arms on the back. When depressed, they'll pop out and act as a stand for the tablet. This causes it to sit at a 20-degree angle. Although subtle, this is surprisingly comfortable.
When it's turned on, we found that the tablet was extremely easy to use. The display is multi-touch, so you can use your fingers to navigate around the operating system. You can also use gestures like pinch to zoom to move around the document you're working on and bring up toolbars.
There are four digital buttons along the top of the display that are used to change the function of the pen. It's actually very convenient that they've moved this of the screen, because it allows you to keep your document full screen. You don't have to crowd your work space with toolbars and options, allowing you to make the most of your display.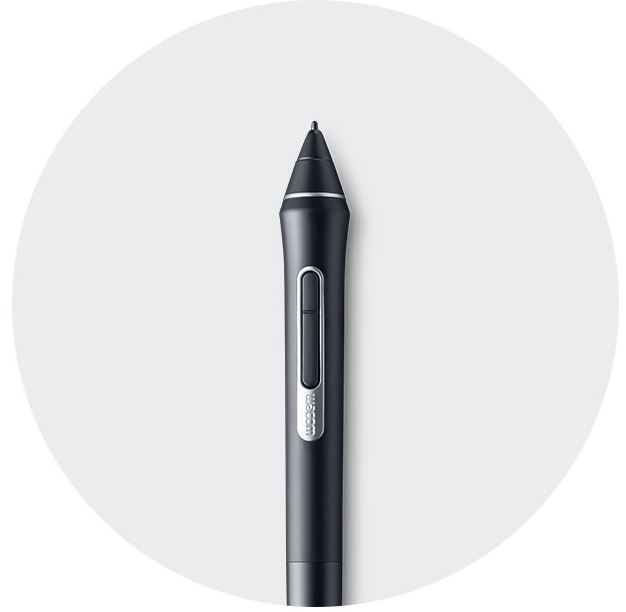 Connectivity
With the Cintiq Pro, Wacom is heavily investing in USB-C. If you already have a USB-C compatible computer, the setup procedure is quick and easy. All you need is a single cable.
If you don't have USB-C, you can still use the tablet. But you'll need to make a few more connections. There are three things that need to be connected. You need video, control, and power. The power can go through the included AC adapter, while the video and control are handled through a separate Y cable. On the tablet side, you just plug in a single USB-C. On your computer, you'll need USB-B and display port.
The important thing to keep in mind is that you cannot use an HDMI to Displayport adapter. So you'll want to make sure that this output is included on your PC.
The Cintiq does operate as a bit of a hub. You're given another USB-C port on the far side of the tablet, so you can daisy chain it in line with your other devices if necessary. You're also given an SD card slot. If you're a photographer retouching your images, this is surprisingly convenient to have.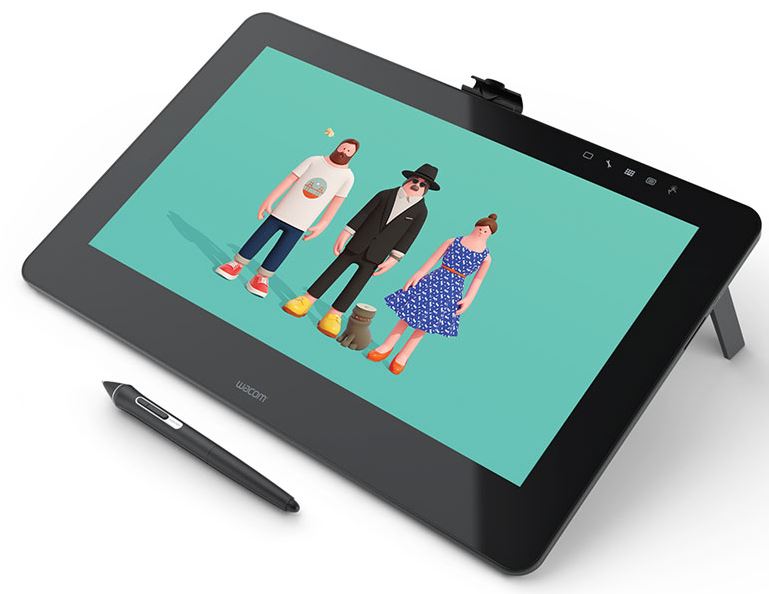 Input
For most, the Pro Pen 2 will be the selling point of this tablet. If it wasn't for this, everyone would just buy an iPad pro. What makes it so special? Currently, the Pro Pen 2 is the most advanced recreation of a real pen that money can buy. First, it detects where you touch. With pixel level precision, it's accuracy is almost dead on. Next, it can tell how hard you are pressing the pen. It has over 8000 points of pressure, giving you a pretty accurate representation. What's new with the latest generation is the ability to determine the rotation of the pen. This is especially useful when simulating a paintbrush, creating incredibly realistic brush strokes.
The pen is a little larger than we expected, but you get used to it pretty quickly. We found that it was comfortable to hold in the hand, and allowed us to make more precise movements. There are two buttons on the pen. These can be right or left click when in mouse mode, or they can be programmed to specific features if you like.
Disadvantages
The Cintiq Pro 16 is cutting edge in almost every way. USB-C, 4K display, a high end pen input. This causes two problems. First, if you're using a computer that's not on USB-C, you'll have quite a few cables to attach. This can get a little cumbersome, and the requirements are pretty specific. If you don't have a display port adapter, you won't be able to use this tablet. Another issue, for some, will be the price. If you want the 4K resolution, you'll have to pay a bit of a premium for it.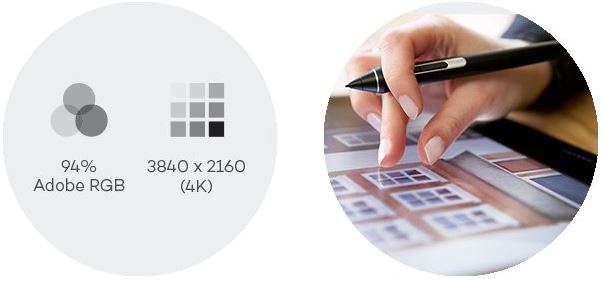 Final Verdict
For serious creatives, the Wacom Cintiq Pro 16 is the best tablet on the market. The resolution and accuracy are so precise, you won't feel like you're using a tablet anymore. It becomes almost an extension of yourself, translating precise hand movements perfectly for the digital realm. Parallax error and lag have always been common problem with tablets, but the Cintiq makes this a thing of the past. The 15.6" display offers a significant improvement in screen real estate, which is sure to have a drastic impact on the comfort and quality of your work.
If the price is a little out of your range, there are still options. Wacom also makes the Cintiq 13. This tablet offers many of the same features, although with a resolution of 1080p and a slightly smaller display size. But the build quality, resolution of the pen, and compatibility are just as good as this model.
No matter which option you choose, just five minutes with the Cintiq series tablets will show you why Wacom is the number one brand in creative input. Their hardware is a cut above the rest, and something that you'll enjoy for many years to come.
Meet Derek, "TechGuru," a 34-year-old technology enthusiast with a deep passion for tech innovations. With extensive experience, he specializes in gaming hardware and software, and has expertise in gadgets, custom PCs, and audio.
Besides writing about tech and reviewing new products, Derek enjoys traveling, hiking, and photography. Committed to keeping up with the latest industry trends, he aims to guide readers in making informed tech decisions.