Some earbuds are made anticipating active use. Others aren't. And knowing which is which can make a big difference in your selection because it can be tricky to make headphones that are capable of being worn-well while active. Because without just the right fit, you'll find earbuds slipping out of your ear, letting in too much ambient noise, or potentially squeezing your ears towards discomfort.
All of this can be much trickier when you're working with a tight budget. Because you're going to have to make some sacrifices. But if you make those sacrifices in the right places, like with features you don't really care about, your end result will probably be better.
Letsfit D32 Bluetooth 5.0 True Wireless Earbuds
In most ways, the Letsfit D32 Bluetooth 5.0 True Wireless Earbuds are pretty close to ordinary earbuds. They diverge from ordinary in only a small handful of ways which help partially distinguish them from similar buds. Sure, their charging case looks about identical to a million others. Sure, the earbuds themselves look pretty much identical to a million others. But how do they actually perform?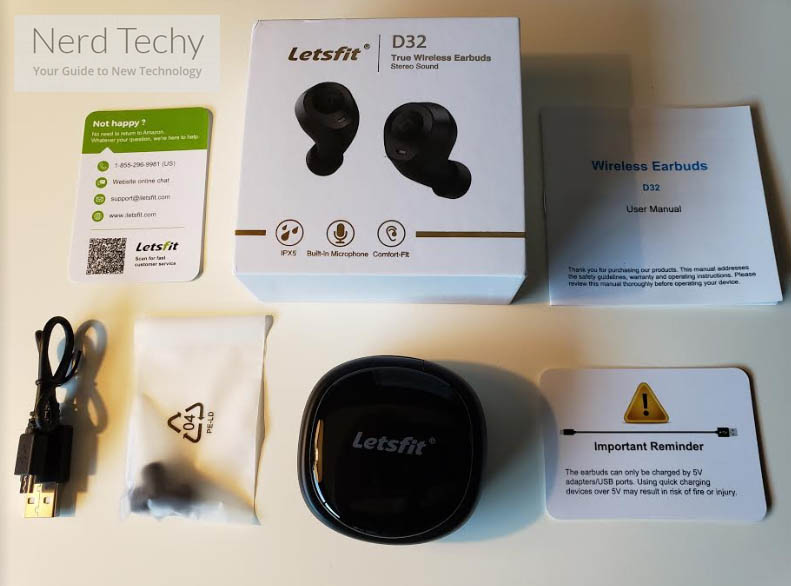 Well, compared to earbuds made only a couple of years ago, the Letsfit D32 Bluetooth Earbuds perform surprisingly well. That's really the result of small, incremental improvements across a vast range of areas. For instance, these earbuds utilize Bluetooth 5.0, and thus can provide all of its associated advantages. They're made with modernized battery technology. And when it comes to comfort, these earbuds actually go a little above and beyond.
Interestingly, these earbuds were made with some emphasis on mobile activity. They anticipate the user being active. But they're not exactly athletic earbuds by nature. You might be able to wear them for jogging, but they're not made ideal for those circumstances. Which means the Letsfit D32 Earbuds aren't going to please everyone. But who will they have a chance of pleasing?
Design & Layout
As mentioned earlier, the charging case is pretty generic looking. But sometimes good things come in small and simple packages, right? The case is perhaps three times as large as the earbuds themselves, but you can still shove it in your pocket and carry it around rather easily. If having a compact and portable charging case was your highest priority, you could certainly do better.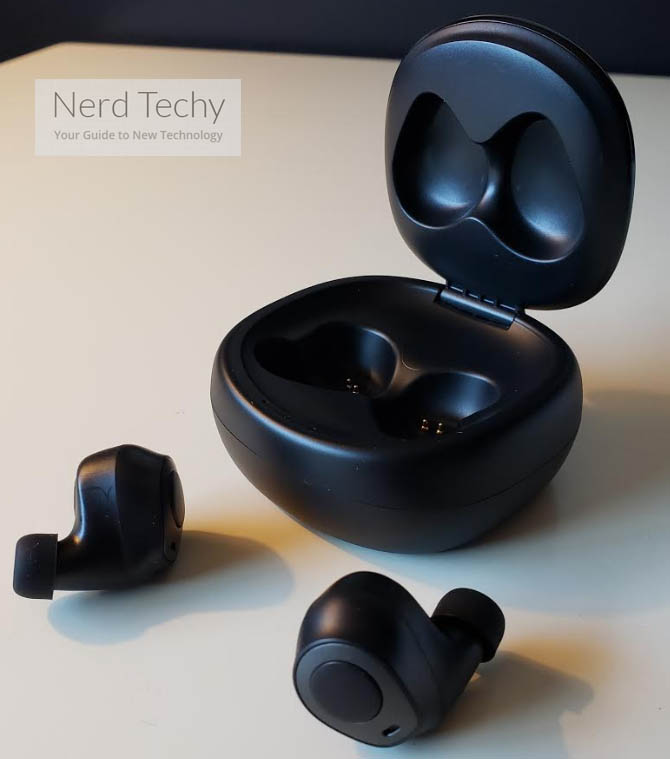 Letsfit D32 Bluetooth Earbuds are made with an IPX5 waterproof certification. That's strong enough to resist rain and sweat without encountering any type of issue. It's also good against grit, dust, and sand. But you're not really protected against submersion, and you really shouldn't go out of your way to get these earbuds wet. Think if it more like water-resistance than real immunity.
Once you open the top of the case, you'll find three small LEDs that run along the edge of the topside. These are supposed to let you know about the battery status of the case. Having only three LEDs is actually a pretty poor indicator, and it leaves you guessing a lot of the time. One light on the case could very well mean you have 20 minutes of playtime left, or it could mean you're good for another 2 hours. Not being able to distinguish between those possibilities is very unfortunate.
Each earbud was made with a single large button on its exterior face. This is not to be confused with a true touch control interface because you actually have to press down the button to activate it. But it does mean you can operate these earbuds even while you're wearing gloves. Each tap is capable of affecting volume control, skipping between tracks, managing calls, and so forth.
You do need to memorize some control patterns for those buttons in order to get them to work for you, but the whole thing is pretty intuitive. Even if you end up forgetting how to access certain controls, you can basically guess your way to success. So there's no need to keep the included user manual around.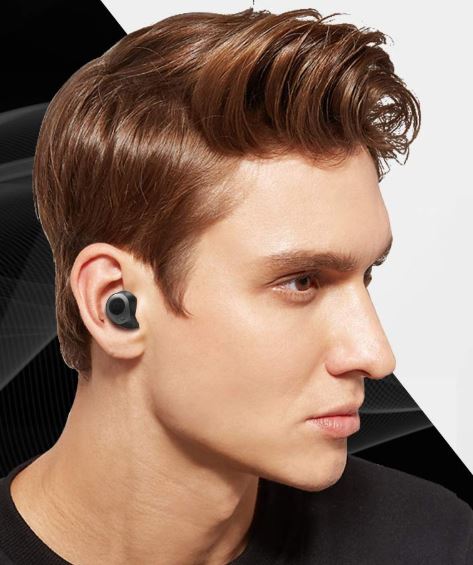 Audio Quality
Letsfit D32 Bluetooth Earbuds are surprisingly small. Each earbud is made around a 5.8mm dynamic audio driver. The size of those drivers is actually on the smaller side of average. Because the driver is so tiny, a great deal of the definition of the sound comes from the software side of sound development rather than the hardware side.
That has ups and downs. Earbuds like these tend to deliver anemic bass. Unfortunately, the Letsfit D32's are not really much different. Their bass is a bit underwhelming, even if you take the time to adjust them a bit with an equalizer. However, these earbuds do have a bit of an emphasis on delivering clarity. Especially within the treble range.
Many earbuds of this type end up going with an athletic-oriented soundscape. These earbuds seem to have a soft emphasis on vocal performance, with a soundscape that's more open and airy more than dark and bass-driven. They are intended to be more neutral leaning in nature, not leaning heavily into one genre more than others. For people who enjoy a wide variety of different types of music, that's probably a good thing.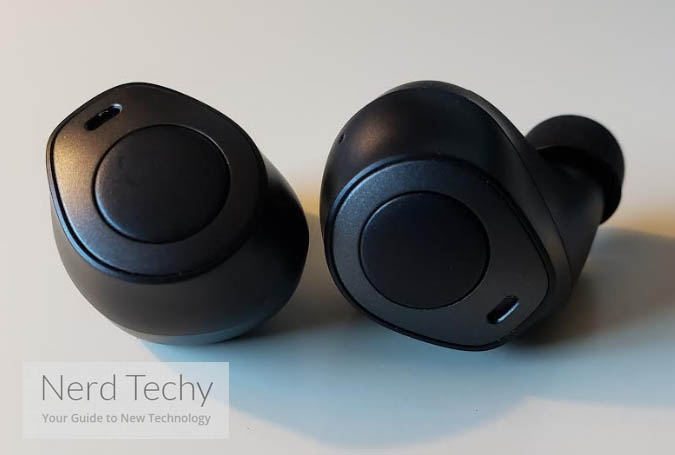 Wireless Connectivity
True to their name, the Letsfit D32 Bluetooth 5.0 True Wireless Earbuds make use of Bluetooth 5.0 for their wireless connectivity, which is probably the best design decision that Letsfit made with respect to these earbuds. Bluetooth 5.0 carries a number of advantages that are specific to true wireless connections, making for a far more stable sync. The advantages don't actually stop there; they continue on to help improve battery performance slightly as well.
Battery Lifespan
You can anticipate about five hours of playback from each earbud. You can get another 20 hours from the included charging case. That means when all is said and done, you can get about 24 hours of playtime from these earbuds. That's enough to play through literally an entire day of music, at least conditionally.
How does the charging case battery stack-up to similar pairs of earbuds? Actually, it's pretty close to dead average. Some charging cases aspire to deliver far more than 20 hours of playtime. Some can deliver closer to 80. But if you don't actually see yourself separating from the grid for that long, then having a battery of that size is just an expense you don't need to pay.
Because you're still going to have to recharge them eventually. Unless you actually have some good reasons to need more than 20-24 hours of playtime, getting your hands on it will really only weigh you down. And in a literal sense due to the extra battery weight.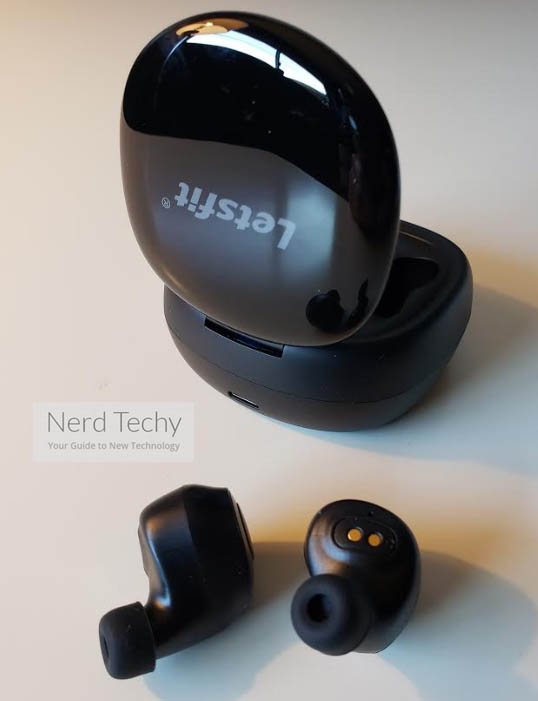 Comfort Thoughts
Once again, true to their name, Letsfit D32's go out of their way to help deliver a physically secure fitting earbud. A total of three sizes of ear-tips are included: small, medium, and large. Between them, finding the perfect size for your own ears is only a matter of trial and error.
Even though most people will end up using the medium-sized tips that come pre-installed on the earbuds, swapping between the various tips to find the most appropriate size really is worth the time. Getting an individualized fit is essential to both comfort and noise isolation.
There's room for complaint, however. These earbuds don't include memory foam ear tips. Those can be pretty handy for working on improving your noise isolation. Especially when you're using headphones that aren't complete with some kind of noise cancellation feature, like ANC. But on the other hand, having to swap between different ear-tips tends to be pretty tedious anyway.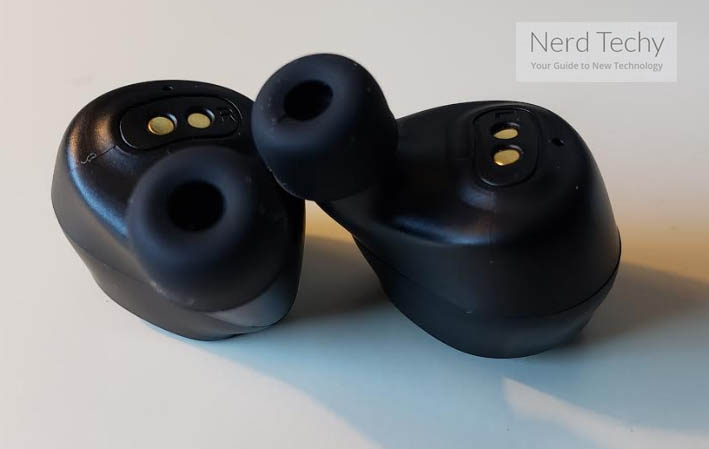 Microphone Quality
When you start to evaluate its microphone performance, you'll find the Letsfit D32 Earbuds continue to be a mixed bag. One thing you can say in its favor is that they used a pretty solid piece of hardware to get things started. The electret microphone is ideal for noisy calling circumstances, which is a good starting point for absolutely any pair of similar wireless earbuds.
However, Letsfit didn't really develop their mic any further beyond that. They didn't work out additional noise cancelling technologies, like CVC 6.0. Moreover, they don't support any native voice assistant features. That's a little disappointing, but not something that's totally impossible to overcome with a little persistence and knowhow.
Other Considerations
This kit doesn't come with many extras. You'll find that the earbuds include the charging case, replacement ear tips, a micro USB charging cable, and a user guide. They also include a one-year warranty from Letsfit. You probably won't need to take advantage of that warranty, but it's always nice to know you're covered.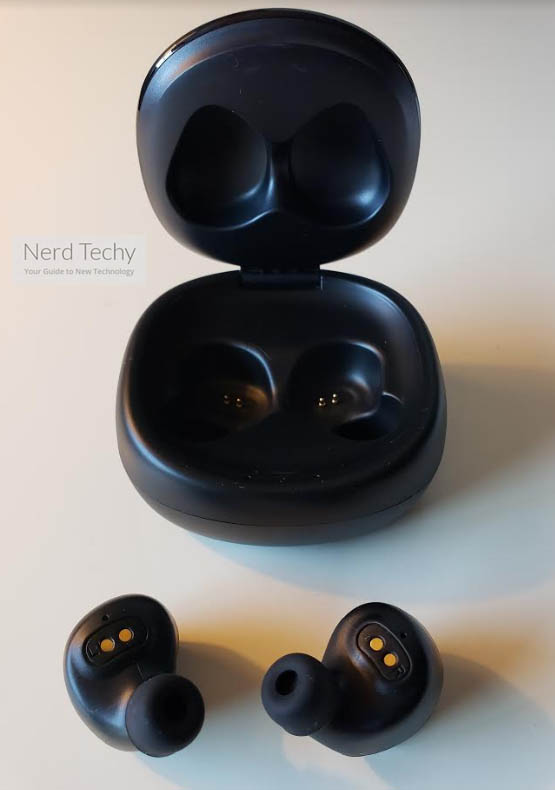 Who Should Choose Letsfit D32 Bluetooth 5.0 True Wireless Earbuds?
As you can probably tell on your own, Letsfit D32 Bluetooth Earbuds are not going to be the right choice for everyone. For example, if you're someone who's looking for battery life above all else, then these earbuds are probably not the perfect fit for you. Their battery really comes closer to average than anything else.
But these earbuds are also certain to attract a lot of different people. When you start to look at their physical construction, there's really nothing to be disappointed with. They're not the most stylish pair of earbuds in the world, but they're well protected from water. They're smartly designed, comfortable, and they're pretty cost effective.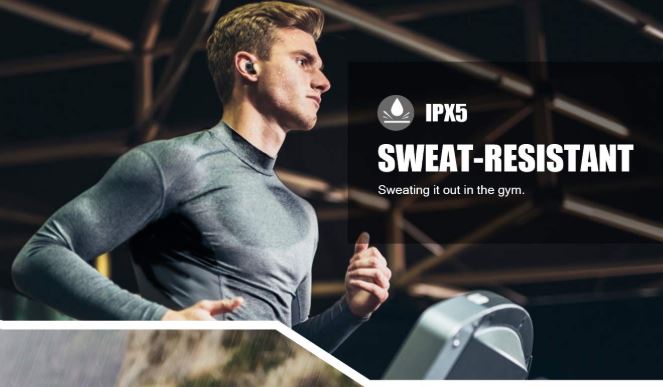 Moreover, these earbuds are probably a good pick for someone who's got portability in mind. The charging case is small, the earbuds are small, and carrying them around is a breeze. They also stay inside your ears quite well while you're in motion. Isn't that really everything most people want from earbuds like this?
Though their calling features aren't exactly the most robust portion of their design, they probably won't disappoint you. If you were looking for earbuds that were specialized towards calling, these are not them. But for taking the occasional call, nobody is likely to complain about the clarity of your voice.