There's nothing we like more than getting our hands on the latest new technologies. As standards are upgraded, the hardware we use becomes faster, more reliable, and easier to use. Unfortunately, there is a downside to upgrades. Hardware that we use every day can become obsolete. In some cases, it's obsolescence is superficial.
Take our trusty USB ports, for example. There are a lot of advantages to USB-C. USB-C can be used for video, power, and virtually anything else that can be transported over a cable. We're able to plug in our USB devices from any direction we choose, and the port takes up very little space. But what if we told you that many of the same technologies we use on USB-A, are still fully compatible with USB-C?
In most circumstances, the only difference is the physical shape of the port. If you're looking for a way to use your USB-A hardware with a USB-C compatible port, all you need is a simple adapter. There are plenty of expensive breakout boxes that offer a plethora of connections, but these adapters are much simpler. What can you do with these handy adapters? And which one will work with your device? This guide will help you find out. We'll take a quick look at the three best adapters on the market. After, we'll help you decide which option is best for your needs.
AUKEY USB-C to USB 3.0 Adapter
As one of the most prolific importers of foreign produced goods, AUKEY is one of our first stops when we're looking for inexpensive cables, hardware, and adapters. Their product range spans a large number of industries, but it's their adapters that really stand out. In a sea of cheaply made and poorly performing hardware, their reviews say everything you need to know. AUKEY sells hardware that is reliable, and does exactly what it says.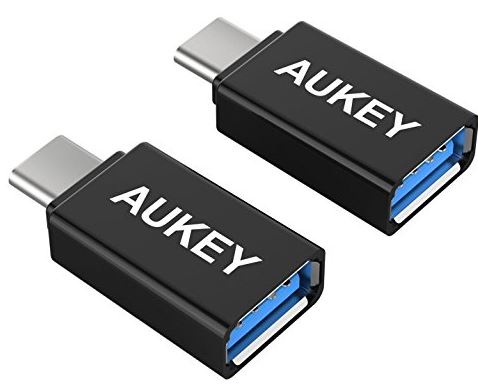 Design
The AUKEY USB-C Adapter is one of the most compact options on the market, occupying very little space. Measuring 1.3" in length by 0.7" in width, it's only a little longer than the end of a standard USB-A plug itself. The black enclosure is made from a single piece of molded plastic, and is plain aside from the AUKEY logo on the front. This dongle style adapter can plug directly onto the end of your USB-A hardware, so you won't have to worry about carrying it around.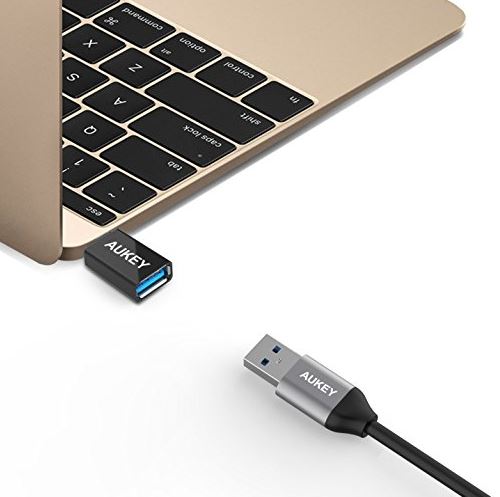 Compatibility
This USB-C adapter fully supports the standard, so there are virtually limitless things you can do with it. If you're using it with a laptop or desktop computer, you can plug in any USB-A peripheral, storage device, or accessory that you have on hand. Since USB-C technically supports the old communication protocol, you don't have to worry about compatibility.
There is, however, one additional feature that isn't too common. By supporting OTG, these adapters make a great accessory for your mobile phone or tablet. Modern smartphones, such as the Pixel, only have a USB-C port. With this adapter, you can plug in a flash drive or keyboard and use them with your phone. OTG adapters are generally sold separately, so the fact that this has been combined with the standard adapter opens up a lot of functionality.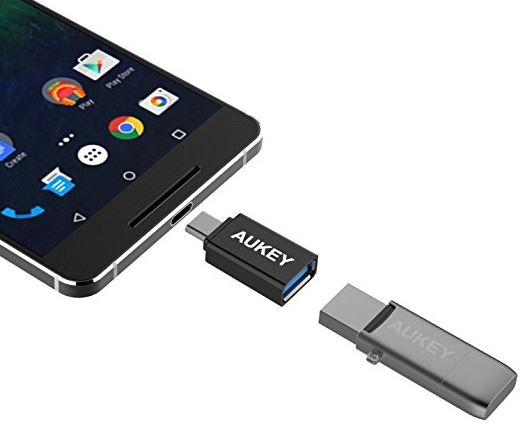 Durability
Generally, plastic isn't the most durable material that an adapter can be made out of. But AUKEY has taken reasonable steps to ensure that their solution will last longer than the competition. The internals of the female USB port are lined with metal, ensuring that it doesn't wear out over time. The connector has been reinforced as well, so we have no concerns about the durability of this adapter.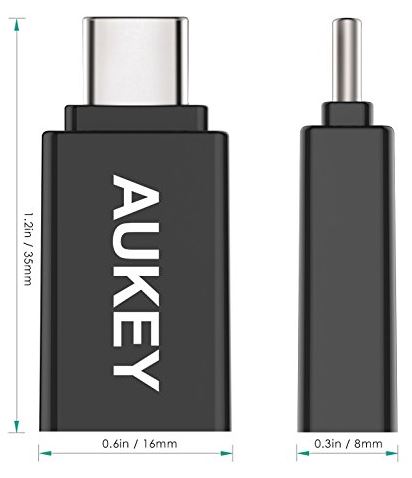 Value
As these adapters come in a pack of two, your per-unit cost is lower than any other solution on the market. There are companies out there that charge the same for just a single adapter, so even if you only plan to use one you're still getting a decent deal. But the real value will be realized by those of you that want a couple.
Nonda USB-C to USB 3.0 Mini Adapter
Being known primarily for cables and chargers, it makes sense that Nonda would expand into the adapter market. Nonda is commonly known for making adapters that are much more durable than the competition, and this one is no different. Featuring one of the most attractive enclosures we've seen, paying a premium for this model will be worthwhile for many people.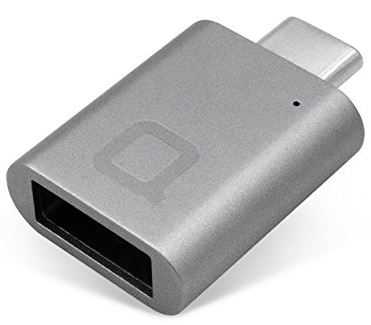 Design
Apple's latest computers are some of the most attractive options on the market. Their iconic aluminum finish is certainly eye-catching, and there are many accessories that attempt to replicate this look with their own hardware. The Nonda USB-C to USB 3.0 Mini Adapter is, just like the Macbook, machined from a solid piece of aluminum. It's got a smooth, rounded finish and feels simply stunning in the hand.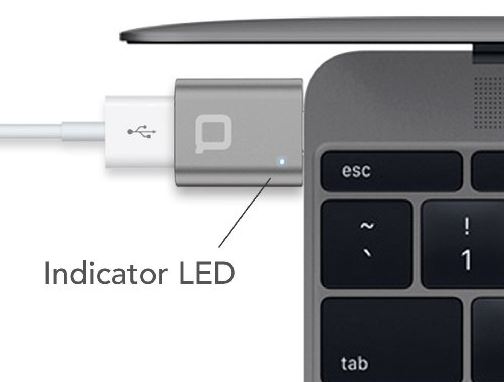 There are three colors available. You can choose from Silver, Gold, or Space Gray. Conveniently, these are the exact same colors that the Macbook comes in. When you've got this adapter sticking out of the side of your computer, it will look natural – a huge improvement over most 3rd party options.
The face of the adapter is very nearly bare. On the top right corner, there is a tiny pinhole. This is the activity light, which blinks when data is being transferred back and forth. Beyond this light, the only other thing on the face is the subtle Q icon. Overall, this is the most attractive adapter that you can buy.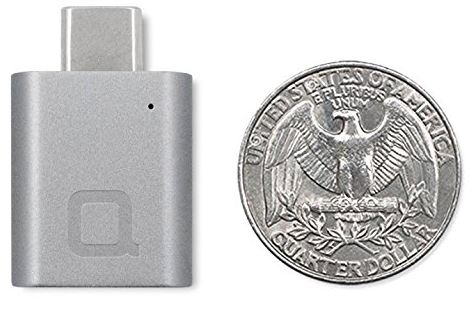 Compatibility
This adapter connects through the USB-C port using the USB 3.0 SuperSpeed standard. This allows for a theoretical bandwidth of up to 5 GBPS. It's heavily geared towards storage, but works fine with peripherals as well. Because it doesn't support OTG, we don't recommend using it with phones and tablets. However, chromebooks will work fine.
Durability
Being machined from a solid block of metal has it's advantages. It's virtually impossible to damage this connector, even with extreme abuse. This is the kind of thing that you can chuck in your bag and never worry about. For many, this industrial grade design would be overkill. But considering it just costs a few dollars more, this will be worthwhile for many.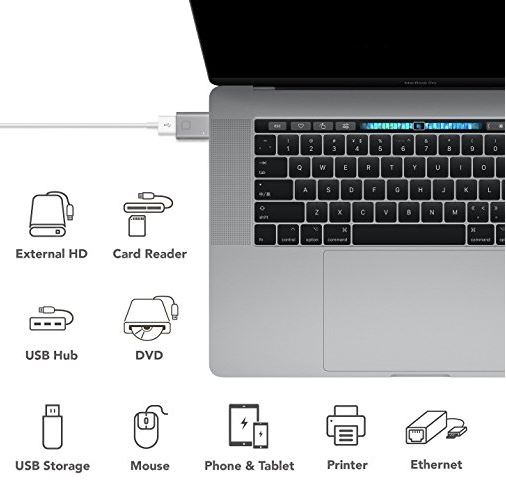 Value
Although it's the most expensive adapter on our list, we're really only talking a few dollars. At the end of the day, what you're paying for is design. If you spent a lot of money on a computer that looks great, then keeping its appearances up for a few dollars is worthwhile. But if you've got a computer that doesn't match the aluminum design, the price might not be worth it for you.
CableCreation USB-C to USB 3.0 Adapter
As you could probably guess from the brand name, CableCreation creates cables. But these aren't just your everyday average cable. They often have some unique design feature. Some come out of the port at an angle, while others offer unique fabric wrapping. But for this option, the main standout feature is the fact that it's a cable. This gives you more control over where you place your USB-A devices, so they're not sticking straight out from your laptop.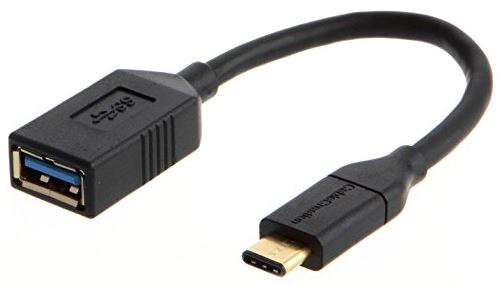 Design
There is nothing flashy about the CableCreation USB-C to USB 3.0 Adapter. On one end, you've got a standard USB-C cable. On the other, a female USB-A port. The cable itself is about 6 inches long, so it's still fairly compact. The one thing we did notice was the rubberized connectors. They feel good in the hand, and are easy to grip and pull. The tip of the USB-C cable is also slimmer than most. This means that if you're using your phone with a case, you'll still be able to fit the USB-C end in. This is something we can't say about most adapters.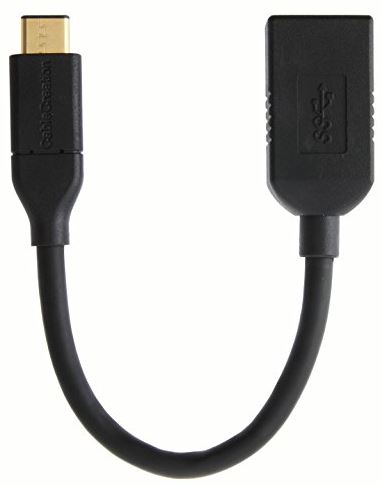 Compatibility
This cable supports both USB 3.0 SuperSpeed, allowing for 5 Gbps bandwidth. But we're also happy to see that it supports OTG, which allows you to use peripherals with your mobile devices. There is nothing that this cable isn't compatible with, and you can even charge your phone through it!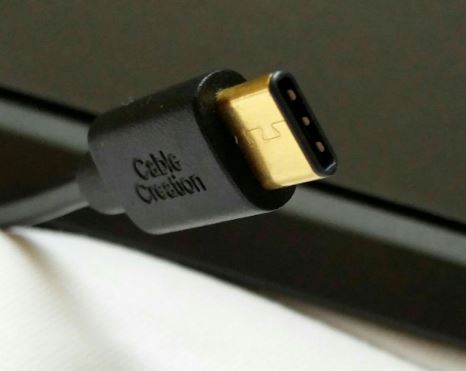 Durability
Technically, this cable is not as durable as a solid adapter. But that's a good thing. What is it that damages cables? Cables wear out when they're bend, or torqued at a strange angle. They wear out from being bent, pulled, and twisted. Here's the thing, unless you want your hardware sticking straight out of your computer, it's probably going to put some pressure on the cable. What would you rather damage, the cable for your hard drive or an inexpensive adapter? If you are fine with plugging your hardware straight into your device, this is a moot point. But if you want a little more flexibility with cable placement, this could be a good choice.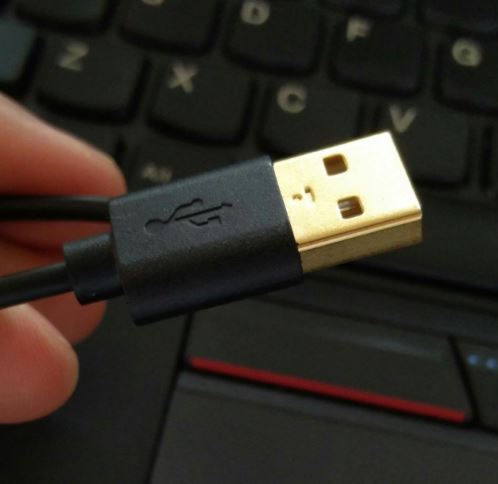 Value
For a single purchase, this is the cheapest that you're going to find. But it's not the cheapest on a per-unit basis. If you want multiple adapters, it might be a better idea to order the two-pack. But for one, this is the lowest transaction fee you'll find.
Which USB-C to USB 3.0 Adapter is Right for Me?
Not sure which one to select? At their core, they all perform a pretty similar task. But there are a few key differences that could make one a better choice than another.
If you're just looking for the cheapest and easiest way to convert your USB-A peripherals to USB-C devices, we'd recommend picking up a package of Aukey USB-C to USB 3.0 Adapters. You can simply stick them onto the ends of flash drives, and not worry about losing your adapter. They're simple and they work, which is all we can ask for at this price point.
If you want an adapter that matches your Macbook, or any other aluminum computer, we'd recommend checking out the Nonda USB-C to USB 3.0 Mini Adapter. Not only is it incredibly compact, but it's also incredibly stylish.
If you want an adapter that isn't going to put any additional strain on your USB ports, the CableCreation USB-C to USB 3.0 Adapter is the best option. This 6 inch cable is still very small, but allows you to plug in your USB devices from any angle. This additional flexibility makes them much easier to use, and it's still the cheapest buy on our list.
Want to do more with your USB-C port? These adapters provide the means to connect older technology to new ports. But USB-C offers a lot more than that. This simple port can be used for video, storage, and a number of other uses. Those of you who are using a laptop that provides one port exclusively might benefit from a USB-C Docking Station. In our roundup, we covered all of the best options on the market, which help you get a little more than what a simple adapter offers.
No matter which route you choose, USB-C is here to stay. If you're struggling with the transition period, there are simple and affordable ways to make the jump from old to new.