USB flash drives have become much more robust than they once were, with hardware that allows for greater storage space comparable to even some laptops, computers, tablets and modern smartphones. Their software and overall technology has become much more desirable as well, allowing for greater protection and increased transfer speeds than ever before seen with USB thumbnail drives.
As a safe and portable method of storing and transferring devices, there are certain other qualities that must be accounted for in order to ensure value. Some of these include performance, durability and ease of use, among other factors. The fact that they're so compact and easy to keep in a safe place offers protection. Meanwhile, their small size makes them an affordable option for those who don't necessarily require terabytes worth of space.
In this review you're going to receive a full analysis on each one of the Lexar S37's qualities. We're also going to look at how well it may serve to solve the issues you may be faced with, and a comparison of its overall value to other flash-storage drives on the market.
Up to 128 Gigabytes Worth of Storage Space
As the desirable files we use today increase in storage space demand, from text media, videos and even music to video games and movies, our USB jump drives inevitably must deliver more. While these increases usually aren't exponential, even music today is being engineered to provide clearer and more advanced audio with special sound effects, and spreadsheet software is seeing comparable increases.
Lexar provides for that with the S37 as the size range begins with 16 gigabytes, which used to be quite high for smart mobile devices. Moving on from there, you also have your choice between 32, 64 and 128 gigabytes worth of space, resulting in four different size options depending on your uses and the amount of money that you wish to spend.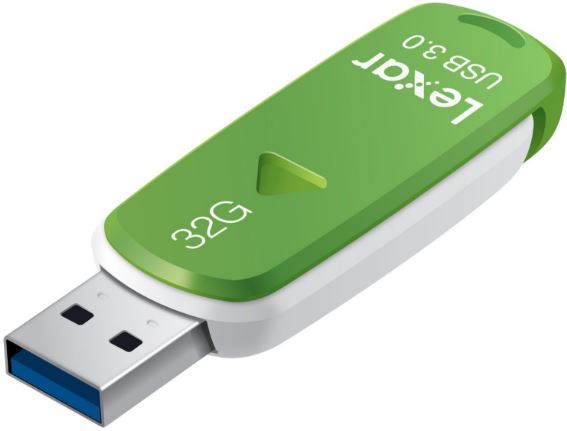 When compared with many other USB jump drives based on the amount of storage space alone, each of their prices are quite competitive, making it an economic choice in the area of storage space and performance. Whether you're using the S37 for work, entertainment or family photo albums, you can get the size that you need for those purposes, with the level of performance being at your own discretion as a consumer.
SuperSpeed USB 3.0 Speed Capabilities
As you probably know, transferring large files like movies, music and even creating file backups for business purposes can take a considerable amount of time. This is a major problem with lower quality albeit high capacity USB jump drives, in that it can take hours to move around and replace files when needed. Additionally, any jump drive that can alleviate this stress will prove to be more valuable.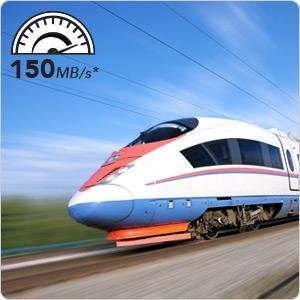 The S37 takes a large stride in this area with its SuperSpeed USB 3.0 technology that's rated at about twice the speed of the previous standard, USB 2.0. It's rated for up transfer speeds up to 150 megabits per second, but further benefits are derived in that bulk transfers are made possible in a fast stream, even streaming multiple batches of files simultaneously. Since USB 3.0 technology requires more power than its preceding 2.0 technology, it's been designed to allow better communication between both the jump drive and other devices. In turn, this leads to a considerable amount of power savings overall.
This ability to send data in both directions also means less bandwidth is required for keeping both devices synchronized, allowing the S37 to achieve greater transfer speeds than if it were using USB 2.0 technology. The end result is a faster and larger USB jump drive for a lower price, which is a great value in not only performance, but also in price.
Backwards Compatibility for Use with Non-modern Devices
While many devices today including personal computers, as well as other smart devices use USB 3.0 technology, since it was released in 2008, older devices don't. This can prove to be a major issue for jump drive users with files stored on USB 2.0 compatible only devices, as otherwise you're required to purchase another USB jump drive and go through the hassle of transferring files to where they need to be.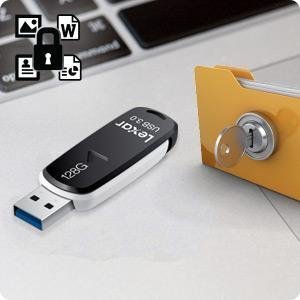 The Lexar S37 is backwards compatible with USB 2.0 devices. Although this is easy to achieve with USB 3.0, it's better to have it and not need it, than the converse. You'll achieve lower transfer speeds while using USB 2.0 technology and won't be able to batch large files together into a simultaneous stream, meaning greater effort. However, the compatibility is all there, making it easier to use overall – with a better economic value. At the same time, the S37 is designed to be compatible with both PC and Mac systems, allowing you to rely on one large USB jump drive no matter which device you plan on using with it.
File Securing Software Using 256 Bit AES Encryption
Safety and performance are two major qualities that go hand in hand with any worthwhile USB jump drive, as files can easily be lifted and removed if you ever misplace your device. The S37 is equipped with Lexar's proprietary EncryptStick Lite software, which is incredibly effective at keeping all of your media secure, with the following advantages:
Software Compatible with all PC, Mac and Lexar Jump Drive Devices
This is one of the areas that makes the S37 so robust for its class, in that not only does its security software work effectively on all PC and Mac devices, but will also install directly from any Lexar JumpDrive as well. You can also use the data recovery solutions available to restore any files that would have been lost within a misplaced jump drive, by creating a backup copy of your USB vault on your computer.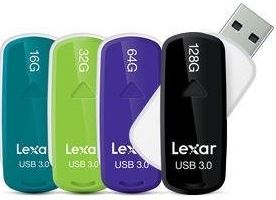 Because this software is compatible with all Lexar JumpDrives, all you do is install the software onto a new one and you have access to all of your files. There's an automatic update feature as well to keep everything up to date very easily.
Capable of Encrypting All Media Types
It's highly desirable to have full access to an encryption software that will protect all of your data. However, if it limits the types of files you can keep securely on your jump drive, it reduces its desirability considerably.
Because it uses 256 bit AES technology, Lexar's EncrpyStick Lite software is versatile in its encryption capabilities. It will protect all of your sensitive and complex data with AES algorithms which are registered and government approved, and beyond that is FIPS 140-2 compliant which is a government computer security standard.
Enhancing its safety and ease of use qualities, you can run EncryptStick Lite with or without administrative rights on your computer. The login screen will automatically lock for one minute if 10 failed login attempts are made.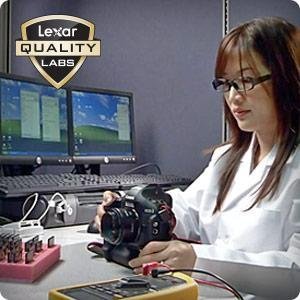 Instant Lock Mechanism
The instant lock mechanism seals all of your files, applications, functions and data vault at the click of a button. This technology would mean nothing without real time protection. Lexar also offers the benefit of ease of use with a user interface for all of your file encryption.
It will not only instantly lock down your entire data vault, applications and features that you're using, but also cleans out any temporary files, clipboards, caches and secure memory in case you're away from your computer, making it fast and efficient. There are also advanced ease of use features which include an advanced virtual keyboard, live search and auto time out.
Compact and Comfortable to Use Design
It's useful to have a jump drive that is easy to store and manage, and even keep from being lost or stolen. The Lexar S37 is designed and comes standard with a key ring loop mechanism so that you can keep it on you when on the go. This makes it nearly impossible for someone to snatch it, and much less likely to lose if it's attached to your important keys. It also has a swivel design that automatically retracts the USB connector making it less likely to be damaged by bumps and scrapes as well as exposure to moisture.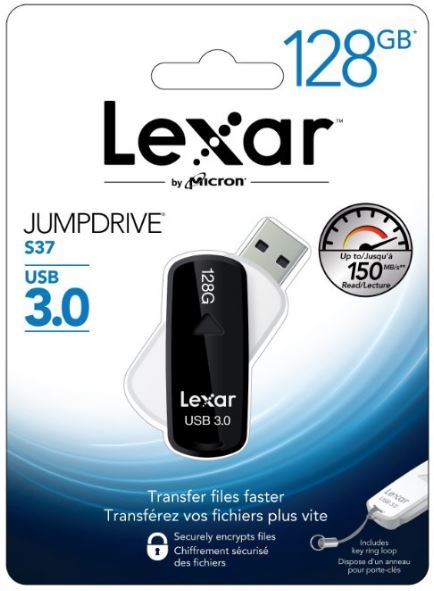 In terms of appearance, its soft colored and curved outer design is complemented by the Lexar logo with 'USB 3.0' printed beneath it. Its capacity is indicated on the other end, with a soft, white inner exterior housing the connector.
Final Thoughts
The Lexar S37 JumpDrive comes stocked with all of the necessary features to make it a high performing, easy to use and secure solution to your data storage needs. USB 3.0 technology has been around for many years now, making it very compatible with most of today's devices, and from durability, appearance and price it's a serious competitor in the market and definitely worth the price. It's nothing truly revolutionary, but it's nice to see that Lexar takes all of the latest technology and package it into a robust, durable and easy to use design.
Meet Derek, "TechGuru," a 34-year-old technology enthusiast with a deep passion for tech innovations. With extensive experience, he specializes in gaming hardware and software, and has expertise in gadgets, custom PCs, and audio.
Besides writing about tech and reviewing new products, Derek enjoys traveling, hiking, and photography. Committed to keeping up with the latest industry trends, he aims to guide readers in making informed tech decisions.