What makes a good mouse? There are a variety of factors at play. For some, proper ergonomics is the mark of a good mouse. Others value precision. We're seeing an increasing focus on ease of use, with many mice that can be automatically paired, or have a long battery life.
Mice have been around almost as long as graphical interfaces. Technology is improving at a slow and steady pace, with each new generation bringing some minor tweaks to a well-received platform. But we haven't seen anything game-changing for a long time. When was the last time a manufacturer tried to reinvent what a mouse could do?
Note: At no extra cost to you, we may earn a commission for purchases using our links. Learn more.
With the M585, Logitech wanted to make a statement. Yes, it has everything you've come to expect from a mouse. But there is one feature that really makes it stand out. This is a mouse that's designed to be used with all of your devices at the same time, instead of being limited to one computer. Is this feature going to change the way we multitask? We decided to find out.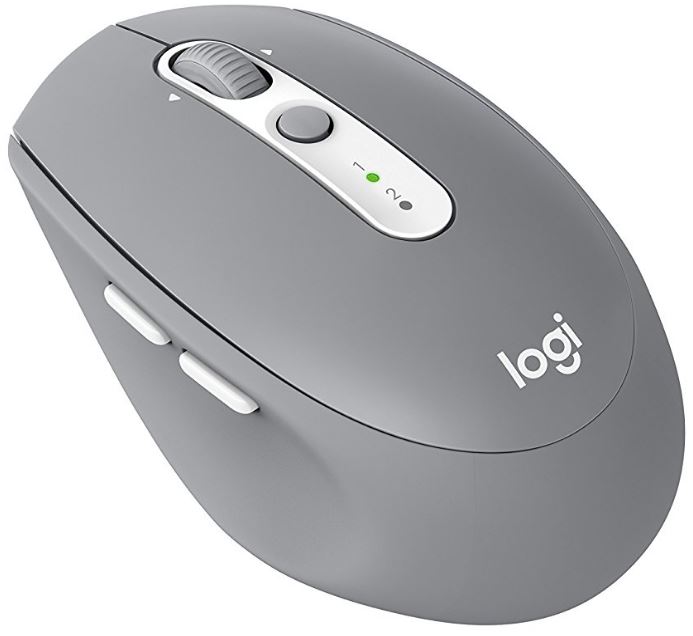 Model Overview
The Logitech M585 is mid-range portable mouse with all of the essential features. It's compact, ergonomically shaped, and has navigation buttons in addition to the standard ones. It uses a 1000 DPI optical sensor and had multiple ways to be connected to your computer. In almost every regard, it's a pretty average looking mouse. But if you're regularly using multiple computers, then Logitech Flow will give you the cross-device control you've been waiting for.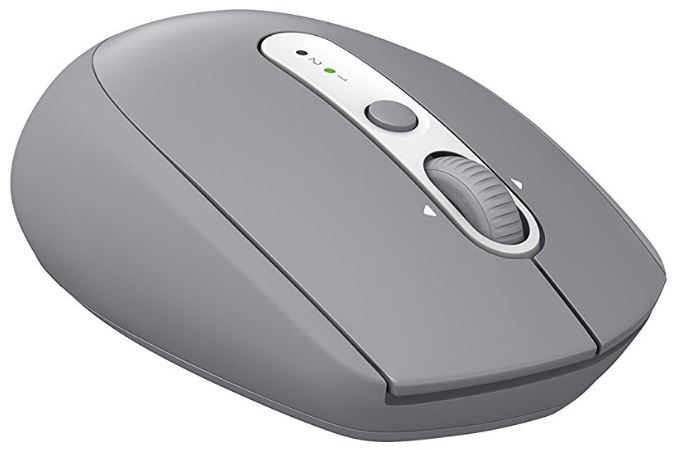 Setup Procedure
The primary pairing process is incredibly simple. If you're using Bluetooth, you just turn the mouse on and search for devices from your computer. The M595 will show up on the list, and selecting pair completes the process. If you're using the Unifying receiver, you'll want to run the "Logitech Unifying Software" that comes with the mouse to complete the pairing process.
You'll notice that we didn't have to enter pairing mode on the mouse. Most Bluetooth hardware can only communicate with one device at a time. This mouse can handle multiple connections, so it's always in pairing mode. Just search for it on a nearby device, and it will pop up.
If you want to setup Logitech Flow and control multiple computers with one mouse, you'll need three things. First, each computer must have Bluetooth or a Unifying receiver. Each computer must be connected to the same WiFi network. Finally, you'll need to install Logitech options on each device.
Once all of that is in order, you just pair your mouse with each computer using the process described above. The final step is to open the Logitech options panel and configure the arrangement of your devices. On our work bench, we had our MacBook on the left, and our Surface on the right. Once this was entered, the setup procedure was complete. In total, it only took us about three minutes.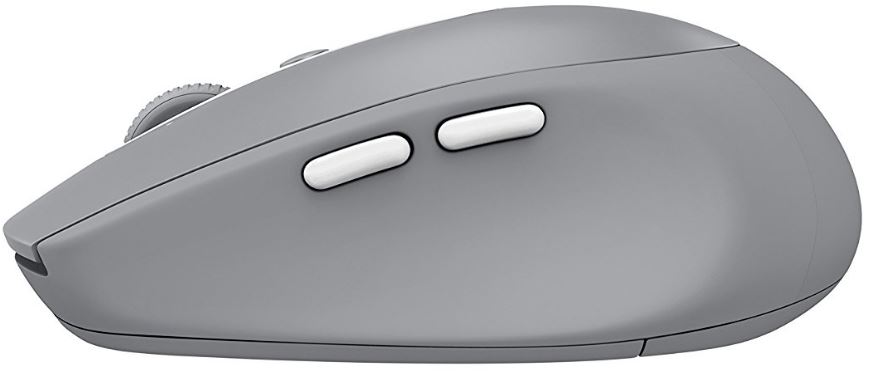 Multi-Device Features
Flow is a bit like a digital KVM switch. To move the mouse from one computer to the other, you just drag it to the edge of the screen. Once it crosses the boundary, it will pop over on your other device. The effect is seamless as if you were using a dual monitor system.
But this is only the basics of what's possible. You can drag and drop files from one computer to another. Text copied on one can be pasted on either. Although you can't drag windows between systems, everything else is fully synchronized.
Older Logitech mice had a much more basic version of this feature. There was a button on the side that would allow you to select one of three devices. Beyond that, there was no cohesiveness between systems. With the new Flow software, we were able to remove all of the productivity limitations when working with two systems. Compared to the previous version of this technology, the M585 is a game changer.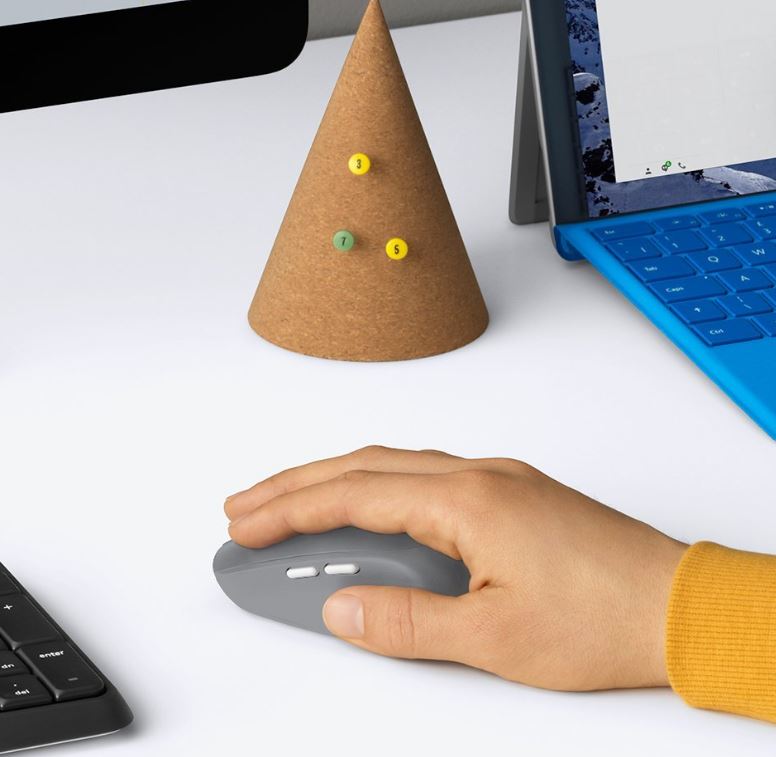 Controls
Most of the time, our mice are nothing more than two buttons and a scroll wheel. But the M585 offers a little more. On the left, you've got two thumb buttons. By default, these are used for navigation. Pressing them either up or down is equivalent to using the "page up" or "page down" buttons on your keyboard. The text at the end of your screen moves to the beginning, giving you the ability to flip through documents and websites quickly.
The scroll-wheel itself is an improvement from previous generations as well. It has a smooth, yet tactile response. Each movement of the wheel produces a surprisingly large hop down the page, but if you hold the wheel down while scrolling you'll enter precision mode. Precision mode scrolls line by line. For navigation, this gives you a lot of options. Whether you want to scroll page by page, paragraph by paragraph, or line by line, these controls have you covered.
Finally, you've got a single programmable button just below the scroll wheel. We prefer to assign this button to the Task View interface in Windows 10, so we can quickly switch between apps. But you can assign any key combination to it, making it easy to access your favorite shortcuts without touching a keyboard.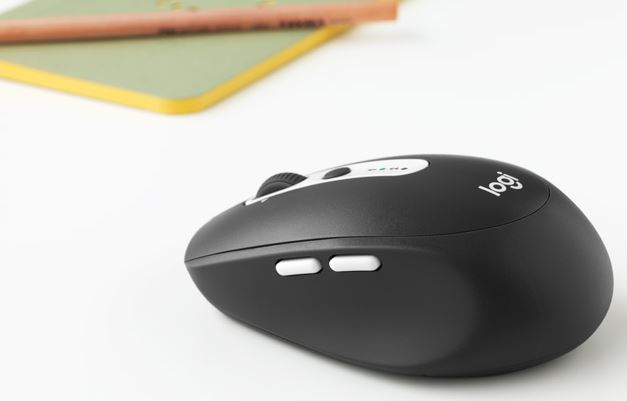 Ergonomics
As a portable mouse, this is much smaller than most full-size options available. In spite of this limitation, it's still very comfortable to use. Both sides are gently curved in. When you squeeze it between your fingers, you're making full contact with your whole finger. We found it most comfortable to hold between your thumb and ring finger. Like this, it's easy to perform any maneuver, as well as lift the mouse off of your desk.
The top of the mouse is smooth, and the gentle curves match that of your hands. Both the scroll wheel as the navigation buttons were easy to find. You fingers tended to rest next to then, so actuating them was more a matter of rolling your finger rather than lifting it up off the mouse. Compact mice aren't always our first choice, but the M585 is as good as it gets regarding ergonomics.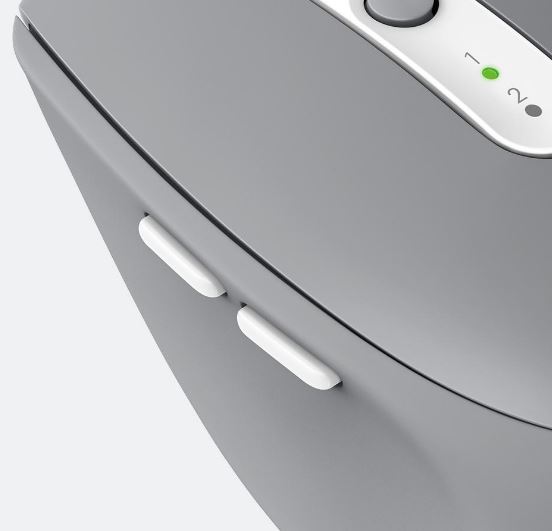 Battery Life
The M585 uses a single AA battery, one of which is included. Thanks to the new ultra-low power Bluetooth standard, Logitech claims that one battery can last 24 months. They don't show the math behind this claim so your mileage will vary.
At NerdTechy, we spend quite a bit of time on the computer. Often up to 8 hours per day. After using this mouse for about 5 days, we went from 100% charged to 99%. Based on this usage, we might expect this battery to last us 1.3 years. Considering that our usage is much higher than the average user, this is still pretty impressive. Realistically, we'd need to use this mouse for at least a few months before we could determine if the battery drain was linear. In our opinion, pick up five AAs along with the mouse. It will only cost a couple bucks, and if the mouse isn't out of date before you run out of batteries, we'd be surprised.
Disadvantages
This mouse requires that your PC be compatible with BLE (Bluetooth Low Energy) technology. If your computer doesn't support this, you will have to use the Unifying receiver with this mouse. BLE is also referred to as "Bluetooth Smart." If your computer was manufactured in 2016 or later, you can expect it to be compatible. Higher end machines from 2015 support this technology, while it was an uncommon option in 2014. This is a severe limitation for anyone with older hardware, who might need more than one Unifying receiver. You can purchase them separately, but it can quickly drive the cost of this mouse way up.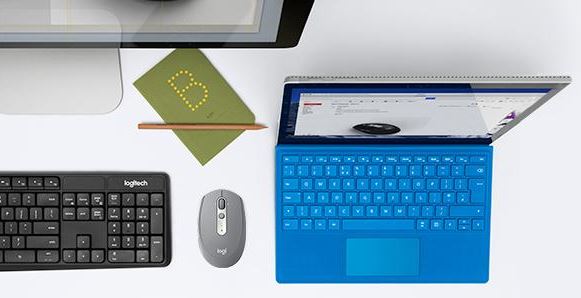 Final Verdict
If you own multiple computers, then you're definitely going to want a mouse that supports Logitech Flow. This software drastically improved our productivity and saved us plenty of time moving files around via Dropbox or flash memory.
The M585 is an excellent choice for anyone who needs a portable mouse for use while on the go. Despite its small size, it's still fairly ergonomic. It's got plenty of buttons, and you'll rarely have to think about changing the battery.
However, the 585 isn't the only mouse that supports Logitech Flow. The previously released MX Master 2S and MX Anywhere 2S can also be used with this technology. If you're looking for a mouse that will remain stationary on your desk, we'd recommend checking out our review of those two mice. But if portability is key, the M585 is a fantastic choice.
Note: At no extra cost to you, we may earn a commission for purchases using our links. Learn more.