Charging is the least mobile aspect of using a mobile device. You can take your phone anywhere and everywhere, but sooner or later you end up needing an electrical socket, and the wires that come with it. Wireless charging technology is working to change all of that.
While the technology is still somewhat in its infancy, like many new technologies, wireless charging has been improving fairly quickly. And the Logitech Powered iPhone Wireless Charging Stand is a pretty clear demonstration of these kinds of developments action.
Logitech Powered iPhone Wireless Charging Stand
If you know anything about Logitech, then you know a huge portion of their brand is dedicated to PC peripherals. Some of those peripherals even have exclusive support to the Windows platform. Consequently, it's somewhat surprising to see Logitech step so boldly beyond Windows and into Apple territory. And their powered iPhone charger is nothing if not bold.
One thing to keep in mind. The Logitech Powered iPhone Wireless Charging Stand was constructed specifically for the iPhone X, 8, and 8 Plus. However, it has far-reaching compatibility beyond the iPhone, including support for virtually all Qi-enabled phones. Among them is Samsung's S7, S8, S9, and all their plus counterparts.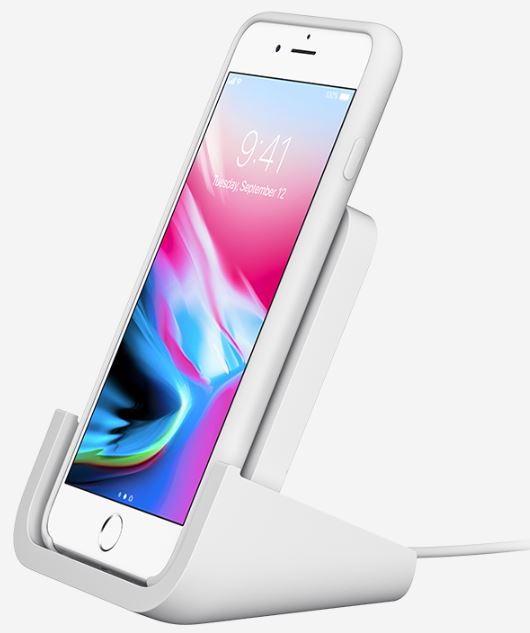 iPhone Favoritism
But calling out iPhone by name isn't an accident on Logitech's part. From top to bottom, the Logitech Powered iPhone Wireless Charging Stand has a slight bias towards Apple's smartphones. That bias may be most obvious in the clean white aesthetic and its speed-oriented charging capabilities. But it's a favoritism that shows even with respect to the types of cases which are compatible with the charger.
In regard to case compatibility, the Logitech Powered iPhone Wireless Charging Stand is made to be used with Apple's silicone or leather cases. Off-brand cases will work as long as they're less than 3mm thick, and as long as they're not composed of metal or magnets. Additionally, users of the iPhone 8 Plus will want to note your case needs to open at the bottom for charging compatibility.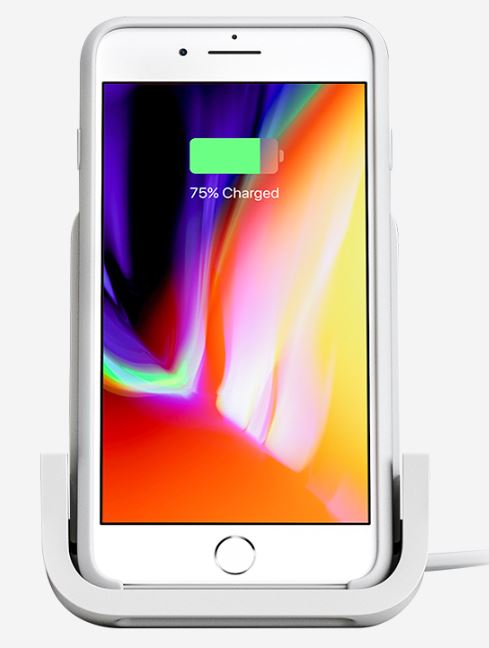 Build & Design
Logitech's charging stand is slightly more than a charging stand, it's also a viewing station. It props your phone slightly above desk level, standing 4.1-inches in height, 3.9-inches wide, and 2.9-inches in depth. The base of the stand is constructed with four rubberized feet, providing a firm grip to help keep everything in place.
And those feet are fairly effective, on a dresser or nightstand, small bumps won't put your devices in peril. Additionally, the Logitech Powered iPhone Wireless Charging Stand weighs just short of one pound, which helps provide some more stability. That weight feels fairly well distributed, providing a low center of gravity that helps keep your phone from making the stand top-heavy.
One more thing to note about its build. The stand plugs in to an outlet with a 4.9-foot cord and attached power adapter. The braiding around the wire is rather thick, which is useful protection considering the cord cannot be detached from the device. And the wire also matches the white aesthetic of the rest of the device.
Fitting Your Phone
How snug do phones fit on Logitech's platform? Using a slightly slimmer phone like the iPhone X, there's nearly one forth of an inch of extra space available on either side of the charger. When you're using larger displays like the iPhone 8 Plus, the fit is much closer to a surface-to-surface contact. These types of differences will only interest you if you're using one of the largest phones on the market, and then then pairing it with an exceptionally thick case.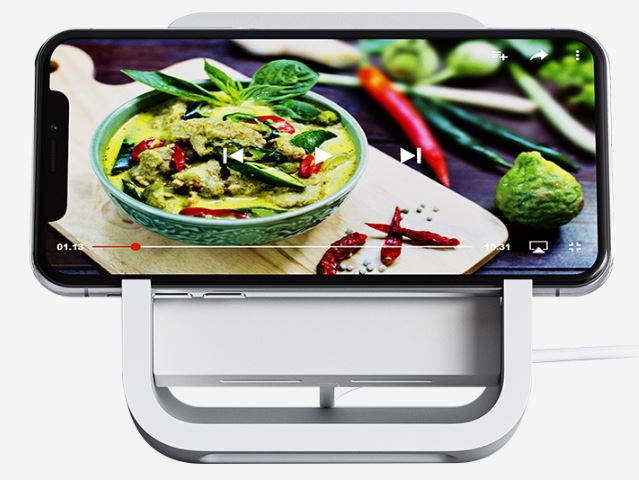 Viewing During Charging
Wireless charging platforms are nothing new, but what about being able to view your phone while using them? It may surprise you that Logitech is the first brand to create a wireless viewing stand at all. Using the Powered iPhone Wireless Charging Stand, the supportive orientation of the stand allows for viewing either with portrait or landscape mode. And being able to swap between either mode while charging allows you watch things on your phone in the meantime.
The upright position of the stand is visually suggestive that it may be adjustable, but it's not. The stand provides your screen at a resting angle of 65°. You may want to note that angle also makes it possible to power and unlock your phone with Face ID technology, so you can get access to your notifications with a literal glance.
Whether or not the angling will work for you actually depends on your height, the height of the furniture on which the stand is placed, and a few other factors like that. But outside of extreme circumstances, it's fair to say that the angle of the stand works quite well at helping unlock your phone.
That resting angle is equally agreeable for watching YouTube or browsing the net while your phone charges. But do note that the slightly upward-angled position of the stand. If you place it on a nightstand that's slightly elevated above your bed, the angle may not be appropriate for viewing. Viewers are intended to be at eye-level or slightly above this wireless charging stand.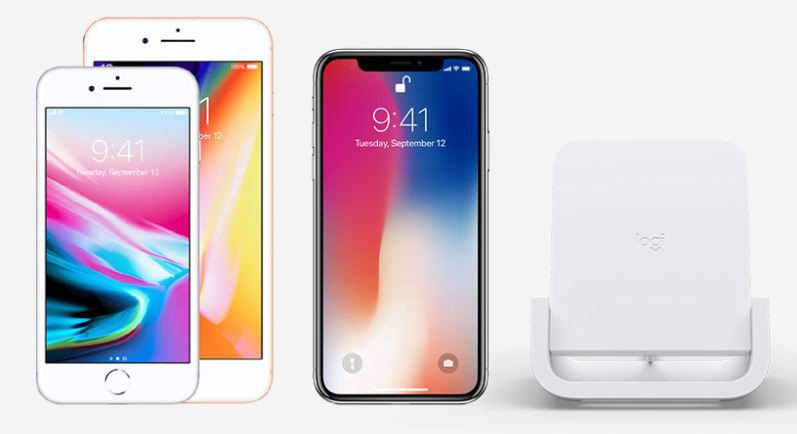 Upright Protection
The Logitech Powered iPhone Wireless Charging Stand keeps your phone cradled in a "U" position. Keeping your phone in a viewing position can make your device somewhat vulnerable. They've worked against those concerns with rubberized feet on the base of the charger, and with a smart distribution of weight.
But the "U" cradling is also excellent for keeping your phone in place if it happens to start vibrating. Even on higher vibration settings, your phone doesn't wiggle its way off the charger, which can rather notoriously happen with some flat surface chargers. And it's very frustrating to set your phone down to charge only to find out it wiggled away from the platform while you weren't looking.
Upright things can end up getting knocked over, but in this case the bump has to be fairly substantial, similar to the kind of motion that would knock over a glass of water. For that purpose, you generally want to keep the charger in a place where you're not apt to blindly swat in its direction, often just out of arms reach.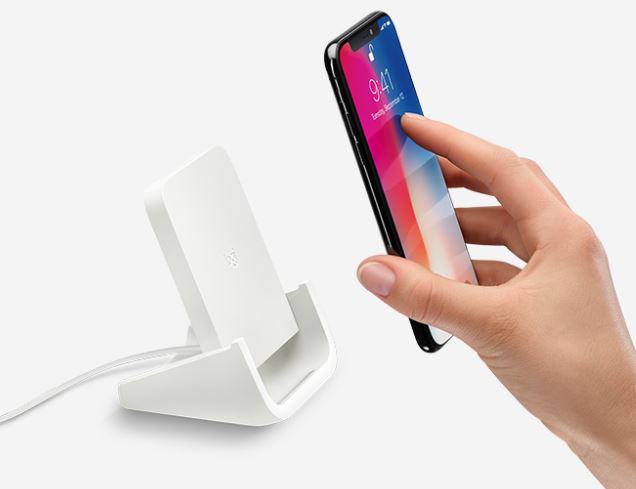 Ease of Use
One of the most distinctive features of the Apple brand has always been ease of use. They want things to be simple yet thoroughly high quality, right down to the power adapters that you connect with. Logitech seems eager to match those expectations as well.
Along the top of their iPhone charging stand, a pin-sized LED indicates when your phone has been placed in the correct position to begin charging. The LED will blink to alert you if there's an object detected that may interfere with your charge. When it's glowing, that means your phone is charging, eliminating guesswork and micromanagement.
Moreover, the LED they use is exceptionally small. It's designed to sit behind your phone, so while it's charging at night it won't disturb your sleep. Because this charger sits upright rather than resting on your desk, it's virtually impossible to place your phone in the incorrect position. You don't have to spend a few extra seconds lining up your phone every time you want to charge it.
Variable Charging Speed
The Logitech Powered iPhone Wireless Charging Stand is uniquely suited for the iPhone because it can provide for the 7.5W rapid charging needs of those phones and their exceptional batteries. While the platform can be turned to support for less demanding Qi-compatible phones, Samsung devices will end up with a charge in the 5W range.
What's the difference? Using an iPhone X on a 5W wireless charger, you'd get about 38% of your battery life within one hour. On a 7.5W charger, you'd recover closer to 46% of your battery. The 8% difference isn't night and day. But it can be useful for someone who only has a few minutes to spend at home, and needs as much charge as they can get. Using a Samsung phone on the Logitech Powered iPhone Wireless Charging Stand by no means feels slow, it's only comparably slower when you're counting minute-by-minute.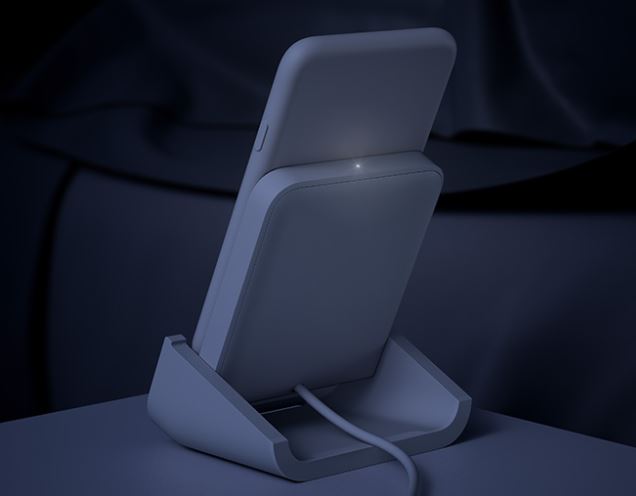 Other Considerations
With respect to safety features, the Logitech Powered iPhone Wireless Charging Stand is built with overheat protection, and doesn't make use of any loud annoying fans. An internal cool-down process precludes the needs for air cooling, but it does mean your stuff will charge marginally slower within exceptionally warm environments.
Like with many Apple products, the most challenging feature of this product may be its price. Mirroring the iPhone itself, the Logitech Powered iPhone Wireless Charging Stand is not a cheap and simple option, and it's not for someone looking for the bare minimum. It's a higher quality, higher tier selection intended for someone who wants a little more edge from their charging stand.
Like almost everything they create, this stand includes a 1-year warranty from Logitech. Charging stands like these aren't usually prone to falling apart because they're not filled with moving mechanical parts. But it's nevertheless nice to have the assurance you're protected if you end up with some kind of faulty unit.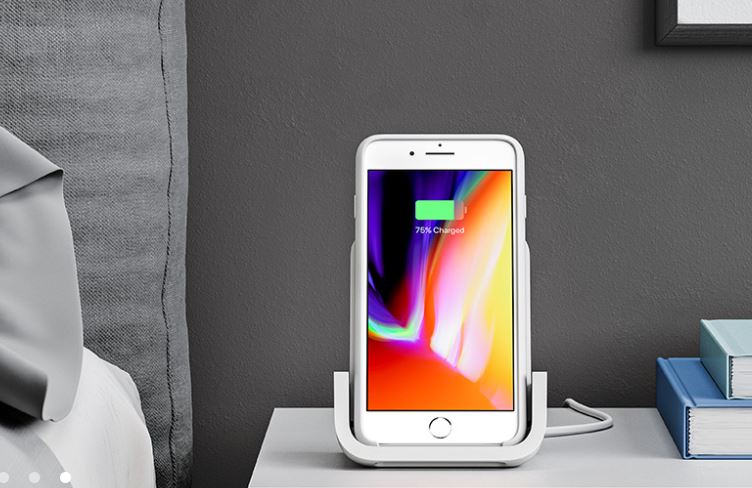 Who Should Choose the Logitech Powered iPhone Wireless Charging Stand?
If the iPhone is a premium-level smartphone, then the Logitech Powered iPhone Wireless Charging Stand is built to match. It's not the cheapest wireless charging stand on the market, and it's not trying to be. Like with Apple products, the goal of this stand is the provide the best overall experience.
If you're not using an Apple product, then this charger wasn't specifically made for you. It can still serve as a high quality charger that's capable of working with a variety of Samsung's best smartphones, but the preference for Apple is fairly clear.
All in all, the Logitech Powered iPhone Wireless Charging Stand is a fairly good choice for anyone who wants their iPhone to be truly wireless. It offers clear conveniences for people who uses their smartphone by their bed at night, and it's worth a close look for anyone who like to use their devices like they recharge.