Suppose you're on a worksite at night. You're around people with slowed reaction times, and you're dealing with reduced visibility. Not having the right lights can make you waste a lot of time, and it can even put you in danger. But hauling around lights? Without the right pair, that can feel like more trouble than its worth.
Lutec 7000 Lumen 93 Watt Dual-Head LED Work Light
You can find about a thousand different designs for LED work lights. Some of them are simple and small. Others are elaborate and large. Among this diverse range of options, you should still find that the Lutec 7000 is actually pretty special. From a superficial perspective, this tripod-based device isn't going to shock anyone with amazing innovations or special features. But it just might impress you with how much thought went into the design.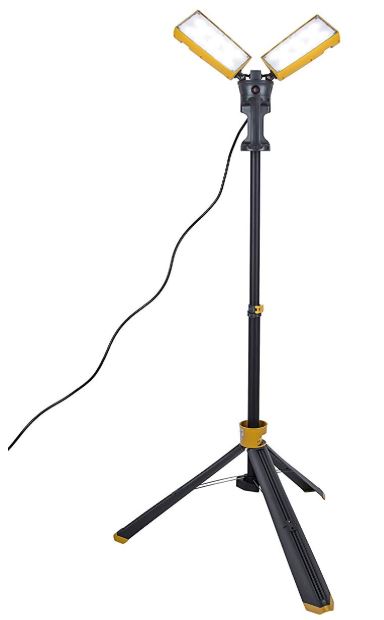 For starters, setting up and starting to use these lights only takes a couple of seconds. They pop open and can begin operating almost immediately, making the Lutec 7000 is pretty close to ideal for a variety of different projects. But you don't have to feel relegated to working in a home environment, or any one environment, since these work lights were made with an indoor/outdoor friendly design.
That includes enough waterproofing protection to make these lights ideal for using in wet conditions. And when you're done using the Lutec 7000, you can fold up the base, wrap up the cord, and store away the tripod quite quickly. Just like setting it up, the whole process only takes a couple of seconds. And once it's done, you're left with a single unit that you can hold in one hand.
But how does it actually perform? Well, that's where the details of its smart design really start to come into play. It's easy to make lights like these very bright, but it's not as easy to get that brightness directed just where you'd like it to be. As such, the Lutec was made with a dual-head LED design, which allows you to direct one light separately from the next. Along with a little help from the telescoping tripod, you can get the right amount of height adjustment, too. The result is really a stunning range of adjustability, though these lights still have a number of limitations.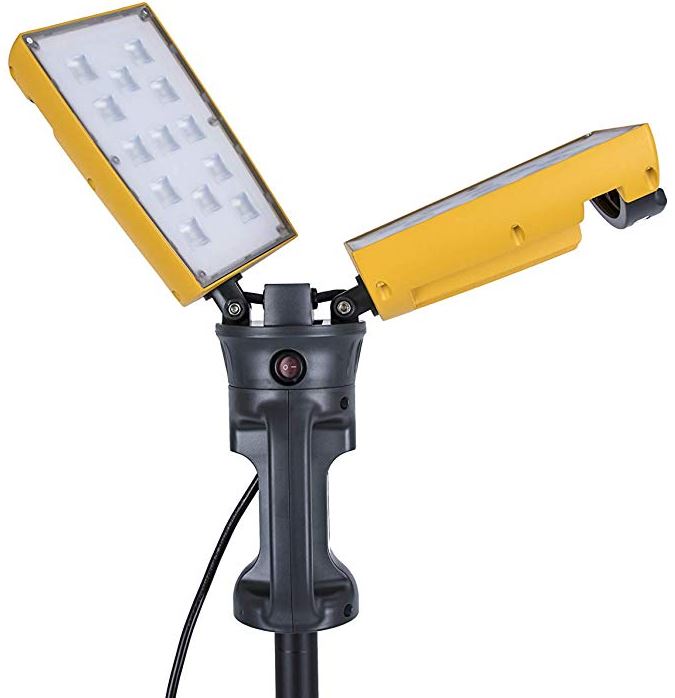 Design & Layout
Looking at its physical components, you'll find a generally sturdy and heavy-duty construction characterizes these lights. The yellow and black chassis is both professional looking and easy to identify in a variety of lighting conditions. The majority of the body is built from die-cast aluminum housing. That allows for them to remain strong, yet lightweight enough for a person to pick them up confidently with a single hand. When fully collapsed, the unit looks a bit like a thick broomstick.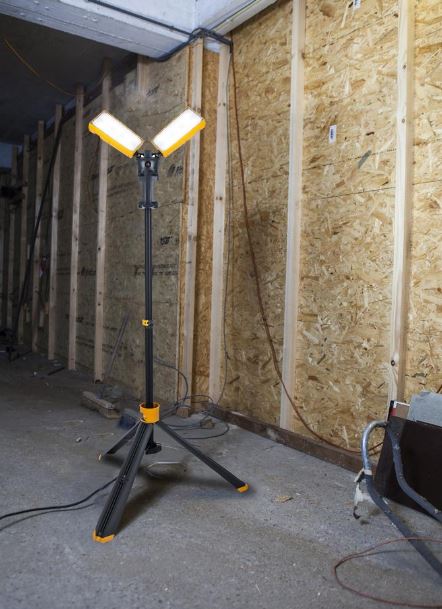 Another thing to notice is how its weight is reasonably well-distributed from top to bottom. Even with the dual head LED fixtures on the top, it doesn't feel unwieldy or top-heavy. Not when you're holding it, and certainly not when it's propped open on the floor. There's a reasonably low center of gravity to the device, which is largely the result of the telescoping tripod being allowed to sit so low on the ground. The legs extend out more than 12" away from the center of the device, which contributes to phenomenally good stability. It really takes a lot to end up knocking the Lutec 7000 over on its side — unless you're really trying to knock it down intentionally. And even then, you'll find the base doesn't make it easy to do so.
The topside features two dual-head LED work lights. These lights are clearly intended to be used in rough-and-tumble environments, where you never know if they might get kicked over accidentally, or if debris might get kicked up onto the lights at some point.
You'll find that the heavy duty design extends all the way up to the housing which protects the integrated LEDs. Because these are integrated LEDs, you aren't going to need to replace the bulbs. And as part of its waterproofing treatment, you'll find each light is thoroughly protected with a translucent layer of polycarbonate shielding. That shielding is actually equally effective at protecting the Lutec 7000 Work Lights from a number of different threats.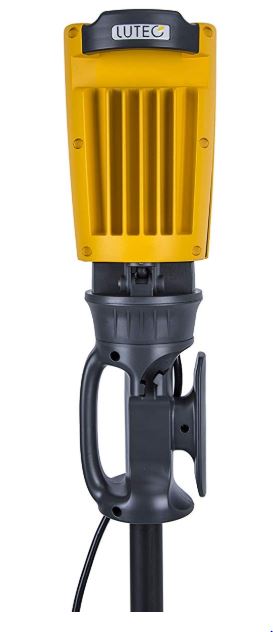 Adjustability
But how easy is it for you to adjust those lighting heads? Well, it depends. You can actually tighten them so it's tougher to make adjustments, so that they're to stick in one place. Alternatively, you can loosen them up so they're a bit easier to move around. In any case, you'll find the lamp head is capable of rotating around a wide 90° vertical range. It's also able to move in a wide 330° in a horizontal range.
In terms of flexibility, that's pretty much perfect. You can send the light absolutely anywhere you want it and without ever having to hold a flashlight. And with the help of some locking nuts, it's pretty easy to adjust the dual heads only when it's necessary. Once you've got them into position, they'll stay right where you want them to stay.
Along with the telescoping action of the tripod, height adjustment is also possible. At least, to an extent. Here you'll find the height peaks at maximum of 5.5ft. That's reasonably high, especially for work lights with a design like these. It would be tough to go much higher on a tripod design without abandoning portability or stability in the process.
The Lutec 7000 remains upright securely, too. Because it can be locked into position with a somewhat standard flip lock mechanism. Locking everything into position is usually a good idea when you're going to be using the same settings for several hours in a row. But you don't need to lock it down if you're going to be making adjustments on a somewhat regular basis. To avoid having to bend over, it would be nice if the locking mechanism was located a little higher up on the device. But it's still reasonably accessible in its present location.

Brightness & Longevity
True to its name, the Lutec 7000 93 Watt Dual-Head LED Work Light is capable of delivering a total of 7000 lumens of brightness. For the same of comparison, that's about the same as five 100W incandescent bulbs working together. Except in this case, you'll find the wattage of these lights is relatively low. Running at 93W doesn't sound like much, but you have to keep in mind these are incredibly power efficient LEDs. That's why they're able to do so much with so little.
You should also remember you're only getting 3,500 lumens from each panel. You need to combine both panels to really get the full 7,000 lumens, which is a detail worth noticing if you plan on pointing the lights in different directions. Though 3,500 lumens also mean you probably won't need both lights to be used in the same direction, since even a single panel is quite bright.
Having integrated LEDs is both a good thing and a bad thing. It's a good thing in that you'll never actually need to replace the bulbs. It's a bad thing in that this means you'll have to discard the tripod after the bulbs burn out. That should take about 50,000 hours, which translates to quite a few years of use.
But technically speaking, after around 25,000 hours you might find the maximum output of these LEDs is actually closer to 5,000 lumens or so. After five or six years, you might consider replacing them if you're not quite as impressed with their brightness anymore.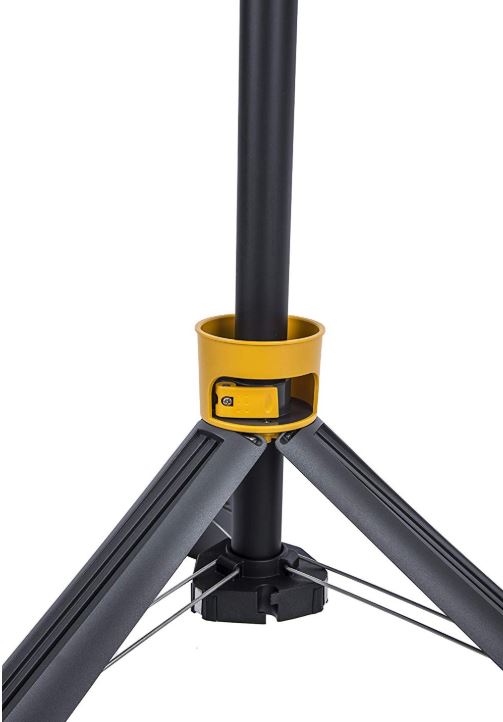 Other Considerations
There's one area where you might have minor complaint, the built-in power cord stretches a total of 8ft in length. That's a little short for certain circumstances. But it's nothing that you can't solve with a decent extension cord. And to its credit, this unit wouldn't be nearly as convenient if they hadn't used their built-in cord wrap system, which may not have been possible with the addition of a longer cable.
In terms of its safety, you'll find that the Lutec 7000 Dual-Head LED Work Light is ETL listed. Though this light doesn't come with anything in terms of extra goodies, it does include a manufacturer warranty of five years. As discussed earlier, the lights themselves ought to last much longer than five years, though.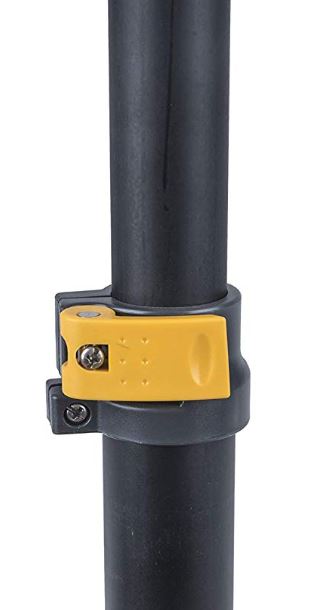 Who Should Choose the Lutec 7000 Lumen 93 Watt Dual-Head LED Work Light?
Sometimes it can be hard to be impressed by little things. But in a lot of ways, the Lutec 7000 is a masterwork of engineering. These lights are small enough to be thrown into the trunk of your car, powerful enough to light up a pretty large worksite, and simple enough for anyone to use in seconds. They're convenient to open and close. They're perfectly stable. And between all of those factors, they're great for basically any type of job where 7000 lumens will cut it.
With the indoor-outdoor design, you can use these lights around wet conditions and not have to worry about your equipment. The fixture itself is terribly lightweight, yet constructed to the kind of quality you need for a rough and tumble worksite. The lamp and the rest of the fixture sweep into a compact cylinder shape, making it terribly easy to carry from room to room with one hand.
All in all, this is a very balanced design, which makes it perfect for a variety of different worksites. Though 7000 lumens aren't going to cut it for everyone, it's certainly enough for most people in most circumstances. Which makes the Lutec 7000 a great choice for someone looking for a pair of effective and highly portable work lights that they can expect to be around for a couple of years.
Meet Derek, "TechGuru," a 34-year-old technology enthusiast with a deep passion for tech innovations. With extensive experience, he specializes in gaming hardware and software, and has expertise in gadgets, custom PCs, and audio.
Besides writing about tech and reviewing new products, Derek enjoys traveling, hiking, and photography. Committed to keeping up with the latest industry trends, he aims to guide readers in making informed tech decisions.