Some say that music is the ultimate form of communication. You want your favorite music to be an outlet to the expression of your soul, and to raise your spirits as well as your atmosphere. Not to ruin the songs you like best.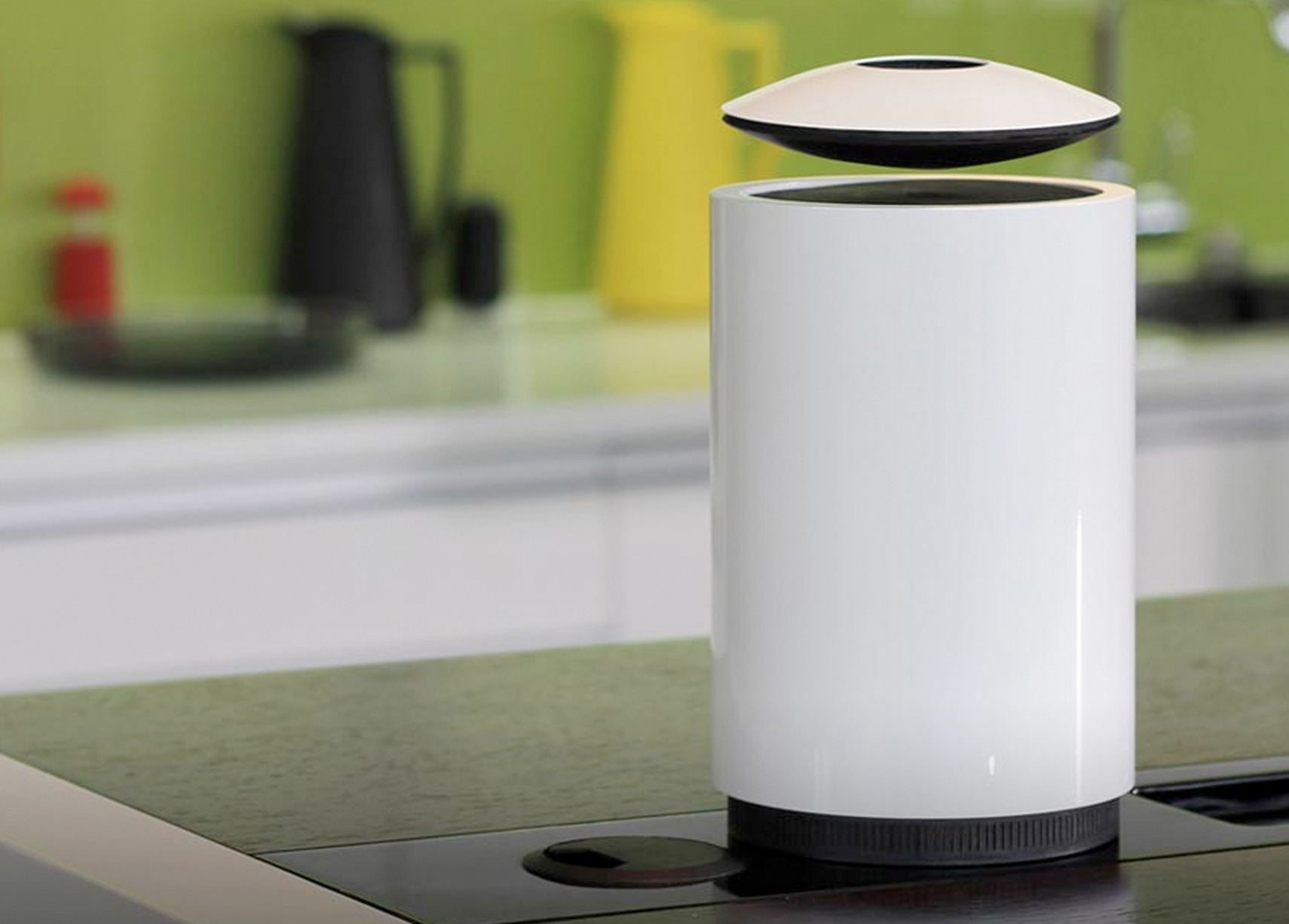 A lot of speakers do that. They're nice and handy; portable as well as compatible with your audio devices. But they don't provide the outstanding quality of sound that the Mars by CrazyBaby Levitation Bluetooth Speaker System delivers. It's really a fantastic way to enjoy audio.
Lift Your Music Up to another Dimension
How do you achieve perfect volume? Well, it's not always possible due to the fact that you move to different areas of your home. A lot of sound systems actually do sound good at high volume, but it's really nothing quite like the Mars Levitation. Here's what makes it so amazing.
Number one, is its intuitive nature. Never miss so much as a beat as it guides and directs itself to produce the best audio quality from performing for a single person or an entire room. Let's go through some of those neat and excellent features.
There's no other speak system like the Mars by CrazyBaby Levitation. Using a disc-shaped speaker that lifts up into the room, your sound is projected into the room clearly and audibly. It's just such a crisp audio quality.
Why settle for anything less? With all of these fancy frills, we expected that the Levitation was trying to compensate for something, but boy were we wrong.
The sound goes in 360 degrees from up in the air. This maximizes your experience by neutralizing the negative effects of sound wave absorption caused by solid surfaces, like walls and crowds of people. The levitation is not just a cool attention grabber.
You music will sound great in every area of each of your rooms. The Levitation produces Hi-Fi sound using aptX technology, in combination with the science of Gravitron Levitation.

Atmosphere You Won't Believe
Look at how many smart devices we have. Each one is unique and has something different to offer, but is not always as intuitive as the skill and dedication put into devices like the Mars Levitation. Here's some of what makes it such a useful speaker system.
It's Bluetooth 4.0 activated. No matter where you are in the room, the Levitation will self-adjust in order to produce amazing sound to wherever you are. All you need is a smart phone or device. Using your exact distance, it will levitate and alter its output to give you the best quality audio. There's more, too.
The base has a pretty cool subwoofer. As you know, lot of neat devices that look like the Mars Levitation, simply aren't as virtuous. Get the high quality sound you're after.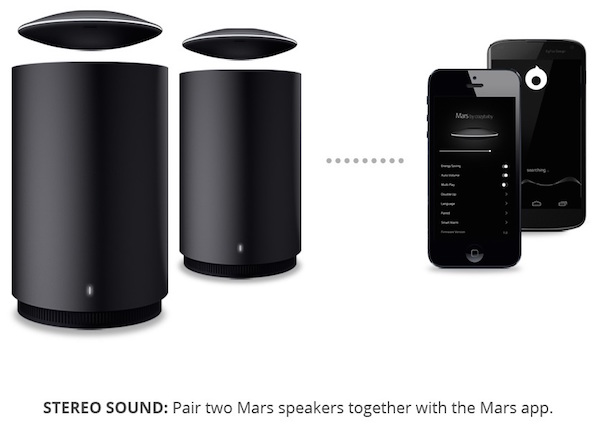 It's also a fantastic piece of office equipment. You're pampered with a professional-sounding integrated mic, making your office world class and respectable. Check out how it does conference calls.
It uses Bluetooth for added clarity when talking over the phone, so you can relax and communicate as freely as you choose. There's one other thing, here.
The Levitation is also a charging device. Save port space on your computer and outlet space on your wall, by taking advantage of 2 USB slots for simultaneous charging.
Incredibly Fine Quality Hardware
Let's talk about durability. You want to be able to depend that whatever purpose you have for a quality speaker system will be fulfilled. All too often, we're let down after wear and use, and is a constant concern every time we go to turn it on. Let the Mars Levitation Bluetooth Speaker System show you a better way.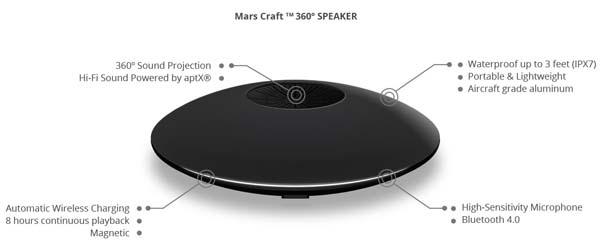 The Levitation is strong. It's made of aircraft grade aluminum, which makes it something that will last a long time, even after a few bumps and bruises. Here's what's so amazing about it.
It's actually very lightweight and easy to manage, allowing you to enjoy your audio anywhere you like. Let's look at how well it protects its electronics.
Have you ever heard of a waterproof speaker system? Well, we wouldn't mention it if it weren't true, and Mars wouldn't include it if it didn't work in up to three feet of water. It does all that and much more.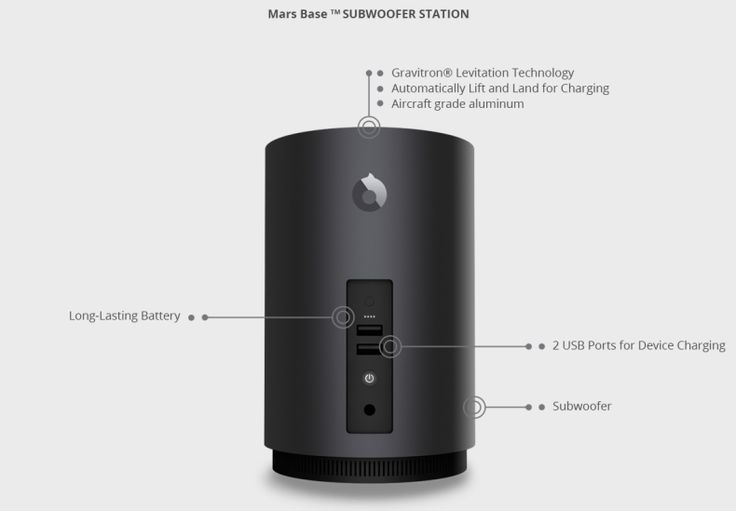 The battery is also fantastic. It's got a super-long charge time which produces 8 hours of continuous use, and automatically lifts and lands itself any time it needs to charge. Not to mention how cool it looks to have your speaker disc that looks like a UFO cruising on its own. But there's more.
The Mars by CrazyBaby Levitation takes advantage of the latest in magnetic research. Your speaker and base are always secure, due to its amazingly smart navigation system in combination with a magnetic seal.